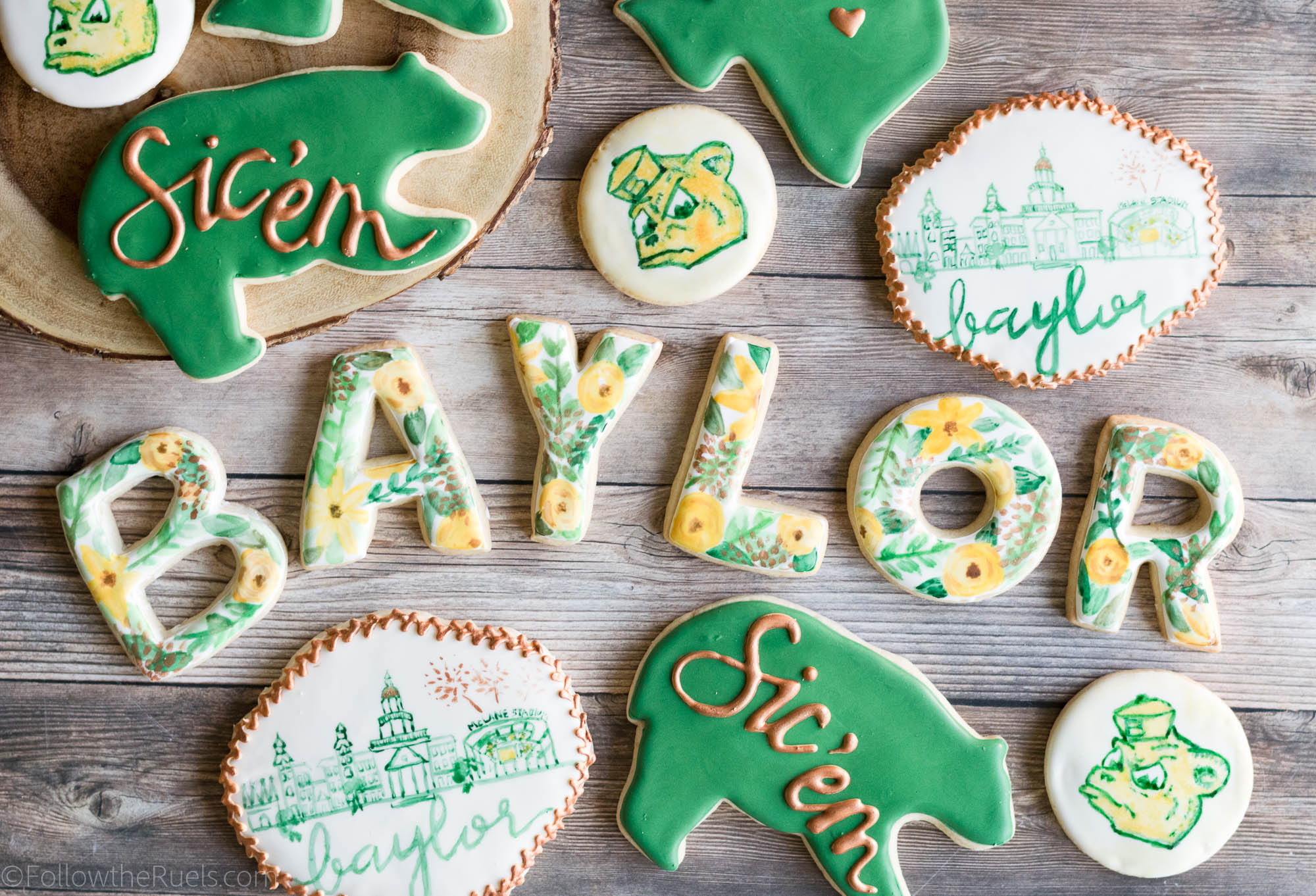 This weekend, Billy and I are off to Waco for Baylor University's Homecoming, where Billy and I both went to school. While I have been back to Waco quite a bit over the years, even since moving to Charlotte, this is the first Homecoming we have been back to in years. So it will be a lot of fun to see old friends and sorority sisters who I may not have seen in the last 10 years.
But it wouldn't be an event if there I didn't make cookies, right? Billy jokes that it didn't happen if I didn't put it on Instagram. Well, I think it doesn't happen if I don't make cookies!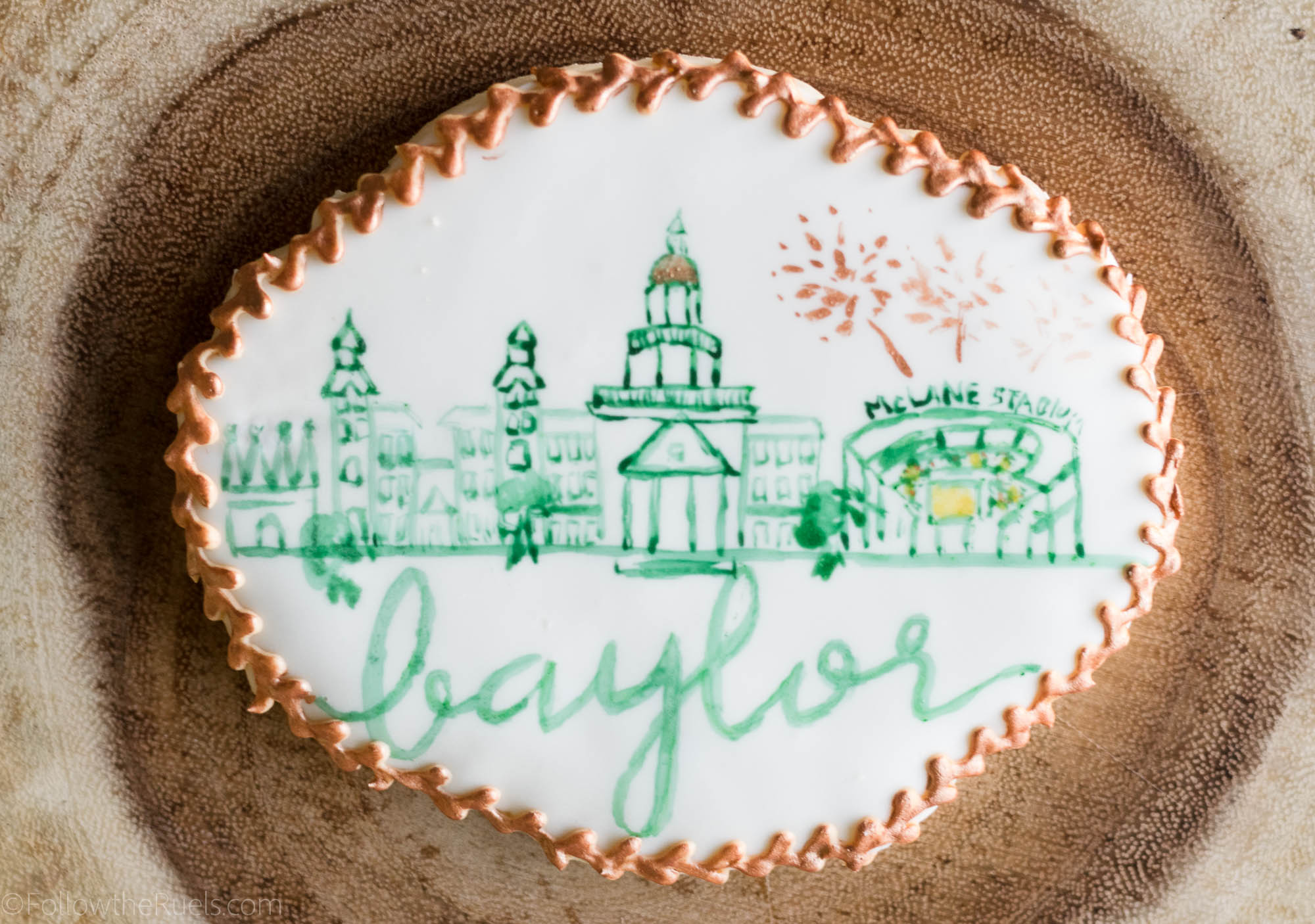 The cookies were inspired by this print that I found on Etsy. I loved it so much I wanted to make it into a cookie! Since I am not artistic enough to hand draw it onto the cookie, I used the tracing method that I demonstrated here.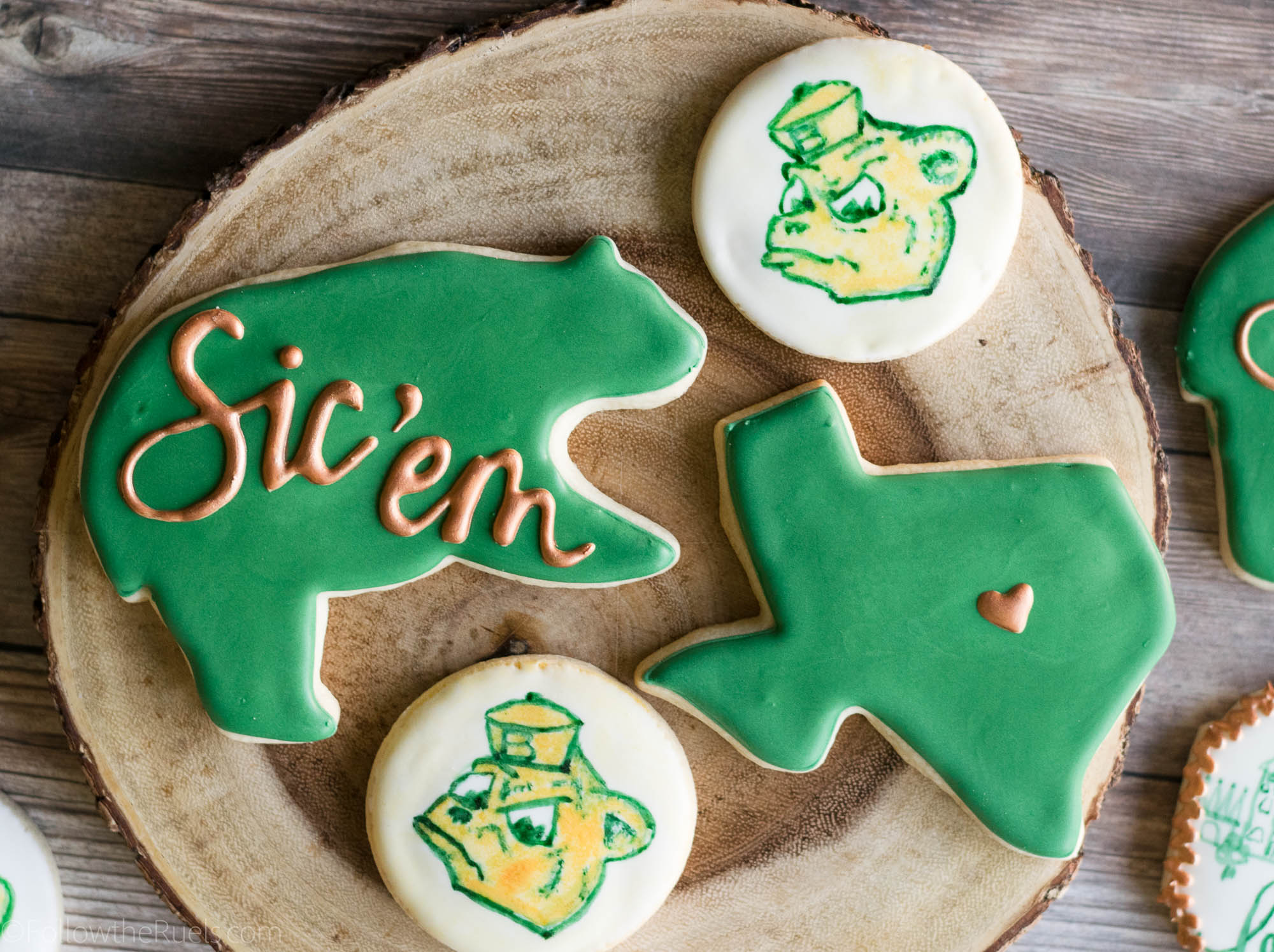 I used the same method to make the Sailor Bear cookies to keep with the watercolor theme. But I do think I like these royal icing Sailor Bears I made for the Cotton Bowl better. I made those using the royal icing transfer method, where I just trace over the image with royal icing.
To see how I made the Sailor Bear cookies, skip to minute 4:00 in the video. To see how I made the skyline cookies, skip to minute 5:27.
I'm giving away all my tricks, here. Now you know that I am actually not all that talented, I am just really good at tracing things with royal icing or a paint brush.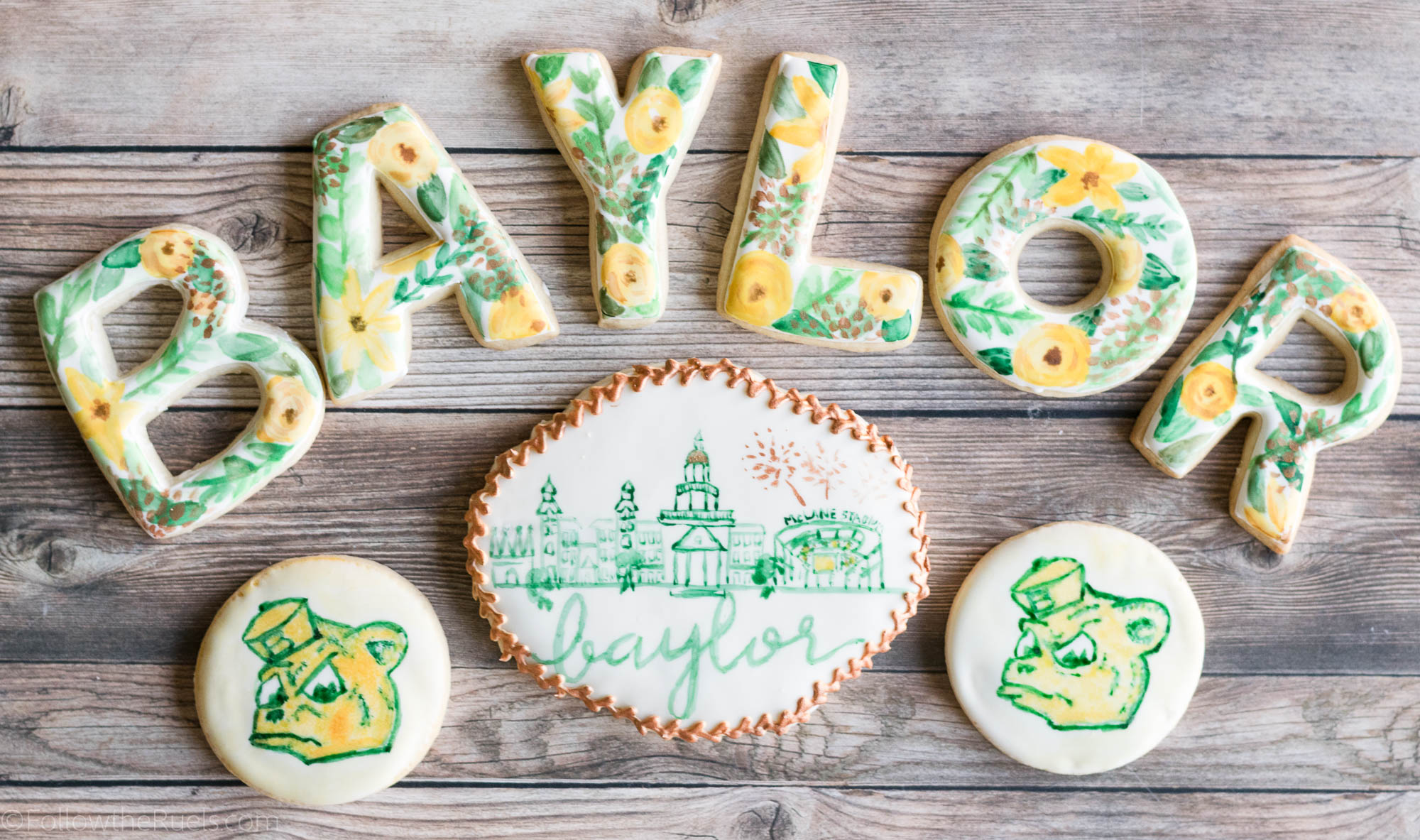 My favorite cookies of the entire collection are the B-A-Y-L-O-R letter cookies. Of course, I didn't film these cookies because they were the last ones I made. After spending a few hours making the other cookies I was at a loss of what to do for the letter cookies. Should I just ice them in green and gold icing? Should I paint them? Should I try some fun new design? No, I decided to rely on an old favorite and paint a floral pattern very similar to what I did with these Pineapple cookies. Instead of using several various colors, I just used a couple shades of green and gold.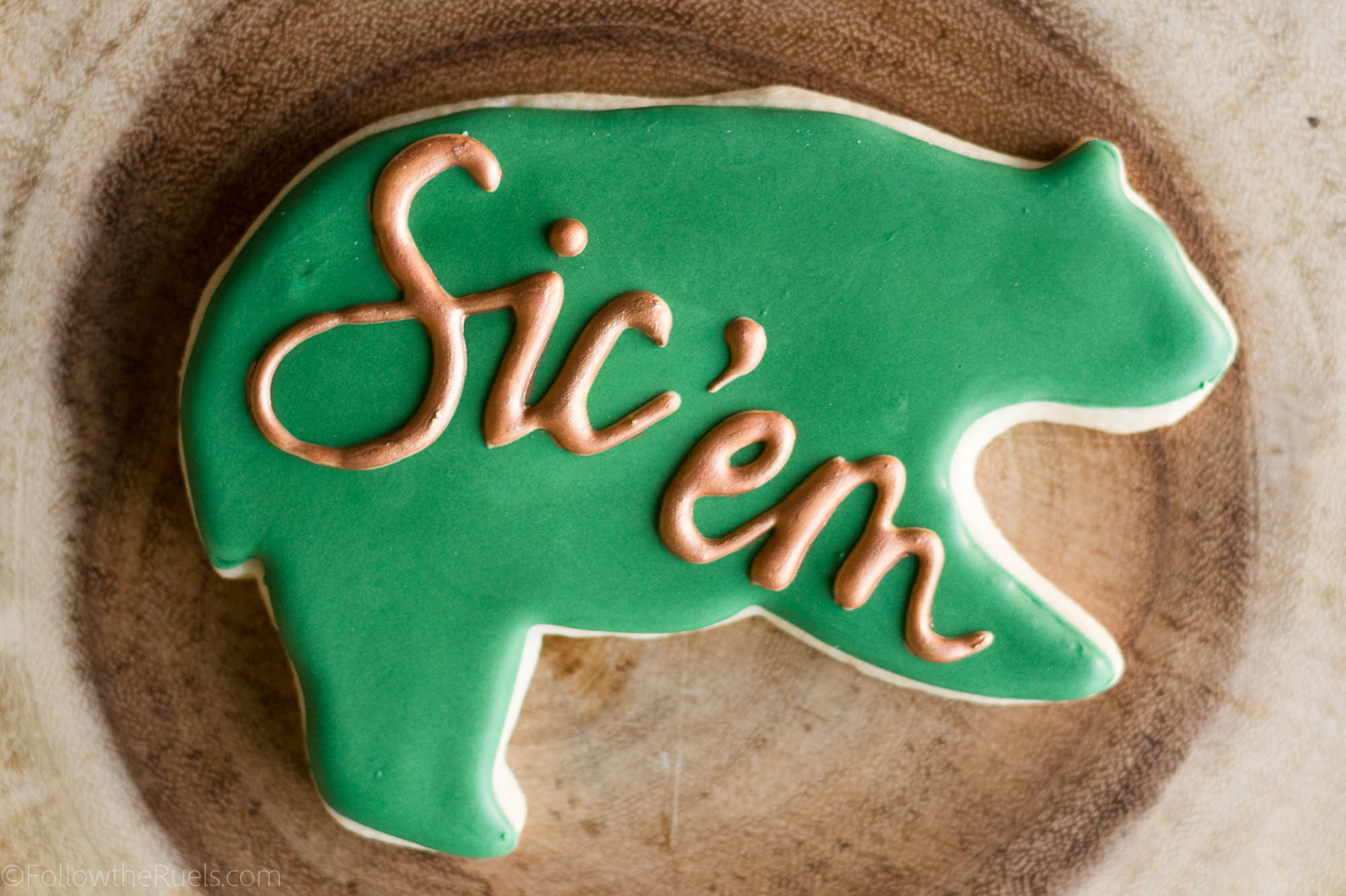 Now I just have to pray that they make it to Texas in one piece!
Recipes used:
Cookie cutters used:
Supplies used:

[show_shopthepost_widget id="2862351″]