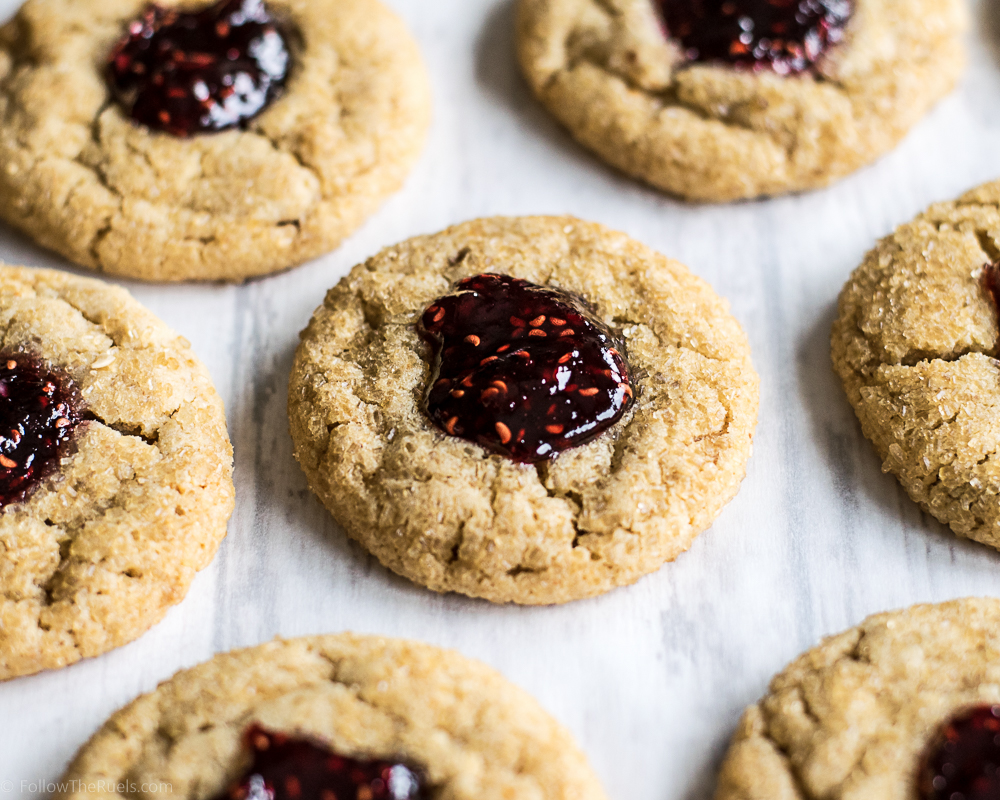 Apparently, I blinked and July passed by in a flash and now it is August. How did that happen? Summer is almost over and there are back-to-school supplies everywhere. I am not a child under 18, nor do I have any children under 18, but somehow I still get caught up in the back-to-school "season". I take full advantage and stock up on pens, highlighters, notebooks. (binders, pencil pouches…don't judge.) It's also a great time to get nostalgic about my favorite school lunch: the peanut butter and jelly sandwich.
I love peanut butter and jelly. Love. There are very few foods I truly love (who am I kidding, there are lots), but this one is at the top of the list. Last year around this time I made peanut butter and jelly cupcakes, and oh my were they delicious! So when all those school supplies popped up in Target a few weeks ago, I got a hankering to make another pb&j treat, this time in the form of these peanut butter and jelly thumbprint cookies.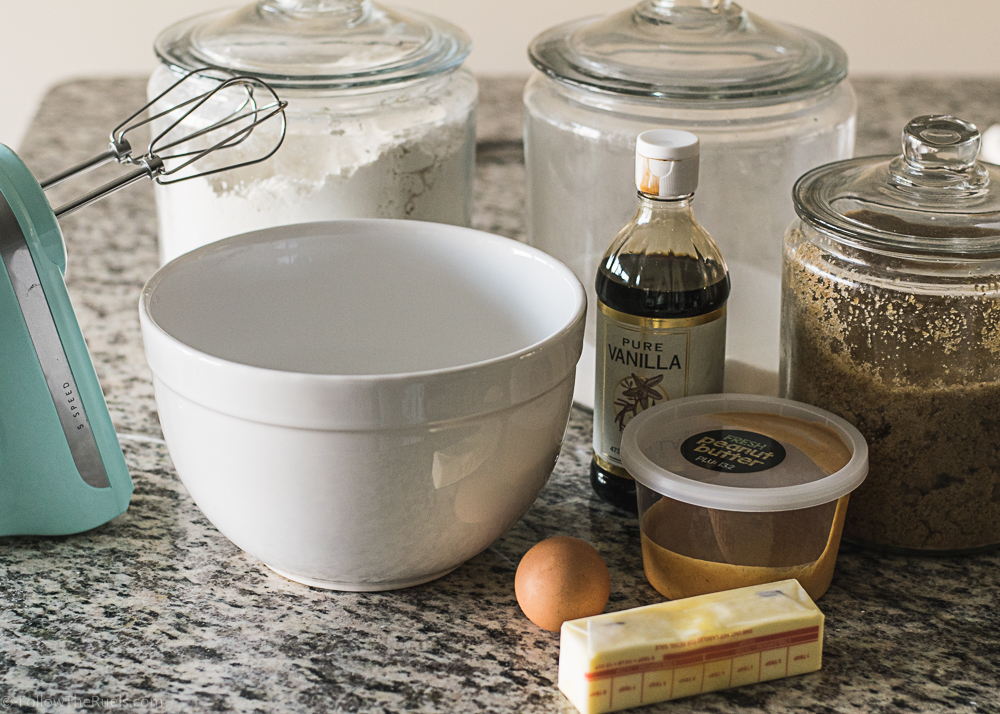 Like any good pb&j, it starts with the peanut butter. In this case, a peanut butter cookie. If you have a favorite recipe, you could probably sub that in, instead. But this recipe is perfect for making thumbprint cookies since they spread out just enough and are soft, not crumbly.
Start by mixing the butter, sugar, and peanut butter together until they are light and fluffy. Then mix in the egg and vanilla. Lastly, incorporate the flour, baking soda, and salt.
When I mix up cookie dough, I tend to do a lot of mixing up until the point I add the flour. Once the flour is added, you run the risk of developing a really tough cookie (something about the gluten in the flour). But before the flour is added, mix away to your heart's content!
After a quick rest in the fridge, form the dough into small ping-pong ball or smaller sized balls (I like to use my handy dandy cookie dough scoop for that). Then roll them around in sugar. I used turbinado sugar, which is more coarse, but regular granulated sugar would work just fine.
Bake these cookies for about 15 minutes. Then as soon as you take the out of the oven use the back of a teaspoon to form the little indentation for the jam. You can also use the end of a wooden spoon, handle of a rolling pin, or your thumb. But I find the teaspoon works perfectly.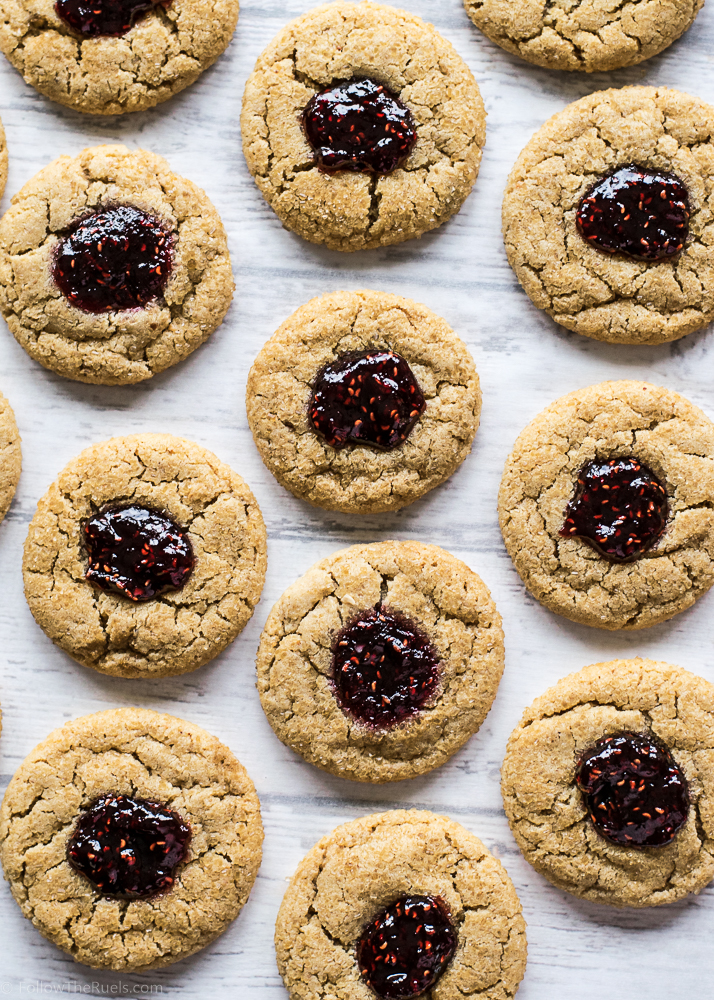 A good pb&j is only as good as the j. In my opinion, raspberry jelly is the only jam/jelly/preserve that should be in a peanut butter and jelly sandwich. Strawberry is too sweet, and grape is too artificial. Raspberry is the perfect amount of sweet and tart to balance out the creamy peanut butter. But you can pick whatever jam/jelly/preserve you like to spoon into the centers of these cookies (just know that if you pick anything other than raspberry, you chose poorly…just kidding…sort of…not really).
Can you tell I feel strongly about my jelly?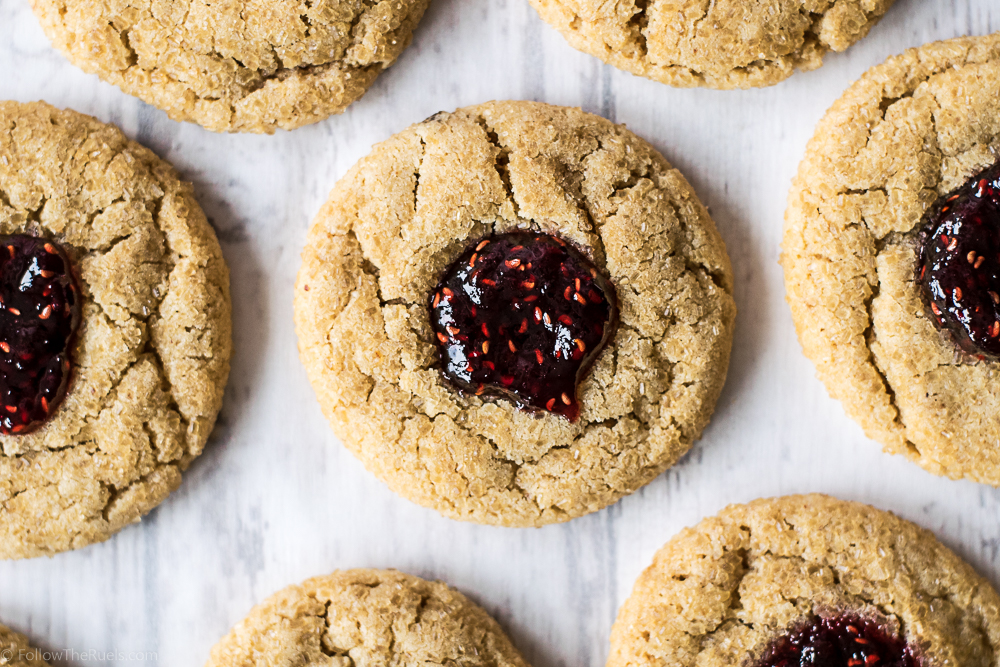 I am just passionate about my pb&j. And equally as passionate about these cookies, because they combine two of my favorite things: peanut butter and jelly and cookies!
[yumprint-recipe id='122′]