ULTIMATE CHRISTMAS COOKIE GUIDE
If you love baking and decorating cookies for the holidays, then you need this guide! I have created 12 brand new sugar cookie recipes (in addition to 3 of my classics) just for this guide. The guide includes recipes like golden chai-spiced, pistachio, Christmas spice, peppermint mocha, and Mexican chocolate. Oh yeah…they are good.
In addition to that, I have added some flavor alternatives to the basic vanilla royal icing. These flavors will pair perfectly with all of the cookie recipes included in the guide. In fact, I tell you exactly how I would pair each flavor and cookie!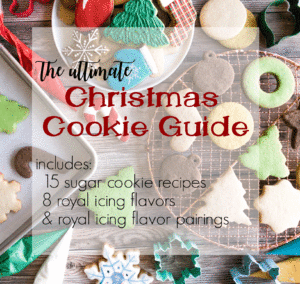 You can purchase the guide here for only $1.99!
Interested in what tools and appliances I use in the kitchen? Check out these pages:
*These pages contain affiliate links, which means I receive a small percentage of the purchase price if you purchase these items through these links.