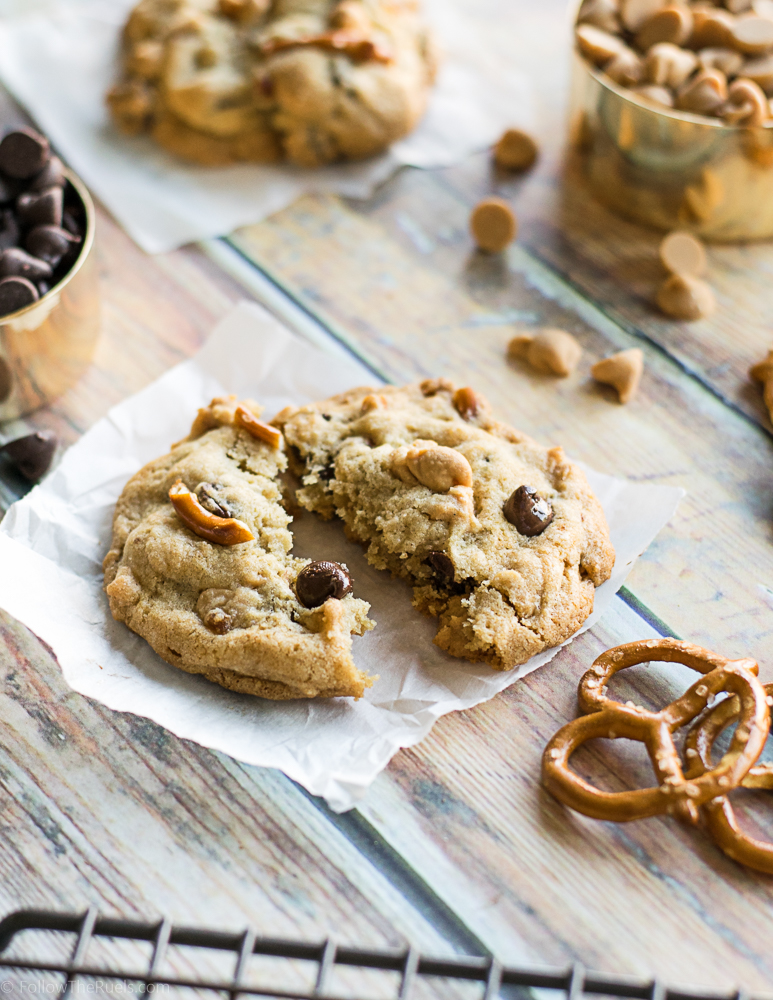 Peanut butter and pretzels. Chocolate and pretzels. Peanut butter and chocolate. All wonderful combinations on their own. So what could be bad about a cookie that combines all of them!?
I'll tell you. Not a darn thing.
I told my husband that these cookies were specially created for him. He's not a big cookie eater (it's the only thing we ever bicker about), but he does love peanut butter pretzels. So I thought that maybe I could trick him into liking cookies if I also included peanut butter and pretzels in them!
Fortunately for both of us, my evil plan worked. He thoroughly enjoyed these cookies thanks to those delicious peanut butter chips and salty pretzels.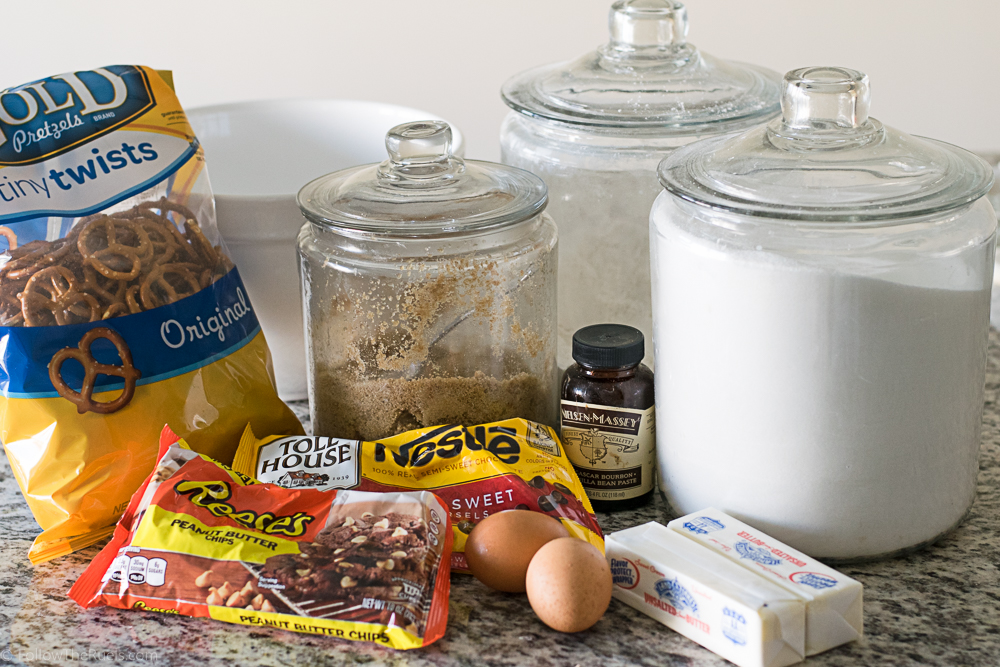 These cookies start out as a normal chocolate chip cookie, with a few minor tweaks.
The obvious tweaks are the addition of the peanut butter chips and pretzels, which I mixed into the dough at the very end. However, there are also some not so obvious tweaks I made to this recipe. I added some extra brown sugar and an egg yolk to help make these cookies extra rich and soft. While I love a good crispy cookie, I wanted these cookies to be extra soft so that the crunchy pretzels really stood out.
I like to refrigerate my dough before I form them into balls and bake. It not only helps all the flavors meld together, but it helps the cookies stay nice and thick instead of flattening out into one flat disc.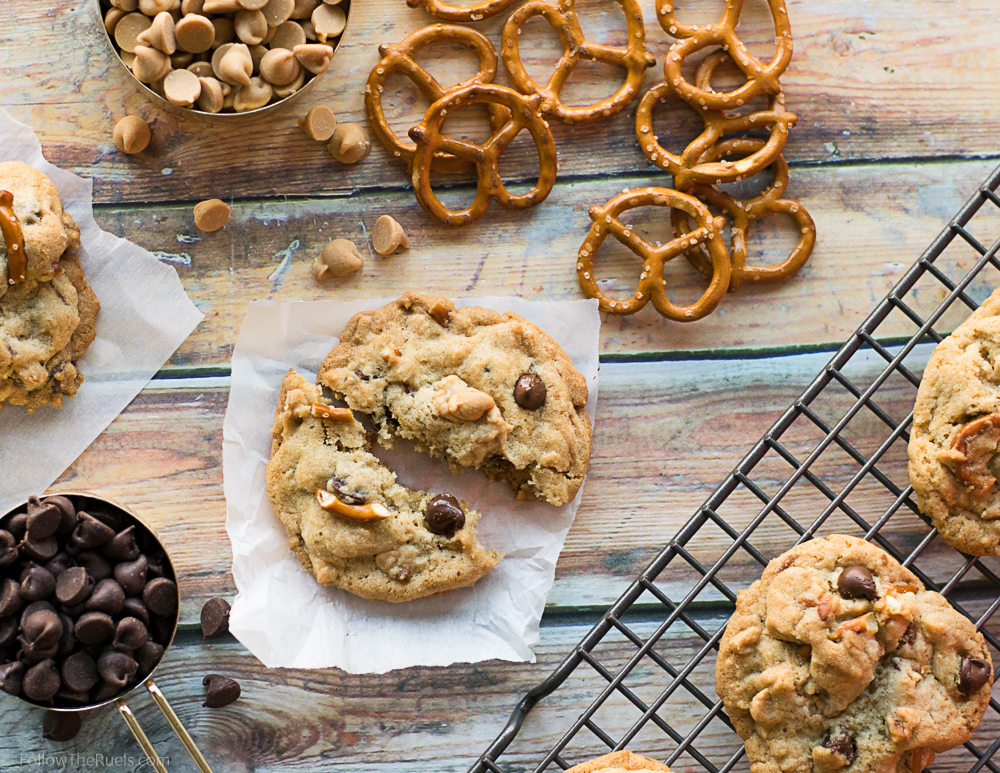 If you like your cookies on the chewier side, remove the cookies just at the point the cookies are golden brown around the edges but still a bit soft in the center. They will continue to cook a bit after you take them out of the oven.
The resulting cookies are a little crunchy on the outside and soft and chewy in the center. As far as I am concerned, its the perfect cookie.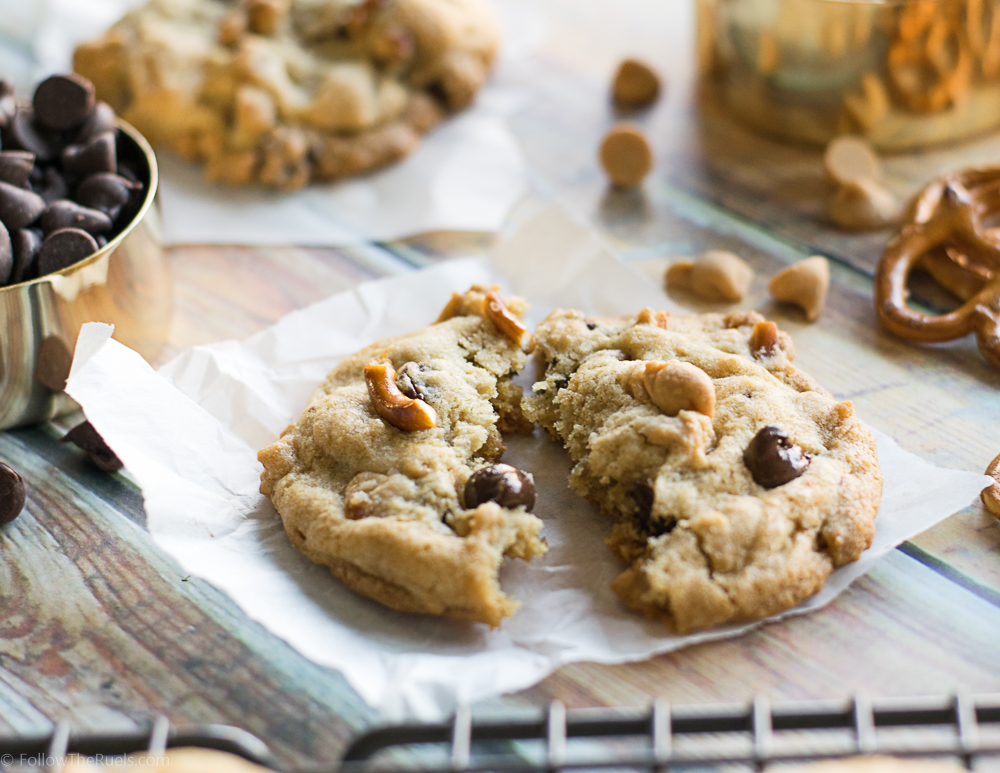 But seriously, this is a darn good cookie. How can you not like peanut butter, chocolate, and salty pretzels are packed into one little convenient cookie package? You can't. I dare you.
[yumprint-recipe id='128′]