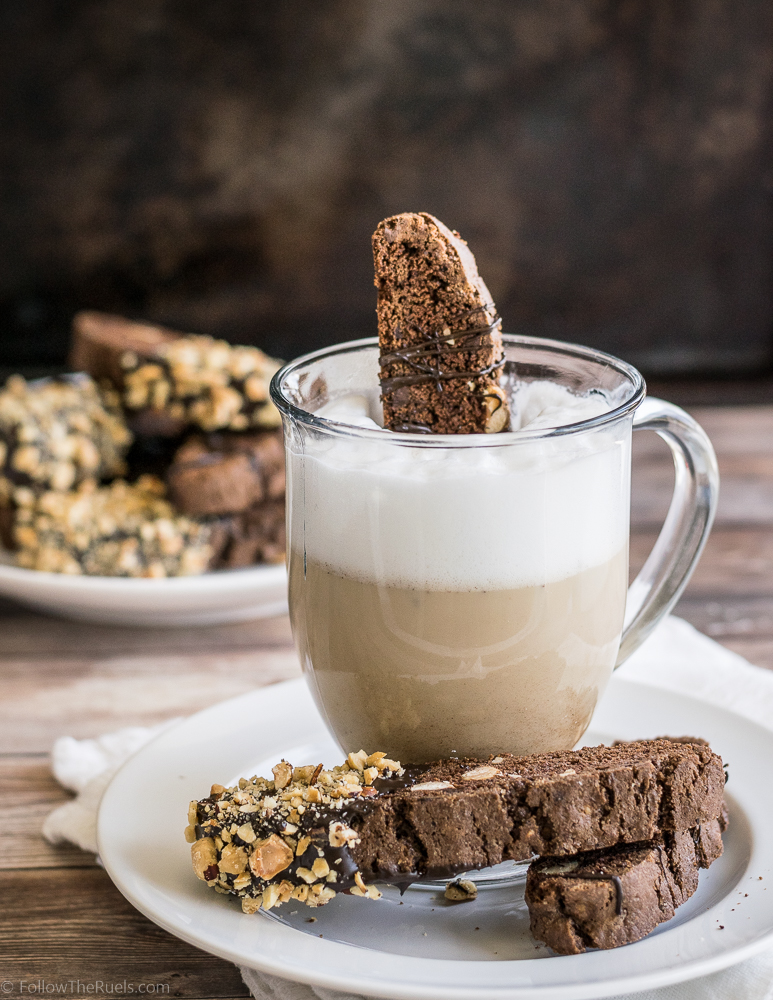 Today is my mom's birthday. So everyone say "Happy Birthday" to my mom!
This year I am actually home for my mom's birthday (and Mother's Day). Normally I would just send her a card and maybe mail her a gift, but this year since I will be there (which I think is a gift in and of itself) I thought would kick it old school and hand make her something like I did when I was a kid. Maybe a card made out of construction paper and a macaroni picture frame.
No. If I know my mom, there are two things she would like more than a handmade card and a macaroni picture frame (there are a lot more than two, but let's just pretend): a nice big cup of coffee and something chocolate. Fortunately, I have the perfect recipe to make that will check both boxes! Chocolate Hazelnut Espresso Biscotti!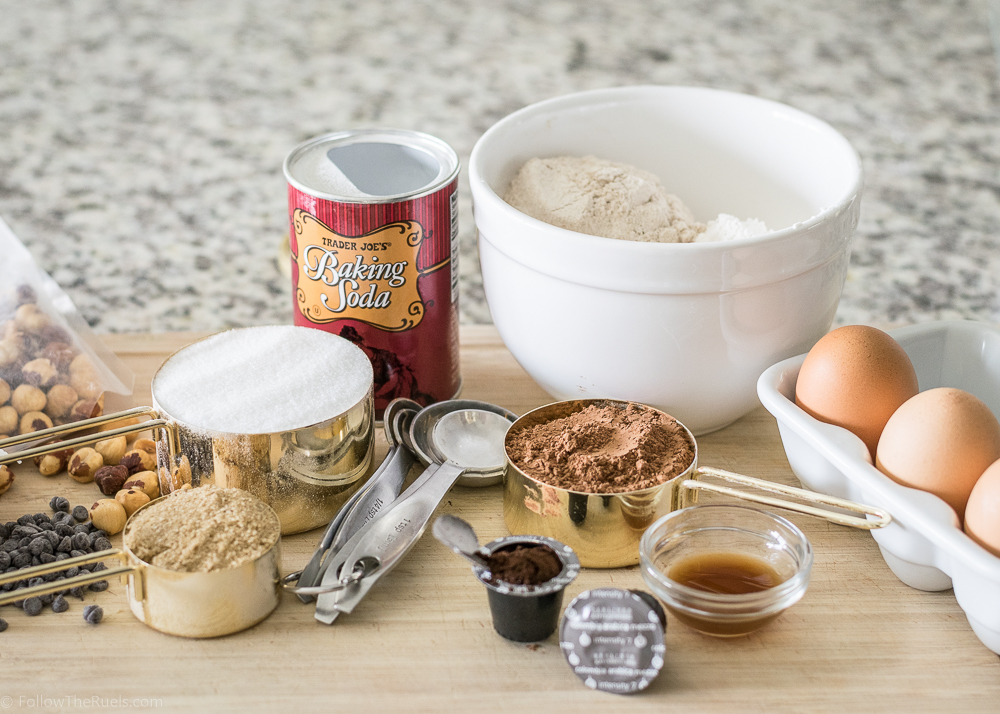 Biscotti is the absolute perfect treat to make for anyone in your life who is a coffee drinker. But these chocolate-hazelnut variety amp up the flavor even more. Chocolate and coffee are made for each other.
Since this was my first time making biscotti, I referenced a few difference recipes, but this one looked the best so my recipe is largely based on it. The only difference is that my dough is flavored with both good quality cocoa powder and ground espresso. I like using the same espresso grounds that I would use to make my morning latte. They are already so finely ground and taste delicious.
I used Gourmesso's Colombia Arabica espresso, which was perfect because it was strong and flavorful, but not overpowering. Gourmesso, for those of you who are not familiar, makes Nespresso compatible capsules that are way cheaper than your typical capsules. For references, the Gourmesso capsules I used were 49 cents per capsule. A similar Nespresso capsule costs 74 cents. Not too shabby! Plus they have a ton of flavors and varieties.
Making biscotti dough is exactly like making cookie dough. First cream together the butter and sugar. Add in the eggs and vanilla, then mix in all your dry ingredients.
What you will end up with is a pretty wet dough. It's not going to be the consistency of your classic chocolate chip cookie, it will be very very sticky!
Split the dough in half and form them into two logs. Definitely wet your fingers down when you do this so that the dough doesn't stick to your hands.
Bake them until they have expended and cracked a bit. They will have a crispy crust, but be a little spongy when you press down on the top.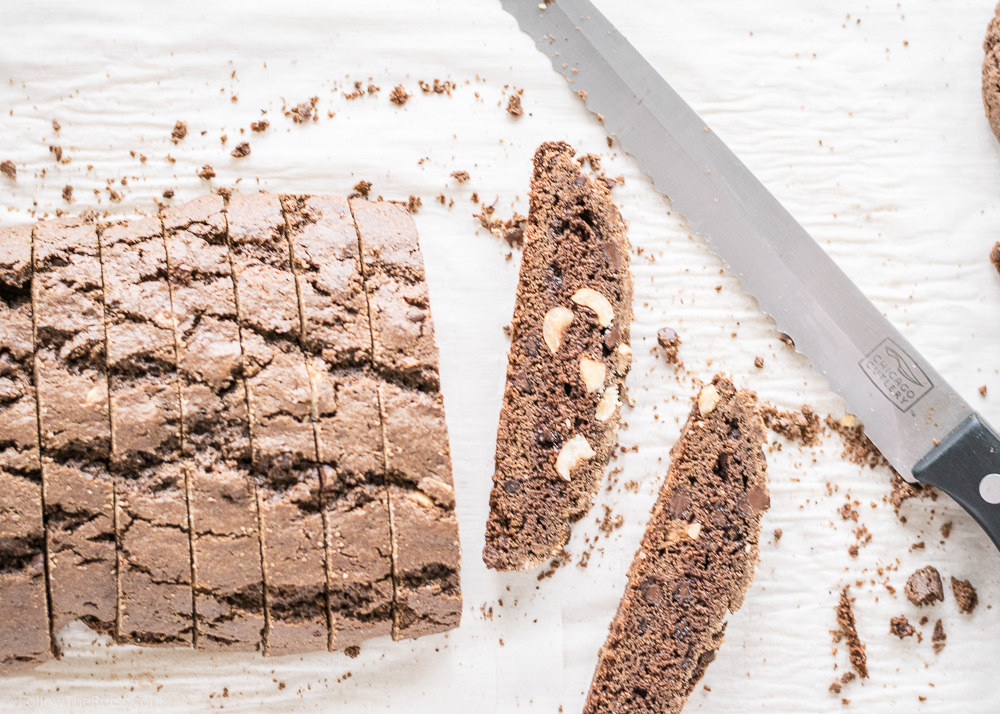 Once your biscotti logs have cooled to room temperature, you can cut them into slices. Use a serrated knife to get nice even cuts. Then lay the slices on the baking sheet, cut side down and bake again until they are nice and crunchy!
Now, these biscotti are good plain. They do not need any help. But a little extra chocolate never hurt anybody. Especially espresso-spiked chocolate.
I mixed in a bit more espresso grounds into some melted chocolate to get this rich chocolate flavor. You may be wary about this step if you don't want a strong espresso flavor. But really espresso just brings out the chocolate flavor more than actually imparting it's own flavor. Like I said, they are a match made in heaven.
There are a couple techniques to top these with some chocolate. You could just take a spoon and drizzle chocolate on top. Or you can dip them in chocolate.
To dip them, pour the melted chocolate into a tall skinny glass. Then dip the biscotti in and immediately press into some chopped hazelnuts.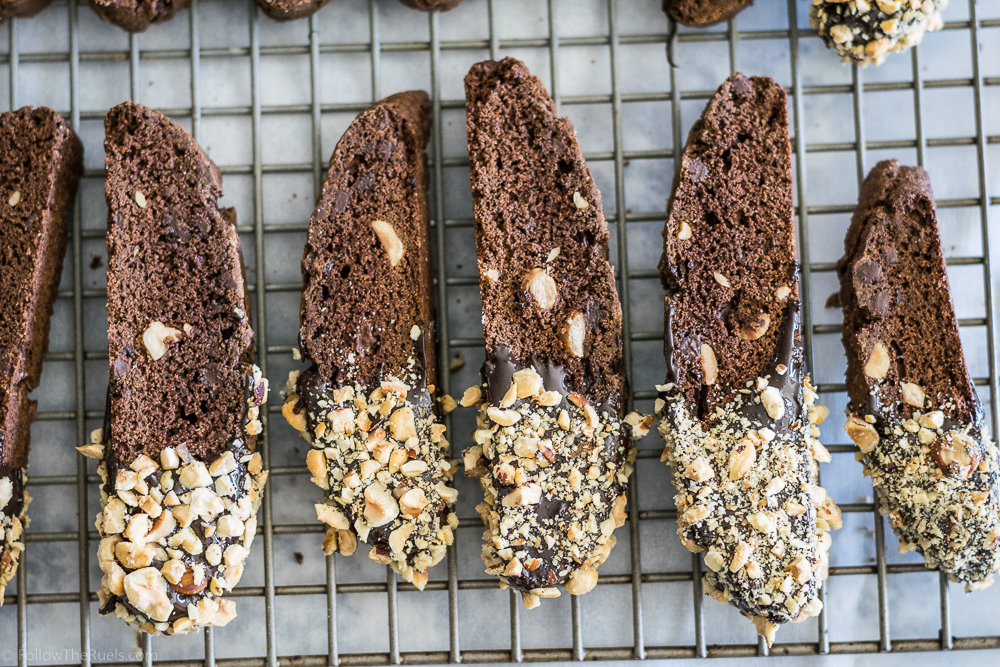 Um, yum right? Coffee and chocolate are a great combination. But hazelnuts and chocolate are just as good (if not better!).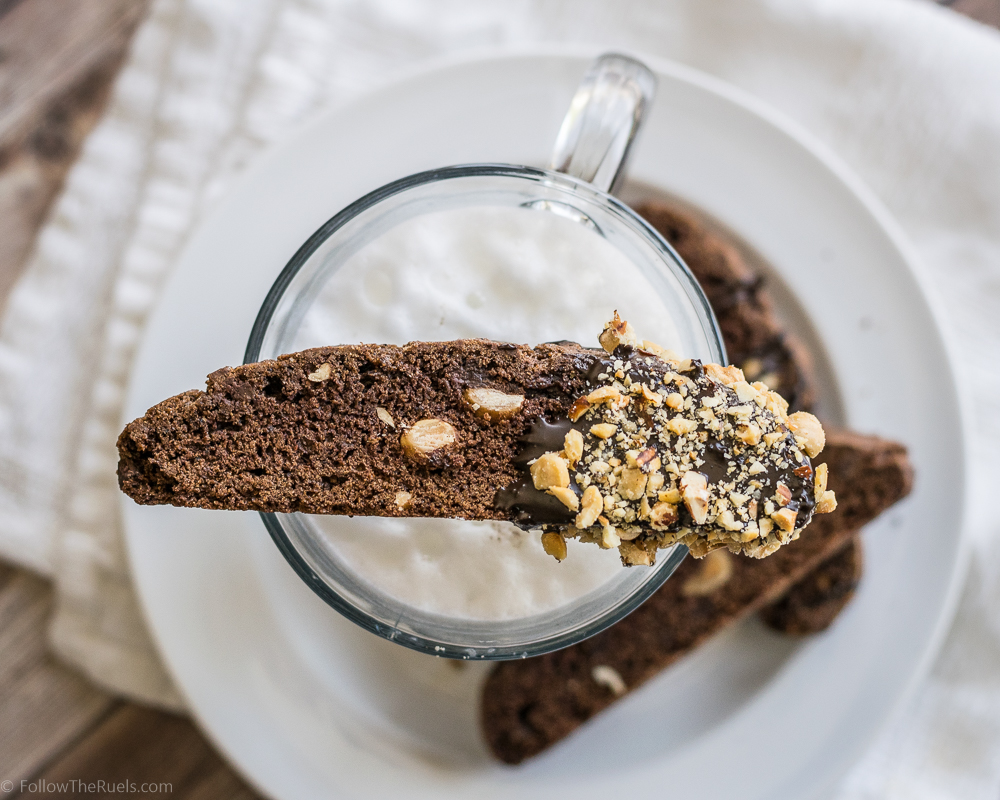 I dare you to have just one biscotti with your coffee or espresso. I had about five with my Vanilla Gourmesso Coffee. The crunchy cookies just soaked up the delicious coffee and it made it impossible to stop at one.
Sounds like the perfect homemade birthday gift for mom!
[amd-yrecipe-recipe:159]