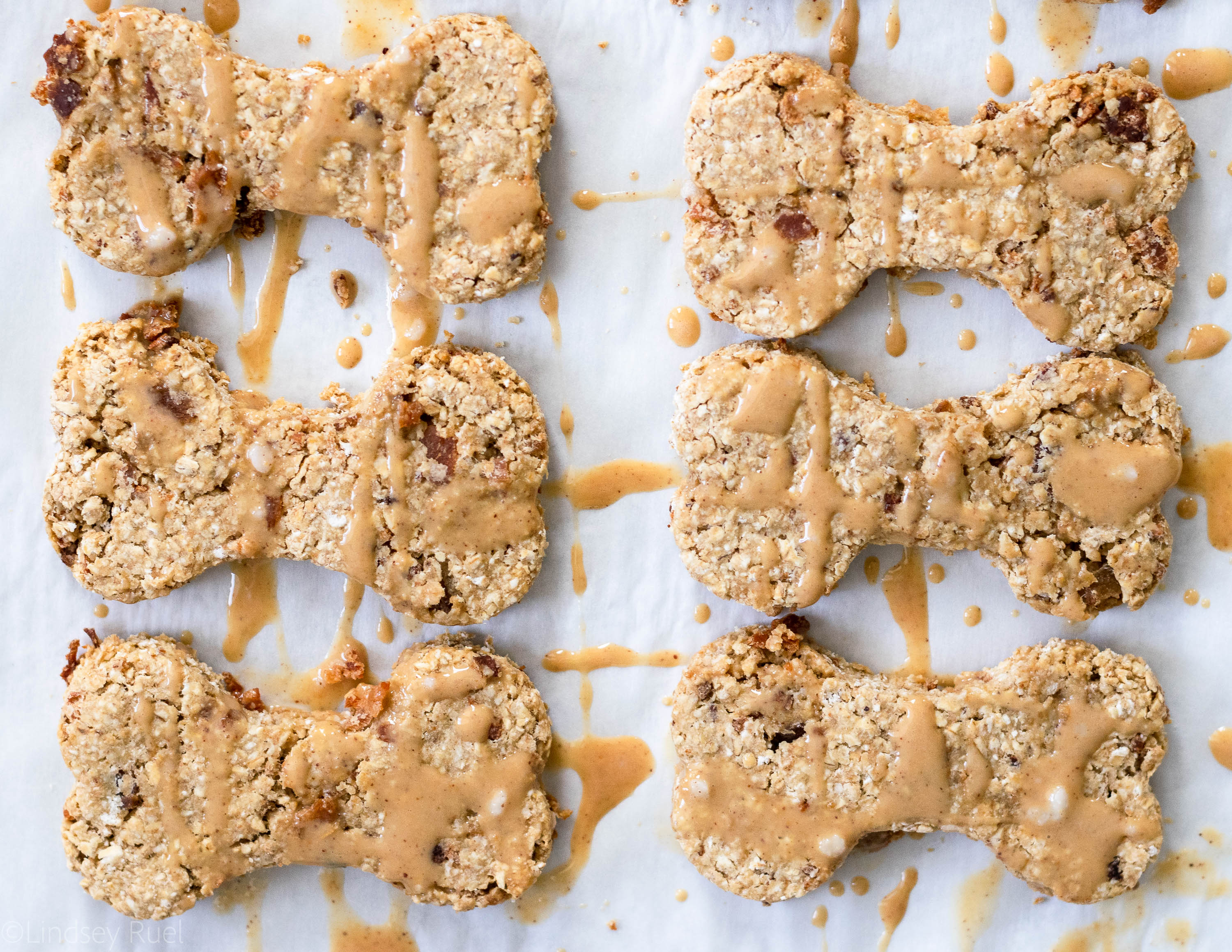 While I don't have a pup of my own (something I remind my husband of, daily), there is a special place in my heart for all dogs. If I see a person walking down the street with their doggo, I will instinctually talk…yes talk…to the dog while totally ignoring the human.
It typically goes something like this:
"Hey puppy! How are you today? Oh, you're so sweet! Yes, you are!" in the most annoying baby/pet voice imaginable.
I am sure the owners think that I am a total weirdo, but I don't care. I just want the dog to like me!
And that's why I have gone about testing my own dog treat recipe! We have a few dogs in our community, and while they are all very friendly, I will do anything I can to win them over. Even if it means carrying around homemade bacon dog treats with me whenever I go outside.
I have no shame.
This recipe for bacon dog treats seems to be a hit amongst my test group. I mean, they have bacon in them. How can they be bad?
How to Make Them
Because some dogs have a wheat sensitivity, the recipe mainly consists of whole ground oats which can be kinder on a puppers tummy.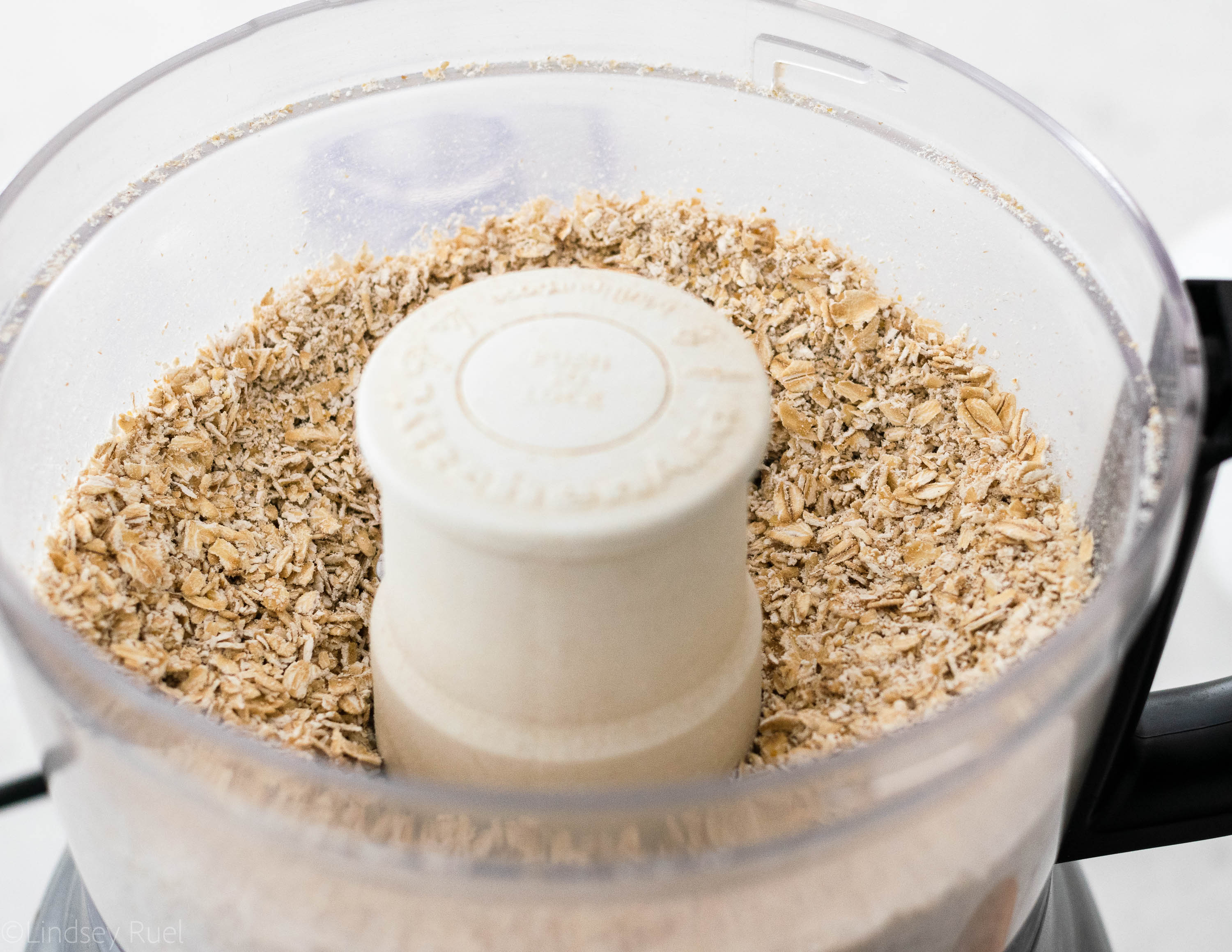 Process the whole oats in a food processor until slightly coarse.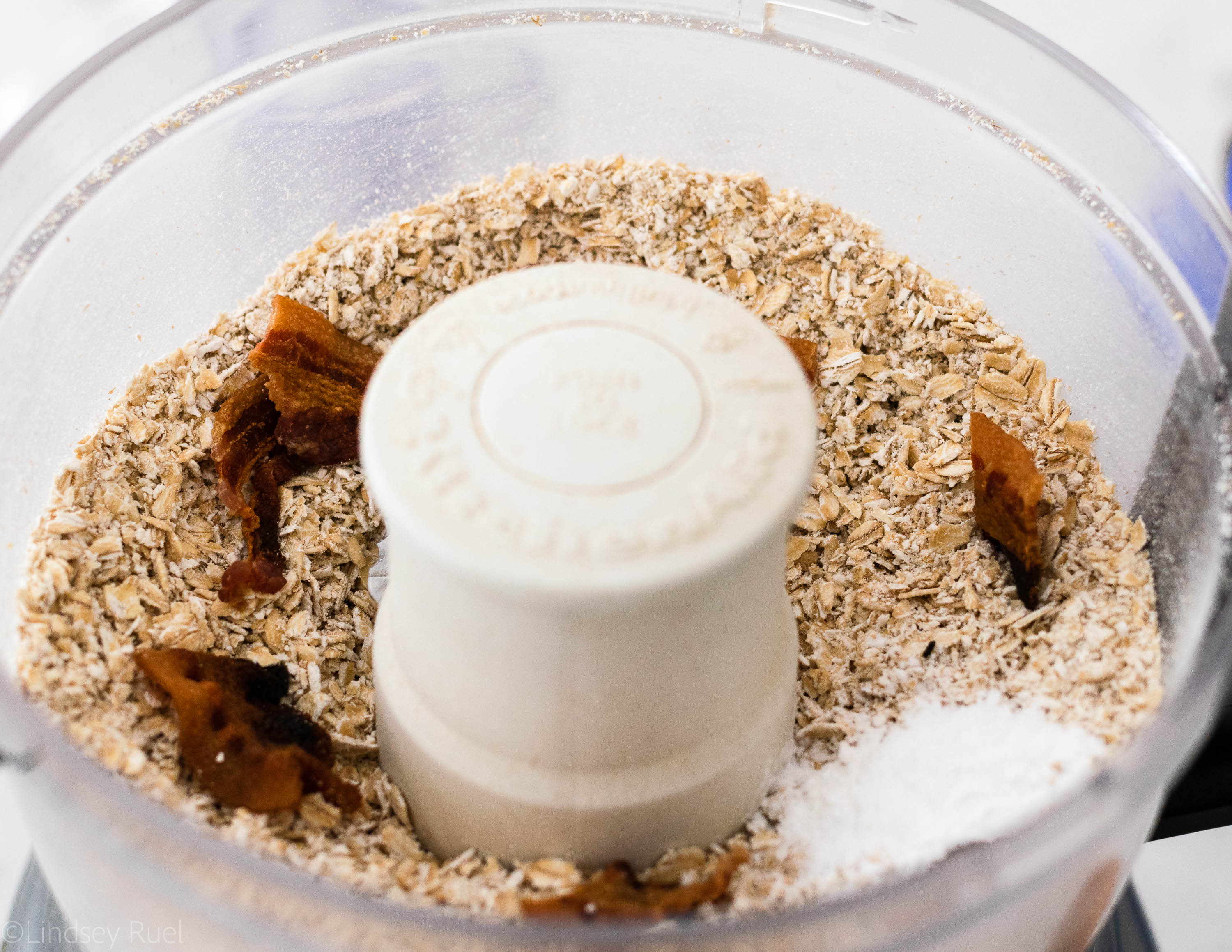 Then add in the whole wheat flour, baking powder, and very crispy bacon. The reason for adding crispy bacon at this stage is so that it creates a bacon "flour" that is incorporated throughout the treat. Pulse until there are no large chunks of bacon left.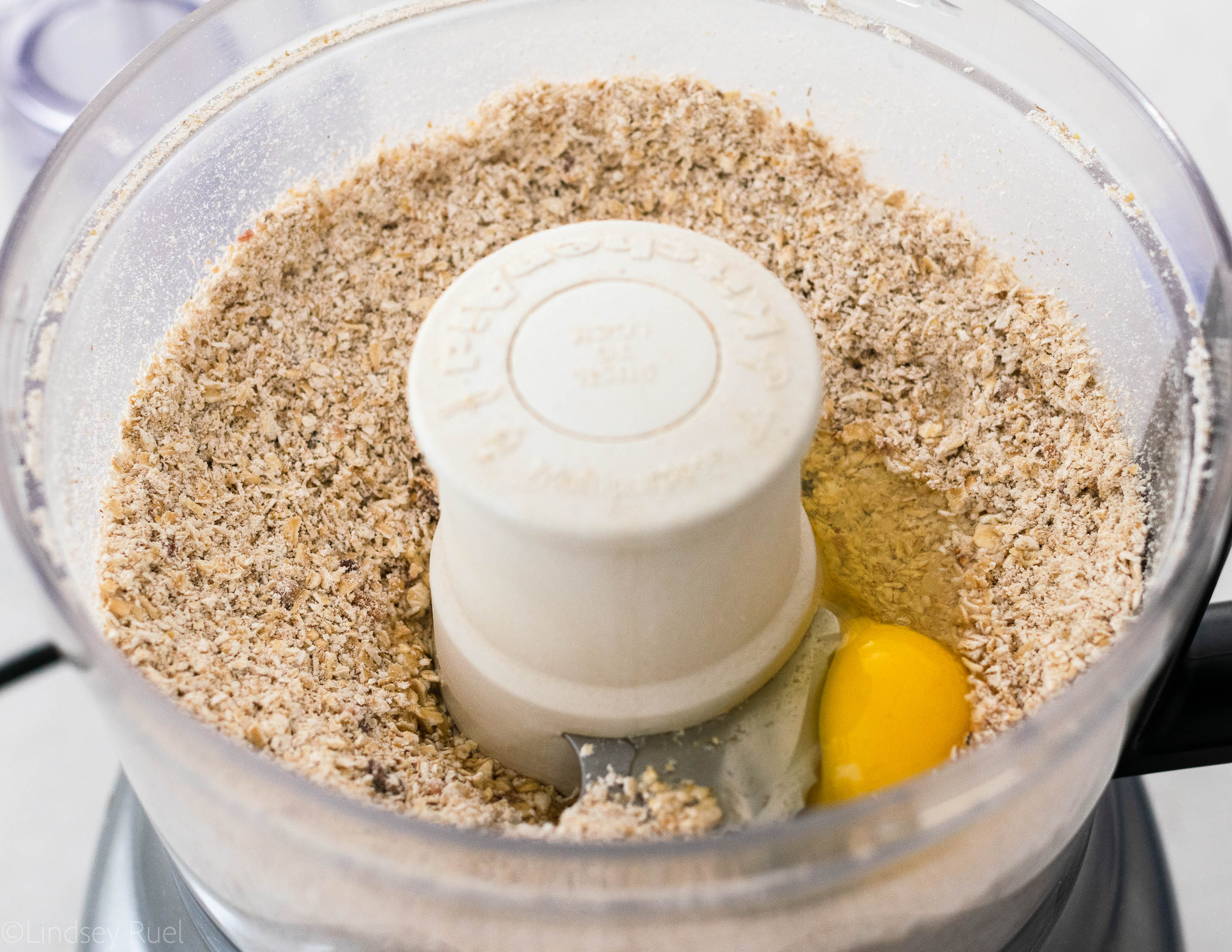 Add in the eggs and process until you have a crumbly dough.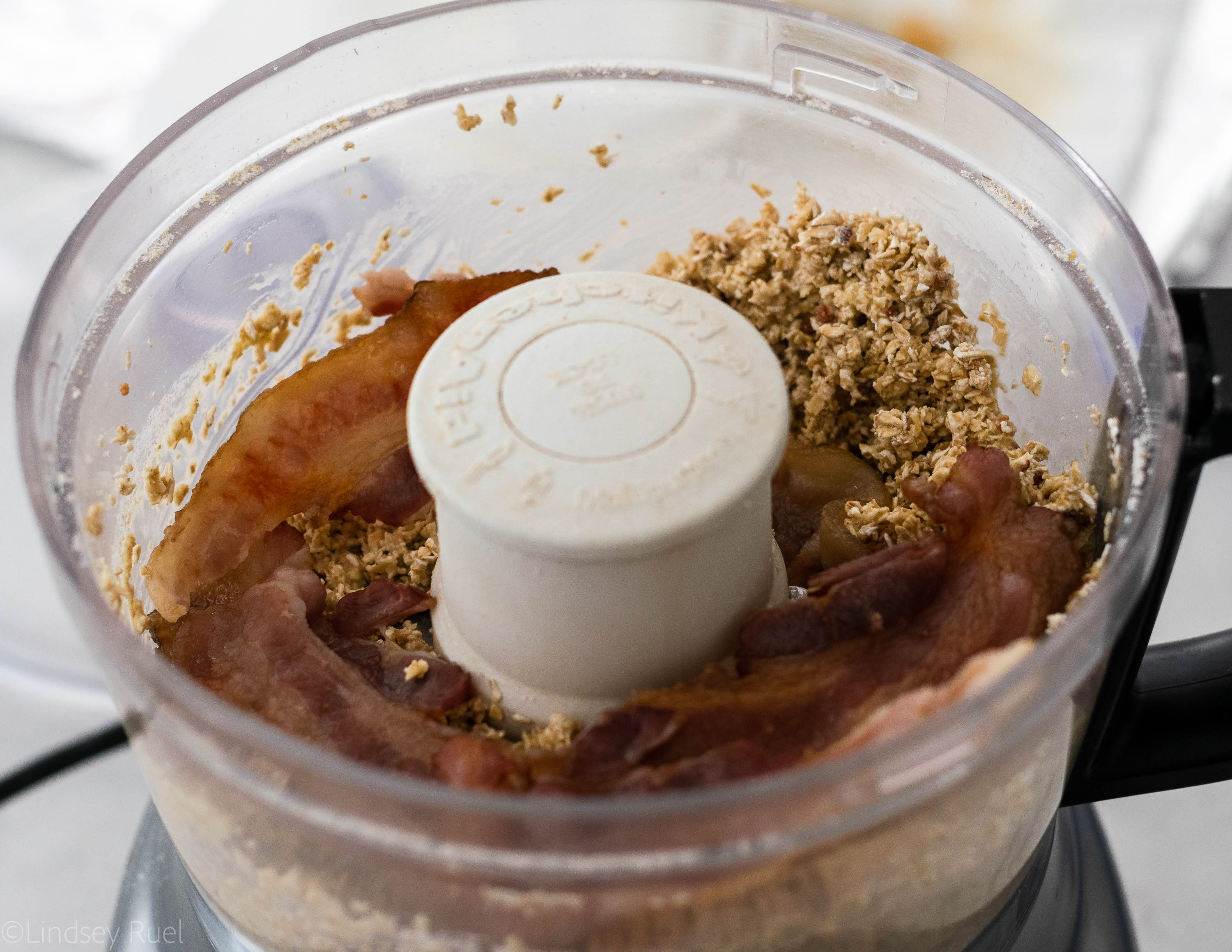 Lastly, add in the rest of the less crispy bacon strips and just process until there are chunks of bacon throughout the dough.
Dump the dough onto a sheet of plastic wrap and wrap into a disc. Refrigerate for about an hour so that all the moisture has a chance to be absorbed into the dough.
When you are ready to bake, roll out the dough and cut into shape. Bake at 350 degrees for about 15 minutes on one side, then flip over and bake for another 5-10 minutes on the other. You want these treats to be completely dried out.
Once they are out of the oven and cooled, you can choose to give them to your dog right away, store them in an airtight container, OR to add even more yumminess!
I know my old dog loved herself some peanut butter. You could give her anything if it had peanut butter on it and she would eat it. So in honor of her, I added a little peanut butter drizzle on top.
Tell me what dog could resist bacon covered peanut butter?
And I know what you are wondering. Did I try them?
Of course I did! I have to try everything I make. The verdict? Well, you probably won't be reaching for these any time soon. They are a wee bit bland and definitely bacon-y, but really not that bad. Kind of like a bland bacon cracker.
But the pooches sure seemed to like them!
Supplies and Recipe
[show_shopthepost_widget id="3241786″]
[amd-yrecipe-recipe:169]