I've shared my favorite sugar cookie and now have some great new sugar cookie recipes for Summer. I have also shared a few fun ways to decorate the sugar cookies. What I haven't yet shared is my favorite recipe for royal icing!
Well friends, today is the day! I am finally sharing my favorite royal icing recipe that I use for all my decorated cookies. After trying a few recipes over the past year, this one is my hands down favorite. It is easy to pipe and creates the perfect crust on the cookies for that perfect finish.
The recipe is pretty much like any icing you would have made when decorating cookies – water, powdered sugar, vanilla – but the key ingredient, and what makes it crust up so perfectly is meringue powder.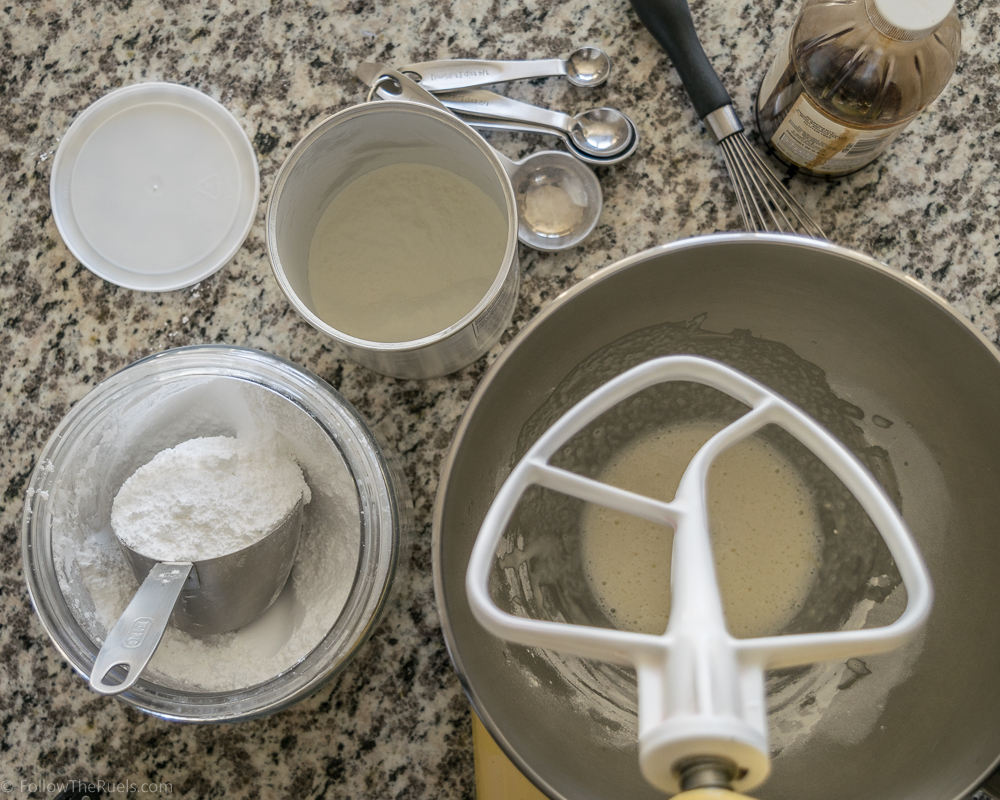 Meringue powder, as you may have guessed, is processed egg whites (so they are safe to consume without heating up) that help give the icing it's consistency and also it's signature "crust". With the help of meringue powder, this icing will dry perfectly so that you can stack and package these cookies without fear of ruining all your hard work!
To start off, I whisk the meringue powder and water until it forms a foam. I like to whisk this up with a plain old while, not the whisk attachment of my stand mixer. I find that the whisk attachment doesn't really do much.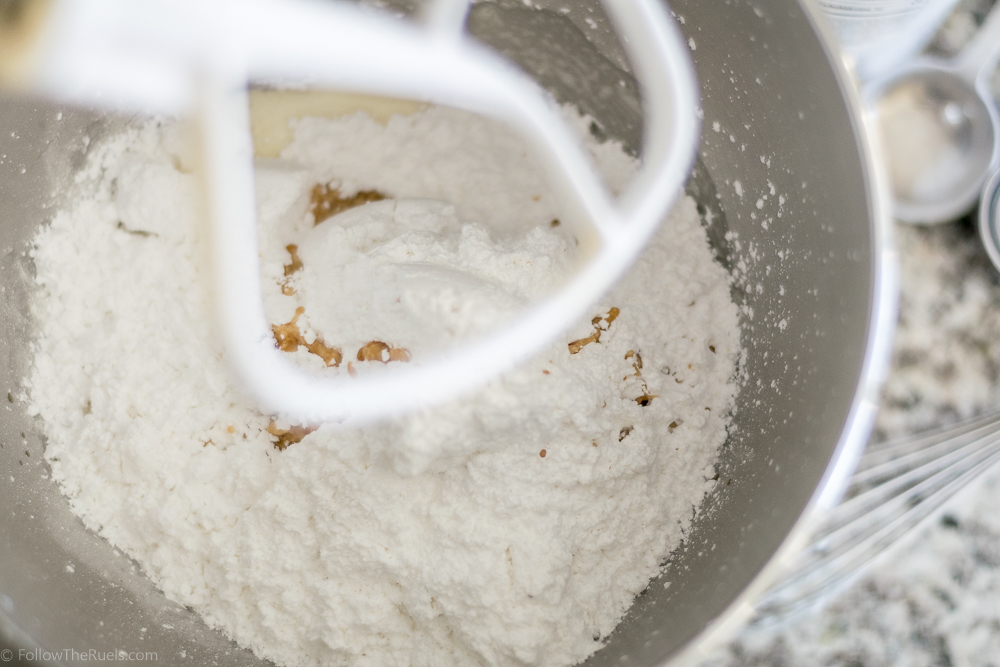 Then I dump in the powdered sugar and vanilla into the mixer and let the thing go to work. This is when a stand mixer really comes in handy because you need to let this mix for about 2 minutes. If you find that the icing is too thick and isn't mixing very well, add a bit more water – about 1 tbsp at a time.



Update: Because I now make such large batches of icing for my cookie decorating classes, I have started using a hand mixer. I actually like using the hand mixer a lot, even though it is a little bit more work. But hey! I'm also getting an arm workout in, too! I just mention this because I know not everyone has a stand mixer, so I want you to know that a hand mixer will work just fine!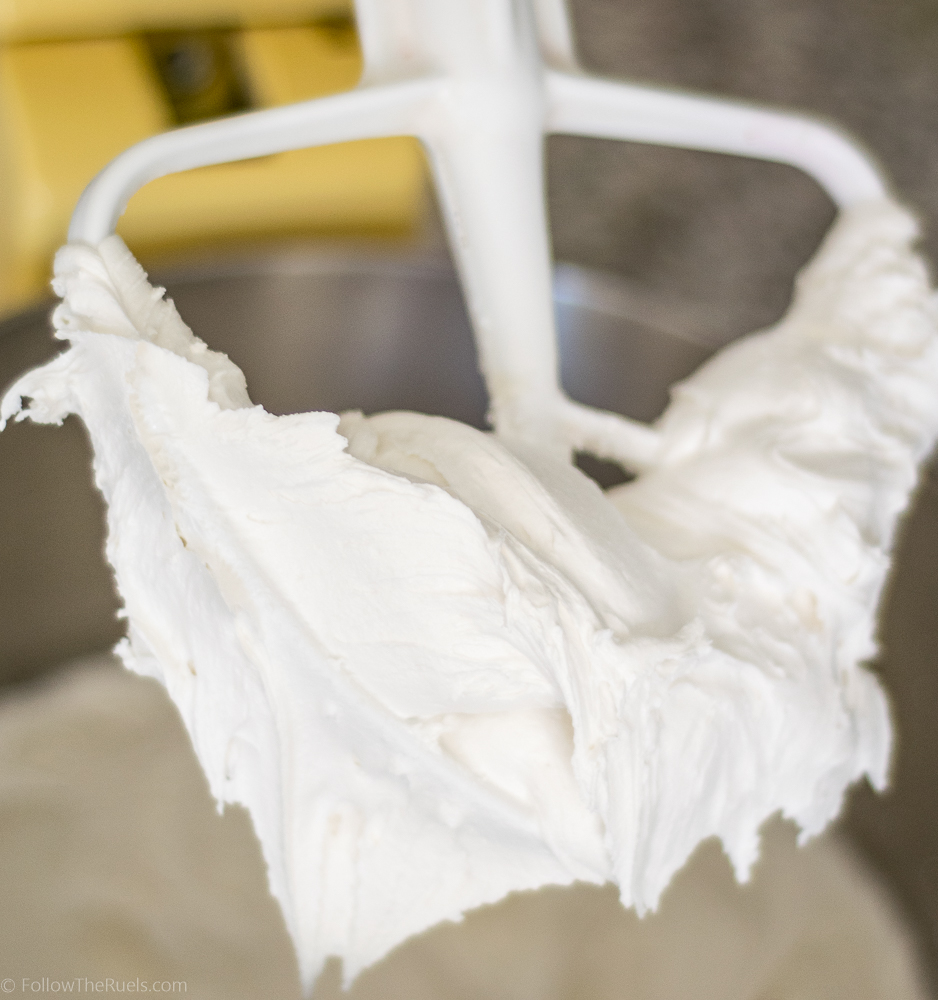 I just whip it up until the icing becomes light and airy. You will know it's ready because the color will change from a cream color to almost white. Don't get me wrong, though, at this point it is VERY thick. This is the kind of icing that you would use to construct a gingerbread house. I've learned that you always want to start with thick icing, then thin it down because 1) it keeps longer in the fridge or freezer if you want to make it ahead of time and 2) it's easier to thin down than to thicken.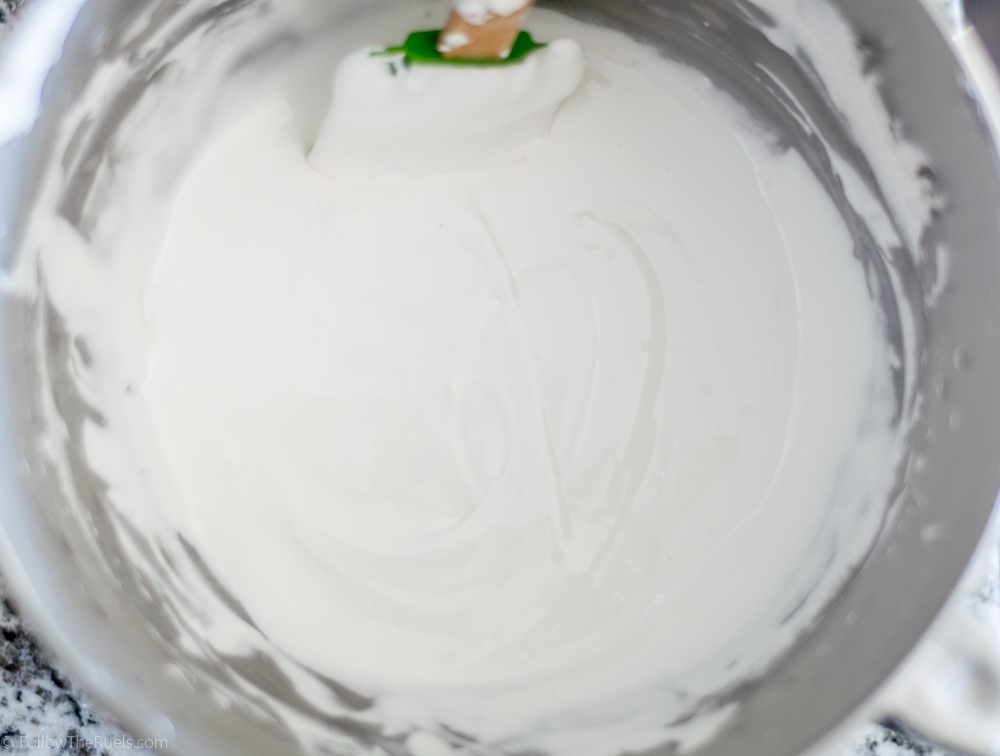 Speaking of thinning down, the photo above is the end result of thinning the icing down to flood consistency. I know it's flood consistency because when I run a spoon or knife over the surface, the icing goes back to how it was in about 10-15 seconds.
My trick to thinning my icing is to separate out the icing into separate bowls for each color I will need. I mix in the color, then slowly add in water using a spray bottle. That way, if I want to have piping AND flood consistency icing that's the same color, I can just spoon some out once it gets to piping consistency.
So how do I know when it gets to piping consistency? I know the icing is good for piping when I can lift up a spoon or knife from the surface and the icing drops down in a relatively steady stream and then forms a soft peak.
Speaking of coloring my icing, I prefer to use gel food coloring versus the liquid stuff you buy at the grocery store. My favorite brand is AmeriColor, which you can find in singles or packs on Amazon. But I also like Wilton brand, which you can find at Michael's or your local craft store.
So now that you know how to whip up a batch of royal icing, here's an easy Valentine's Day cookie you can make this weekend.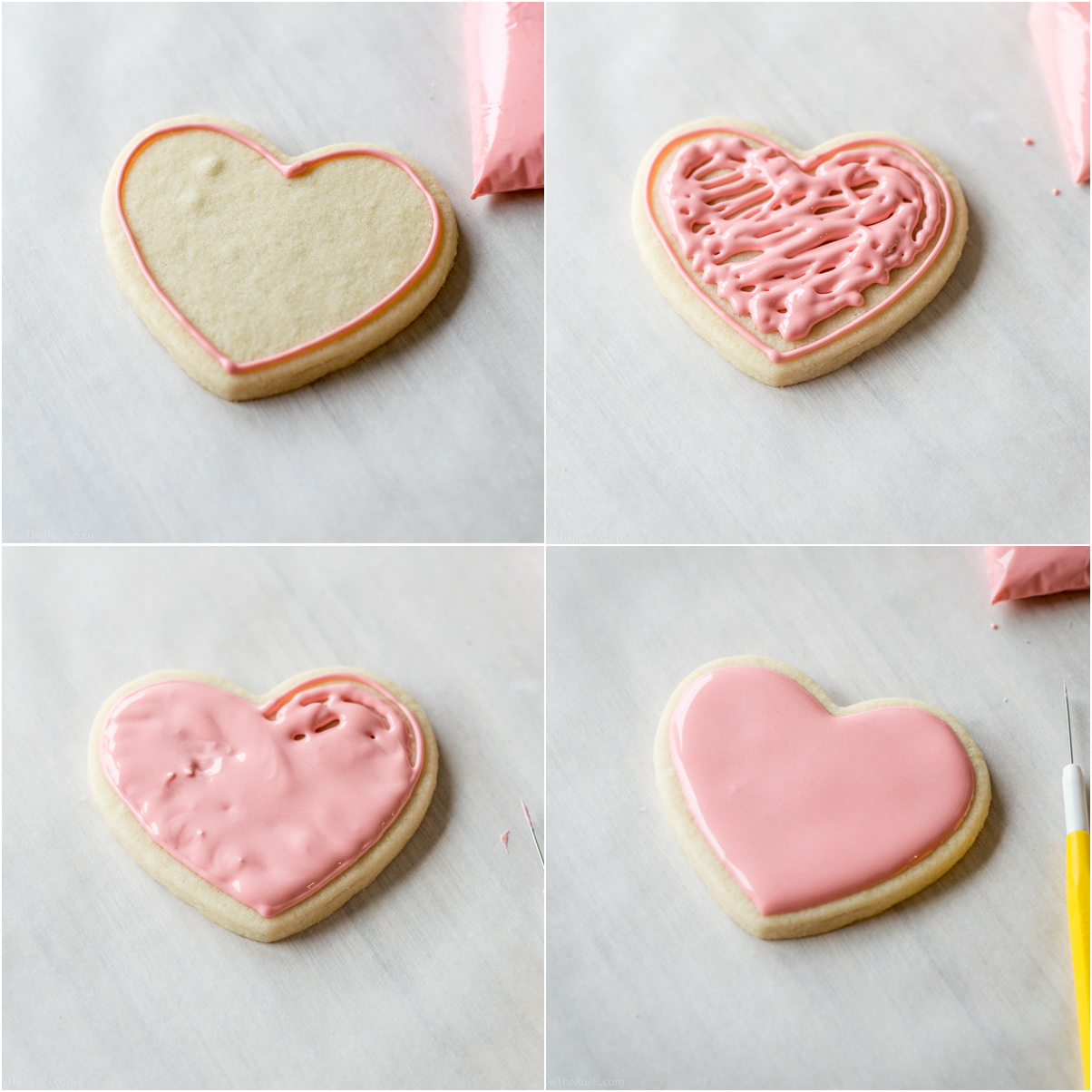 Start with heart-shaped sugar cookies. Then outline the heart in flood consistency royal icing. While the outline is still wet, fill it in with a generous amount of flood consistency icing (NOTE: you can always add more icing if it's not enough, but you can't take it away), then spread out the icing with a toothpick or scribe tool (the yellow thing in the bottom right corner).
You can see the I am using a generic zip-top bag for my piping, which I totally prefer because not only are they cheap and readily available, they do the job just as well. If I am doing something a bit more details or precise, then I would use a piping bag (like these) and some of my piping tips (I highly recommend this kit, but I use this one and this one most often)
If your edges aren't perfect, that's okay! Use the toothpick to even out the outline by swirling in small circles in the icing. Once you are happy with it, tap the cookie on the table to get rid of any air bubbles.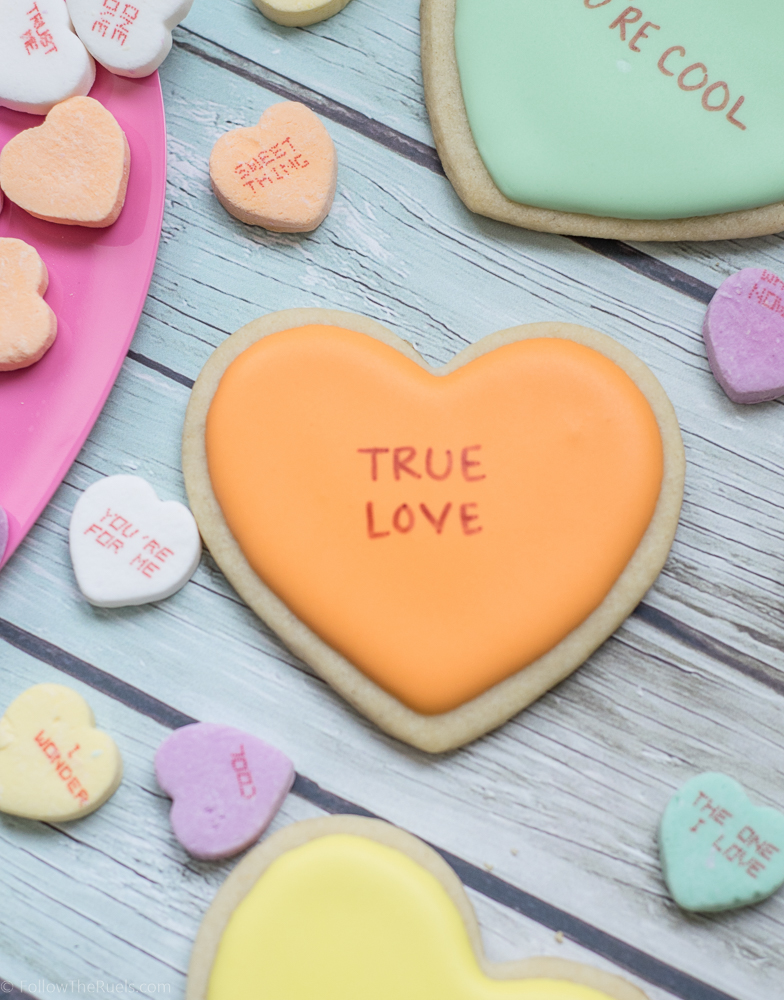 Then to finish them off, use a red food coloring marker (found at any craft store) to write your favorite love word or phrase.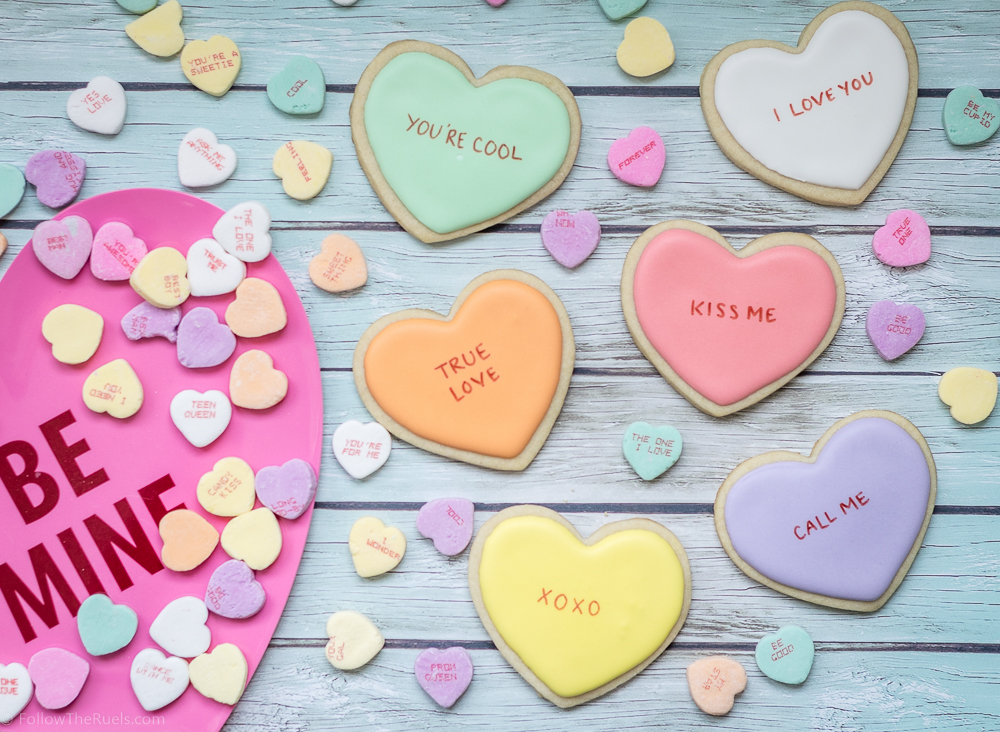 Happy Valentine's Day everyone! And have fun decorating your cookies!
[yumprint-recipe id='102′]
TOOLS USED IN THIS POST:

[show_shopthepost_widget id="2423708″]