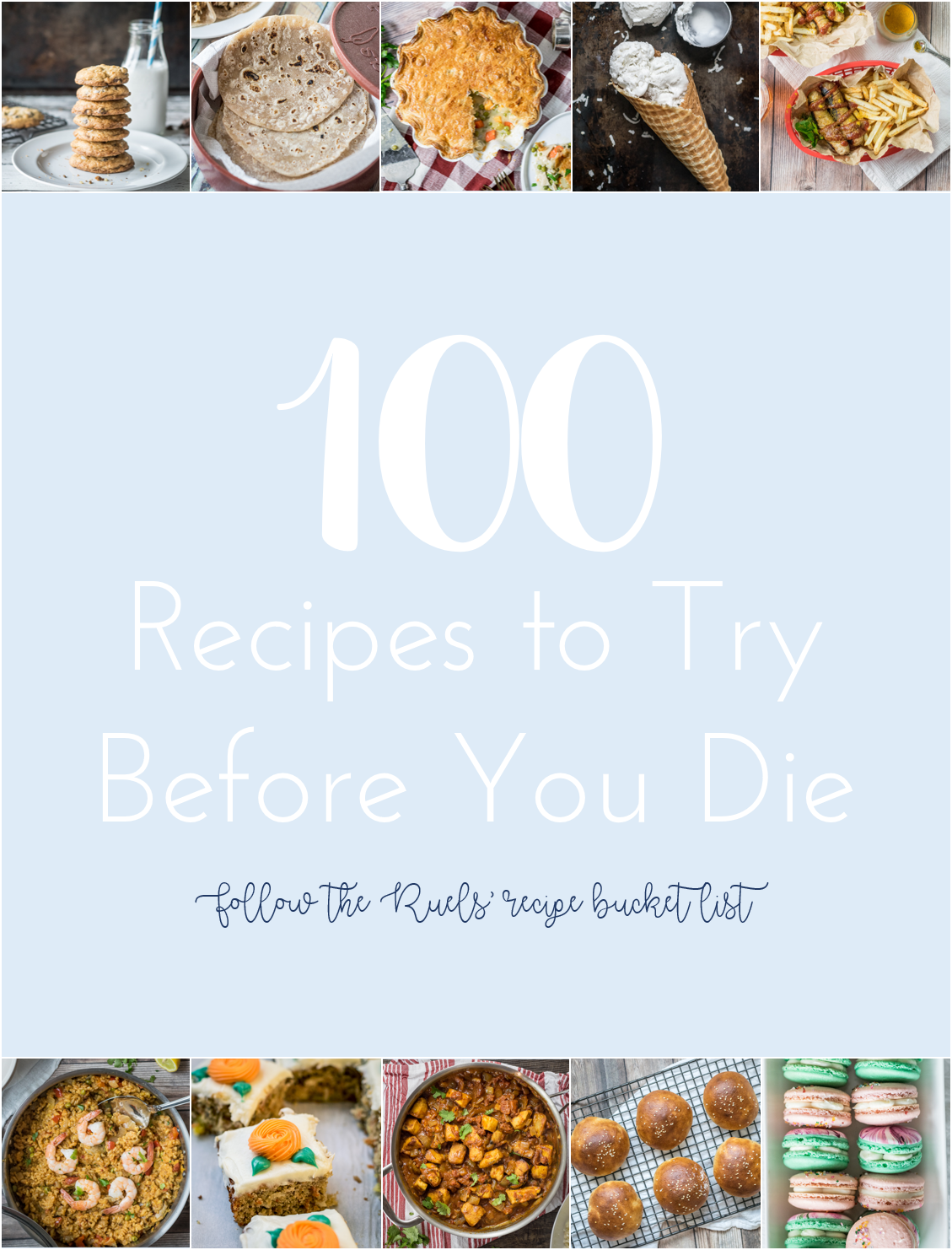 Some of you may have bucket lists that include things like see the Pyramids of Egypt or go skydiving (One of those is also on my list. Hint: it's not the latter.) I, too, have a bucket list, but mine contains a few more food items. Specifically recipes that I would like to try before I die.
To come up with my list I scoured the internet to see what other people had identified as their top recipes. There are actually lots of other recipe bucket lists out there (like this one and this one) that played a part in inspiring the recipes on my list. Ultimately I wanted to come up with a list of classic foods, ranging from easy to difficult. I tried to make the list of foods relatively diverse to include all my favorite cuisines.
Admittedly, this list contains things that I have already made and can cross off the list, so I am not truly starting at 100. But these things were on my list of recipes to try at some point or another.
So, without further ado, here are 100 recipes that I personally would like to make before I die, as well as recommendations for any of you who also have a bucket list of sorts. I would love to hear from you if you have one of your own and what you have put on it!
Peanut Butter
Jam/Jelly
Caesar Salad
Kettle Chips
Tortilla Chips
Pickles
Potstickers
Bruscetta
Deviled Eggs
Collard Greens
Spring Rolls
Paella
Sushi
Shrip & Grits
Cuban Sandwich
Currywurst
Tamales
Barbecue Ribs
Pulled Pork
Bread Pudding
Tiramisu
Ice Cream
Creme Brulee
Banana Pudding
Chocolate Mousse
Pie Crust
Carrot Cake
Pineapple Upside Down Cake
Key Lime Pie
Lemon Meringue Pie
Pumpkin Pie
Apple Pie
King Cake
Angel Food
German Chocolate
Cheesecake
Naan
Mexican Sweet Buns
Hamburger Buns
Ciabatta
Popovers
Easter Bread
Tortillas
Pita
English Muffin
Pretzels
Challah
French
Brioche
Sourdough
Eggs Benedict
Liege (Belgian) Waffle
Cinnamon Rolls
Bagels
Glazed Donuts
Crepes
Chilaquiles
Churros
Croissant
Baklava
Cream Puffs
Eclairs
Puff Pastry
Beignets
Kolache
Cheese Danish
French Macarons
Madelines
Chocolate Chip
Mexican Wedding Cookies
Shortbread
Gingerbread
Roasted Chicken
Fried Chicken
Chicken Pot Pie
Coq a vin
Chicken Mole
Butter Chicken
Tandoori Chicken
Chicken Tika Masala
Peking Duck
Thanksgiving Turkey
Beef Bourgouinon
Bolognese Sauce
Brisket
Lasagna
Beef Wellington
Enchiladas
Empanadas
Bulgogi
Gazpacho
Pho
Ramen
Chili
Ricotta
Mozzarella
Cheese Souffle
Queso
Grilled Cheese
Mac and Cheese
P.S. I will be tracking my progress on all of these recipes on my new Recipe Bucket List page.