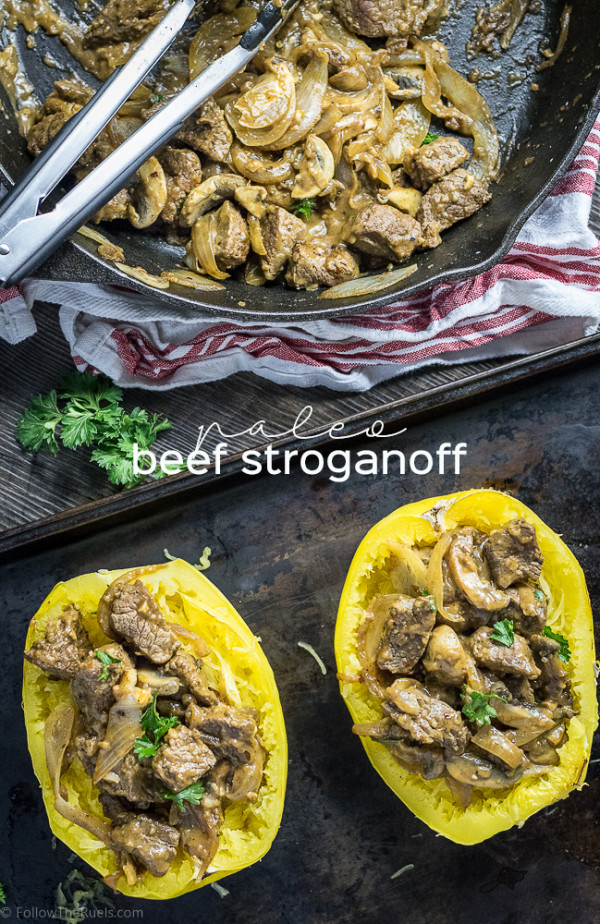 I grew up with a working mom who rarely had anytime to make big fancy dinners. In fact, one of my favorite meals as a kid was something we liked to call "meat pie", which is essentially Pillsbury Crescent Roll dough pressed out in a pie pan, ground turkey mixed with tomato paste and spices, then baked under a layer of cheese. Sounds kinda good, doesn't it? Maybe I will make it for the blog sometime.
This blog post isn't about meat pie, unfortunately. It's about Beef Stroganoff. When my mom did have some time to cook up something other than meat pie (she actually cooks a lot of other things, don't get the wrong idea), she would make up her version of a healthy Beef Stroganoff. Healthy is sort of relative. It was loaded with butter, sour cream, and noodles. It can definitely get healthier.
Which is exactly what I attempted to do during my Whole 30 challenge. It did seem a little daunting when the key ingredients are sour cream and noodles. But I have become so accustomed to substituting in coconut milk and spaghetti squash, it was a no-brainer.
I started this off by roasting the spaghetti squash since that was going to take the longest. While the spaghetti squash was in the oven, I seared the beef then cooked the onions and mushrooms. Since I wasn't using a heavy cream or thick sour cream for my sauce, I wanted to thicken up my coconut milk a bit. Fortunately, coconut milk is already pretty thick, so I just used a bit of agar agar powder to get it a bit thicker. I then poured the sauce over the beef, onions, and mushrooms, and let the flavors marry and sauce thicken.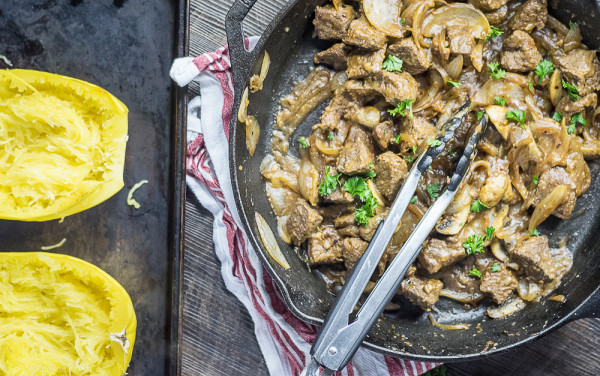 To serve, I just spooned a healthy portion of the beef stroganoff right on top of the spaghetti squash, which I had already pulled apart with a fork.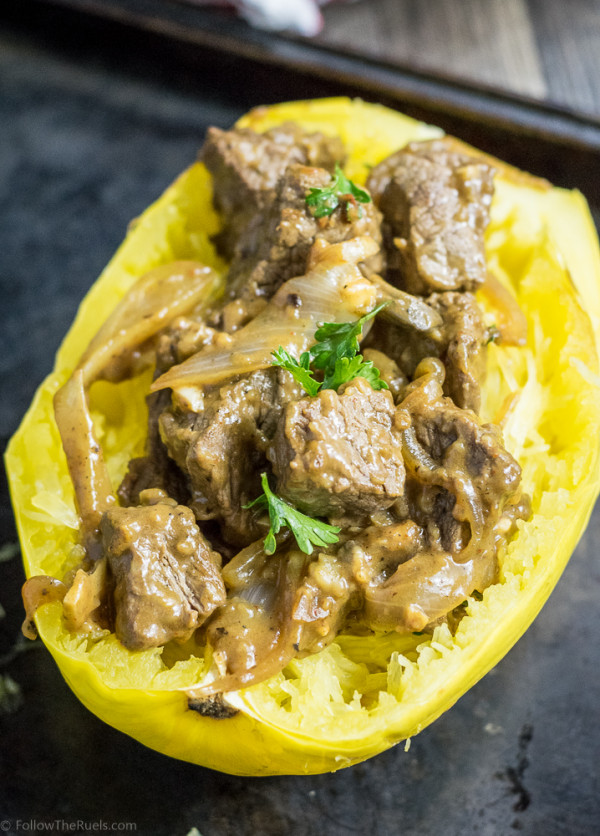 It may not look it, but the resulting Stroganoff is rich, creamy, and has a hint of heat from the red pepper which my husband and I both liked (our personal twist to the recipe). It was definitely one of his favorite recipes during my Whole 30 and I have even made it since completing the diet because it was that good.
If you are not on a Paleo diet, but are looking for a healthy alternative to Beef Stroganoff feel free to use Greek yogurt instead of coconut milk and agar agar. You can also serve over zucchini noodles or cauliflower rice.
[yumprint-recipe id='105′]