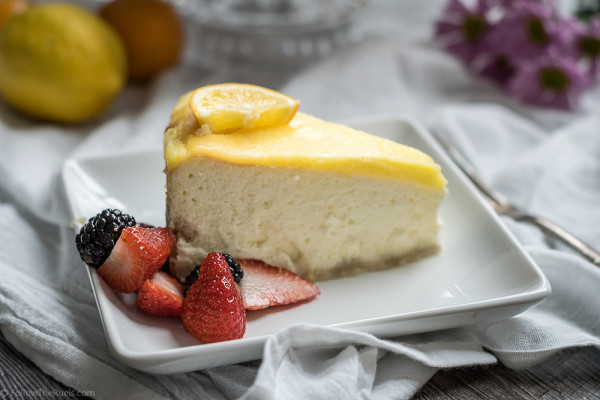 This cheesecake, along with all that Easter candy, is the reason I am back to dieting this week. I know a lot of times I try to make my favorite treats a little healthier but cutting out the fat, sugar, and guilt. But this lemon cheesecake is not one of those times. This is full fat, full sugar, and oh so worth it! Sometimes you have to treat yourself with a decadent dessert, like on holidays… when calories don't count. What? You haven't heard that? 😉
I guess I should have anticipated this when I combined two of my favorite desserts in the world: my mom's classic cheesecake and lemon meringue pie. My self control never stood a chance.
The foundation of my mom's cheesecake is the sugar cookie crust. Many people have been skeptical of the sugar cookie crust, but once they try it they are converted. Not only is the sugar cookie so much better suited for all the lemon flavor going on in in this cheesecake, it is SO much easier than a graham cracker crust. We (my mom and I) just use the slice and bake sugar cookie dough you can find in your grocery store's refrigerated section. To make the crust, I sliced the log of dough into discs then pressed them around the bottom and sides of a spring form pan.
After the crust was ready, I put it aside and got started on the cheesecake. It's actually pretty simple and comes together very quickly. I creamed together the cream cheese and sugar, then I added in the eggs, Greek yogurt (my mom uses sour cream), and vanilla. Since I was making this a lemon cheesecake, I added the zest of of one lemon. When the batter was well mixed and smooth, I poured it into the crust.
Now my trick for baking the cheesecake is something I learned from Martha Stewart. She bakes her cheesecakes in a shallow pan of water so that the steam helps prevent the cheesecake from cracking. To keep the water from seeping into the cheesecake, I wrapped the pan in tin foil. I baked the cheesecake for 10 minutes at 450 degrees, then lowered the temperature to 325 and cooked for another 60 minutes, or until the cheesecake no longer jiggled in the center. It's okay if it has a little wobble, but you don't want it to look liquidy in the center.
While the cheesecake was baking, I went about making the lemon curd. I followed the same technique I used to make these lemon bars. While I find making lemon curd pretty easy, when I was telling my mom about this recipe she scoffed at the idea of making homemade lemon curd. She didn't like the idea of separating the eggs. A woman who was a home economics major and working mother thinks separating eggs is too much trouble. Where did I go wrong with her? Anyways, if making your own lemon curd isn't up your alley either (I actually do get it, I just like to give my mom a hard time), you can certainly buy a jar of it at the store. I would just recommend that you warm it up first to make it a little more spreadable.
So at this point I have made my lemon curd and let it cool just a bit. My cheesecake is fully cooked and also slightly cooled. I poured the warm curd over the cheesecake and used an offset spatula to evenly cover the cheesecake. I then let everything cool to room temperature, then put it in the fridge overnight to really set up.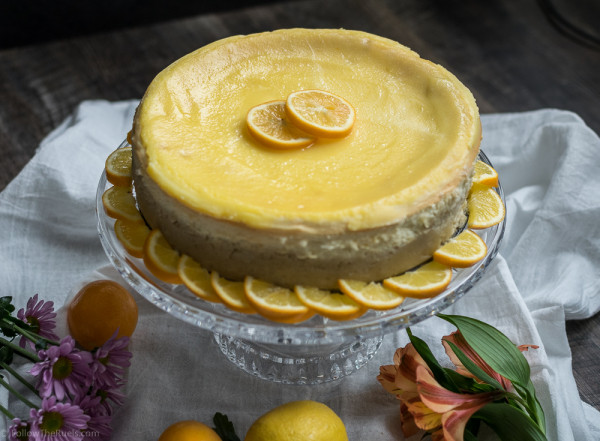 When I was ready to serve, I removed the outer ring of the spring form pan and dressed it up with some slices of meyer lemons since I used some meyer lemon juice in my lemon curd (not necessary, but it's meyer lemon season).
This was the perfect dessert for Easter brunch. Rich and decadent, but still fresh and crisp! And it was a total hit with the group. I sent slices home and whatever was left over was quickly demolished at work the next day. This would be perfect to make for Mother's Day, Father's Day, or any Spring or Summer outing.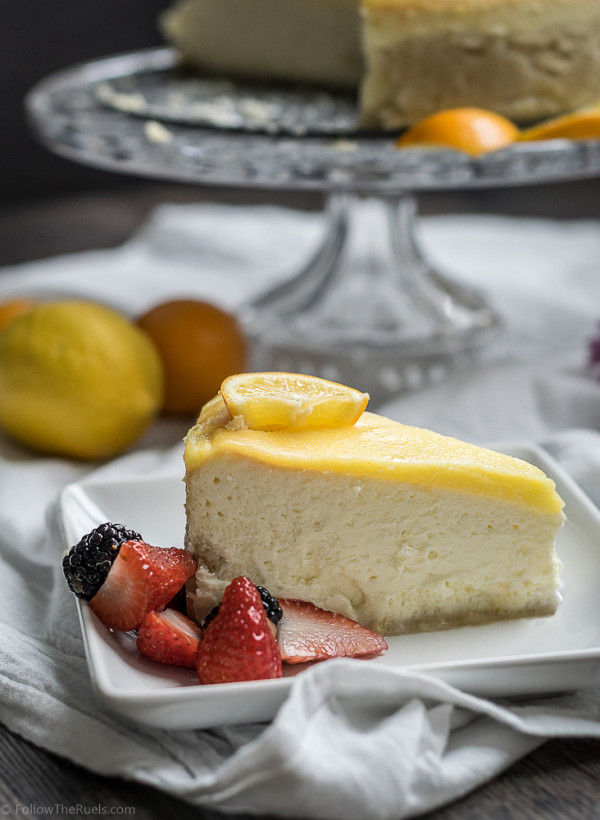 [amd-yrecipe-recipe:14]