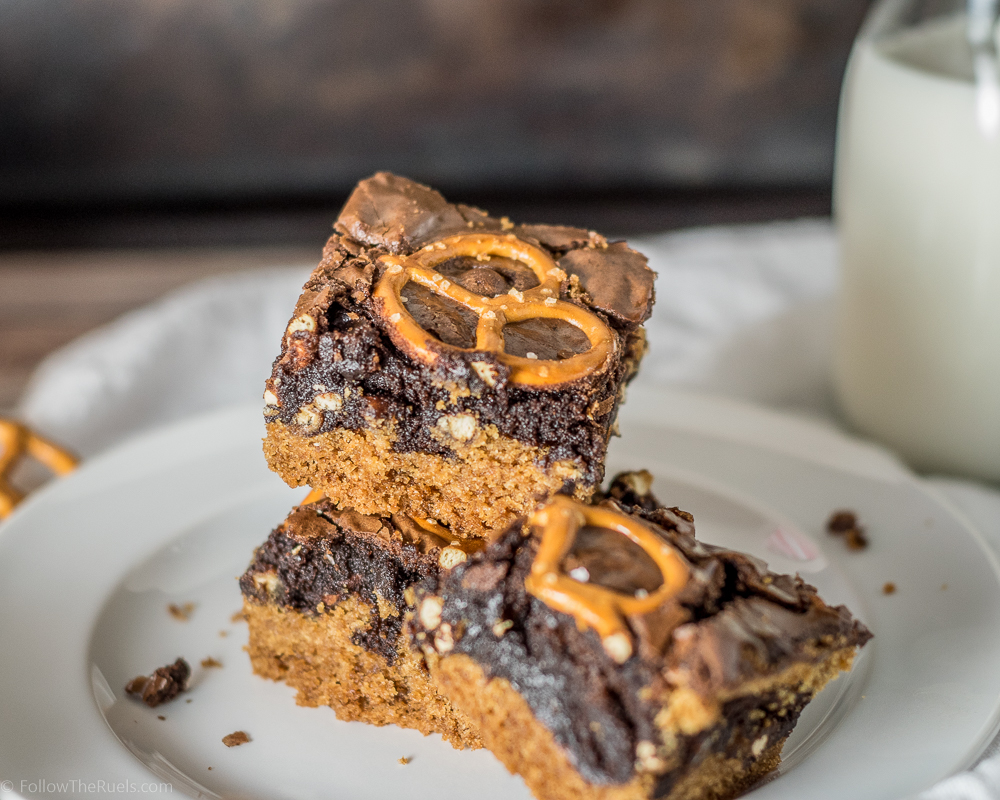 Okay, I bet you are asking yourself a couple questions right now. 1) What is a brookie?, and 2) What makes it a Chubby Hubby Brookie?
Both great questions. Let me inform you.
A brookie is a brownie-cookie. In this case, it's a brownie that is mixed with a cookie dough and baked in a bar form. In some cases it can be brownie mix baked in cookie firm.
A Chubby Hubby brookie is a brownie combined with a peanut butter cookie,and topped with pretzels. Basically all of my favorite foods in one delicious and indulgent bar.
I can't take credit for the name "Chubby Hubby", which was coined by the fine folks at Ben and Jerry's when they created the Chubby Hubby ice cream. Nor can I take credit for having a chubby hubby. My hubby is most certainly not chubby, but I am sure I could get him there if I made these brookies more often.
I started with a layer of peanut butter cookie dough, then topped it with the brownie batter. I would not recommend switching the order of these layers. If you start with the brownie batter, then top with the dough, the dough will just sink to the bottom. I like having the two distinct layers of the cookie and the brownie.
In between the two layers, I popped a couple pretzel pieces, just for some extra crunch! I also added the pretzels to the top of the brookie which get extra crispy in the oven and also add that nice salty bite.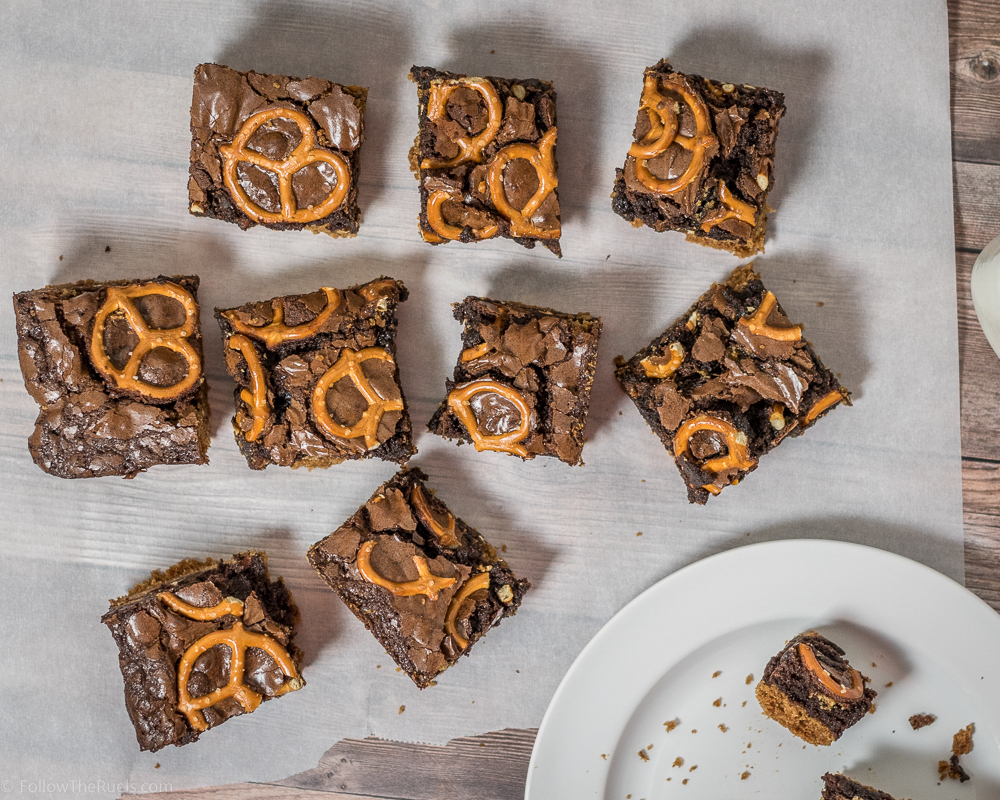 My only gripe about these (and with brownies in general), is that you can't really dig into them right away! It's best to let brownies cool completely before cutting them so that they don't get stuck on your knife. Most of the time I can't wait that long. It was so hard to have these sitting on the counter, smelling the wafts of sweet chocolate and peanut butter, and not cutting myself off a corner (I am team corner brownie all the way!).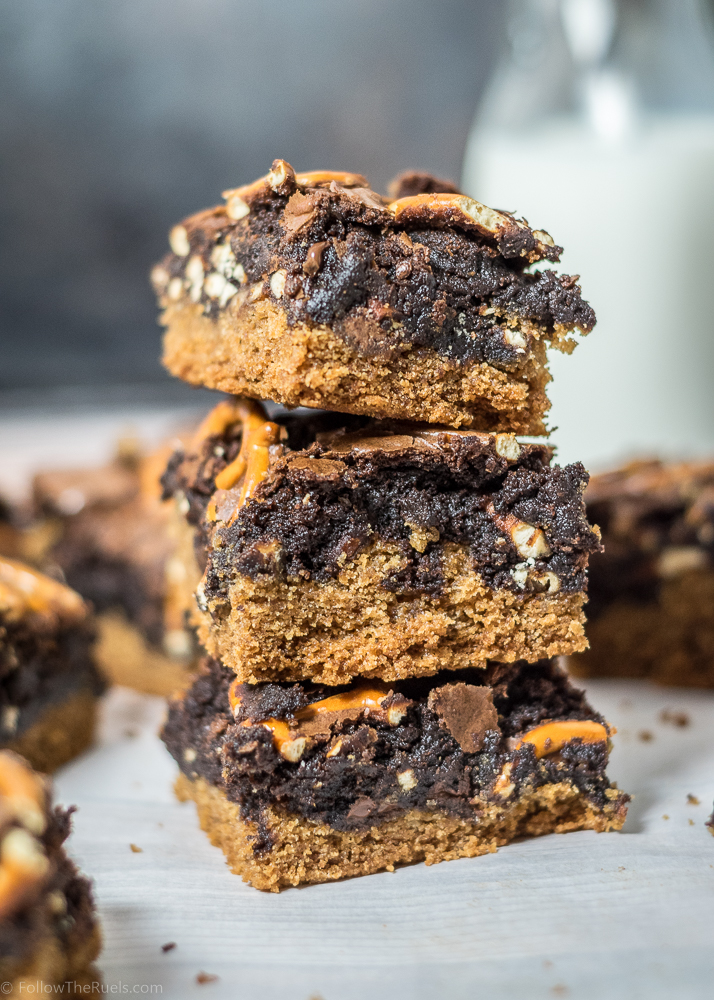 But finally, when I was able to give them a taste, I was in heaven! Like I said before, peanut butter and chocolate AND pretzels is pretty much the all my favorite flavors combined, so these were pretty damn near perfection. They not only had all my favorite flavors, but I loved the mix of textures, too. The peanut butter cookie is crumbly, almost like a crust, and the brownie is soft and fudgy (if that's even a word). Then, with every bite there's that little pretzel crunch!
Sounds amazing right? Well, I suggest you make these for your chubby (or not so chubby) hubby immediately!
PIN NOW, MAKE LATER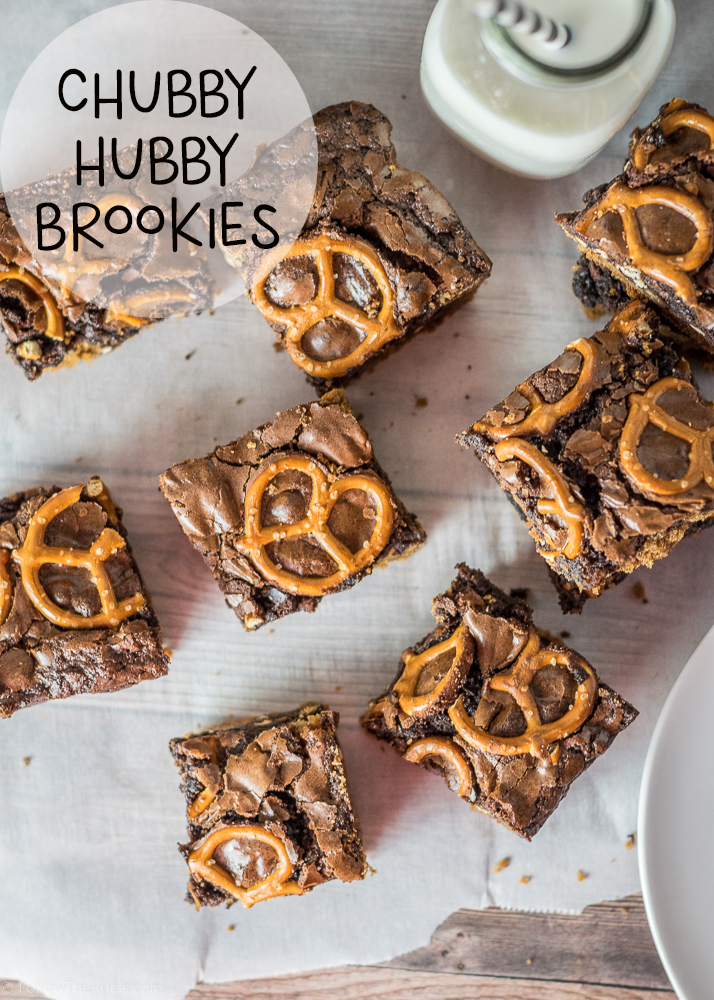 [amd-yrecipe-recipe:95]