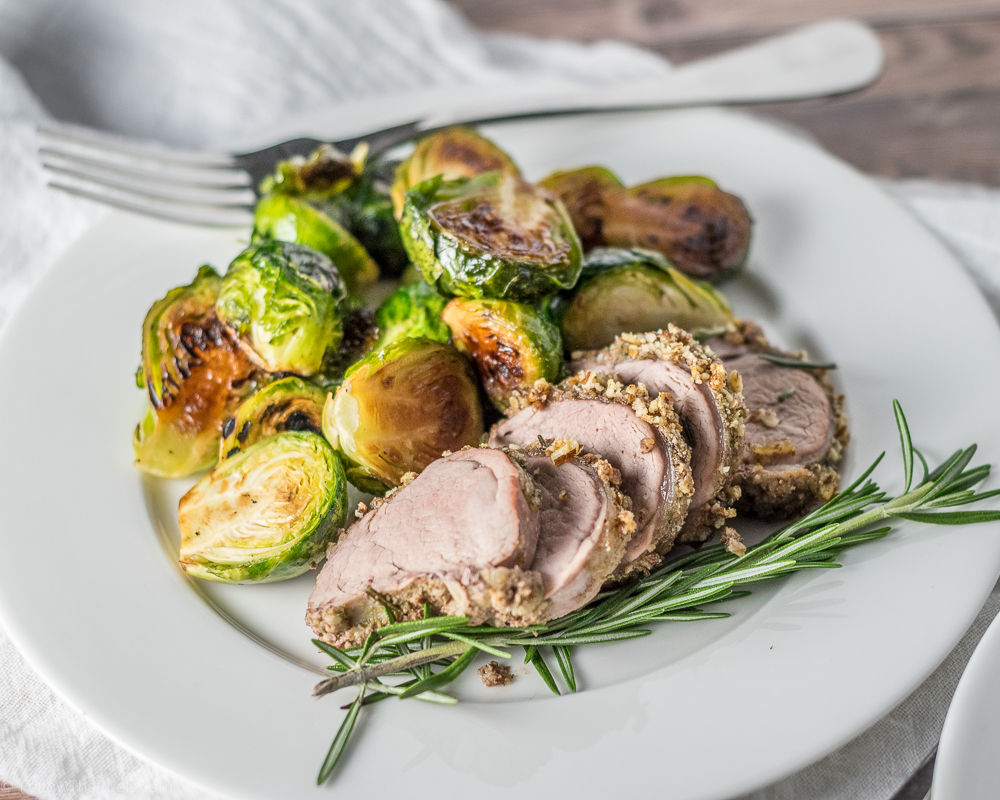 Every so often I get on these kicks where everything I seem to make has the same ingredients. Last month, it just about everything I made had pumpkin. This month, it seems like everything I've made has had pecans in it. Well, not just pecans, but maple syrup, too. First it was this cake. Now it's this pecan and herb crusted pork tenderloin. And it's not the last pecan recipe you will see this month, either.
I have been trying to come up with some Fall recipes that could also double as a Thanksgiving turkey substitute. I know…no turkey on Thanksgiving is practically un-American. But 1) not everyone likes turkey, and 2) not everyone wants to commit to to making a turkey if they aren't serving a dozen or more people.
Since my husband and I rarely travel home for Thanksgiving, this pecan and herb crusted pork is something I would make for just the two of us and still feel like we are having a hearty Thanksgiving meal. In fact, the crust itself smells just like Thanksgiving. It has all your those delicious Thanksgiving flavors you'd probably find in your favorite stuffing recipe: sage, thyme, rosemary, pecans….yum, right?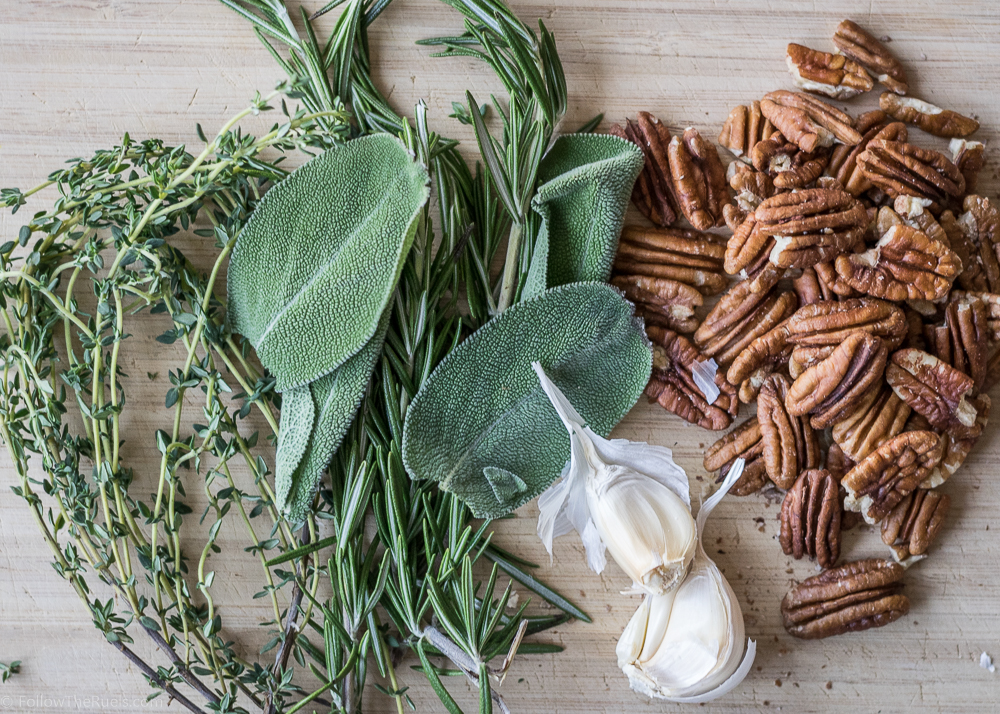 To get the pork nice and flavorful, I first, marinated it in a puree of the herbs, olive oil, garlic, and maple syrup. After the pork had rested overnight, I rolled it in some crushed up pecans. Since the pork was covered in the sticky herb pesto (thank you maple syrup!), the pecans stuck right to it.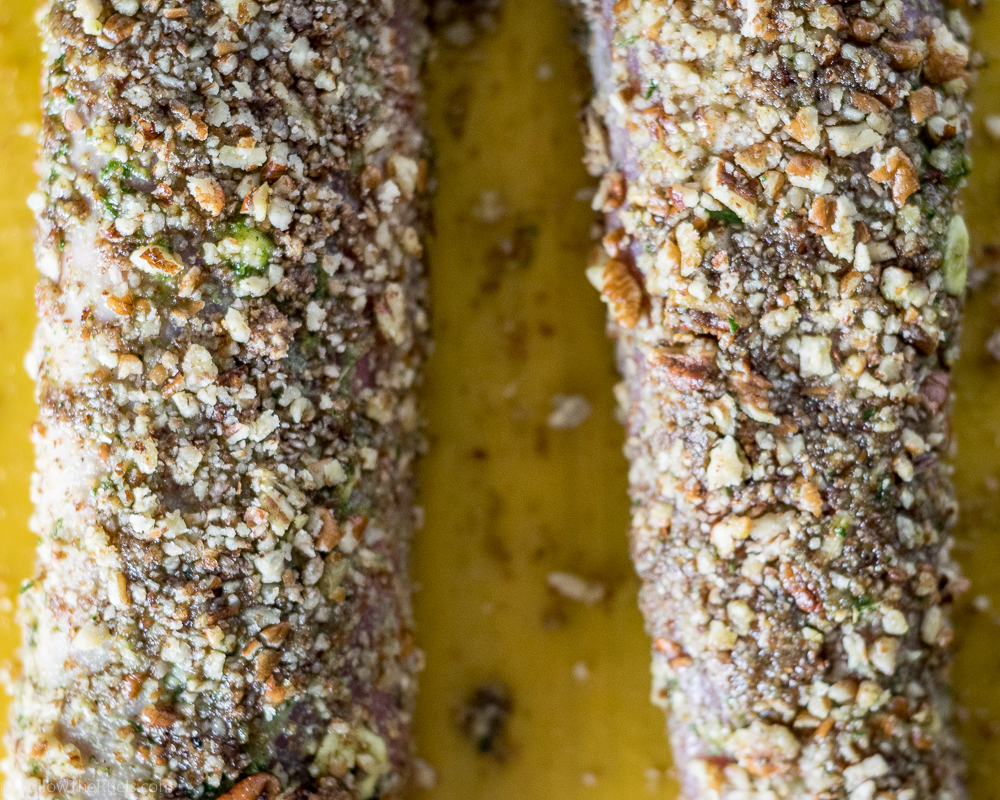 Now all that was left was to roast the pork.
I placed the pork loins on a baking sheet and covered them with tin foil so that the pork stayed moist and the pecan crust wouldn't burn. Since the pork took an hour or so to roast, I decided to use that time to multi-task and roast up a nice side of maple coated brussels sprouts. Why not put maple syrup on everything?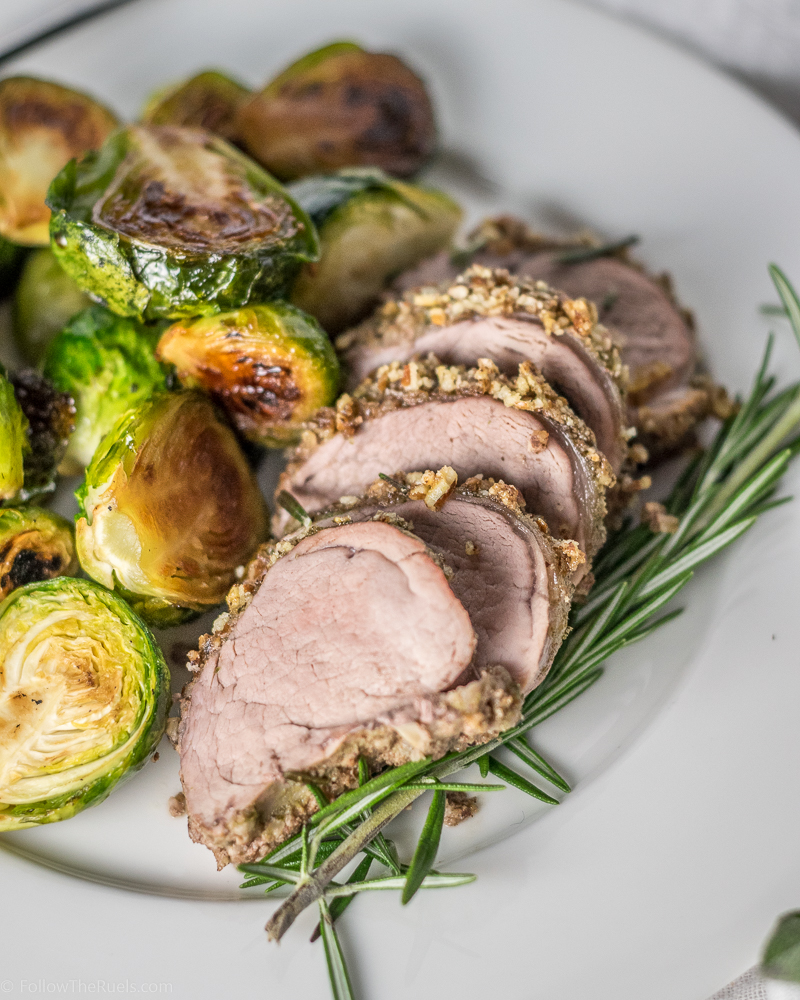 This pork recipe lived up to every expectation. I didn't even miss the turkey. Sorry, turkey…you've been replaced. What I love about the pork is that it stays so much more moist than turkey, and this particular recipe had so much flavor! Sometimes I am disappointed with my Thanksgiving turkey because not only is it dry, but it's kind of bland. Which is why I make sure to have a bite of stuffing along with every bite of turkey. But this pork is practically coated in all the flavors in stuffing….and….it's actually pretty healthy!
And if you are like me, that means you can have an extra helping of pie later.
PIN NOW, MAKE LATER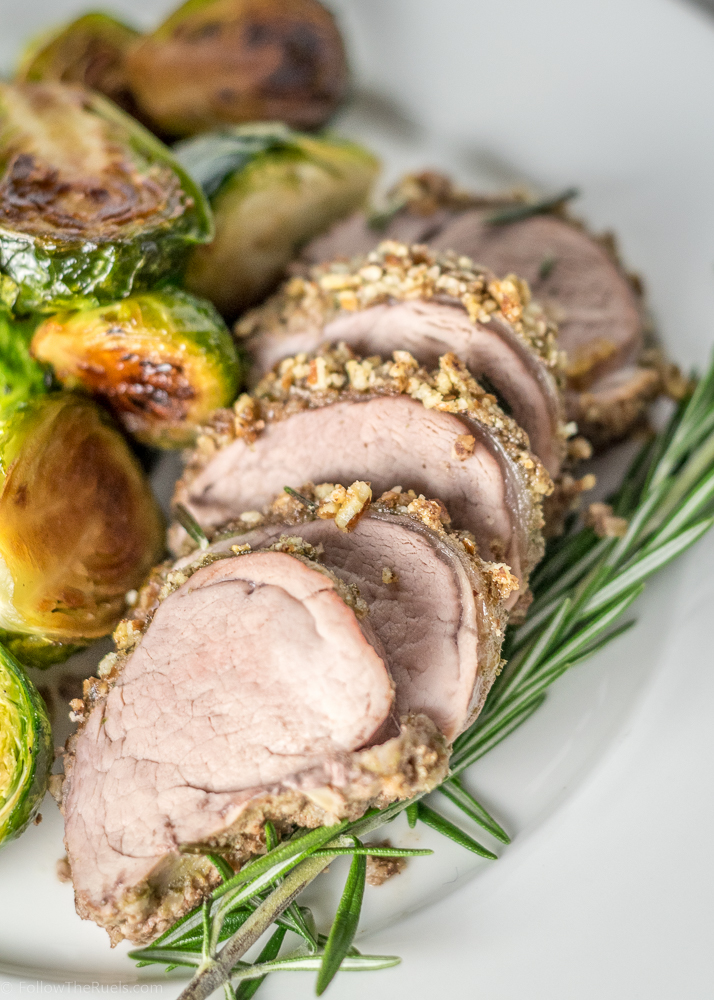 [amd-yrecipe-recipe:97]