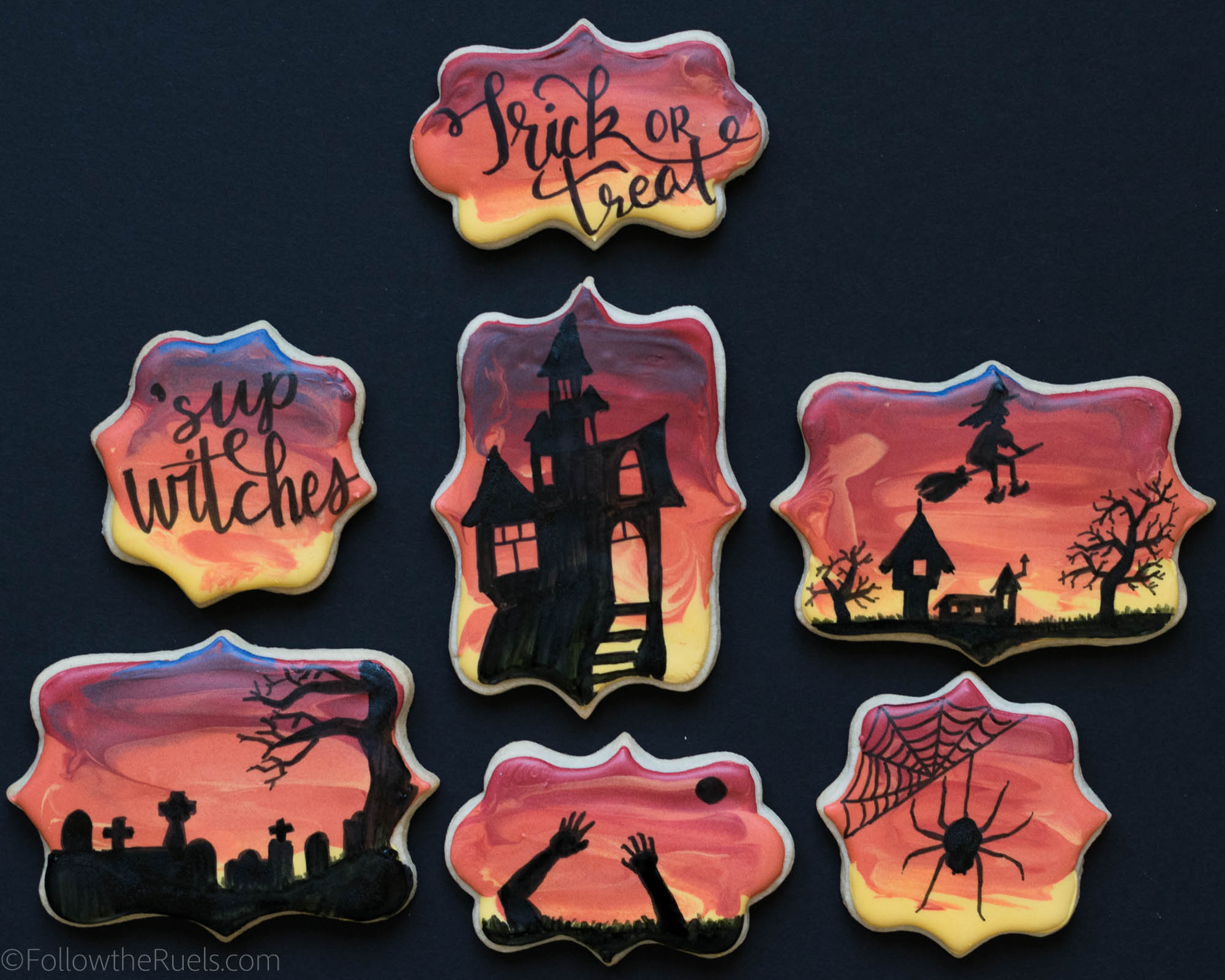 Happy Halloween everyone! As an adult, I don't get to really enjoy Halloween as much. There is really no dressing up (for me anyway). Eating lots of Halloween candy also comes with lots of Halloween guilt. And for us, we live in an area that doesn't get any trick-or-treaters, so I can't even live vicariously through the kids.
But that doesn't stop me from making lots of Halloween treats! In the past, I have made these Halloween macarons. This year I made these Halloween skulls and now these Halloween Silhouette cookies which were actually inspired by painted rocks.
I really loved making these cookies because they were surprisingly easy! It also helped that I was already making red, orange, and yellow icing for my Houston Astros cookies. But if you have kids, these would be a great baking project to do with them. Once the icing is dry, you can give them a black edible food marker and let them draw whatever they want on top.
Here's what I did:
First I piped three sections of red, orange, and yellow icing from top to bottom. Then I used my scribe tool (or toothpick) to just fill in some of the empty space. After that, I took a pallet knife (a butter knife will also work) so spread the layers of icing together. This will form a semi ombre effect and also look like a bright sky at sunset.
For some of the other cookies, I added a little dark blue at the top to really make it look like a night sky.
After the cookies dry for a couple hours, you can draw and paint right on top.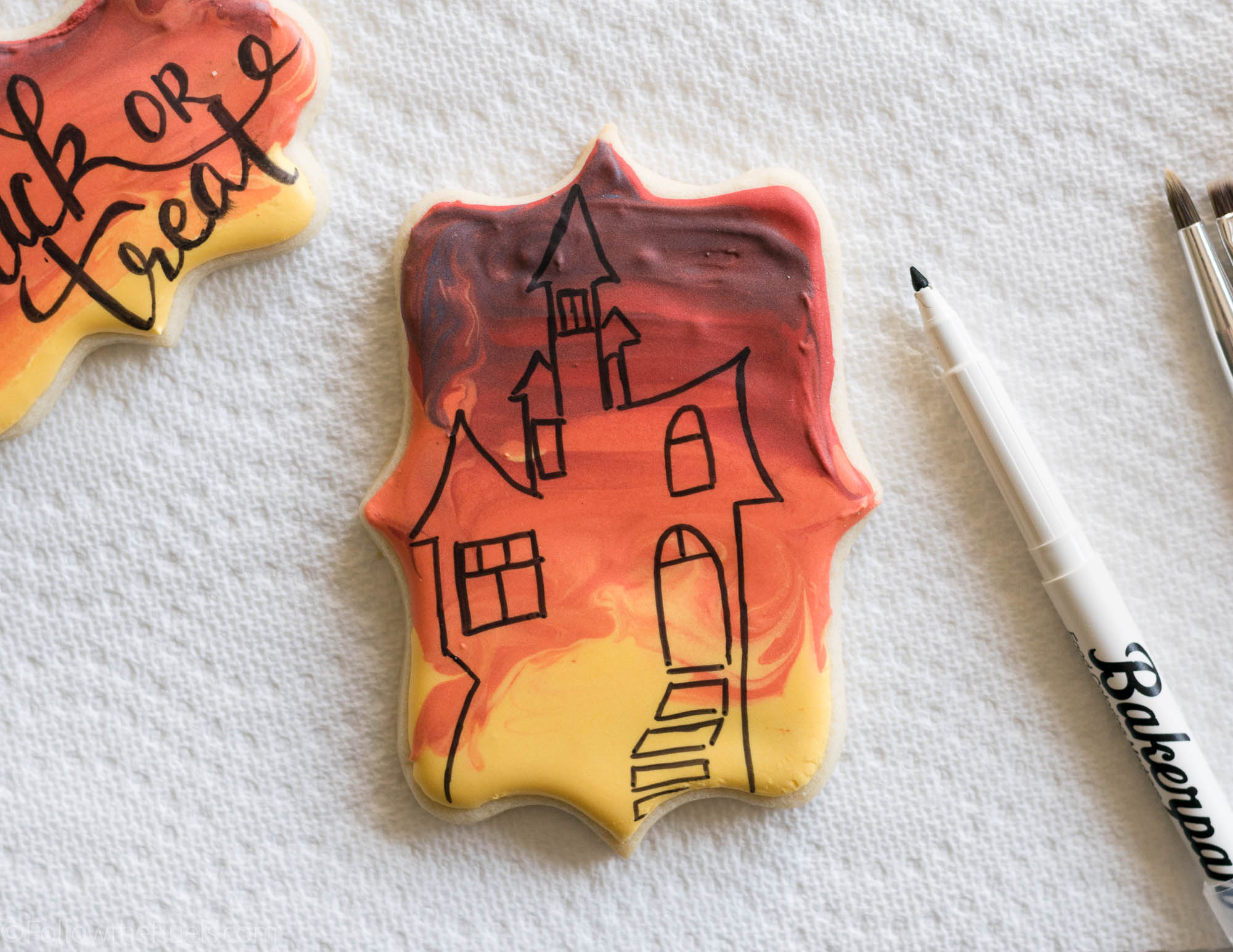 I took my inspiration from a quick Pinterest search of Halloween silhouettes to find this spooky house and the rest of the images that I used.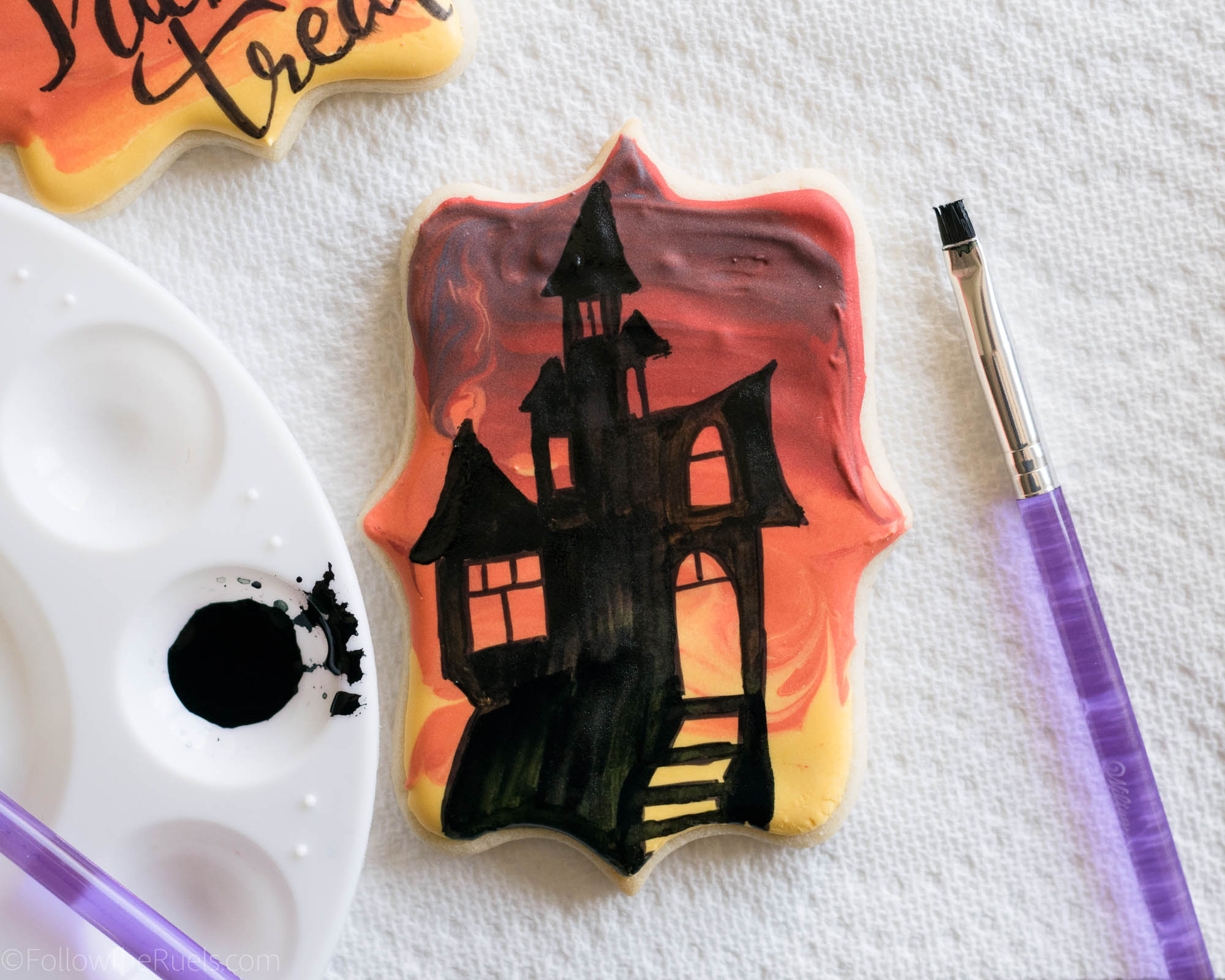 For the larger images, like this house, I used black gel food coloring, slightly diluted with almond extract, to paint the house. For smaller images, like the spider web, I just used my marker.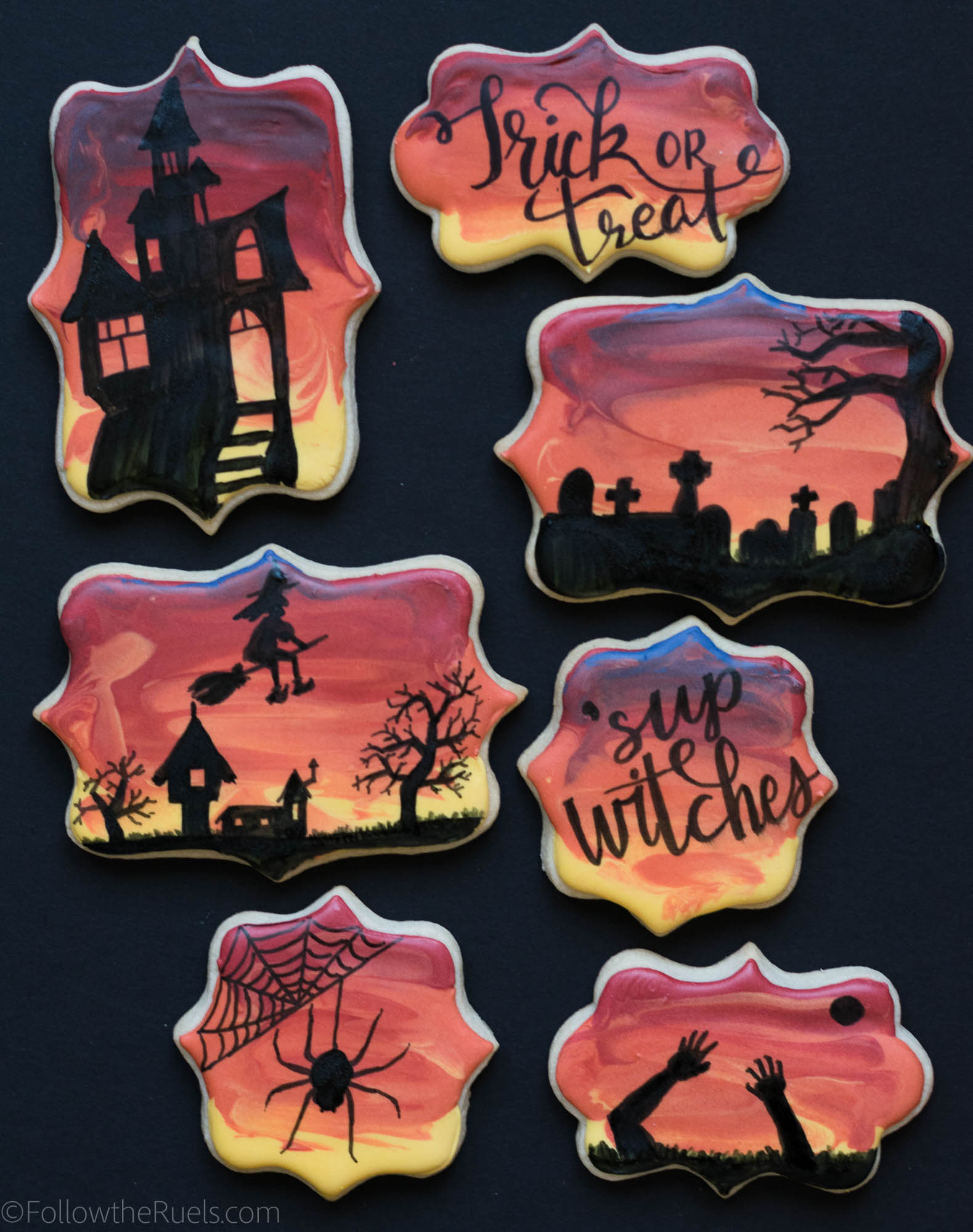 I absolutely love these and will be making them again next Halloween for sure! There are so many fun images that you can draw on top, the options are endless. I found myself thinking of more ideas after I had run out of cookies.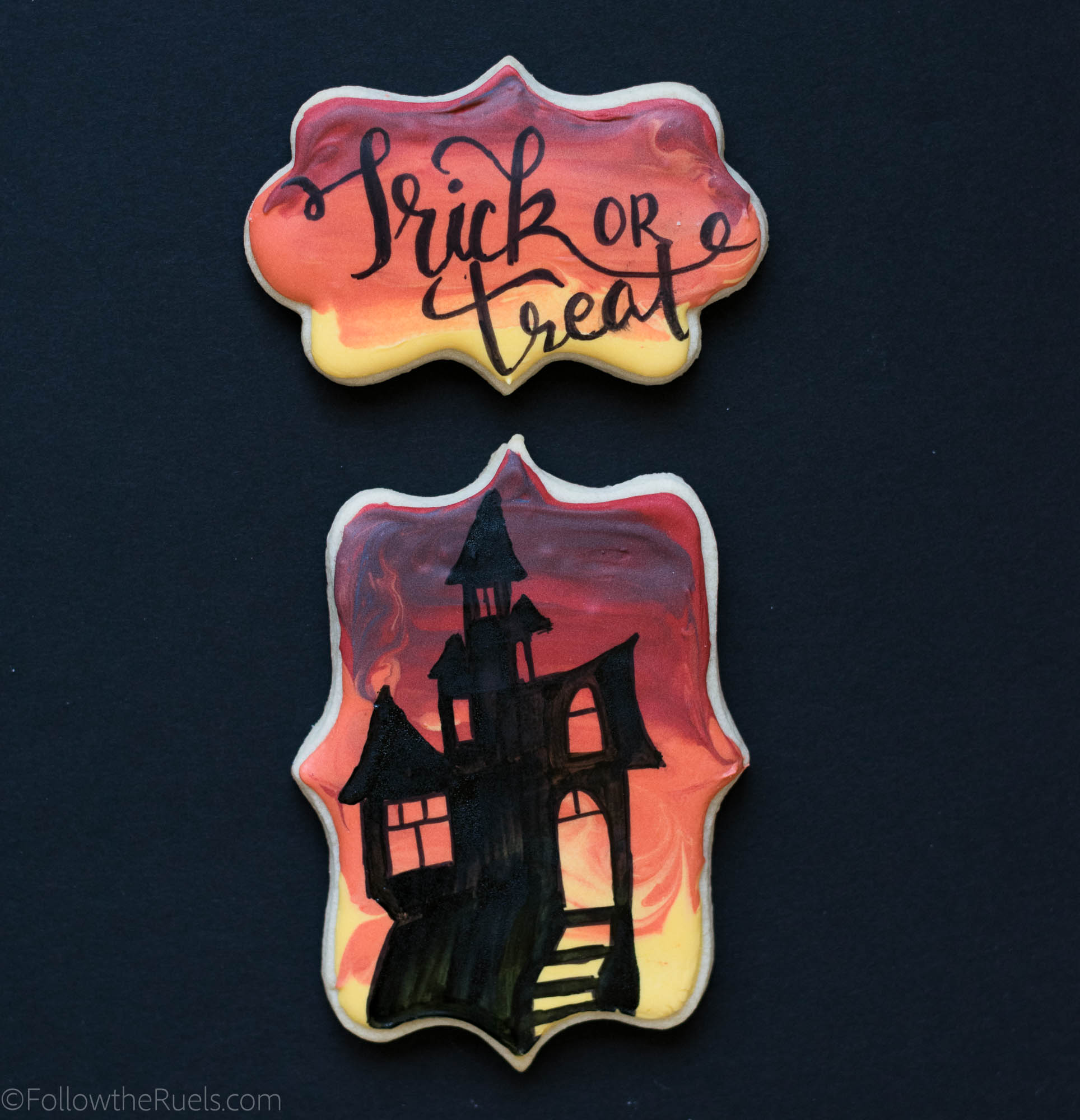 As usual, I used my favorite sugar cookie recipe and royal icing recipe. You could also make chocolate cookies, which would really amp up the colors of the sky. Or you could do pumpkin spice!
Below are the tools that I used for these cookies.

[show_shopthepost_widget id="2875246″]