One of our new favorite weeknight meals is my friend Michelle's slow-cooker buffalo chicken. It's easy. It's actually pretty healthy. And it makes enough food to feed us for days. A couple weeks ago, I made a big batch of the buffalo chicken and had so much left over I had to find something else to do with it other than eat it on a piece of lettuce.
Enter the egg roll wrapper.
We have used egg roll wrappers to transform many of our favorite recipes, from chicken tacos, to teriyaki chicken, lasagna, you name it. Why not stuff some buffalo chicken in there, too?
Well, that was probably the best decision ever! The egg roll wrappers transformed the buffalo chicken into these perfectly portioned appetizers. They were a little bit easier to eat, a lot less messy, and were the perfect size to dip into some Ranch dressing.
I will warn you, the egg roll wrappers do take some getting used to. You have to roll it just right to make sure none of the filling falls out. I like to roll mine on the bias, so that I start with one corner rolling to the opposite. Tucking in the sides is key.
To make these a bit healthier (and because I wouldn't know how to fry them if I tried), we bake these in the oven. I like to line them up on a cooling rack stacked on top of a cookie sheet. I brush them down with a bit of oil, then pop then in the oven until they are brown and crispy.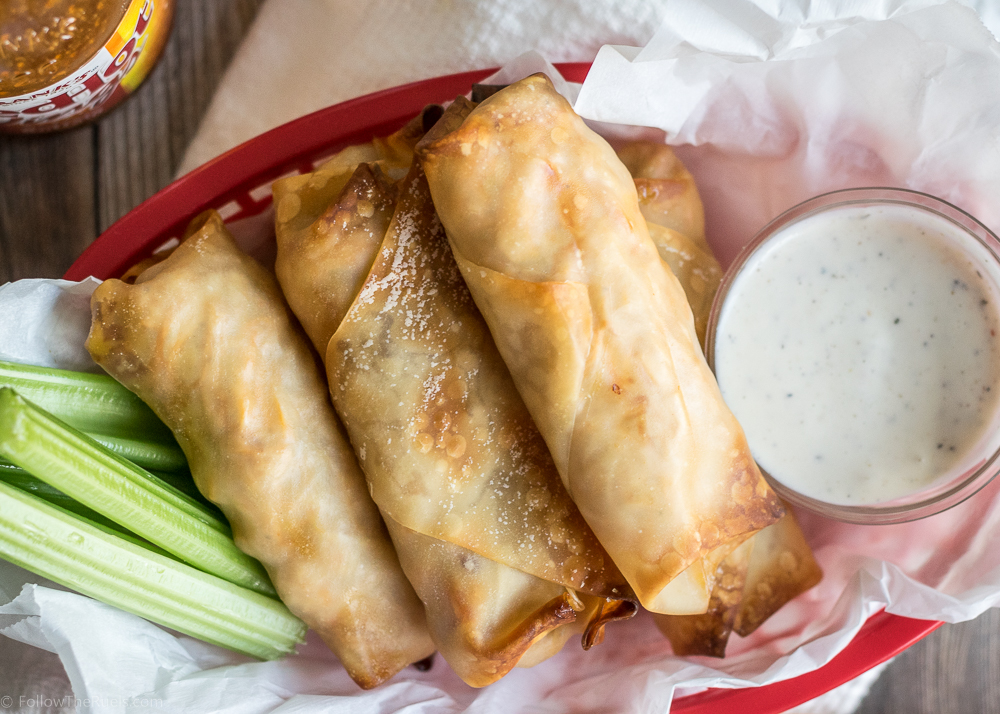 Like I said, they would make a great game-day appetizer, but we also love to eat these as our main meal. Three to four egg rolls is just the right amount for me and is perfectly satisfying along with some veggies or a salad. My husband can definitely put back a couple more. I also feel like kids would really like these, too. You could probably sneak some veggies into the egg roll and they would never know the difference.
PIN NOW, MAKE LATER
[amd-yrecipe-recipe:80]