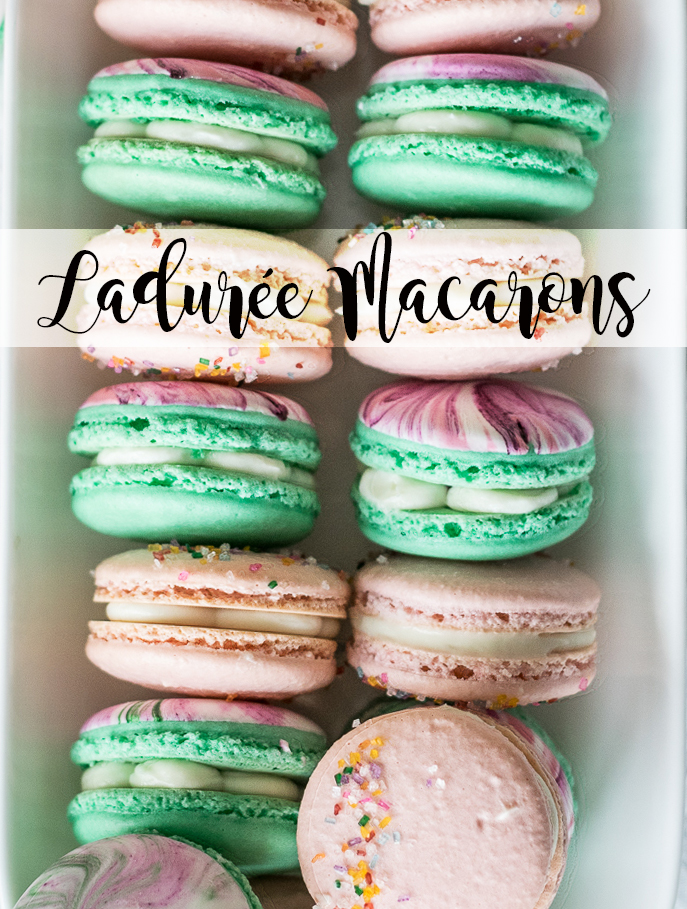 I am one of those people who get something in their head and will stop at nothing to figure it out. Example, these macarons. I have made many French macarons in the past, but about every other time I would make them, something would go wrong. They would either crack, be too bumpy, or would just fall apart.
Then I stumbled across the Laudrée macaron recipe and I felt like my prayers had been answered! Of course this recipe would produce perfect macarons every time, right? Well, not quite. The secret is that you have to follow the recipe exactly. Who knew?
The first time I made the recipe they tasted great, but were just too bumpy. They are certainly not smooth and glossy like Ladurée's. Turns out that I missed a key step in the process: adding in extra egg white after the batter has been mixed.
The next time, I made sure to get all my measurements just right and follow the steps exactly….and they turned out perfectly! To make sure that it wasn't a fluke, I tried it again. Once again, perfect macarons!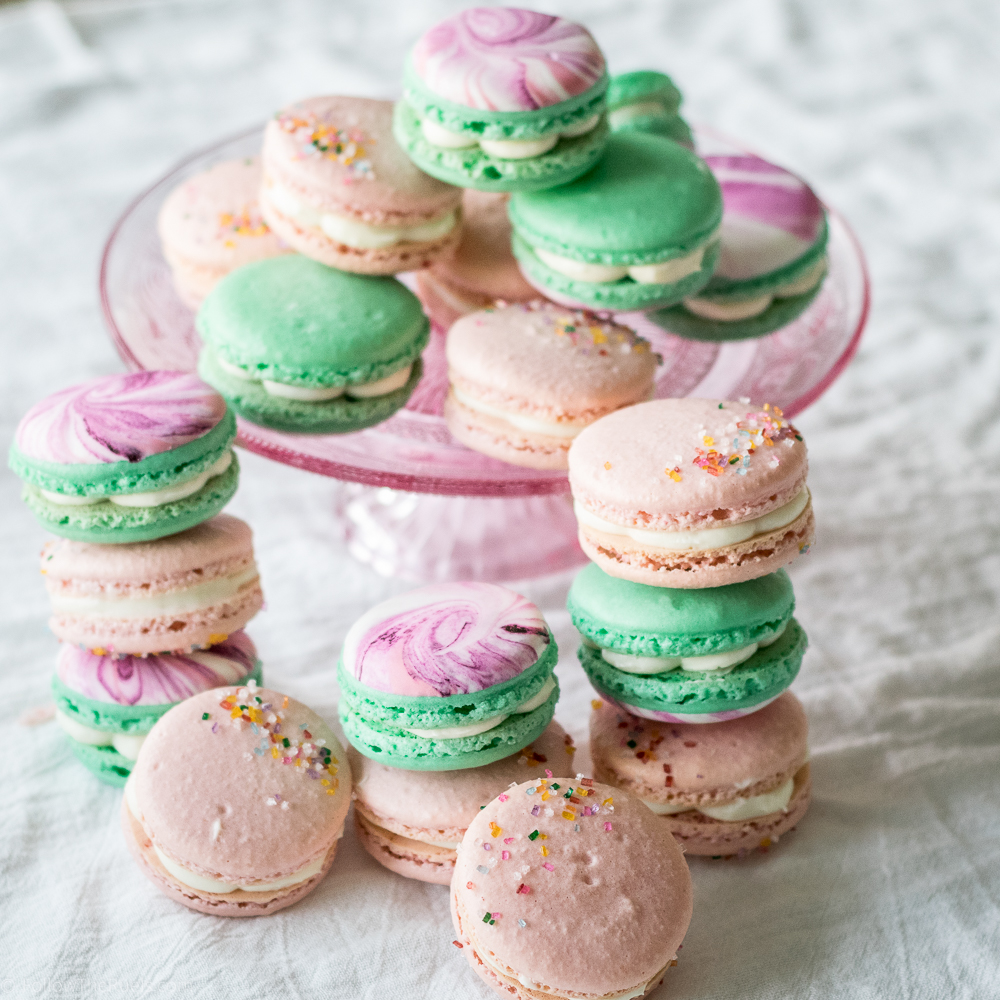 I could walk you through the whole process of making the Ladurée macaron recipe, but honestly, it's kind of complicated. I thought it would just be better to show you! So I made a video that shows you, start to finish, how I made them. After the video, I will share with you some of the key steps that I have learned over a couple years of making macarons.


Tips for perfect macarons:
Weigh your ingredients. Weighing them ensures that your recipe is exactly the same every time.
Sift, sift, sift. You will notice that I sifted about 4 different times in this video. By doing that, I know that I will have the smoothest possible macaron. It also helps to process the almond flour and powdered sugar together, too. (Notice a difference in the texture of the green vs. the pink macarons? The pink ones were not processed.)
Use "aged" eggs. I let my eggs sit out over night. Not only is it easier to separate room temperature eggs, but they make a better meringue.
Wipe down your mixing bowl with vinegar. The vinegar removes any fate deposits from the bowl which could prevent you from getting that perfect meringue.
Add sugar in stages. When whipping up the meringue, it's best to add the sugar in stages to make a more stable meringue.
Don't over whip the eggs. My issue with previous recipes was that I beat my eggs until they were too stiff which caused them to crack. This recipe tells you to just whip the eggs for one minute between each addition of sugar.
Don't under mix the batter. Another issue I had was that I didn't want to over-mix the batter, so I ended up under-mixing it. That made the macarons too grainy and chewy.
That's it! I promise that if you follow this recipe exactly, you will have perfect macarons every time.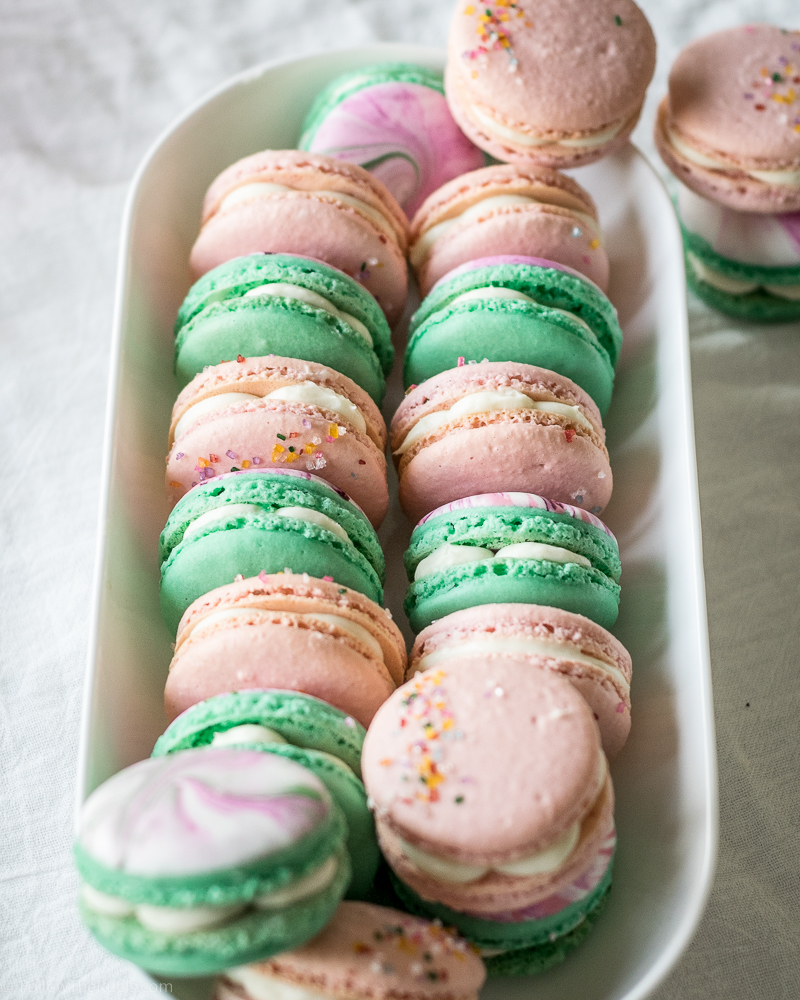 I will also add that I only made a third of the recipe (well, roughly a third….I measured around only using 2 eggs), which yields about 12 macarons. The full recipe calls for half a dozen eggs, and I didn't want to waste all those eggs on trial and error. I will share the full recipe in the recipe box below, but also give you my measurements if you only want to 12 macarons instead of 36.
Ingredient measurements for 12 Macarons:
90 grams of almond meal
80 grams of confectioners sugar
70 grams of granulated sugar
66 grams egg whites (about 2), reserve 1 tsp to fold in later
1 pinch cream of tartar (optional)
1/2 tsp vanilla extract (optional)
Of course, to me, the best part of a macaron is the filling! I filled mine with white chocolate ganache and raspberry jam. But you could also fill it with buttercream, lemon curd, Nutella, or any number of your favorite spreads, jams, or frostings. The world is your oyster-shaped macaron!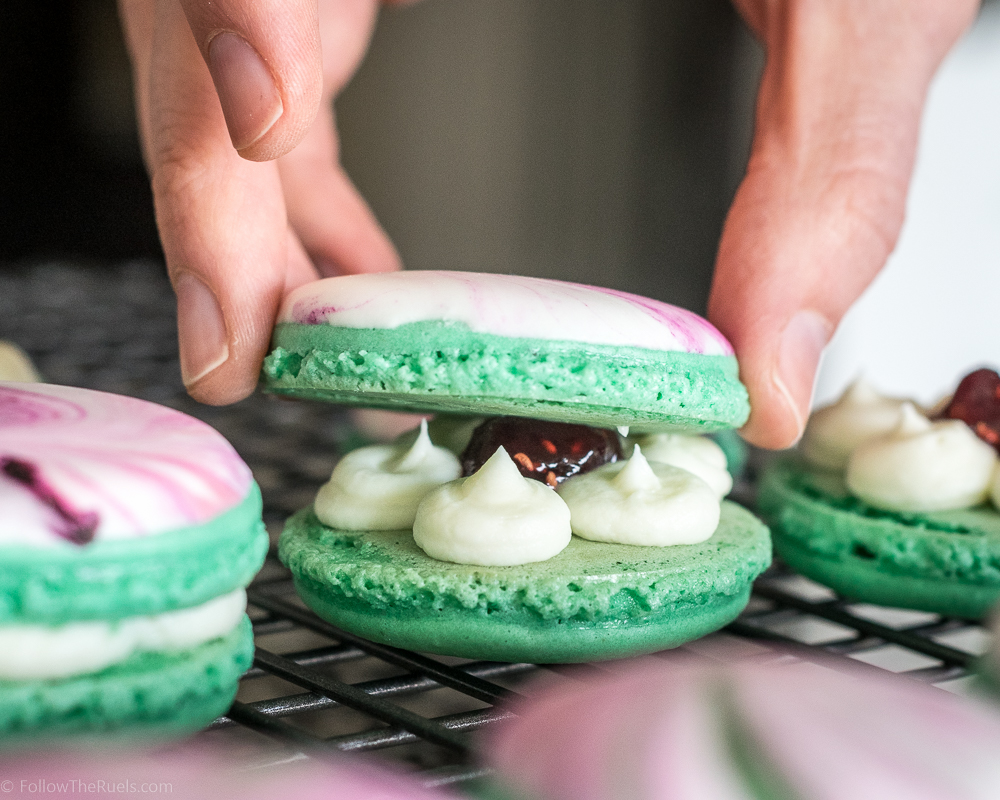 And if you are curious how I got the marbled tops, visit this post where I show you exactly how to make marbled cookies (and macarons)!
[amd-yrecipe-recipe:54]
[show_shopthepost_widget id="2696427″]