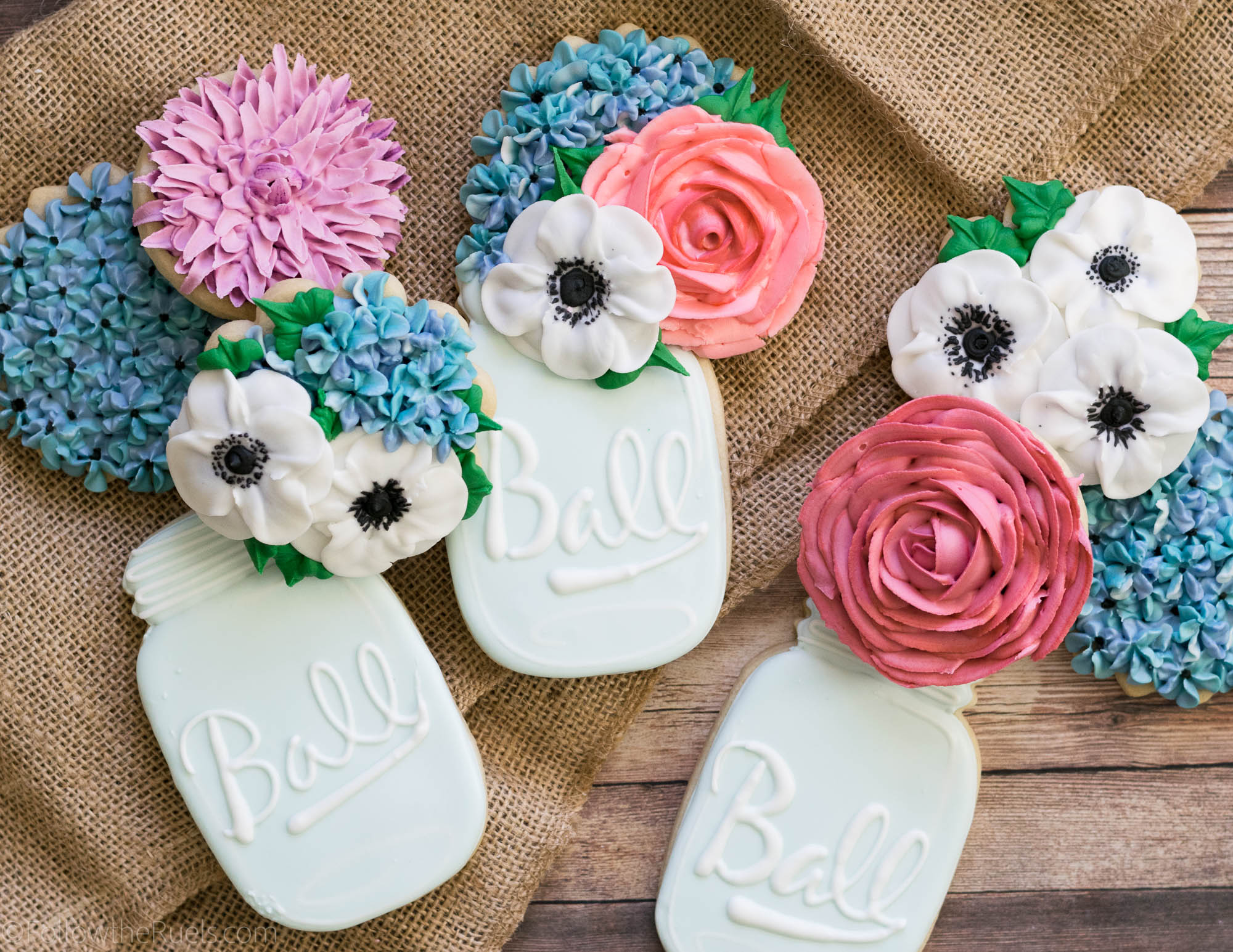 What can I say about these cookies except that I love them so much!
I love mason jars, I love flowers (especially royal icing flowers, as you know), and anemones are one of my absolute favorites. In fact, I really wanted mason jars and anemones as my wedding! Sadly, anemones weren't in season in October and my mom thought that mason jars and burlap were too "rustic". Pshh…she clearly didn't spend enough time on Pinterest in 2013.
So now I am living out my wedding flower dreams through these cookies (5 years later…don't worry about it).
One thing I will say about these cookies before we dive in is that there is SOOO much icing on these things. It's a little out of control. Unless you LOVE icing, it will be too much for you and you may want to scrape it off before you take a bite. Instead, you can make any of these cookies with buttercream instead which is a bit more palatable in large quantities. But I would keep the mason jar cookies iced in royal icing so you get a nice smooth surface.
How to Make Them
I had never made the anemone flowers before this video. Sure, I have some experience with piping other flowers, but I wanted to share that with you because you will probably get the hang of it after a few tries. I found that it was easier to keep them on the smaller side. Don't try to make them too big.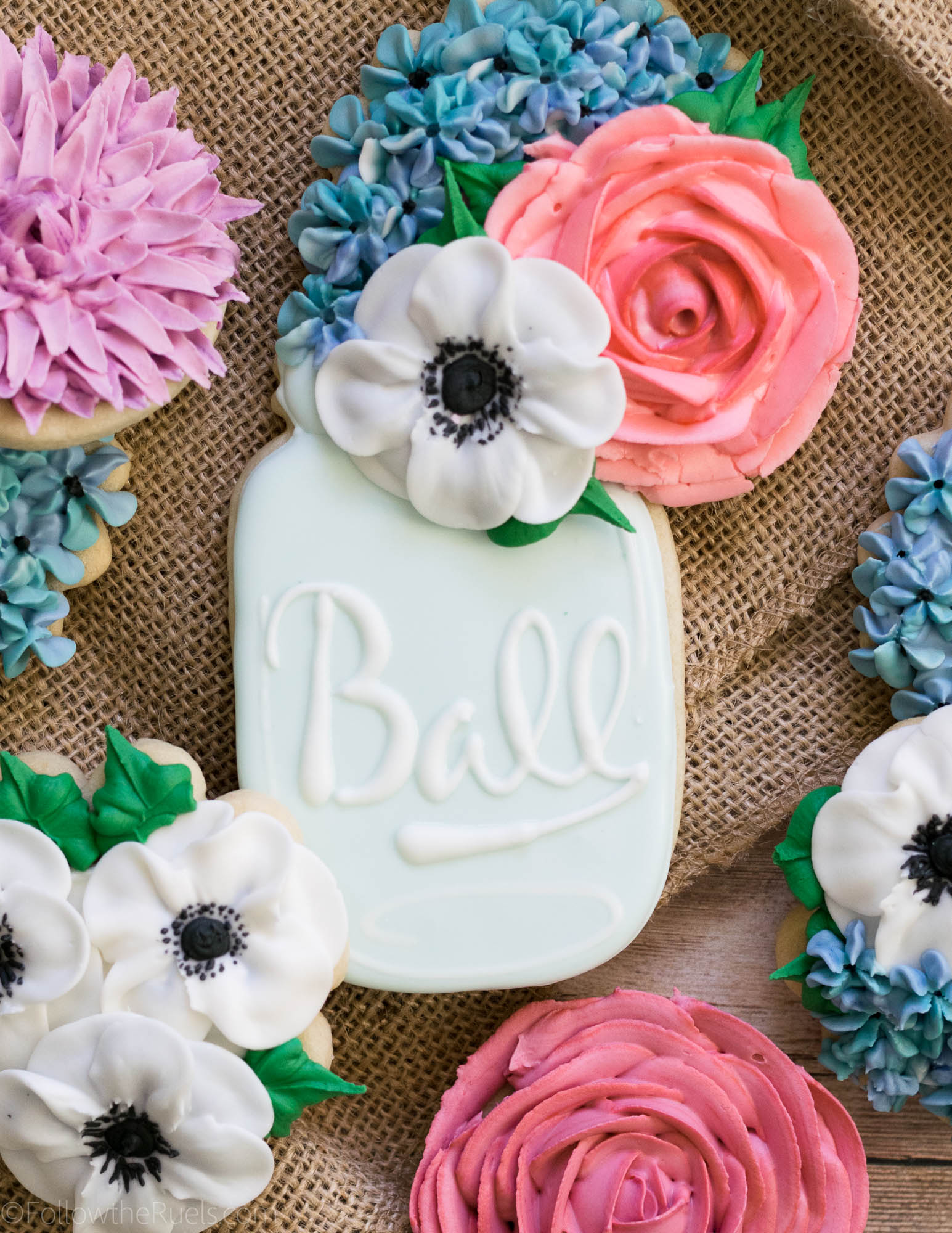 Another thing I have learned over the years from making flowers and watching others make flowers is that you want to use various shades of color in the same flower. No flower is just one flat color. It's easy to mix the colors together by wrapping them up in plastic wrap. Plus, it keeps your piping bags clean so you can reuse them!
Tools and Recipes
I used a few different piping tips to create these flowers, even one I had never used before, the #150 flat petal tip. I found that this one was better at piping the anemone petals than the standard #104 petal tip. However, if you only have the standard petal tips at home, that will work just fine!
Piping Tips and Food Coloring: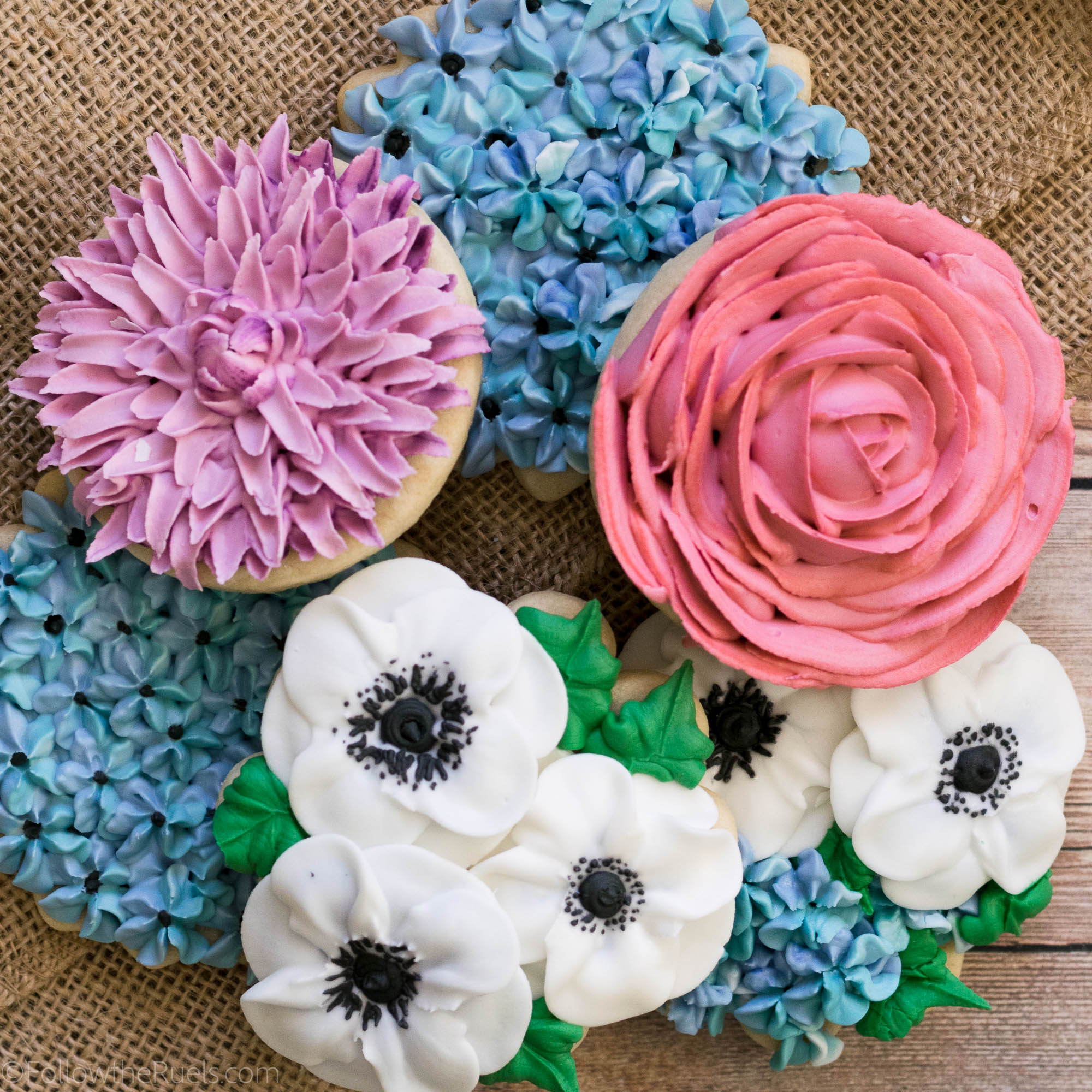 Anemone:
Petals – #150 flat petal tip. Layered plain icing with a very light violet center.
Filament – #1 round tip. A mix of eggplant and black food coloring.
Center – #3 round tip. Same color as filament.
Hydrangea:
Flowers – #131 drop flower dip. Layered together plain, Wedgewood blue, and violet (mixed with a little Wedgewood blue) icings.
Rose:
Large cookie – #125 petal tip. Brushed watermelon food coloring directly onto the plastic wrap, and then spooned icing dyed with watermelon and purple on top.
Smaller rose in bouquet – #104 petal tip. Brushed watermelon food coloring directly onto the plastic wrap, and then spooned icing dyed with watermelon on top.
Leaves: #352 tip. Forest and leaf green mixed together.
Other tools:
[show_shopthepost_widget id="3099734″]
Recipes:
It should come as no surprise that I made my one and only royal icing recipe and sugar cookie recipe for these. Duh! You knew that was coming. However, one thing I will mention about the icing is that for the flowers you want it to be super duper thick. It should form a stiff peak when you lift a spoon up from the surface. You want each petal to be distinct and not melt into one another. If you accidentally mix in too much water, just add a bit more powdered sugar to thicken it up.
For the mason jars, though, you will want to use your regular ol' flood consistency icing.