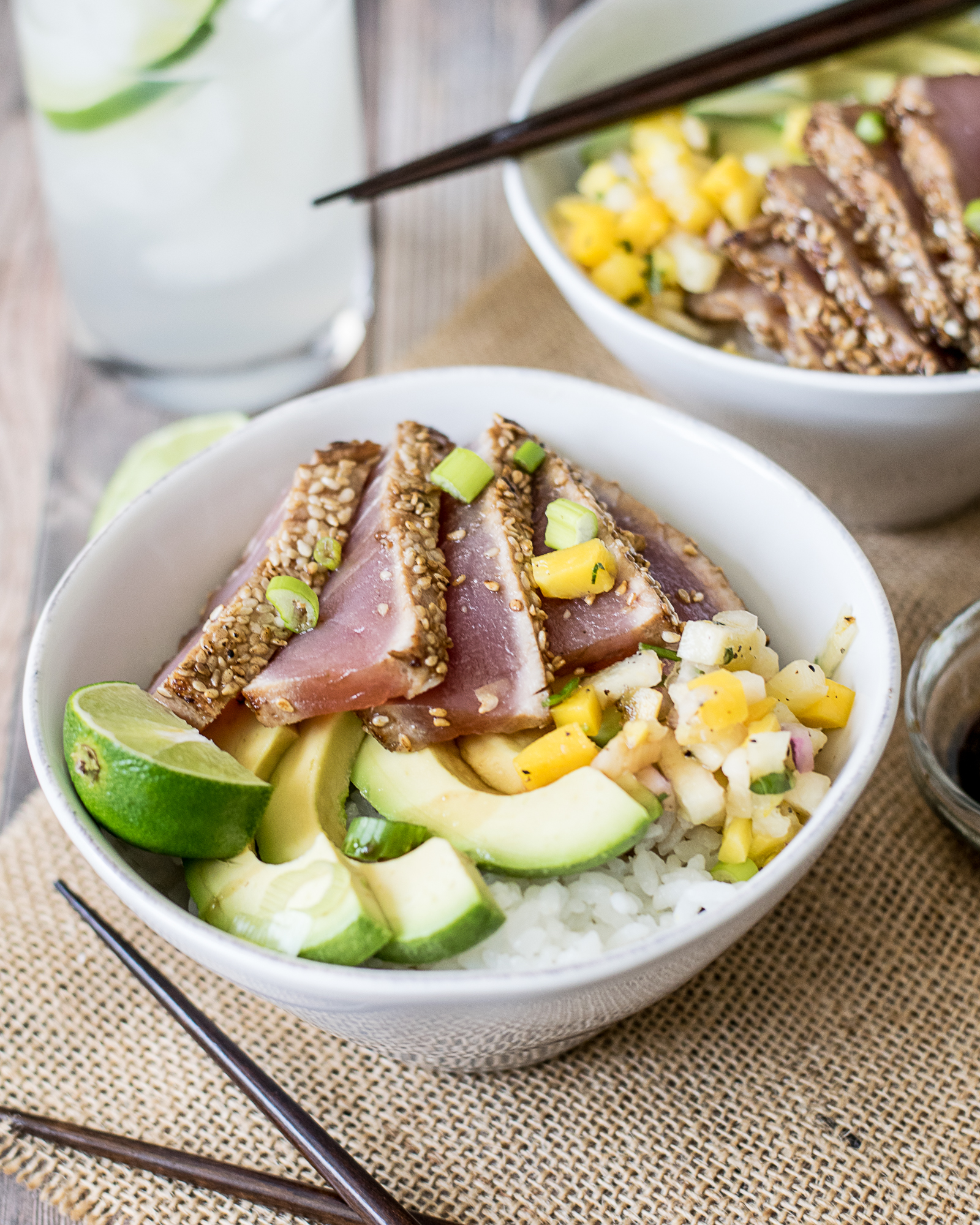 After returning home from Hawaii last week, I have a new found appreciation for tuna. We ate tuna (ahi) at least once a day in the form of poke at least once a day. It was fantastic. I wanted to come home and make my very own version of poke, but oddly I can't find super fresh ahi tuna anywhere around Charlotte. North Carolina (not a hint of sarcasm). So the next best thing was some fresh yellowfin tuna I found at my local Whole Foods.
Since I couldn't confirm that it was "sushi grade", and thus acceptable for eating raw, I decided to do something a little different with my tuna. I crusted it in some sesame seeds and then seared it very quickly to just barely cook the outside, leaving the inside completely rare. Trust me, it's delicious!
First find yourself a good tuna steak! I recommend talking to the fish monger and asking how fresh the tuna is. You don't want something that is anything over a couple days. Then you won't be able to cook it and keep it rare.
Then marinate the tuna in a mixture of soy sauce, sesame oil, honey, and ginger. Not long. Just long enough to get a little sticky so that the sesame seeds can adhere to it.
Speaking of which, pour out a bunch of sesame seeds onto a plate then press your lightly marinated tuna into the seeds so that you have a nice even layer on both sides.
Now it's time to sear this bad boy. I didn't take any pictures of this process because it happened so quickly! Literally, we popped it into a searing hot pan for about 30 seconds on each side. It was just long enough for the outside to cook, the sesame seeds to char a bit, but the inside stays nice and pink.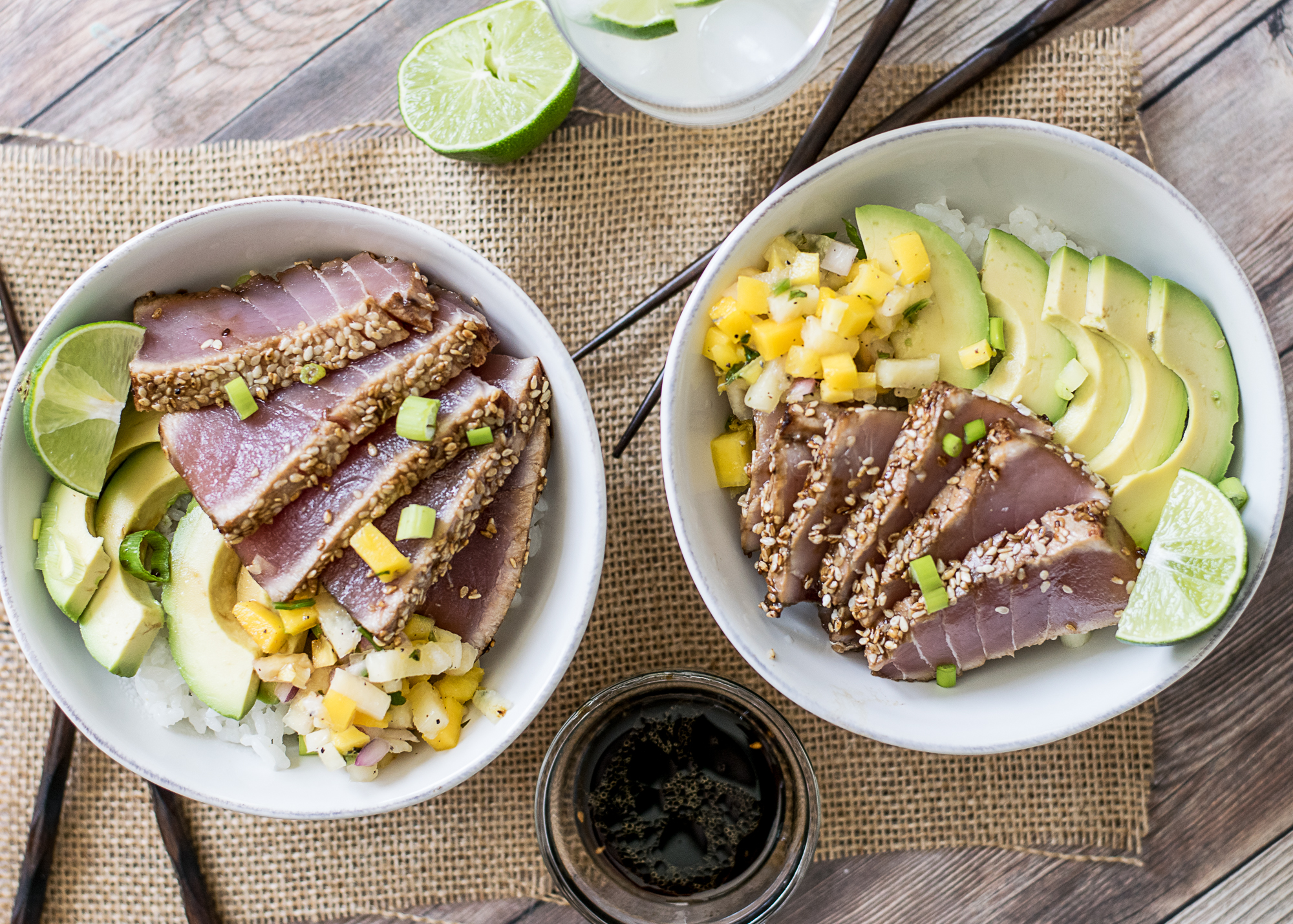 For the rest of this bowl, I kept it simple. I served the gorgeous tuna over a bowl of sushi rice, with a bit of avocado, and some mango-pineapple salsa. It definitely took me back to being in Hawaii!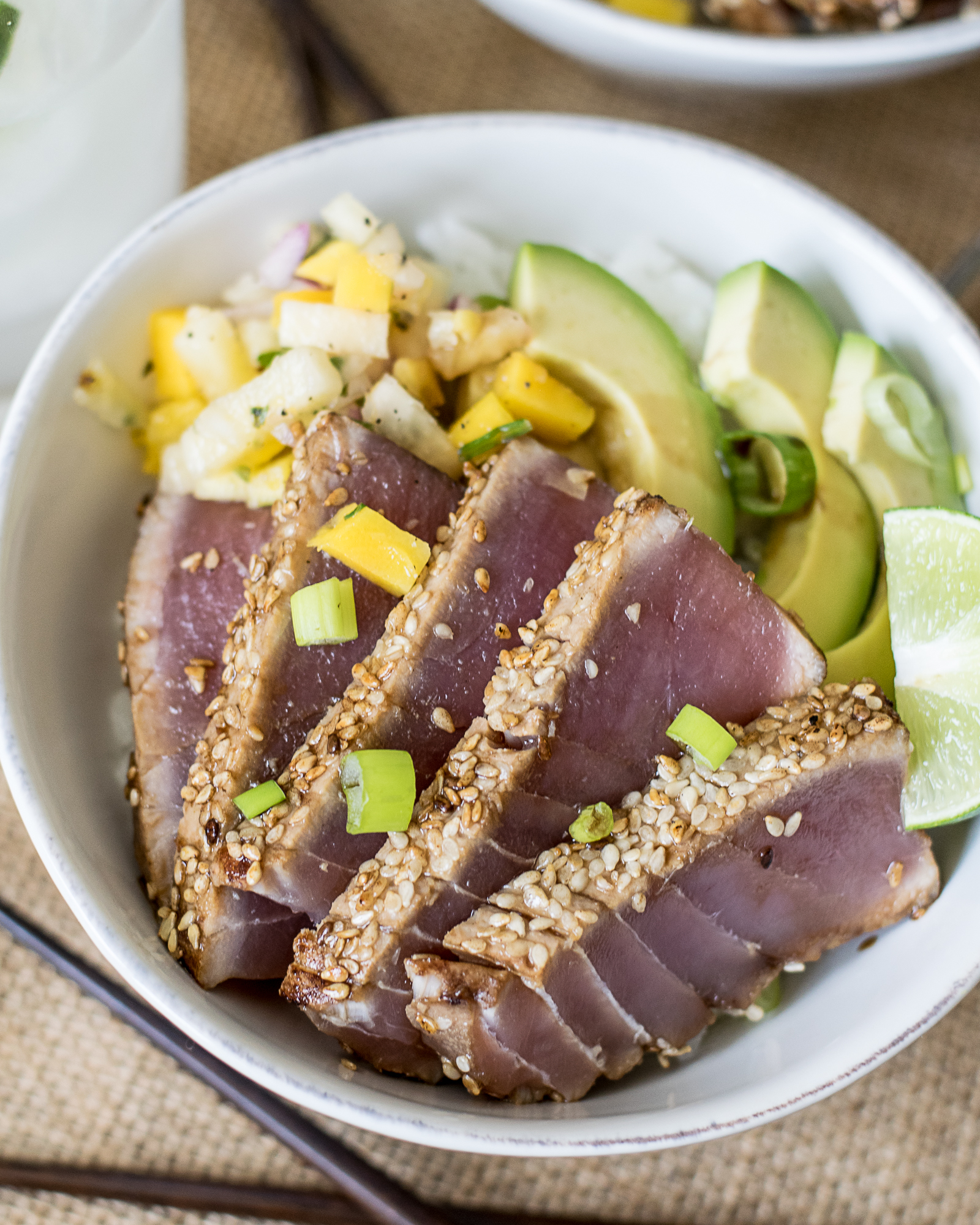 Man it was good.
If you want to feel like you are eating lunch in a tropical paradise, make yourself this tuna bowl, turn on a sound machine (crashing waves), and close your eyes. You will basically be there with your toes in the sand.
Now I know fresh tuna isn't always easy to come by, and it's not all that cheap, but I promise it's a lot cheaper than a trip to Hawaii!
[amd-yrecipe-recipe:163]