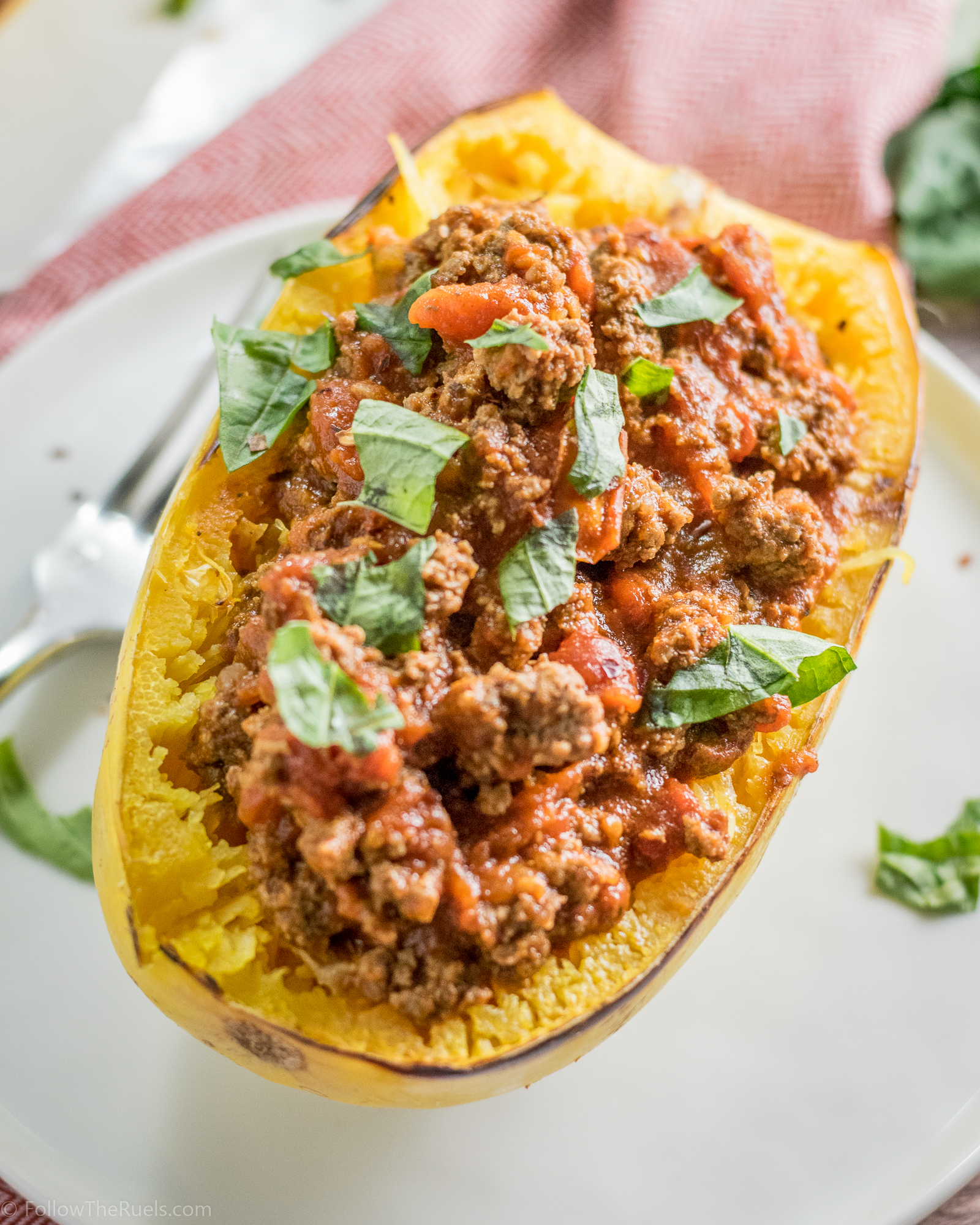 Spaghetti squash is one of my favorite ingredients to cook with. It's incredibly healthy, low in carbs, delicious, and generally pretty easy to cook. It can also be swapped out in a lot of your favorite recipes, not just spaghetti!
I have topped spaghetti squash with everything from chicken enchiladas to beef stroganoff. But one of my favorite recipes is this spaghetti squash lasagna!
Now if you have never worked with spaghetti squash before you may be a little bit intimidated. I totally get it. I was right there with you once. Fortunately, my mom has been making spaghetti squash for years, way before it was cool, so I have learned a lot from her.
The hardest part, by far, is cutting the darn thing! It's seriously a pain in the butt, but I have a couple recommendations to make it a bit easier.
Microwave the whole squash for 1 minute. This will soften the squash slightly, making it easier to cut.
Before cutting around the squash, cut off the stem. It will ensure you get to evenly sized halves.
Use a serrated knife which will help cut through the outer shell.
Don't cut using a saw like motion. Cut by sticking the tip of the knife all the way through and then pressing down with the base of the knife. It may take a couple cuts to get all the way through.
Once the squash is split in half, I scrape out the seeds then drizzle the flesh with a little bit of olive oil and sprinkle with salt and pepper. Then off to the oven it goes!
There are of course other ways to cook a spaghetti squash, but when time is not really an issue, oven roasting them is my favorite! The flesh gets very soft, but also a bit caramelized, which makes it taste so much better.
After a few minutes in the oven, the squash is ready to become spaghetti. Its as easy as dragging a fork across the surface. The flesh should be soft so that this doesn't not require a lot of effort. If it does, pop it back in the oven or microwave until it's soft.
Ok, while the spaghetti squash was roasting, I worked on all the other components of the lasagna. First up, the meat sauce. I seasoned some ground beef with salt, pepper, paprika, and garlic. Then I added in some whole tomatoes, which I smashed down into a sauce.
The next component is the ricotta cheese. Or in this case, nut cheese. Did I mention this was Paleo?
Don't worry, you won't miss the cheese. Nut cheese is surprisingly delicious and super flavorful. I love it because you still get that salty, savory, creaminess you would get from normal cheese.
Nut cheese is also pretty easy to prepare. I basically blend up some soaked cashews with a bit of oil, lemon juice, garlic, salt, and pepper until its just short of cashew butter. It should still have a bit of texture, but not chunky.
Finally, it's time to assemble. I like to spread the nut cheese over the top of the spaghetti squash. You will probably pull up some of the noodles, but it's okay – it doesn't have to be pretty. I then top all of it with a generous helping of meat sauce.
Now if you wanted to be a rebel and use real cheese, this would be where you swap in the ricotta and top this off with some mozzarella cheese. It won't be Paleo, but it will still be a heck of a lot more healthy than your classic lasagna.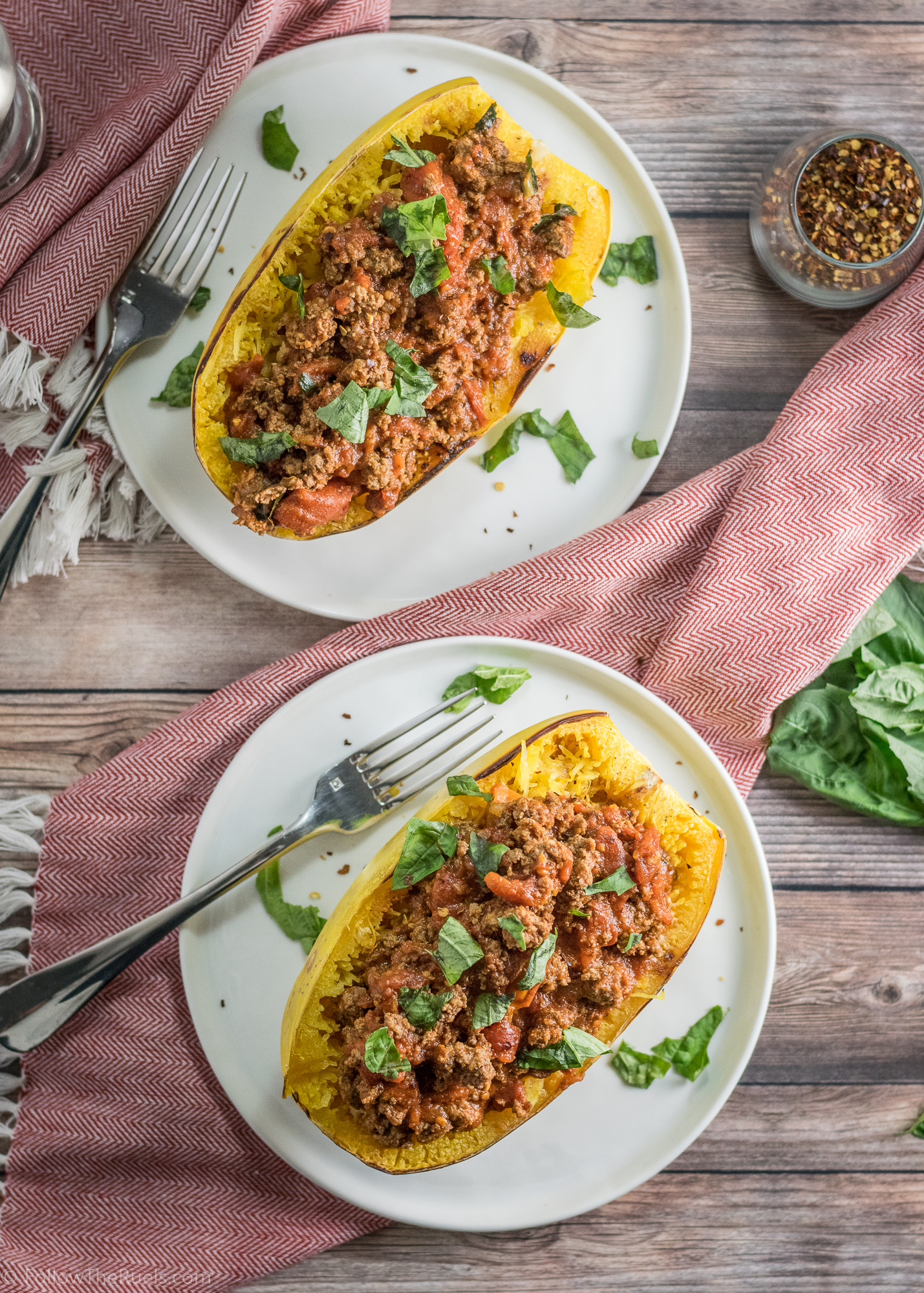 After another quick bake in the oven so that all the components get nice friendly with one another, this Paleo spaghetti squash lasagna is ready to eat! Since everything was basically pre-portioned in the spaghetti squash itself, there is no messy cutting and serving of the lasagna. You know what I'm talking about.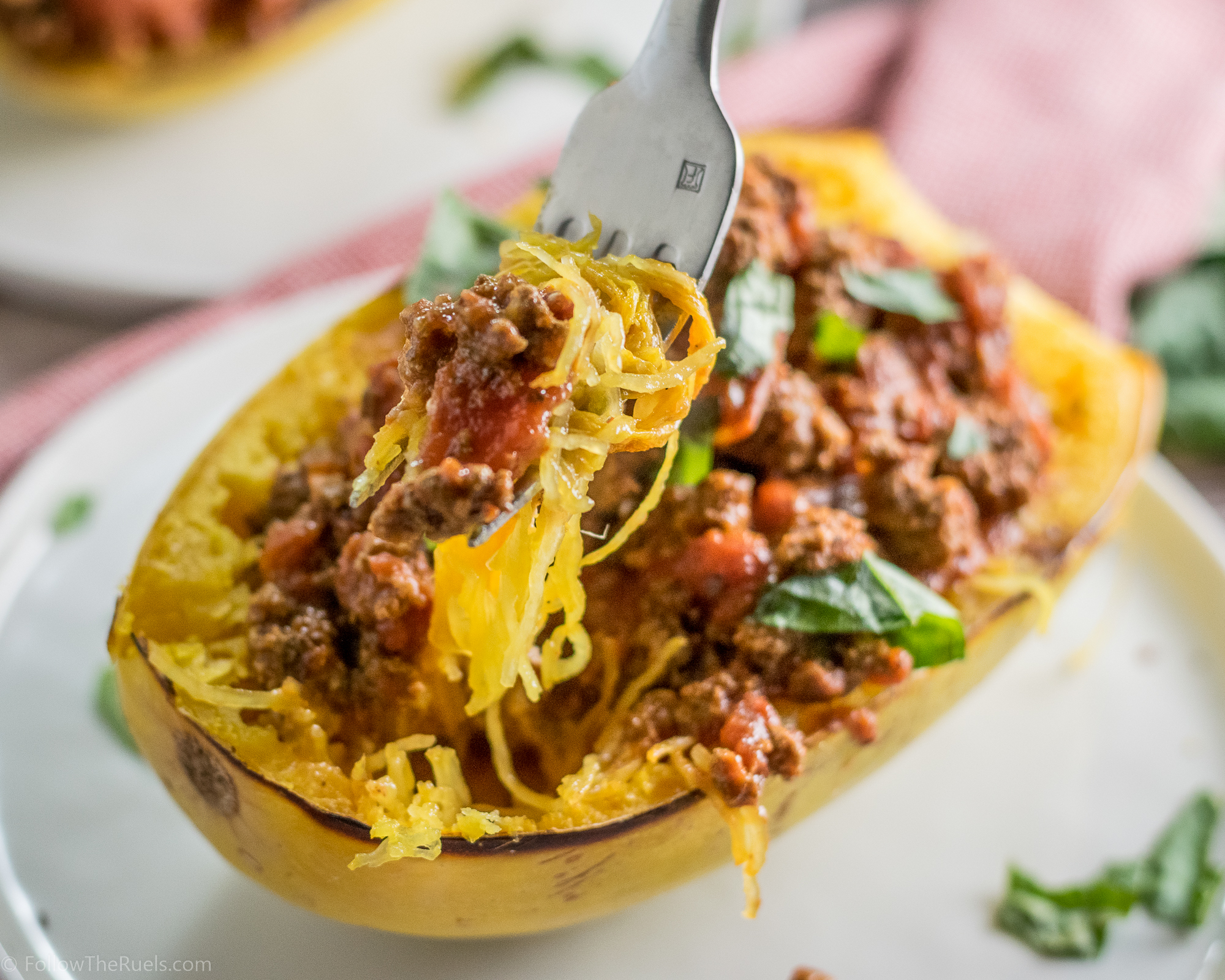 So the first few bites of this spaghetti squash lasagna are good and all, but when you get into the center where all that nut cheese is, it gets really good. The creamy savory-ness of that nut cheese just rounds out the whole thing, making you forget that there really is no cheese in this entire dish!
Can you tell I love this recipe? That's probably why I make it whenever I'm looking for something healthy, but comforting all at the same time!
[amd-yrecipe-recipe:132]
PIN NOW, MAKE LATER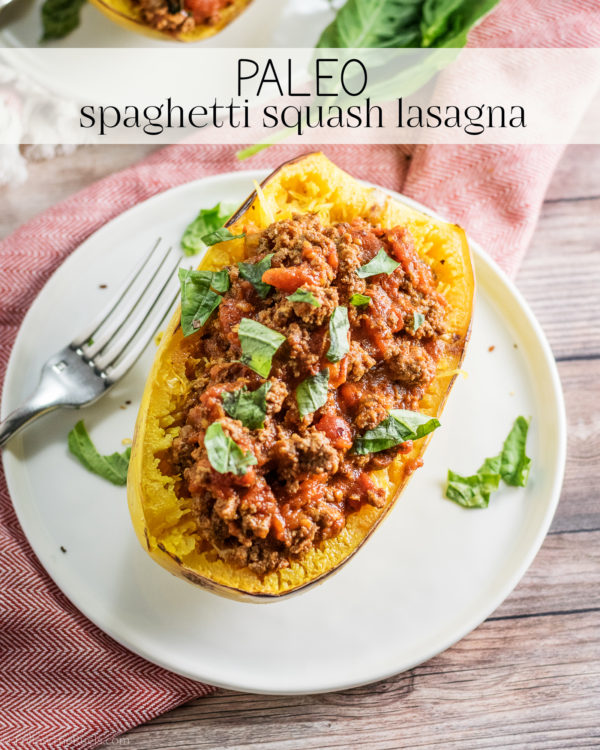 PRODUCTS USED:
[show_shopthepost_widget id="2447992″]