If there is one thing you can find in abundance on this blog, it's sweets. And I don't discriminate, I like sweets of all kinds – cookies, cupcakes, cakes, brownies, ice cream. But I do like balancing my sweet tooth with a healthy diet (most of the time). Sometimes I can have the best of both worlds and have my sweets but also be healthy.
Case in point: sugar-free sugar cookies.
Now, I know what you are thinking. How can you make a sugar cookie without sugar? While there may not be any refined sugar in these cookies, there are some all natural sweeteners (agave syrup and Stevia) in these cookies that give them their classic sweetness without the sugar rush.
In addition, the cookies are made with some whole wheat pastry flour which really amps up the healthy factor. Almost making these cookies guilt free. Almost.
These sugar-free sugar cookies already have the sugar-free thing and whole wheat flour going for them, but, in addition, they also use half as much butter as my classic sugar cookie. Thanks to the moisture provided by the agave syrup, you only need a half a cup of butter to make a full batch of cookies.
To make the cookies, I start by mixing together the butter, agave, and stevia. Then I add the egg and vanilla. After that, I mix in the whole wheat pastry flour.
You could also use plain all-purpose flour or normal whole wheat flour. Just be warned that by using 100% normal whole wheat flour you will end up with a distinct whole wheat taste. If that doesn't bother you then go for it! If it does, I recommend finding some whole wheat pastry flour or white whole wheat flour or mix in half all-purpose and half whole wheat to still get the whole wheat benefit.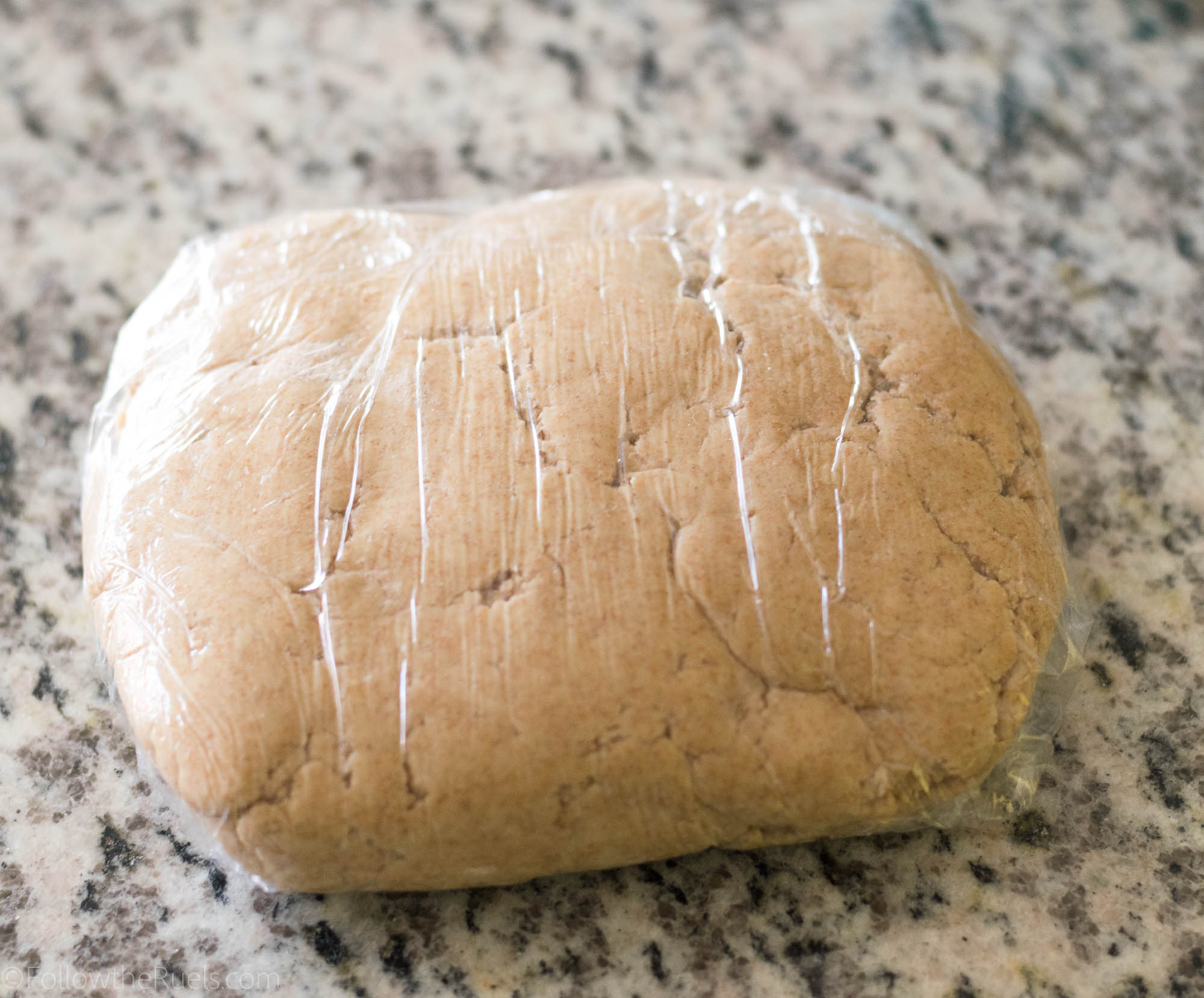 One great thing about this dough is that it can be rolled out immediately if you are short on time. But I prefer to wrap my dough in plastic wrap and to let it chill for about an hour before rolling it out. This not only helps the flour soak up some of the moisture, but it makes it a lot easier to roll and cut out.
Normally when I roll out my dough, I just roll it out right on my pastry board with a little bit of flour. But because this dough is a little on the dry side (whole wheat flour tends to do that) I want to use as little flour as possible. To roll out my dough without it sticking to anything, I roll it between two sheets of parchment paper and a tiny sprinkling of flour. Of course, I could do this with my normal sugar cookies, but I am just too lazy.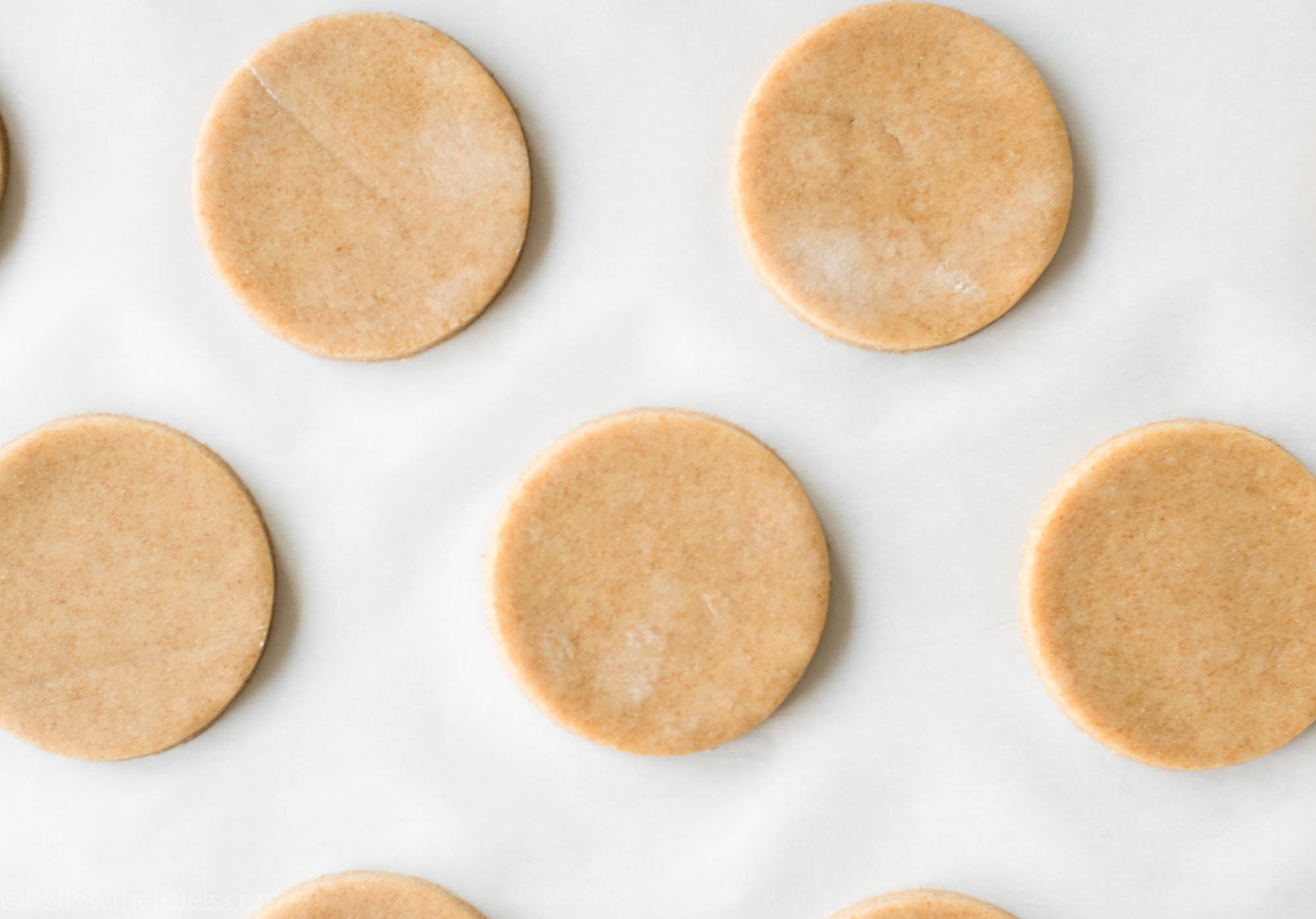 Then I cut out my cookies as normal and pop them in the oven to bake.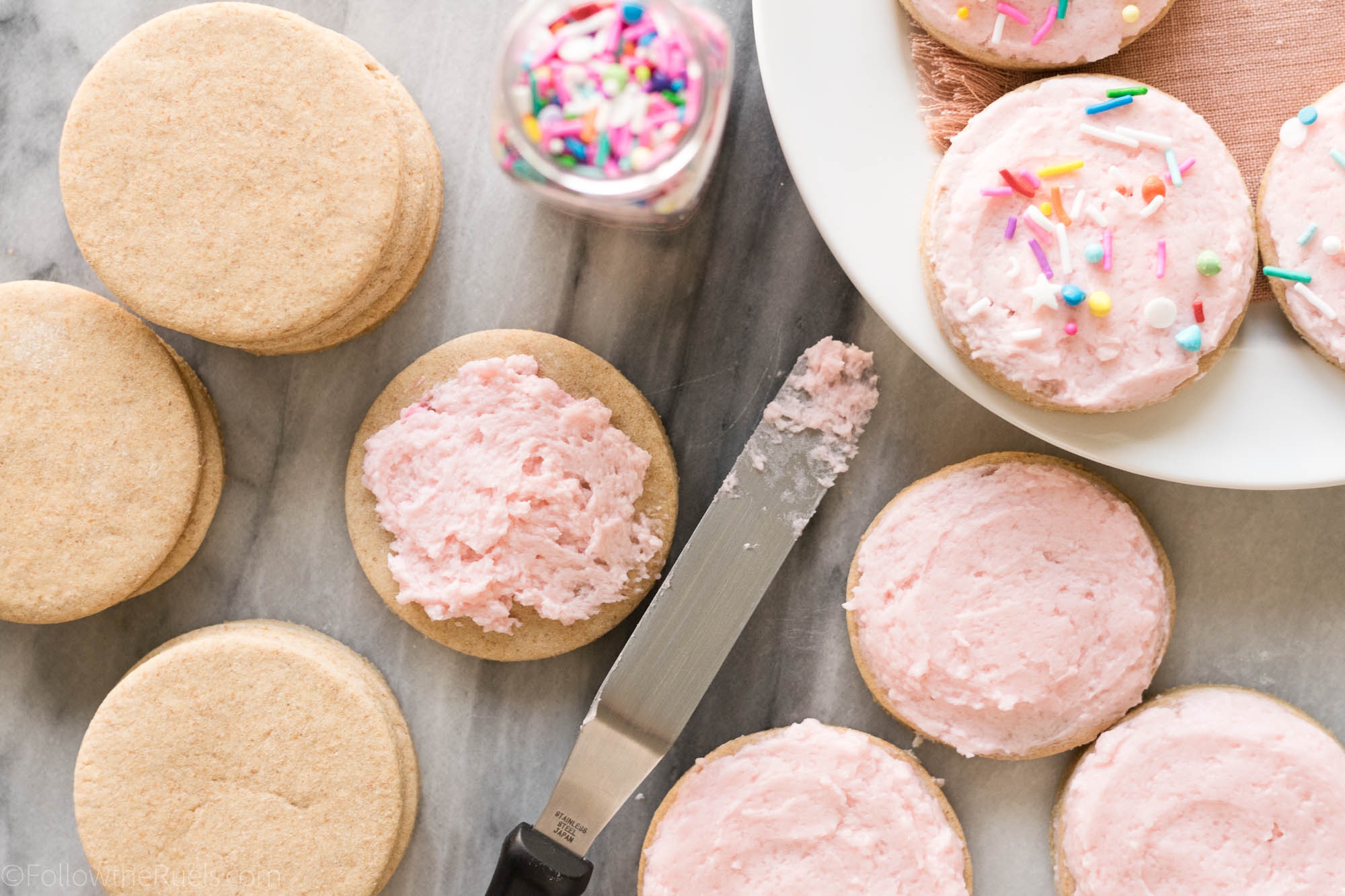 These cookies are perfect for decorating because they keep their shape really well, but are also really light and fluffy thanks to the agave syrup. For decorating these cookies, in keeping with the sugar-free theme, I made a batch of this sugar-free buttercream frosting. I did attempt to make sugar-free royal icing…but I am pretty sure that is impossible. You just need some sugar to make the icing work.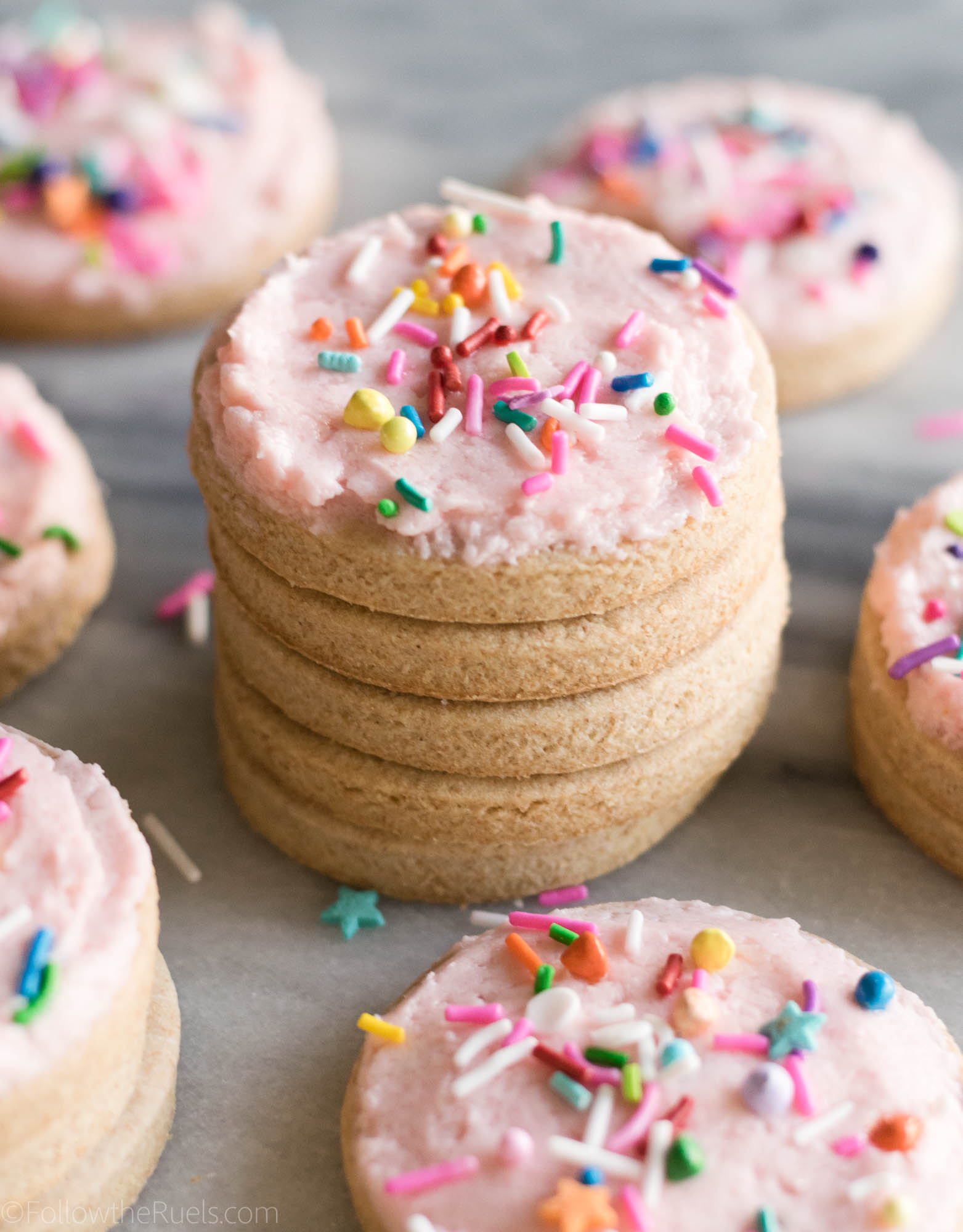 Full disclosure, though, the sprinkles are 100% sugar. I struggled to find any sugar-free sprinkles and decided in the end that cookies with 99% less sugar than a normal frosted sugar cookie is pretty dang good. Of course, if you are looking to eliminate all the refined sugar, you can just skip the sprinkles. Or make your own.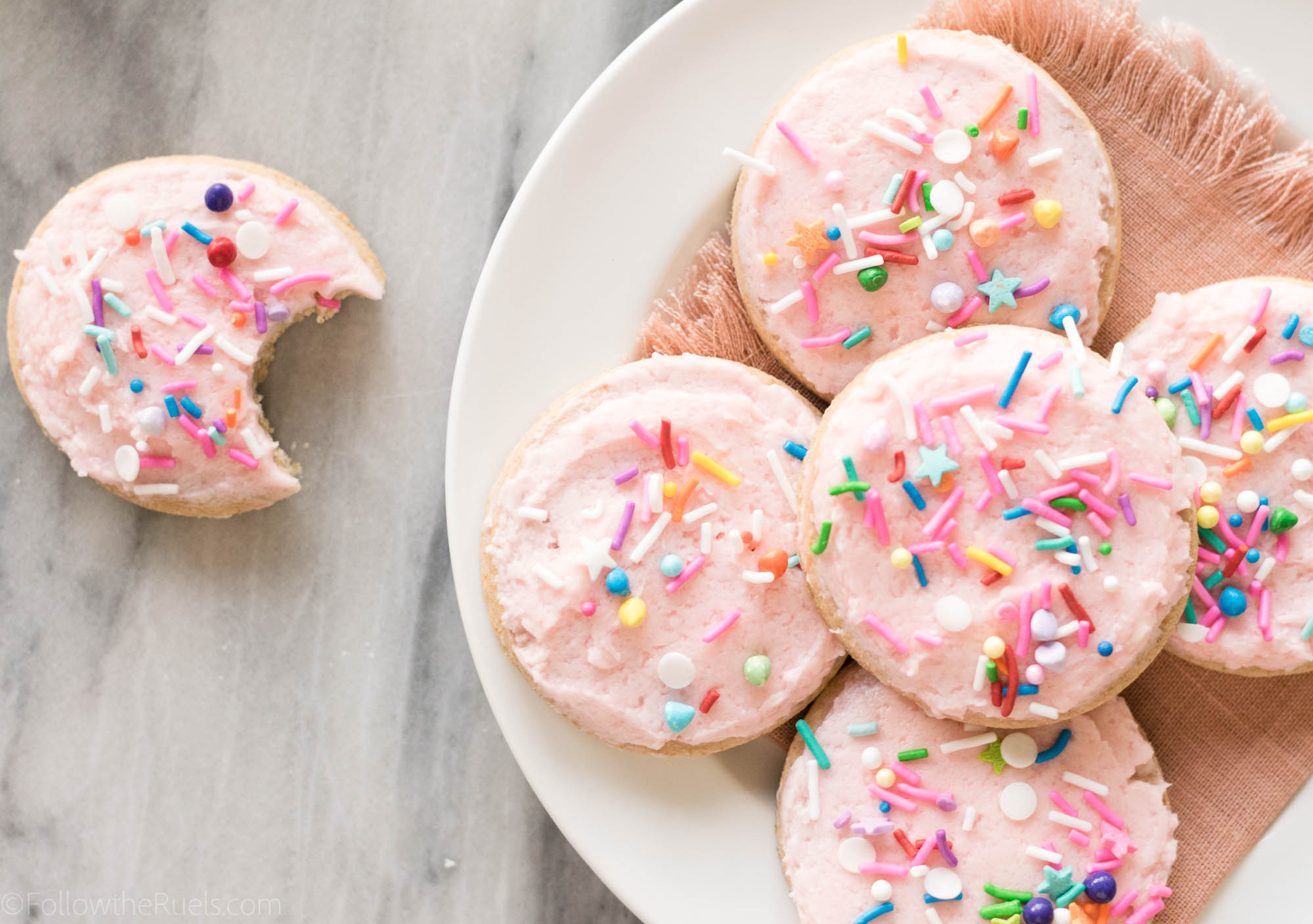 These cookies will be perfect for Halloween, Thanksgiving, Christmas, you name it. You can frost them with sugar-free frosting, or use my favorite royal icing (which is basically pure sugar) if you are just looking to cut out a little bit of sugar.
I am so happy to have this recipe in my back pocket now. Next time I make cookies for my friends' kids (or myself) I will certainly use this recipe to cut out some sugar and make my cookies a bit more healthy!
[show_shopthepost_widget id="2866133″]
[yumprint-recipe id='139′]