Maybe its just me, but whenever I eat brie I feel so fancy and grown up. It's probably because it's French; the French are so fancy and grown up. What's great about baked brie is that just because it's "fancy" doesn't mean its complicated to make. This recipe is actually quite easy.
Can you stick a baking sheet in an oven? Can you stir some nuts in a pan? Great! Then you can make this recipe!
To bake the brie, I just popped the unwrapped wheel of cheese on a baking sheet and baked it for about 10 minutes until it was soft. I basically checked the "doneness" by poking the cheese until it felt soft enough. There really isn't any rhyme or reason to it. I just wanted it to be gooey on the inside.
While the brie was baking, I stirred together some butter, brown sugar, maple syrup, pecans, salt, and pepper. Yes…salt and pepper. You probably weren't expecting me to add salt and pepper to this distinctly sweet nut topping, but the salt and pepper actually makes all the other flavors in the cheese and pecans really pop. So don't skip the salt and pepper!
Then once the brie was baked and the pecans were nice and coated in sugar and maple syrup, I poured the pecans right on top of the brie. The warmth of the nuts kept the cheese warm and soft. Even if you make this ahead of time, you can rest assured that the cheese will still be soft and gooey well afterwards.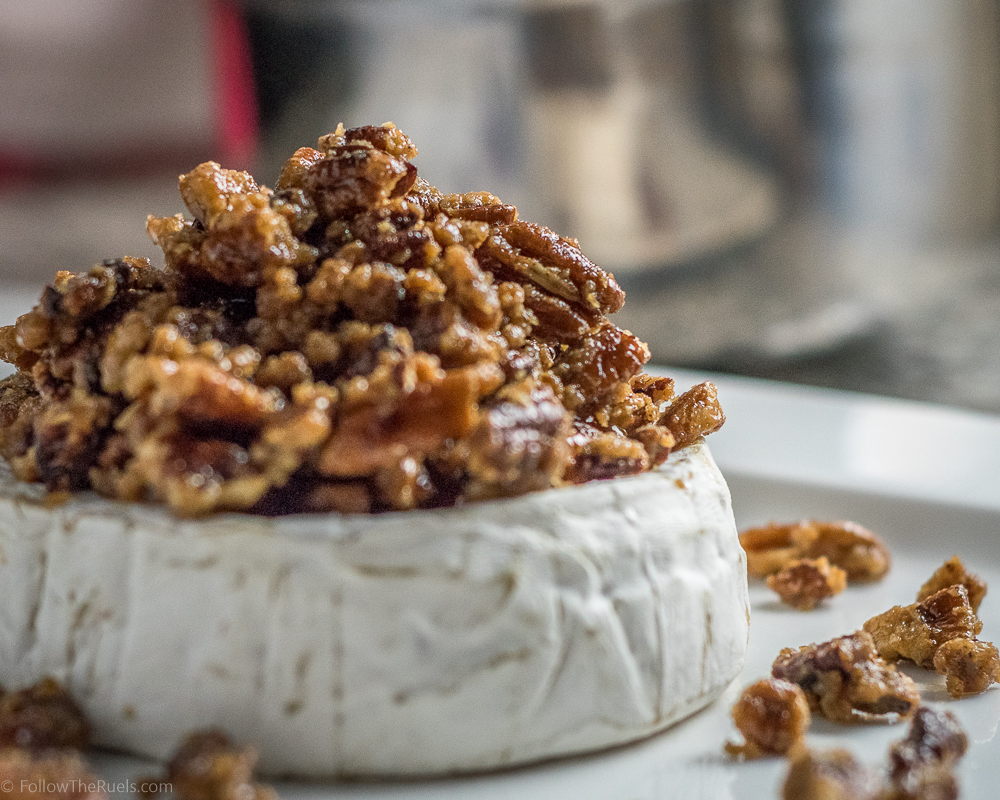 I made this particular baked brie for book club. Of course, I made it head of time so that I could take some pictures before the girls showed up. But it was still nice and warm, and the cheese just oozed out by the time they arrived. In fact, it was still warm and gooey even afterwards when I was "cleaning up" (or, cleaning the plate by eating the leftover cheese and apples).
I served up the brie with some apple slices and crackers. I personally preferred the apple slices. Not only was it the healthier choice (an apple covered in cheese, nuts, and sugar is of course healthy), but I personally love the combination of cheese and apples. Especially those slightly tart apples with the nice salty brie!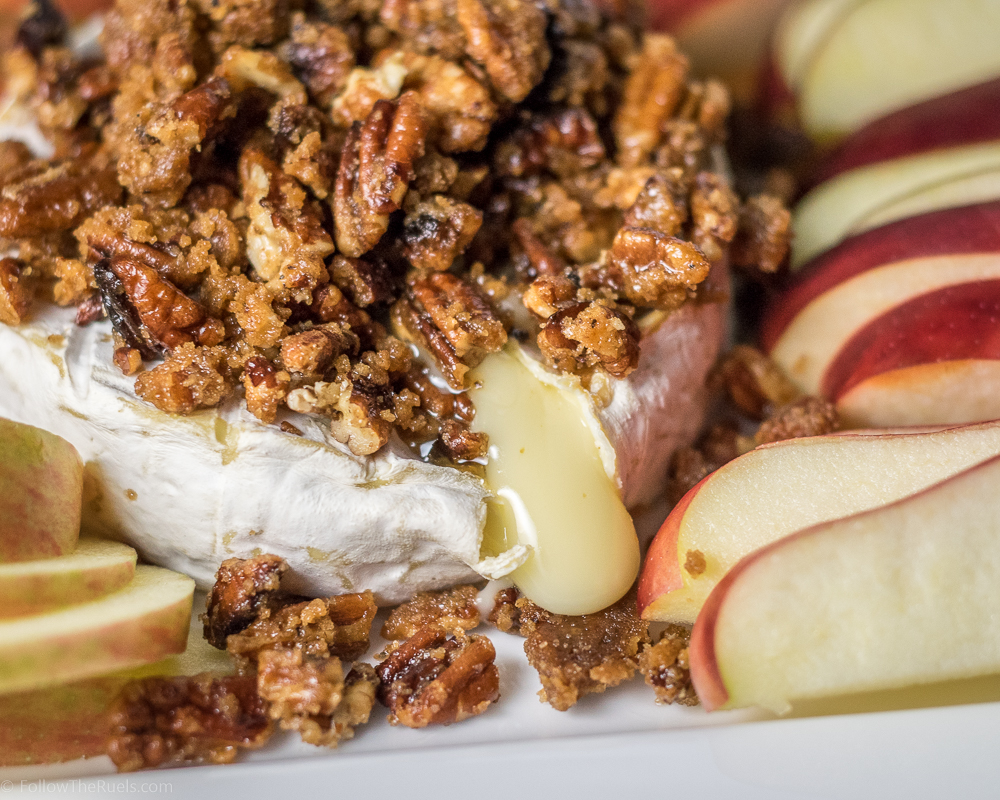 Don't you think this would be a great appetizer to bring to your Thanksgiving dinner or any of your Christmas parties? The pecans and apples are definitely seasonally appropriate. And brie is always a good decision. The combination of all the flavors makes it a definite crowd pleaser. People will be so impressed by such a fancy appetizer, only you and I will know the truth. 😉
PIN NOW, MAKE LATER

[amd-yrecipe-recipe:98]