Here's a last minute, super easy, and very patriotic dessert for you to bring to your 4th of July shindig (or shindigs if you are just that popular!).
A berry patriotic pie!
See what I did there?
I actually loved this so much, I made it twice. Once as a slab pie and once as individual mini pies. Both were extremely easy since I cut a lot of corners and used both premade pie dough and frozen berries.
Work smarter, not harder, people.
Some of you may scoff at my use of premade pie crust and frozen berries, but let me tell you, it in no way affected the taste of this pie. It was delish! But if you are one of those people who really loves to make things from scratch (trust me, I get it), by all means, make your own pie crust. I have an excellent recipe here.
So this post will be a little different. I am going to walk you through how I assembled the slab pie and the little mini pies (or tarts), but they are both the exact same recipe, which you will find at the end.
How to Make a Berry Patriotic Slab Pie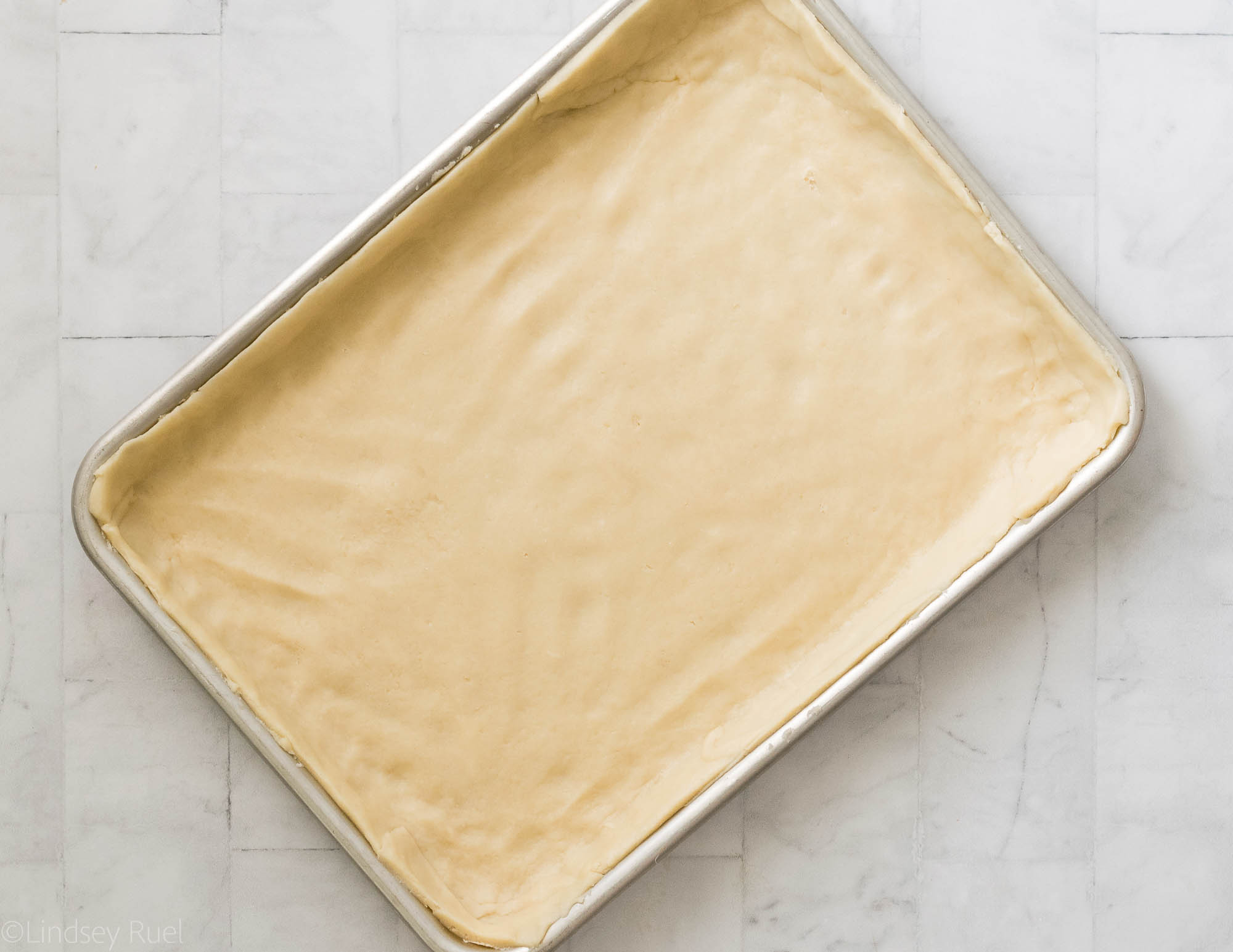 If you are making your own pie dough, do that first, then let the pie dough chill before rolling it out.
If you are using store-bought pie dough, combine both sheets of pie dough together, and roll it out so that it fits a rectangular baking sheet. I am using a small quarter sheet pan for this. You can also use a casserole dish or normal round pie dish.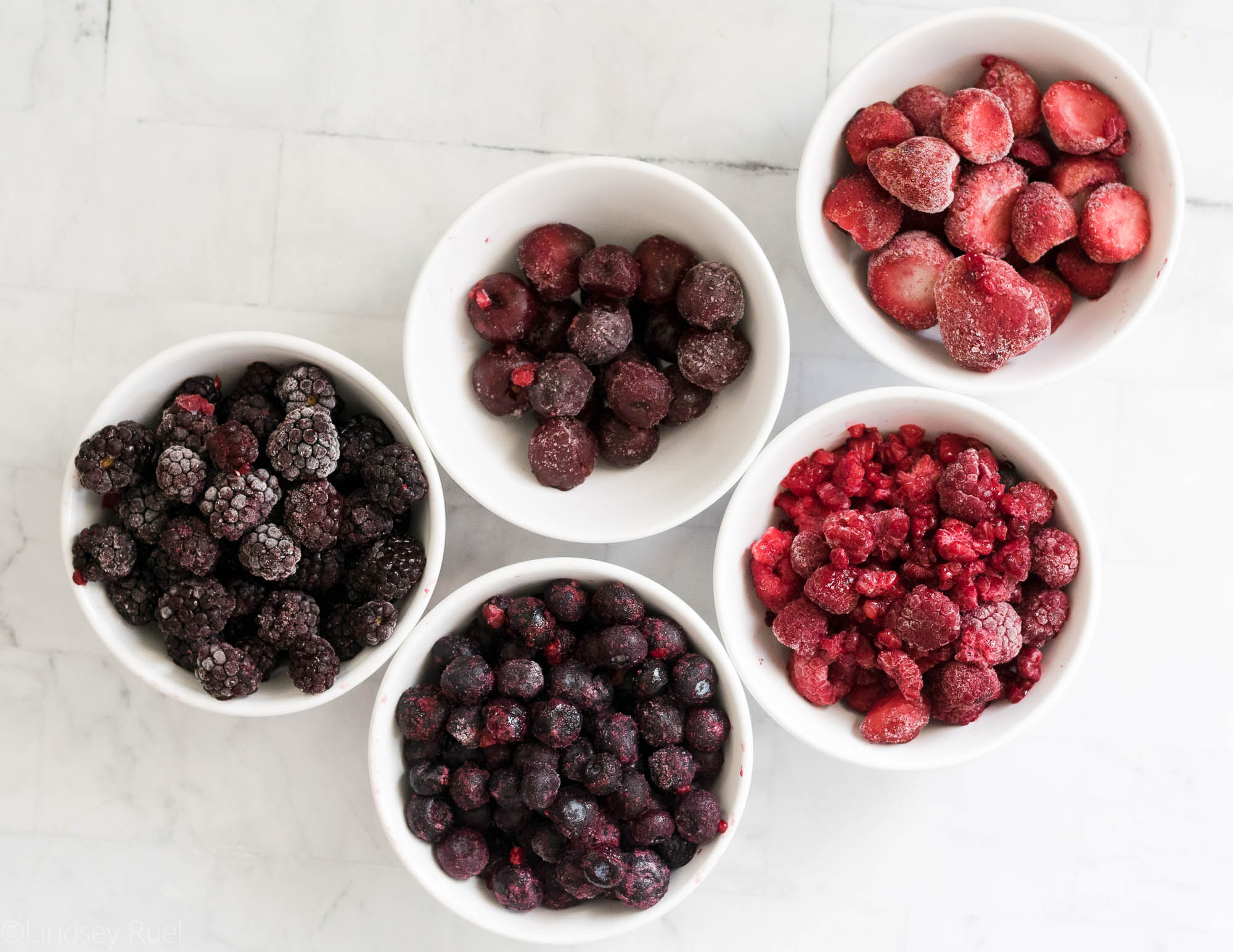 For the slab pie, I went with an ombre effect. To do that, I first separated out each type of berry and arranged them from darkest to lightest. This is completely unnecessary, and you can instead mix all the berries together to make one delicious berry pie.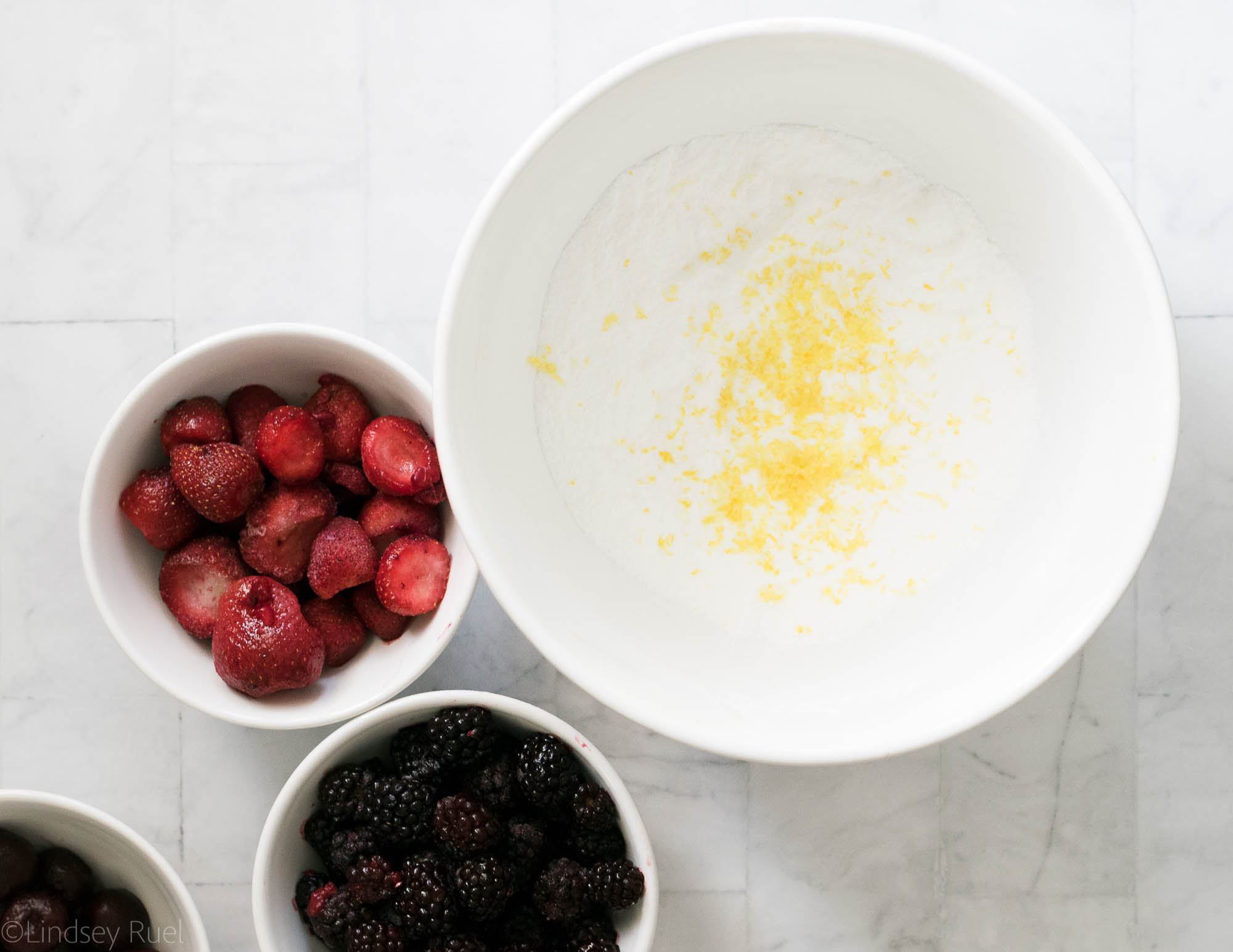 Mix all the berries with the sugar mixture, which consists of granulated sugar, corn start, and lemon zest.
If keeping the berries separate, mix a portion of the sugar mixture into each bowl of berries. I mixed in 3-4 tbsp for every cup of berries.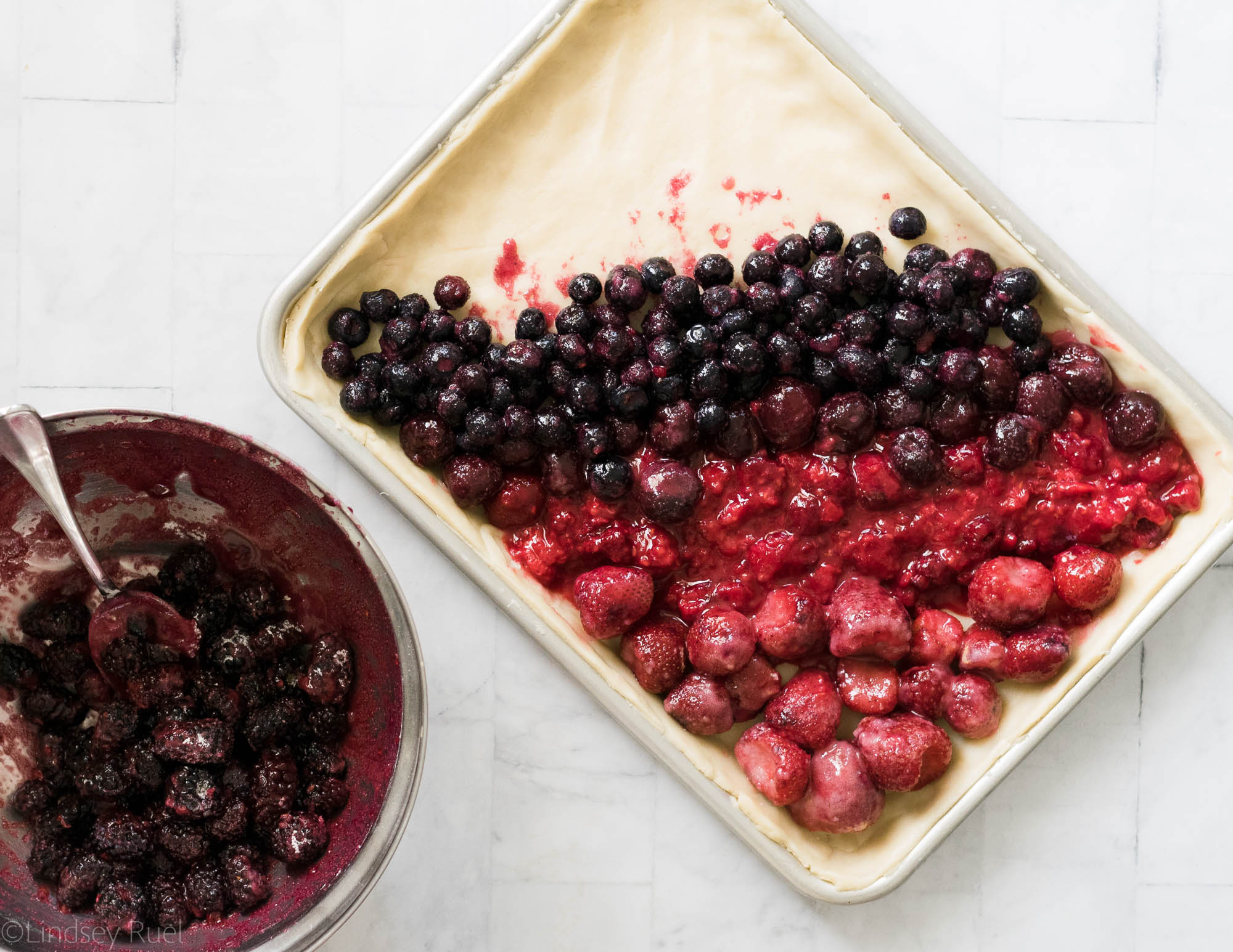 Then spoon the berries into the pie crust.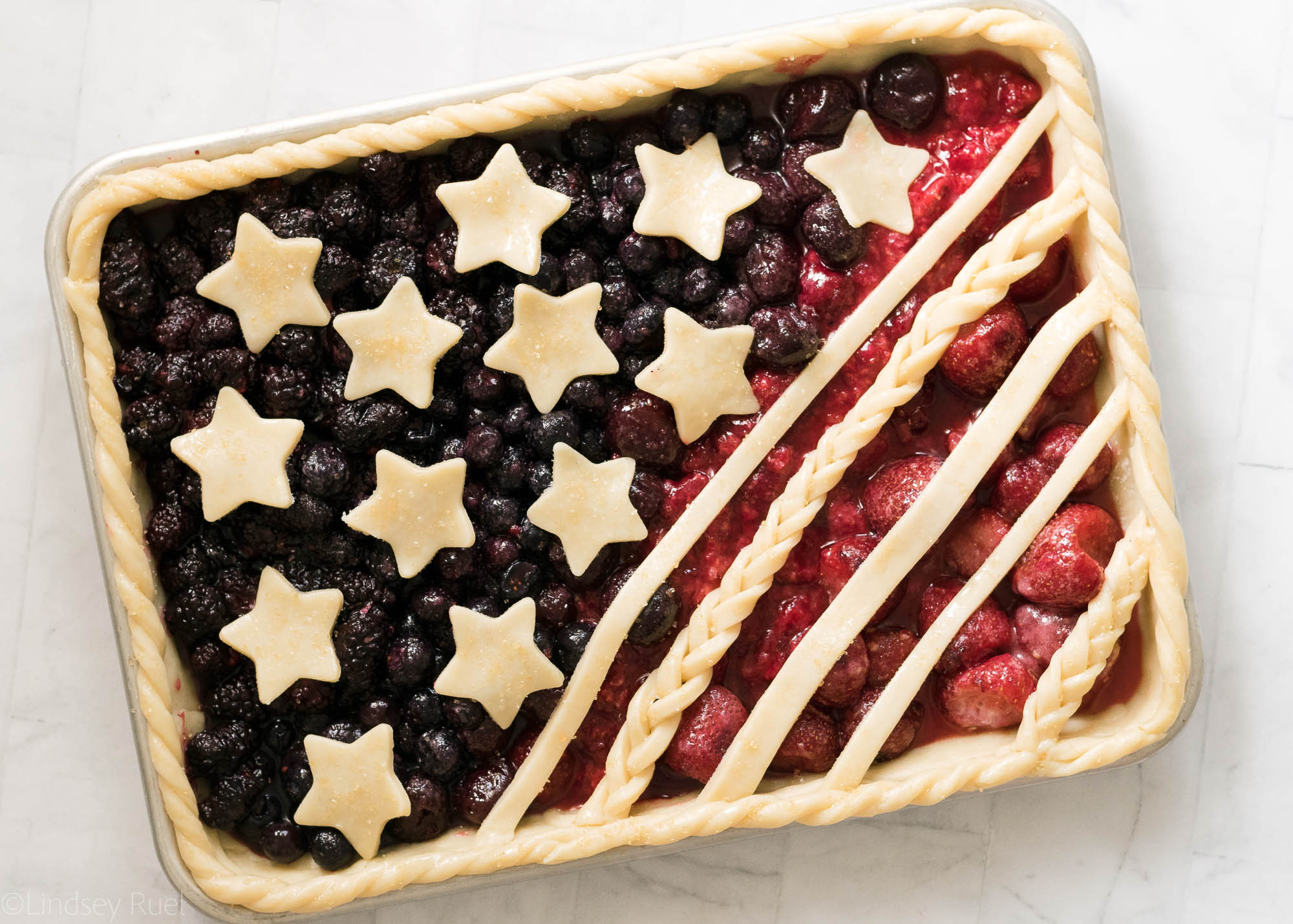 Use the extra dough to create a desired pattern on top. I went with stars and stripes which I created using a star-shaped cookie cutter and a pizza cutter.
The "rope" around the outside was created by taking long and skinny pieces of dough, pinching them together on both ends, then twisting until they looked like a rope. I made several of these to put around the edge.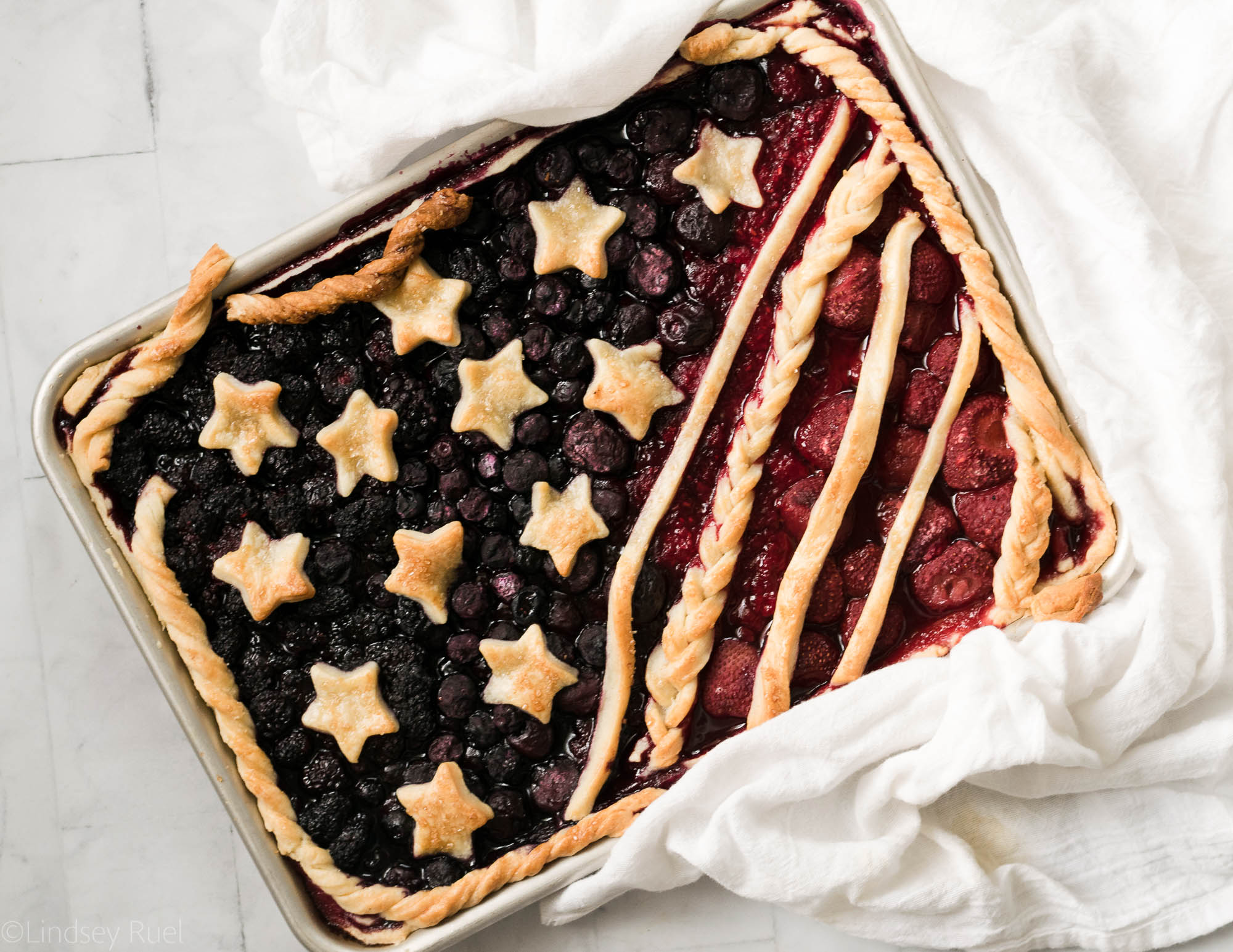 Bake the pie at 400 degrees for 15 minutes, then reduce and bake at 350 for another 30 – 40 minutes, or until the berries are bubbling and the pie crust is golden.
To ensure your pie crust doesn't break off mid-bake, adhere the pieces to the bottom pie crust with a bit of an egg wash.
How to Make Berry Patriotic Mini Pies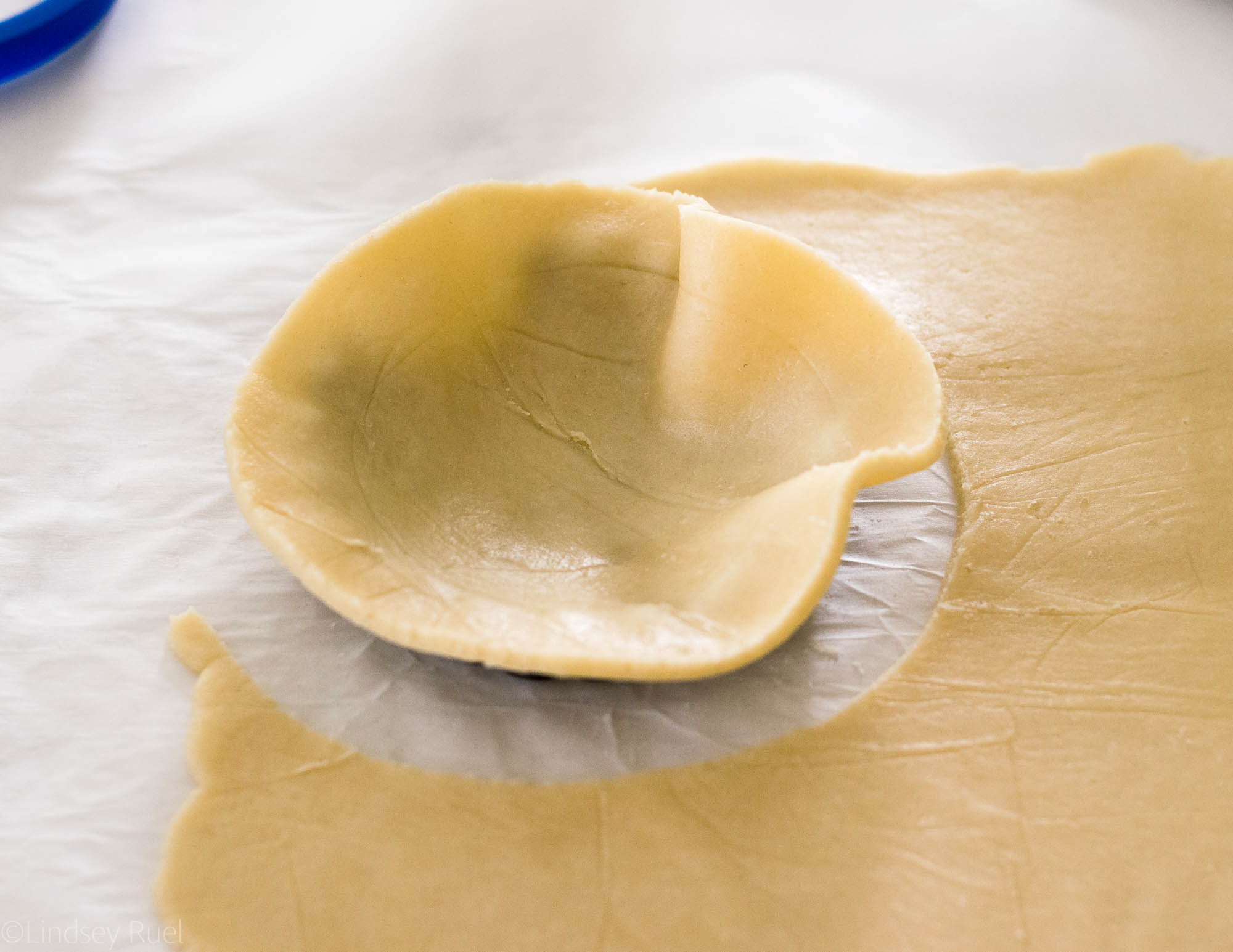 Again, start with either homemade or store-bought pie dough. Roll out the pie dough into one big sheet and cut out circles about 1/2″ wider than the opening of the tart pan.
Press the dough into the bottom and along the sides of the tin.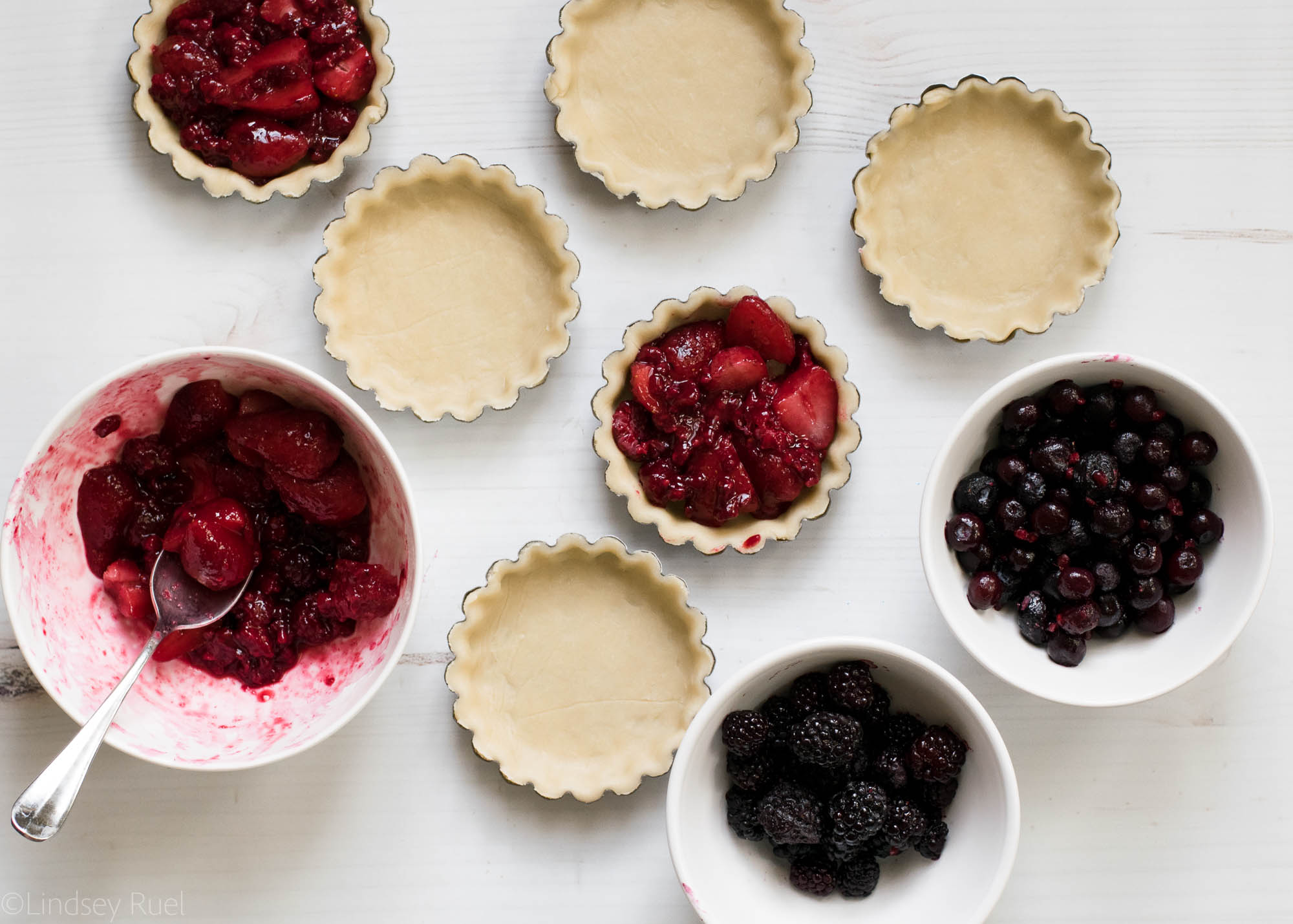 Mix together the berries and sugar mixture.
For these mini pies, I combined the red berries together, and the "blue" berries together.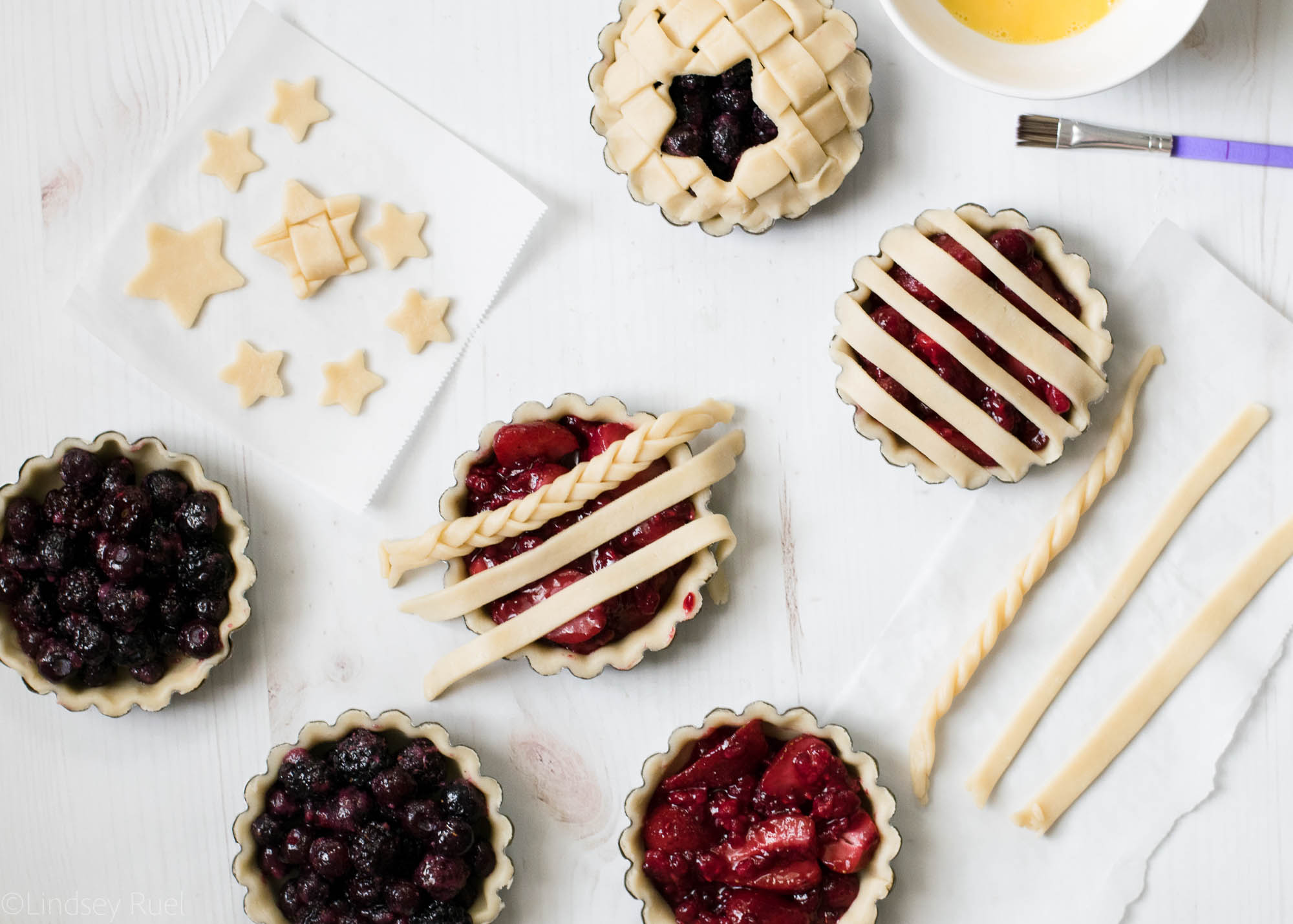 Spoon the berries into the pie shells and then top with the extra pie dough.
Similar to the slab pie, I cut out stars and stripes and placed stars on the "blue" pie and stripes on the "red" pie.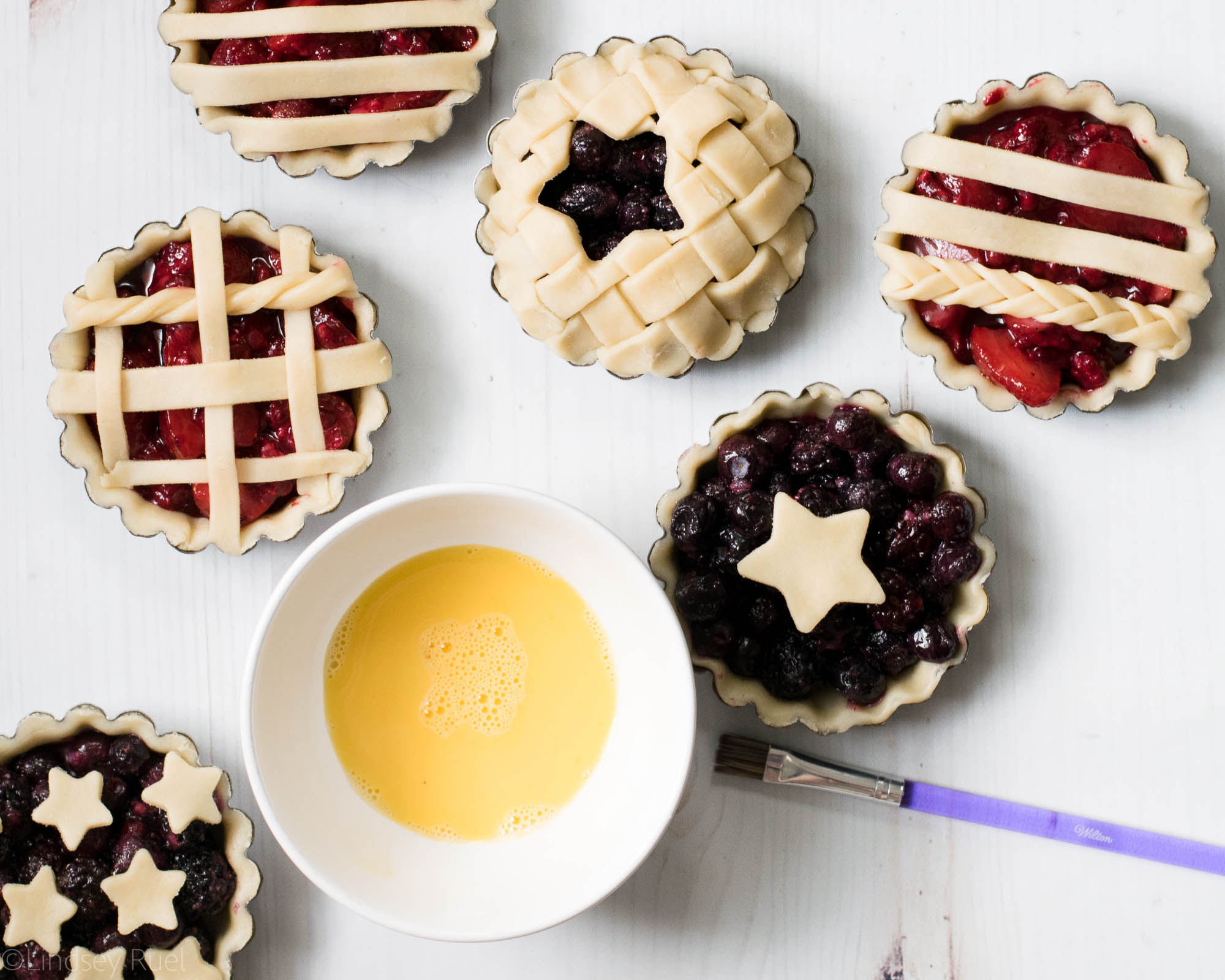 Brush the tops of the pie crust with an egg wash so they turn a nice golden brown color.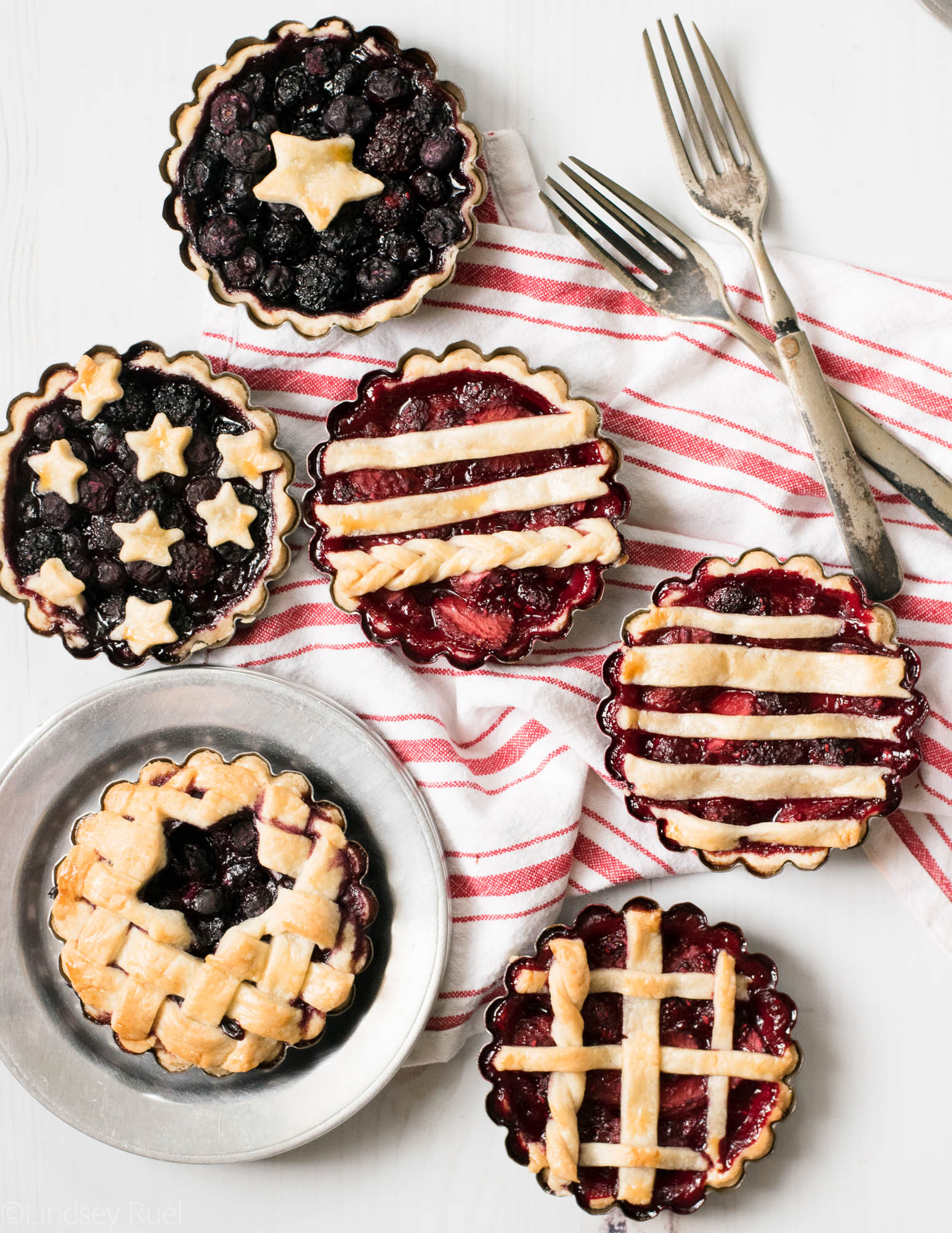 And, just like the slab pie, bake at 400 for 15 minutes, then reduce the temperature, and bake at 350 for another 20 minutes. The mini pies bake much quicker.
So there you have it! Two ways to make a super cute and berry patriotic pie (or pies)! Who knew making a pie could be so easy?
Now, tell me the truth, which version is your favorite? I think I like the mini ones, personally…but maybe it's because my slab pie just didn't want to behave!
Supplies and Recipe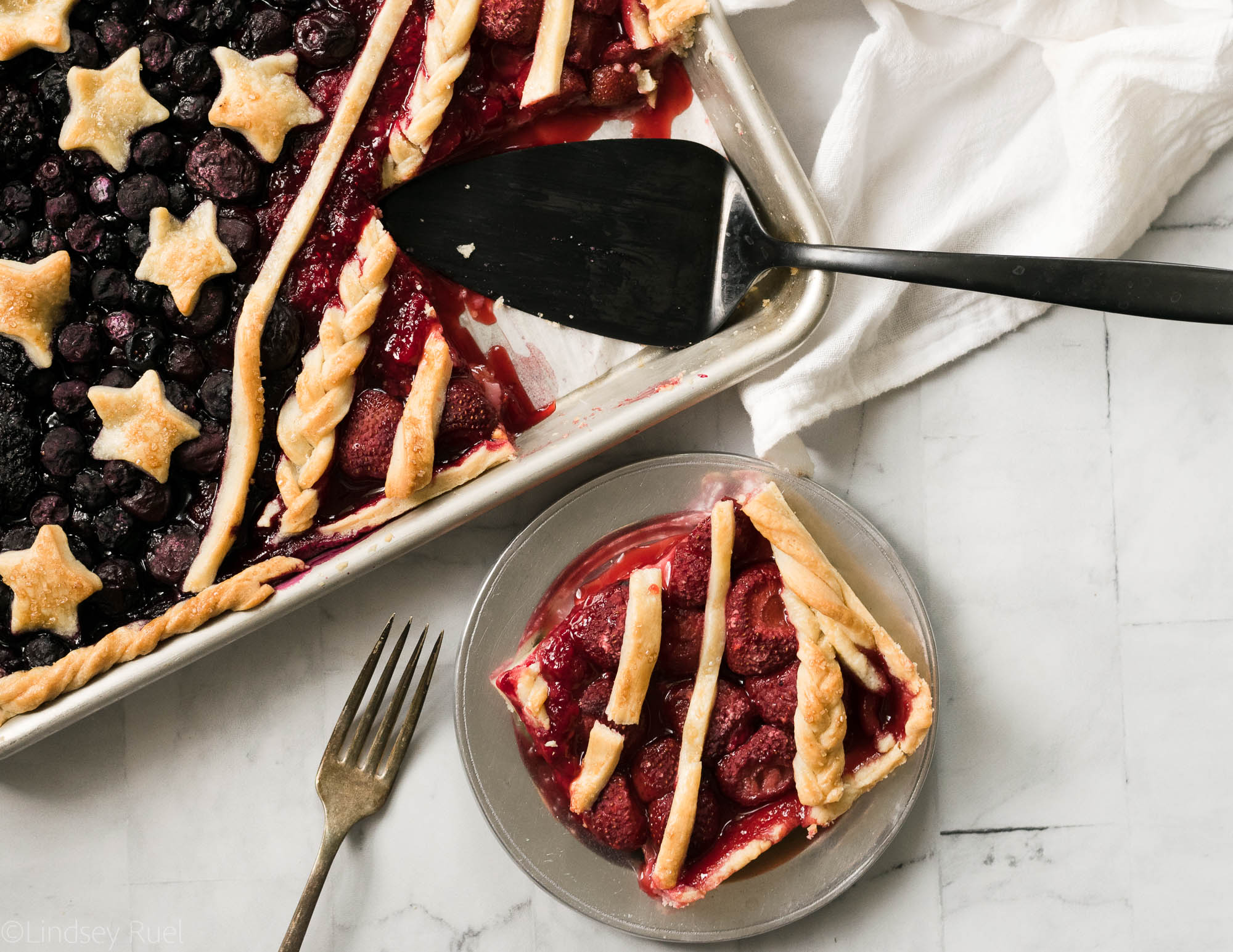 [show_shopthepost_widget id="3190306″]
[yumprint-recipe id='186′]