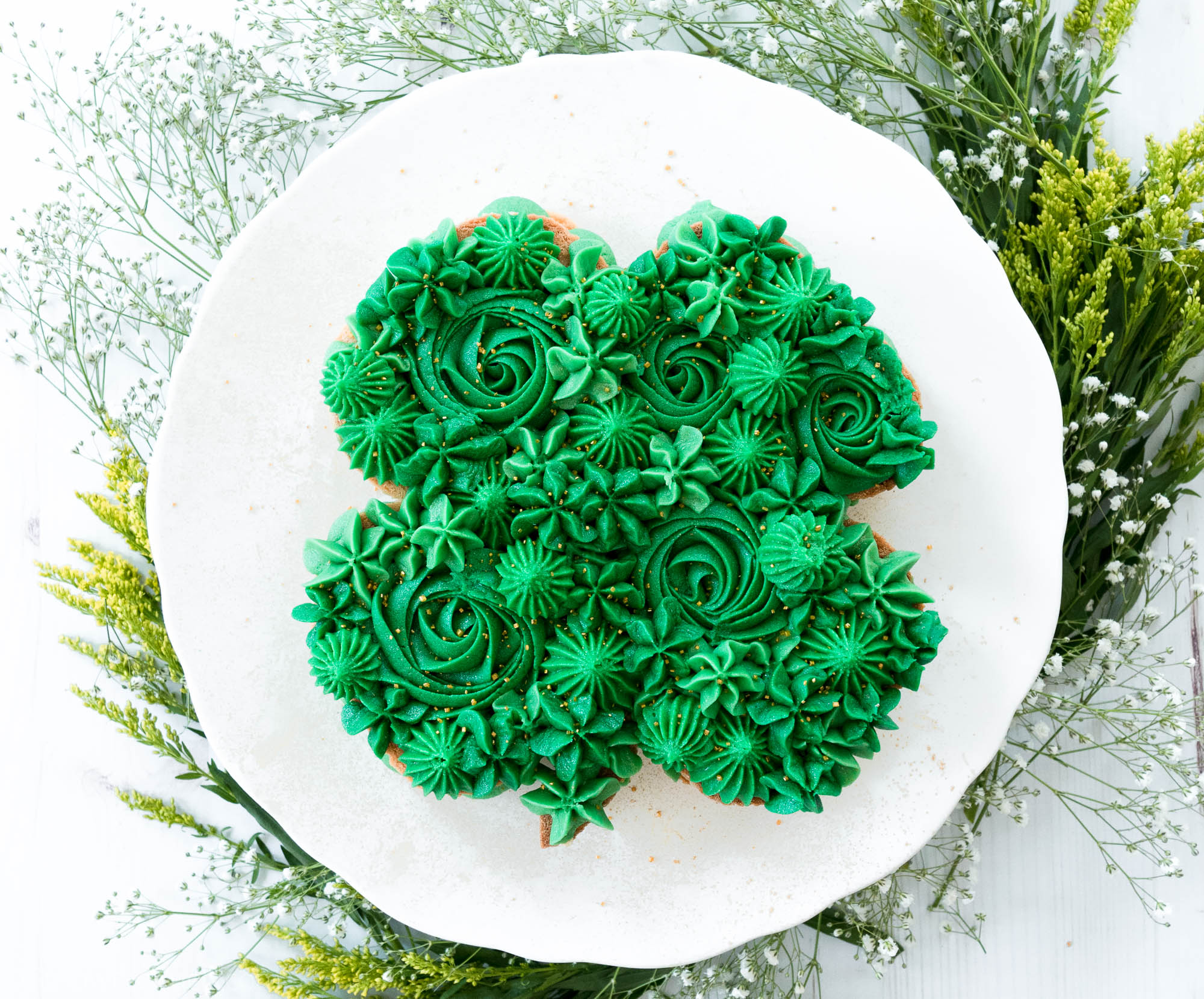 This may be called a cookie cake, but it is not the same giant chocolate chip cookie cake you buy at the mall. This cookie cake is a cross between a sugar cookie and a cake. They are all the rage on Instagram right now! And they are basically like my new favorite thing! I am slightly obsessed.
If you aren't as obsessed as I am, this version of a cookie cake is two giant sugar cookies layered together with buttercream and topped with even more buttercream. The original version, also includes some flowers, macarons, and other adornments. They are super cute.
But for this four-leaf clover version, I stayed with my favorite style of decorating cakes, cupcakes, and cookies. Which is just using a bunch of different piping tips to cover the surface.
How to Make It
If you can make a cake or decorate a cookie, you can make this cookie cake!
Start by cutting out two really large cookies in the shape of a four-leaf clover. Don't have a giant four-leaf cookie cutter? No worries!
I print out a large four-leaf clover then cut it out to use as a template for cutting out my cookie dough. I found it easier to roll out the dough, then transfer it to the baking sheet before cutting the dough. It ensures that the dough doesn't lose its shape.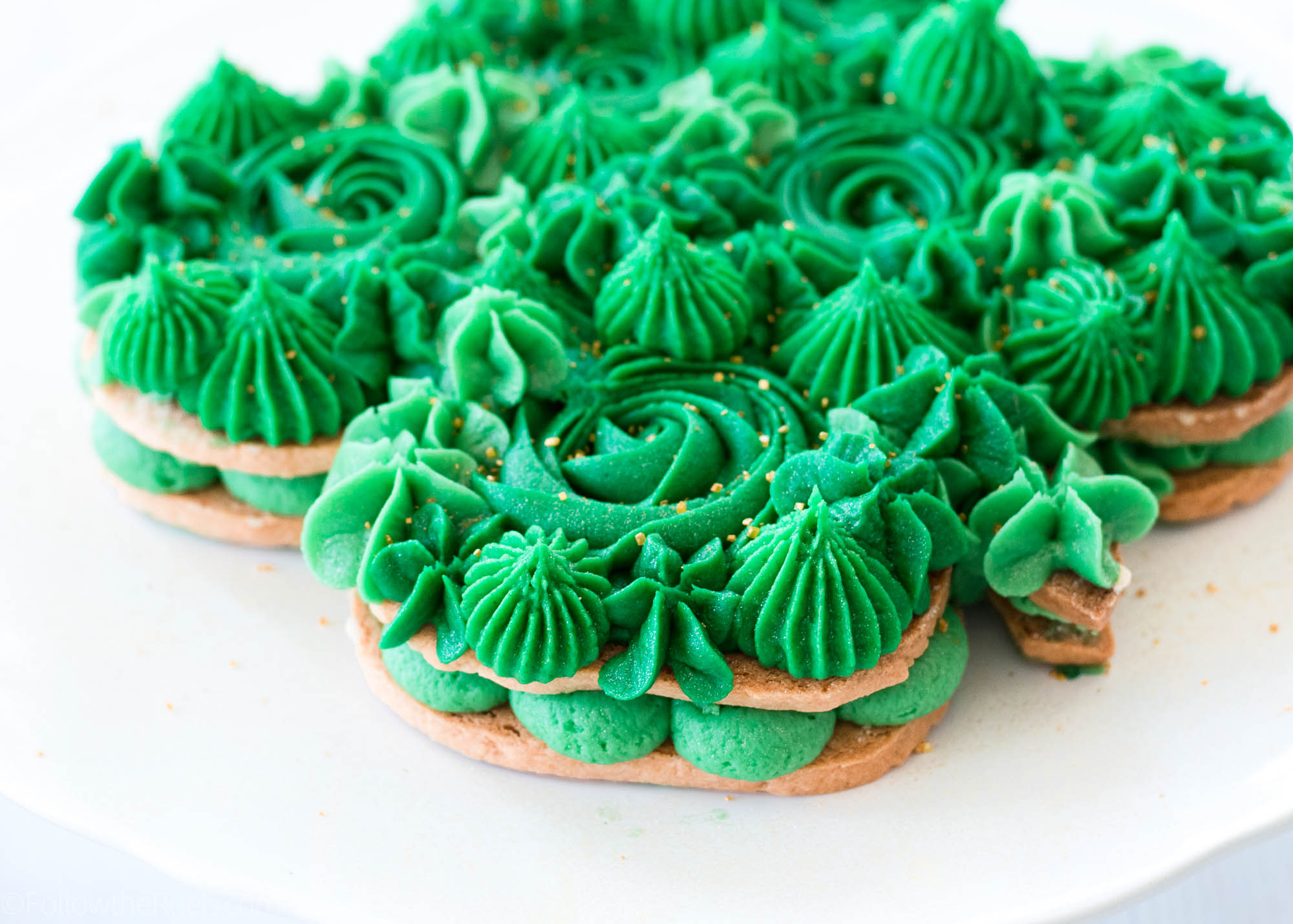 On top of the first layer pipe dots of buttercream around the edge, then top with the second cookie layer.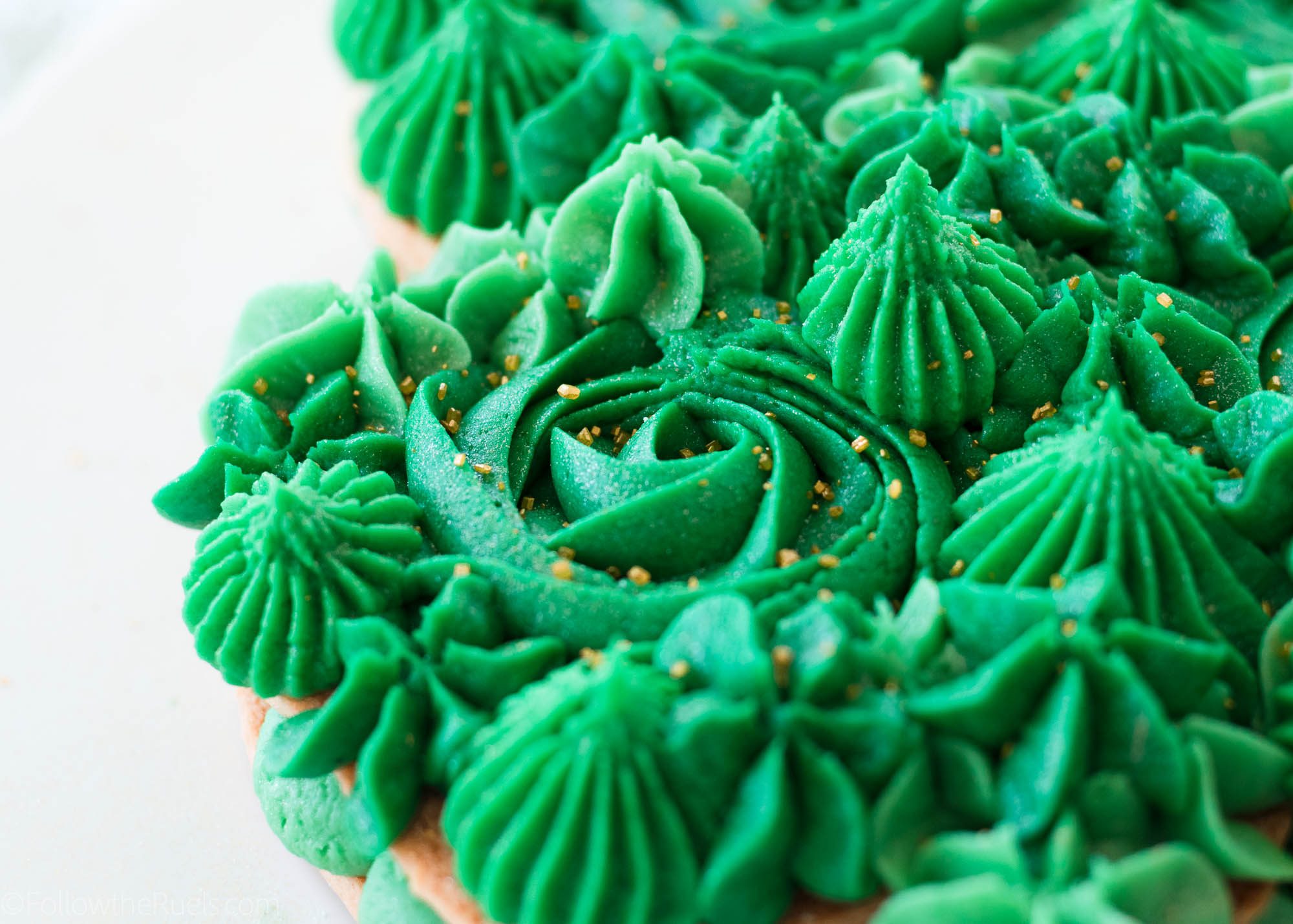 Use various large piping tips to create different shapes.
Piping tips used:
Round Dots – Wilton #1A
Roses & Drop Flower – Wilton #2D
Spikey Dots – Wilton #8B
Drop Flower – Wilton #1M
I also like using different shades of the same color, which isn't really very well represented here.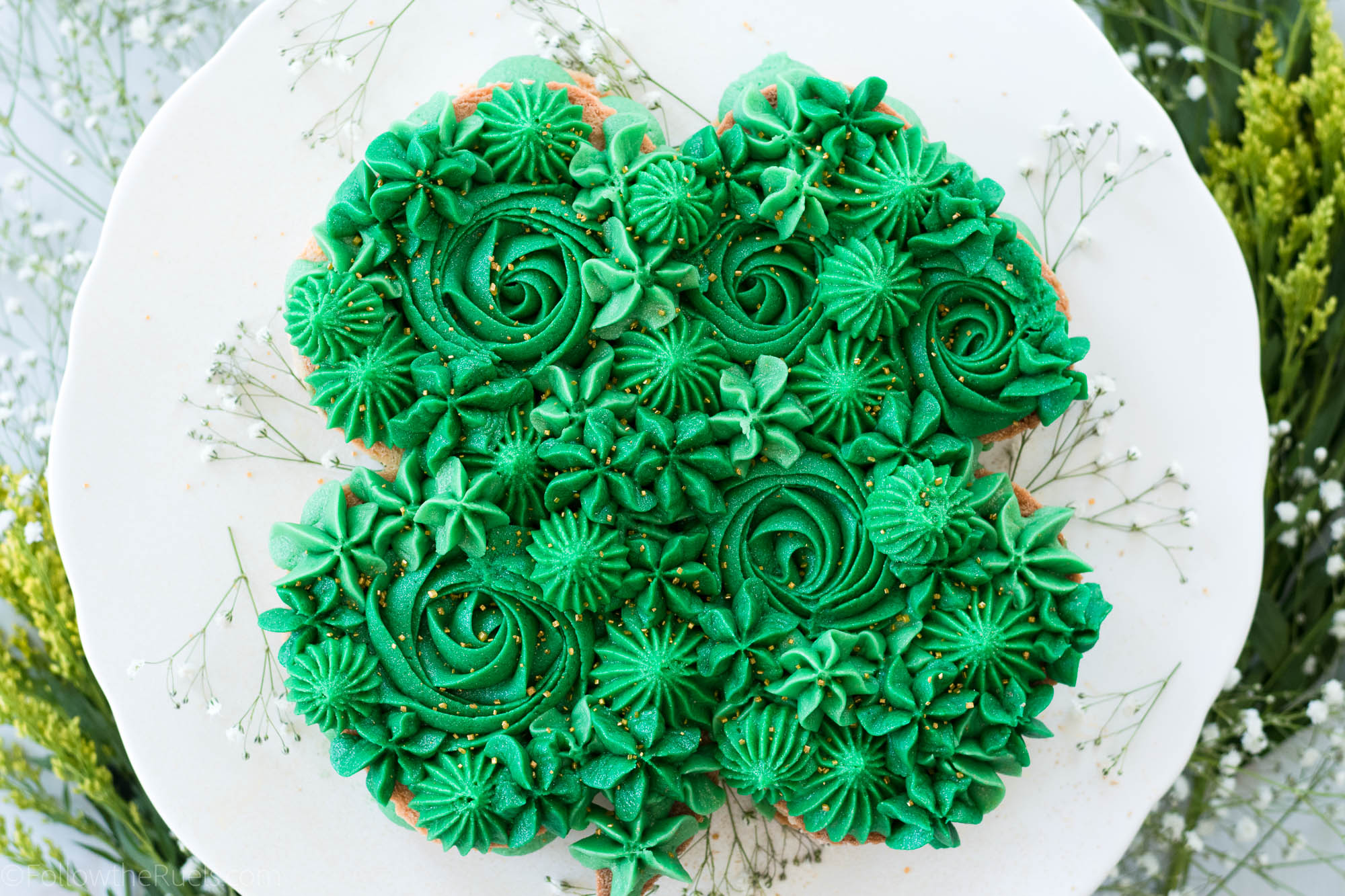 For an extra little flair, top with sprinkles or glitter.
I used this gold dust I found at Michaels, and while it's not super visable in photos, it adds a really pretty shine to the buttercream in person.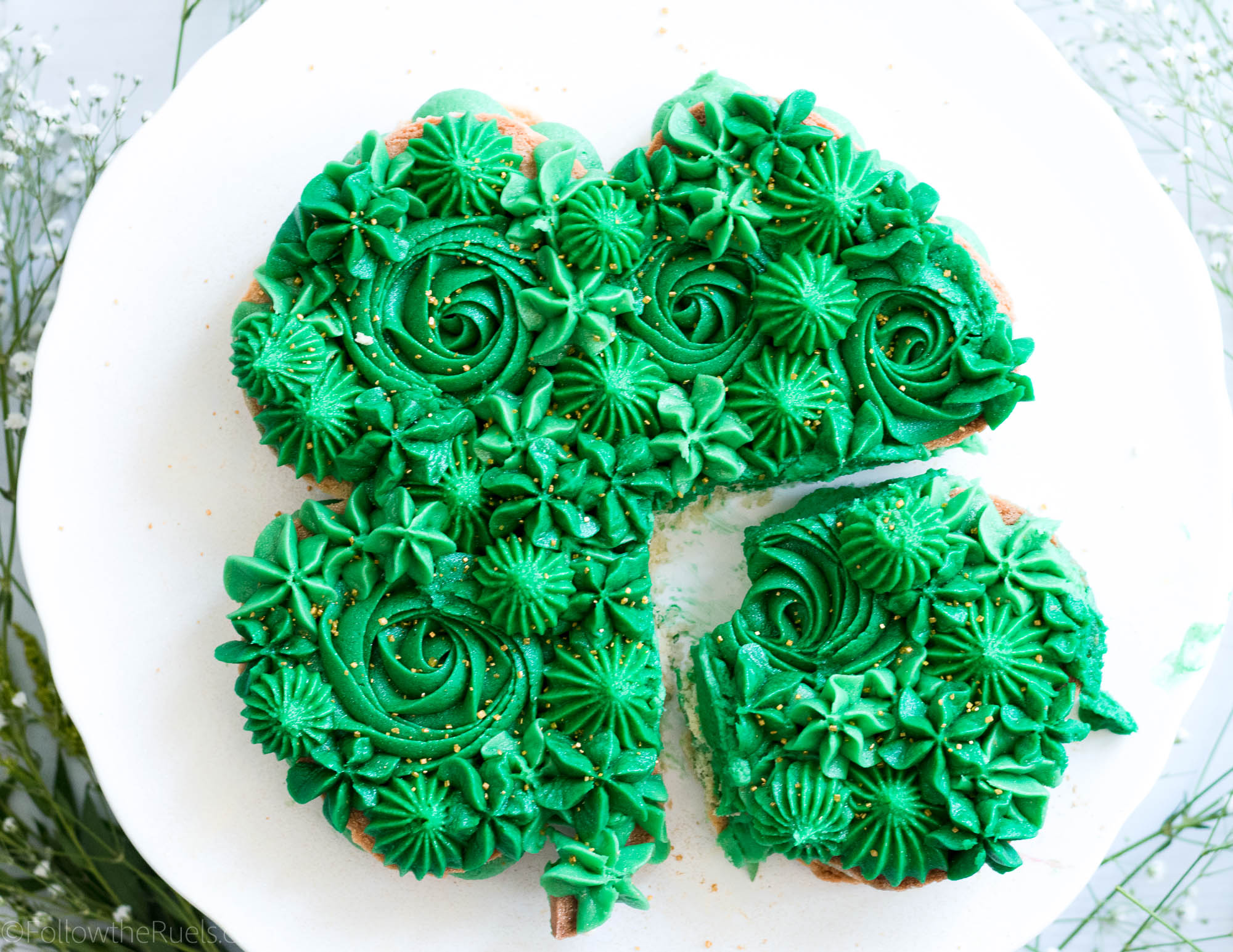 All that's left is to dig right in. You can cut this anyone way you like! Or just break off a piece here and there. Make your own rules for this unconventional cake!!
Recipes Used:
[show_shopthepost_widget id="3061418″]