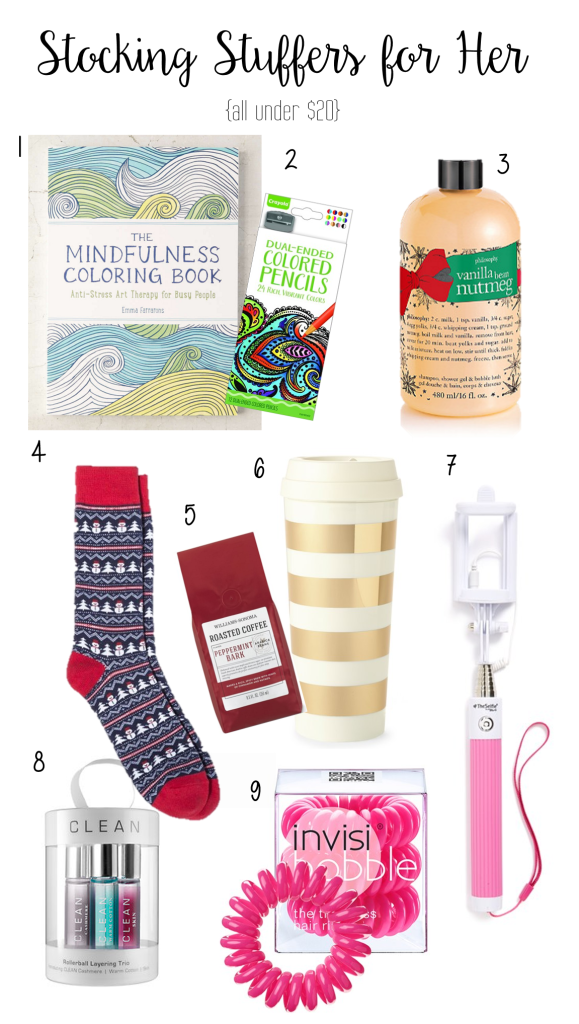 1.Coloring Book $10 | 2. Colored Pencils $5 | 3. Philosophy Shower Gel $18 | 4. Ugly Christmas Sweater Socks $10 | 5. Peppermint Bark Coffee $15 | 6. Gold Striped Tumbler $18 | 7. Selfie Stick $14 | 8. Rollerball Perfumes $10 | 9. Invisibobble Hair Tie $8
Stocking stuffers are by far my favorite Christmas gifts to give (and get). They are always a mix of ultra practical (socks, underwear) and extremely random and quirky. Obviously, when giving stocking stuffer gifts, I lean more toward the random and quirky side.
This year we are spending Christmas with my husband's family which means I have 5 people to buy stocking stuffers for, including my sister- and mother-in-law.
I have gotten them both an adult coloring book and colored pencils. I have seen these around everywhere and think they are so cool. It's supposed to be really good for stress, but I just think they are fun.
I also want to get my mother in law some festive bath soap and coffee since she deserves to be pampered. And my sister-in-law definitely needs some quirky socks and a selfie stick.
The girls were relatively easy to shop for, but I think the guys will be pretty tricky. So far all I have gotten them are socks. Once I get their stocking situation more flushed out I will share with you some of the things I plan on getting them.
What are some of your favorite stocking stuffer gift ideas?