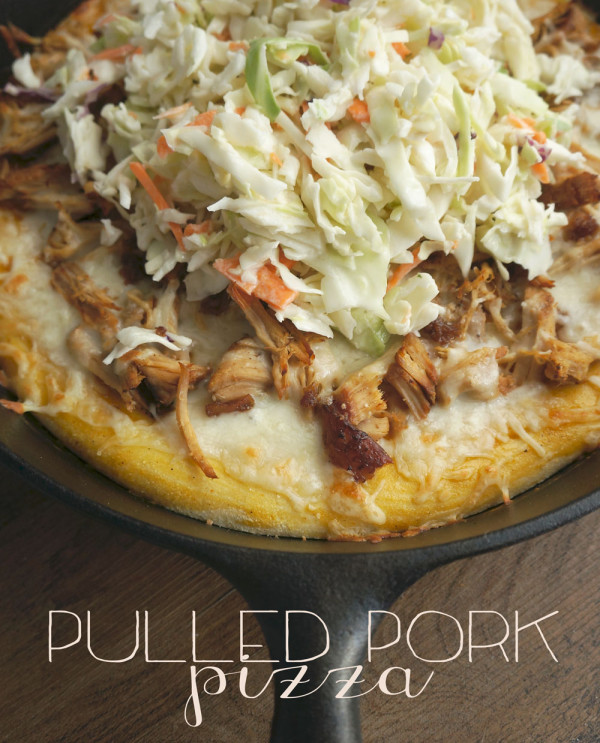 I have only lived in the (true) South (Texas doesn't really count) for about a year and a half. But its fair to say I have fully embraced the cuisine here, despite it's tendency to be fried, covered in cheese, full of butter, and generally not-so-healthy. One of the things I love most here is the barbeque (I am my father's daughter). In North Carolina, it's all about pulled pork that has been slow cooked in a smoker and requires little to no accoutrements. Which is probably why I love to add pulled pork to just about anything. Like pizza!
My husband and I have actually been wanting to make a pulled pork pizza for some time, but hadn't quite settled on the right recipe until recently. For some reason, I am a firm believer in adding veggies to pizza (or anything, really), but what veggies would you put on this pizza? Then my husband threw out the idea of putting cole slaw on top. And it was settled! We had our pulled pork pizza recipe!
I started with the pizza dough. I think the most important ingredient for bubbly, chewy, but a bit crispy pizza dough is the yeast. I start with a cup of warm water, stir in honey (or sugar), then sprinkle on the yeast. The yeast will start to foam, which is how you know it is good yeast. If there is no foam, your yeast is old and your dough won't rise (keep it in the freezer to keep it fresh).
I used my basic pizza dough recipe, however I substituted corn meal in for the whole wheat flour to make it a bit more like corn bread. To me, that seems a bit more Southern, and it worked perfectly..
I let the dough rise until it doubled in size, then punched it down and let it rise once more. That second rise is not necessary. But I find that the dough is a bit more light and airy if it rises twice. Sometimes you just don't have that kind of time, so one rise will do.
For this pizza, we decided to use our cast iron skillet instead of a pizza stone. The cast iron is great for pizzas because it gets really hot and helps to crisp up the bottom of the pizza. Plus, it seemed appropriate for the theme of the pizza.
I like to par bake my crust, so I pressed the dough into the skillet and baked it for about 5 minutes until it started to bubble and puff up. Then I covered the dough in our favorite "Carolina-Style" barbeque sauce, Carolina Gold from Trade Joes. You could use any barbeque sauce, but I would recommend a vinegar or mustard based one to go with the pork.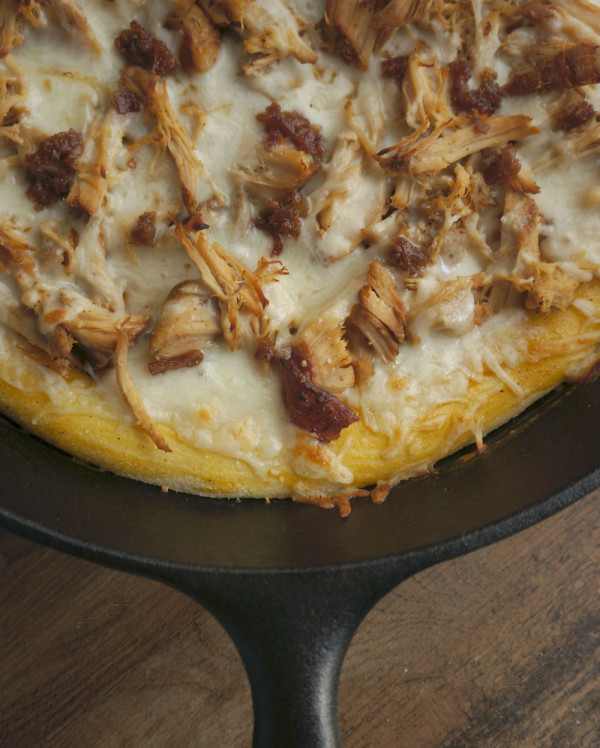 Then we just topped it off with the pork and cheese and let it bake until the cheese was melted and started to bubble.
You could of course stop here. But we took the pizza a step further and added "veggies" in the form of cole slaw.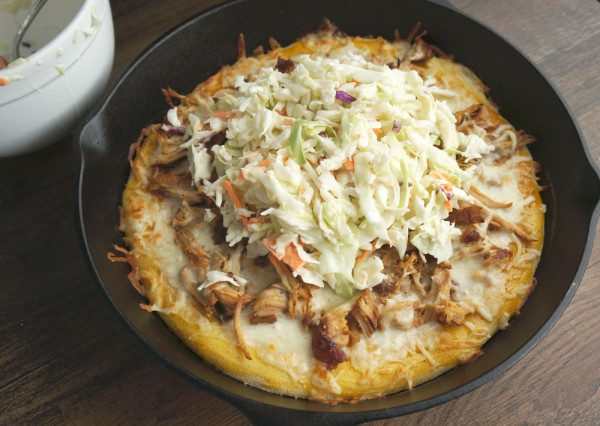 For the cole slaw, I just used a bag mix from the grocery store. But if you have a great cole slaw recipe, by all means, use it. One recommendation I would make is to use less dressing than normal. You don't want your cole slaw to be overly wet. Also, if you are serving more people or you think you may have left overs, put the cole slaw on once you have sliced and served the pizza. It may leave your slices a bit soggy.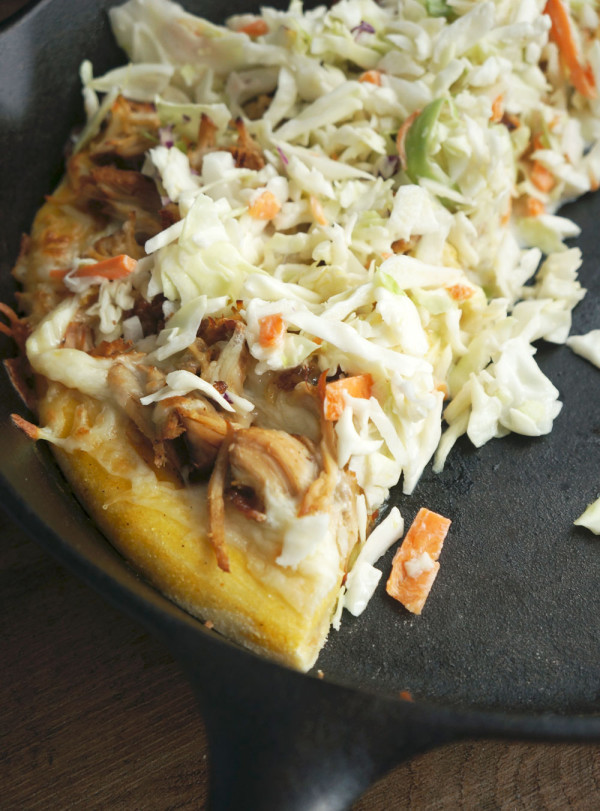 But boy oh boy was this pizza wonderful! The crust was light and fluffy, the pork was smokey and tangy thanks to the sauce, and the cole slaw was creamy and crisp! It was like full meal in one
[yumprint-recipe id='40']bite.\