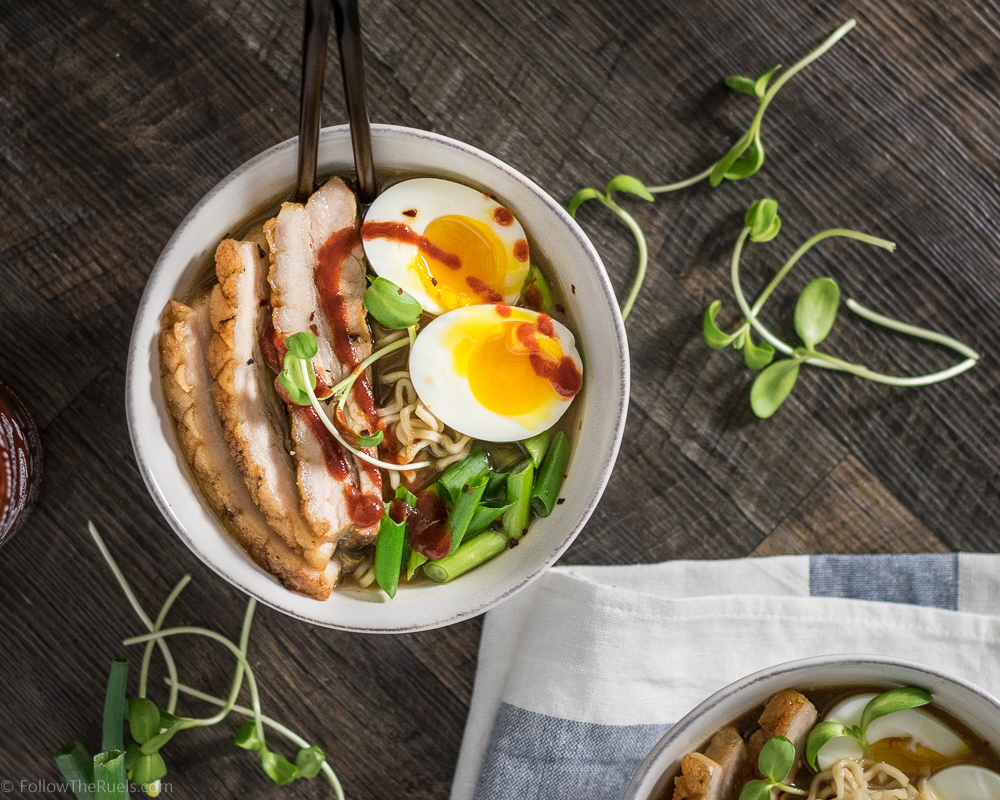 One of my husband's and my favorite date-night restaurants is a little ramen spot up the road from us. I am pretty sure they have the best ramen in town, but that may be because there are no other ramen restaurants around here. Not that it takes away from how good this place is, it's fantastic! The only "problem" is that it's incredibly small (only a few indoor tables) and wildly popular, which makes it almost impossible to get a hot bowl of ramen these days.
So what do I do when I want a bowl of ramen but can't get one? I make it myself!
I didn't want to make just any old cup of noodles. I wanted my ramen to be good. Which is a little bit more difficult to do at home when time and ingredients are somewhat limited. At that ramen spot up the road, I imagine that they spend hours cooking their broth and use some exotic ingredients I can't pick up at the local super market.
Despite all that, I was determined to make it work and to make a rich and delicious broth for my ramen without laboring over it for hours.
To intensify some of the flavors, I used a method that it sometimes used when making pho broth: charring the vegetables then adding them to the broth. To cut down on time, I used store bought chicken broth instead of making my own.
I started the broth by sauteing some shiitake mushrooms and garlic in sesame oil. Then I added the charred vegetables (onion, leeks, and ginger) and the stock. I let the stock simmer for quite a few hours so that all the flavors would meld together.
Even though the broth is the foundation of a good bowl of ramen. For me, the star of the show is the pork. In this case, pork belly! So while the stock was on the stove, bubbling away, I went off to make my pork belly.
I had never attempted pork belly at home, so before I did anything I did tons or research (thank you, Internet!). Did you know there are about a dozen (or more) different ways to make pork belly? You can smoke it, grill it, roast it, braise it, sous vide it…you get the idea. A more traditional, Japanese way of cooking pork belly would be to braise it. Braising is also probably the most fool proof method.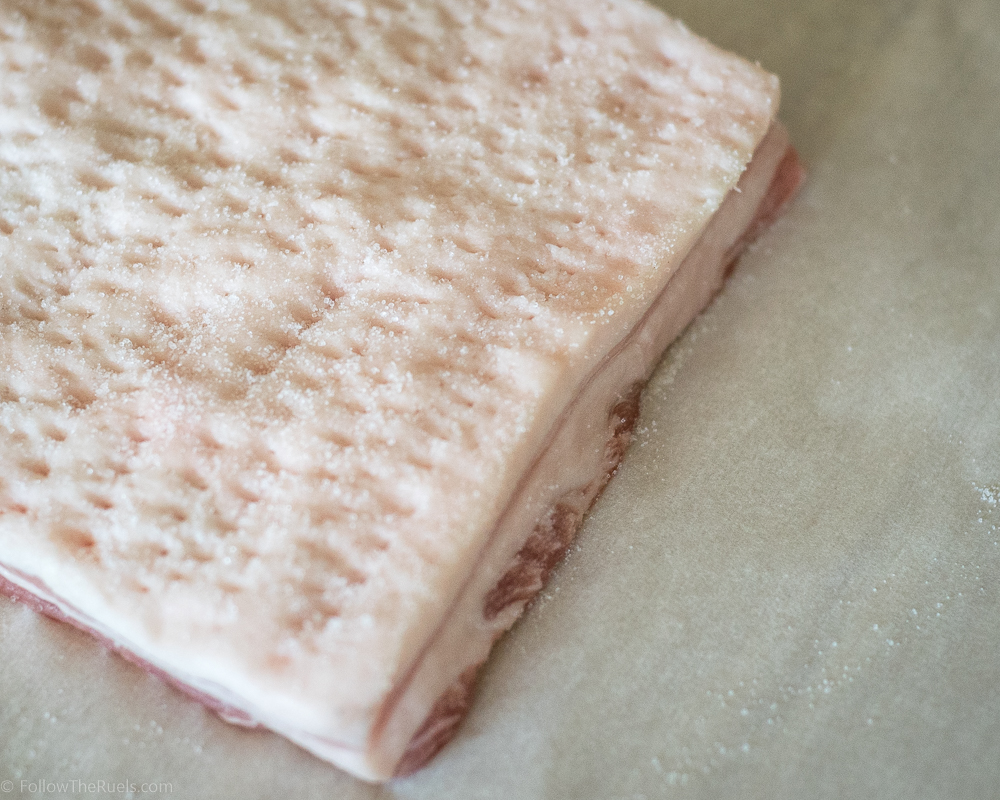 But I also wanted that fatty layer right under the skin to be nice and crispy. To me, that's the best part of the pork belly! To get the skin extra crispy, I pricked it with a fork to make hundreds of tiny holes. Then I rubbed some salt on top and let that sit out for about 30 minutes so that it could draw out all the moisture. After 30 minutes were up, I patted it down with a paper towel to sop up any of that moisture, and then scored the top of the fat layer with a knife in a cross hatch pattern.
While the pork was resting, I prepared the pan and all the ingredients going to braise the pork belly in. I wanted lots of flavor to find there way into the meat to make it soft and delicious. I used a combination of leeks, garlic, ginger, and lemon grass then I plopped (that's the scientific word, right?) the pork belly, fat side down, into the pan so that it was nice and crispy. After about 5 or so minutes, about the point my kitchen started to smell like bacon, I flipped it over and then ladled in some of the broth that was on the stove. I only added enough broth to immerse about half the pork belly. I wanted that top fatty layer exposed to roast and get crispy, and the meaty half to braise and get tender. Then the entire pan went into the oven to cook for about an hour.
The good thing about ramen is that, while it sounds really time consuming (I mean, it's no 30 minute meal), most of it is just waiting around for everything to cook. All of those flavors in the broth and pork belly need some time to develop. So it was at this point I just kicked back and relaxed for about an hour. I guess I could have cleaned up the mess I had made, but I left that for my husband to have fun with later.
At just about the time the pork belly was about to come out of the oven, I put a pot of water on the stove to start boiling. I used the same pot to soft boil the eggs and to cook the ramen.
Once the pork belly was out of then oven and had a chance to rest a bit, I used a serrated knife to slice it into half-inch thick pieces. The skin on top was really dry and crispy, so it took a bit of effort to get the knife through the top layer. Then once it got down to the meat, it cut right through it like butter.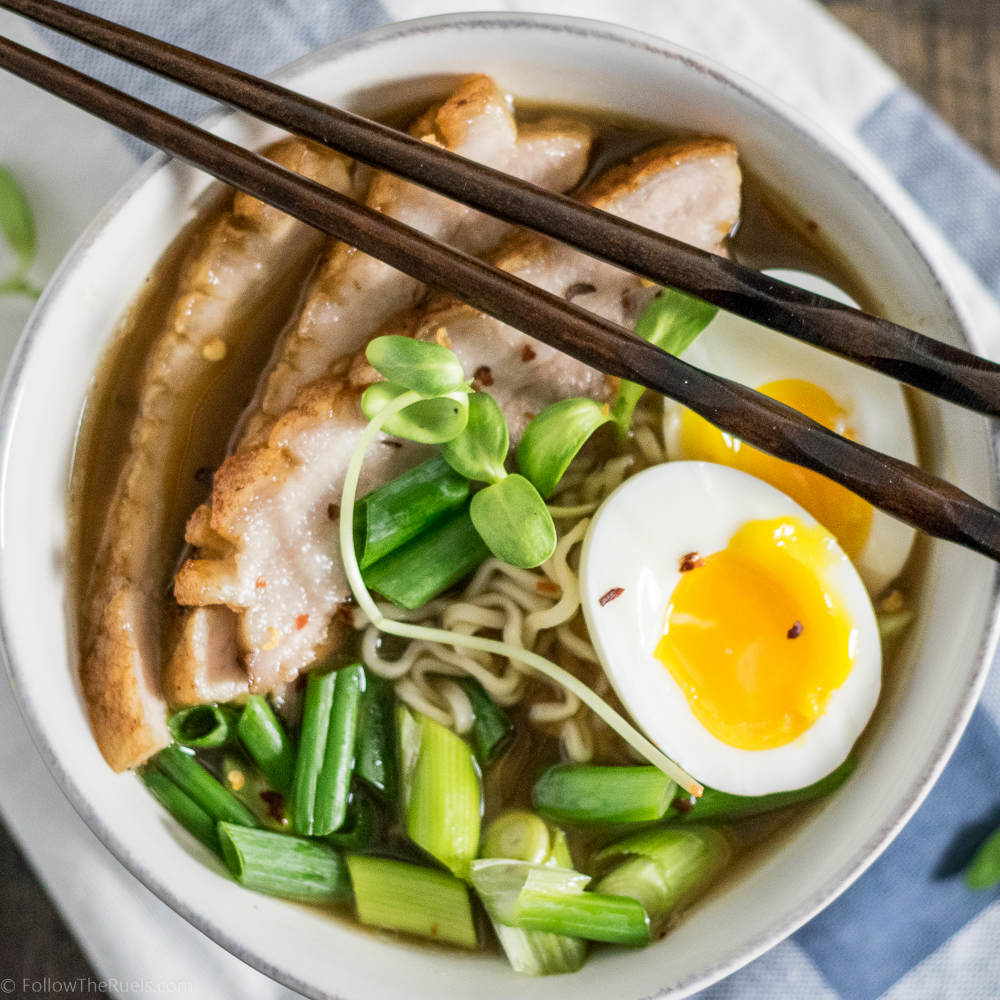 And the last step in this day long adventure in ramen making was to assemble the bowls. I started with the noodles, fresh out of their pot of boiling water, then ladled on some of the broth, until the bowl was almost full. I added a generous helping of the pork belly on top of the noodles, as well as the soft boiled egg, some scallions, and pea shoots.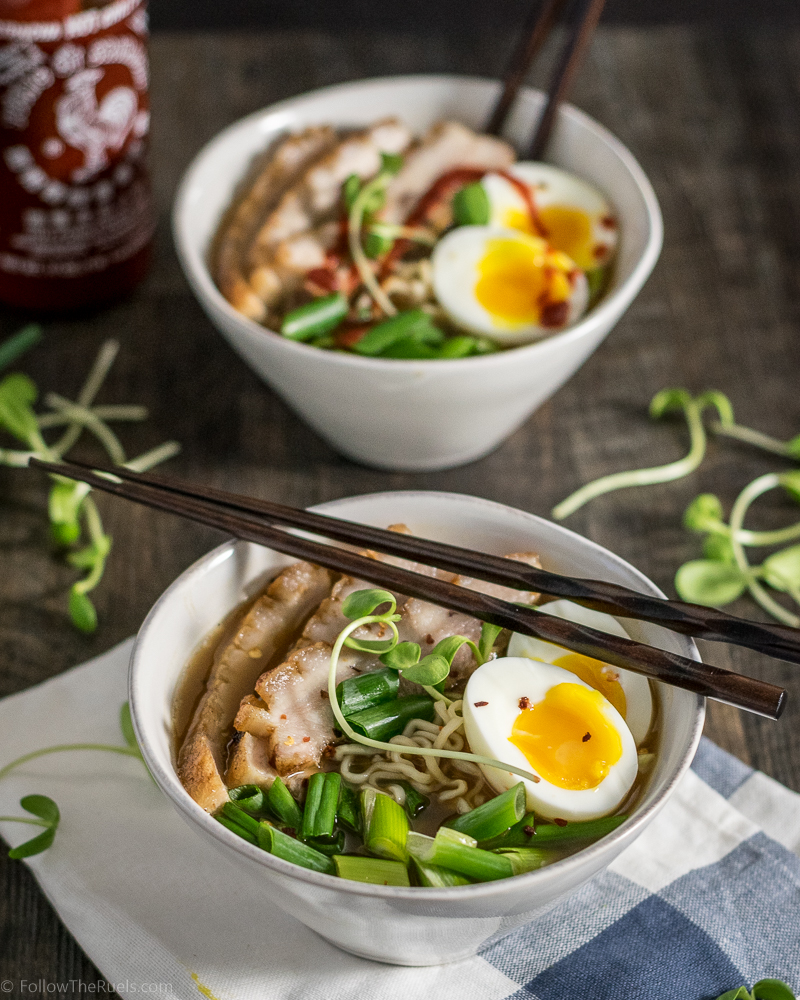 Since my husband likes his ramen on the spicy side, I added some sriracha on top for him.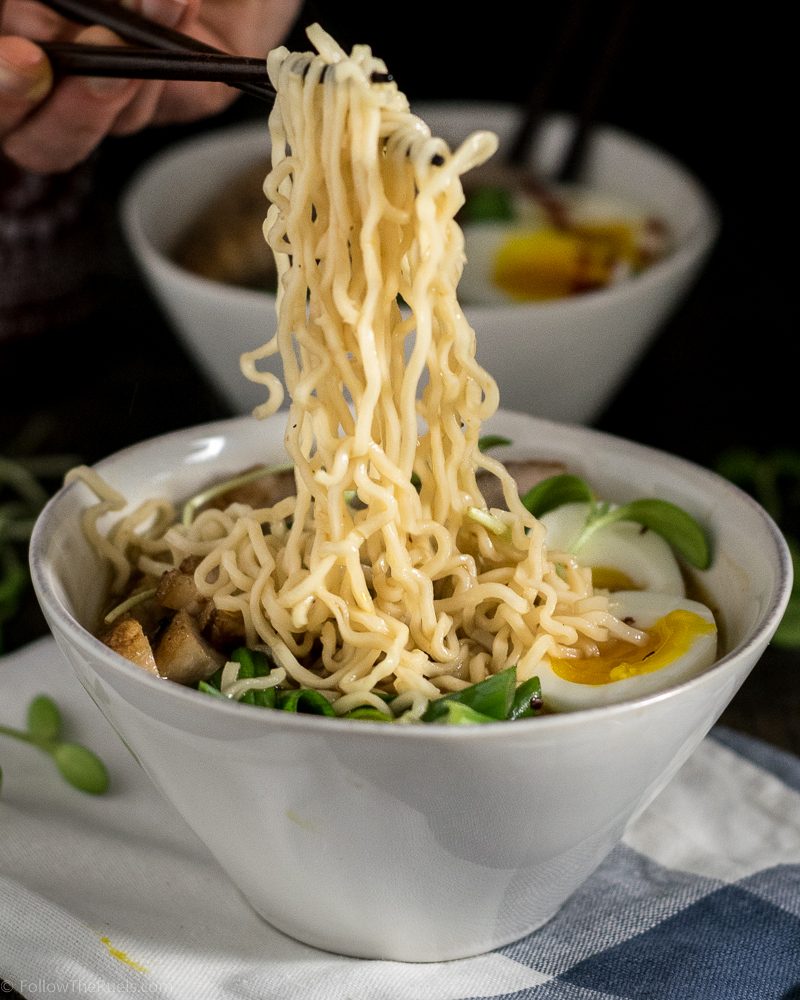 But this definitely didn't need the extra flavor! There was so much flavor packed into the broth and the pork belly that my taste buds were overloaded. It was so rich and delicious, it was hard not to eat the entire bowl. And yet, because it is so rich and delicious it was almost impossible to fit that much food in my stomach. I was stuffed! It lulled us both into a nice food coma, and we ended up falling asleep on the couch with Netflix still on.
This is what marriage is kids. Stuffing your face with ramen and falling asleep to cheesy 90s movies. Sounds like the perfect date night to me!
PIN NOW, MAKE LATER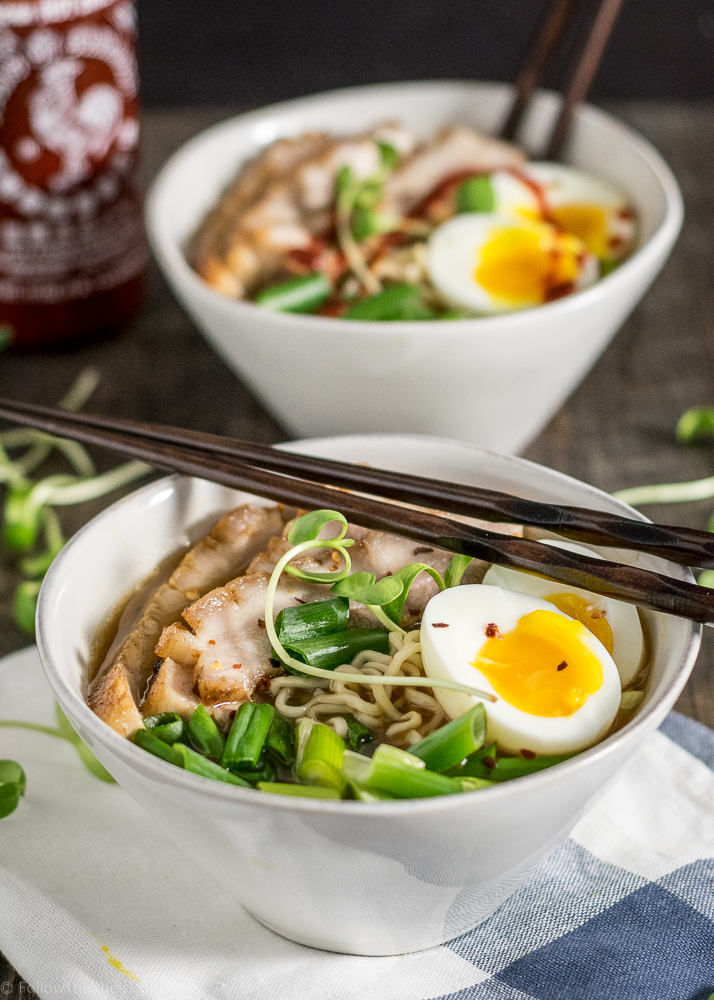 [amd-yrecipe-recipe:93]