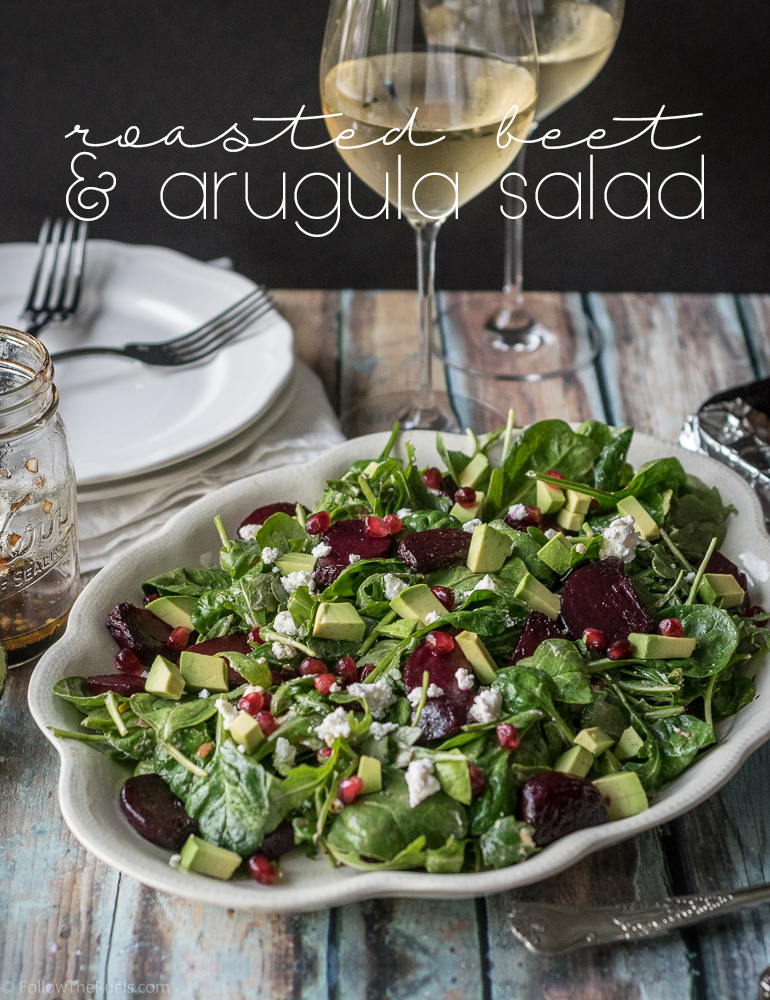 Have you met anyone that loves beets? Like, are beets anyone's favorite root vegetable? I would bet dollars to donuts that they are not. I am not sure anyone goes around craving the earthy taste of beets. While I am not a huge fan of these red roots, I have grown to appreciate them because they are just so darn good for you! I mean, they better be or else why would we eat something that tastes like dirt (in my opinion).
While Michelle was in town (we did a lot of cooking while she was here which is why you've seen her mentioned in the last two recipes), I wanted to try making a tasty beet salad. We researched some various recipes to get some inspiration, but we knew we wanted to roast the beets in some way to temper that earthy flavor and we also knew we wanted to use goat cheese, because we love goat cheese!
In the end we essentially adapted this Giada beet salad recipe into our roasted beet and arugula salad. She had an easy recipe for roasted the beets which we liked, and a lot of the ingredients she used we already had in the fridge. What we didn't have, we improvised.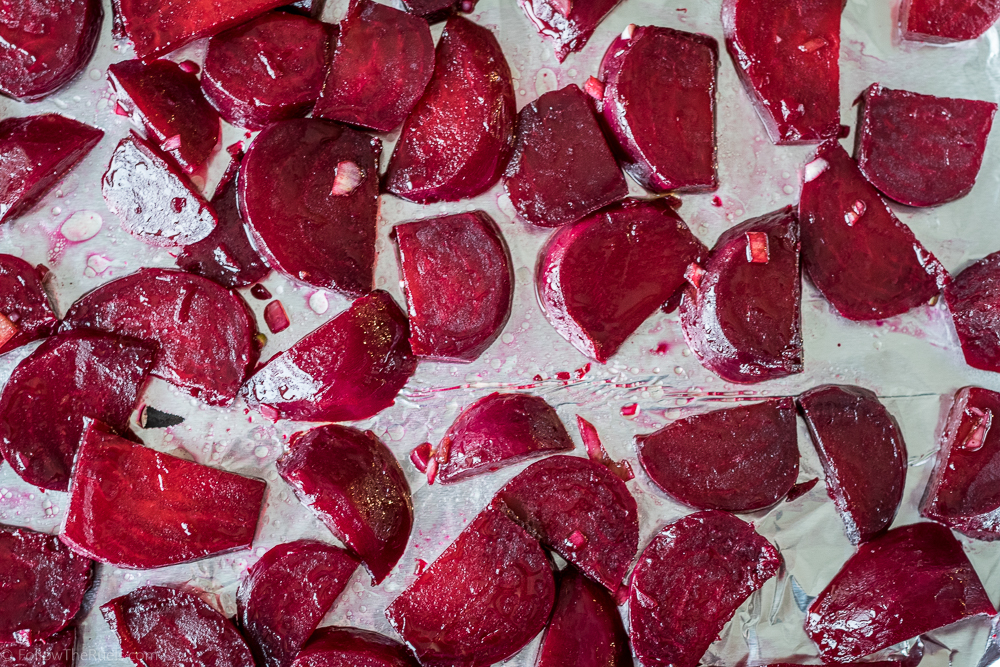 The first step in all of this is to roast the beets. Well, actually it was to boil the beets because the beets must be boiled first before you can do anything with them. If I had know that before, I would have bought the already boiled beets from Trader Joes. But I did learn a lot about boiling them:
Bring water to a boil
Add lemon juice or vinegar (keeps the beets from "bleeding" too much)
Boil for 30-45 minutes, depending on size.
If you have various sized beets, you may need to boil some longer than others
Finally, when the beets were good and boiled, I could peel and slice them.
We tossed the sliced beets in the shallot vinaigrette then roasted them in the oven for about 15 minutes. We followed the Giada recipe to a tee on this one.
While all of that was going on, we assembled the rest of the salad. And by we, I mean Michelle. I just took pictures (it was so nice to have a helper in the kitchen so I could get some action shots)!
The base of the salad is a mix of arugula and spinach and we tossed in roasted pistachios, pomegranate seeds, and goat cheese. Just before serving we added in the avocado and beets, then tossed everything in the same vinaigrette that we roasted the beets in.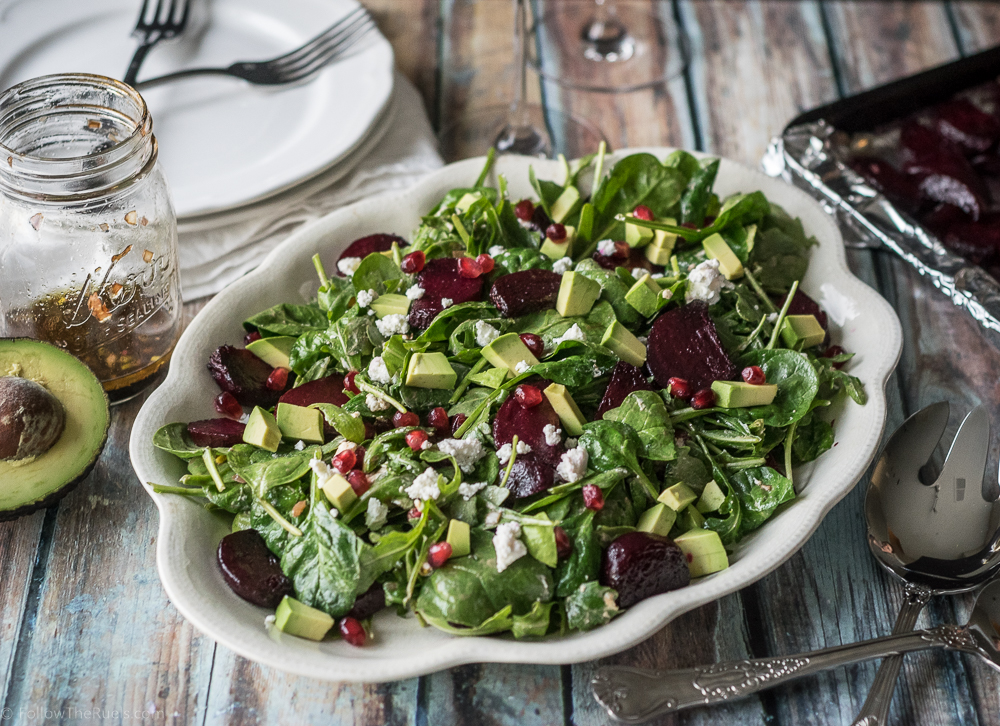 Despite my previous words on beets, I actually enjoyed the beets once they were roasted. Roasting them in the vinaigrette cuts some of their earthiness and makes them a tad sweet. It really balances out the creaminess of the goat cheese and tartness of the pomegranate seeds. I absolutely enjoyed this salad and have even bought more beets (already boiled) to make a version of this again for my weekday lunches.
Plus this salad has so many healthy benefits going on in it with the spinach and arugula, beets, pomegranate, avocado, and pistachios. It is packed with so many vitamins and nutrients. And the beets are actually tasty! Who knew that could happen?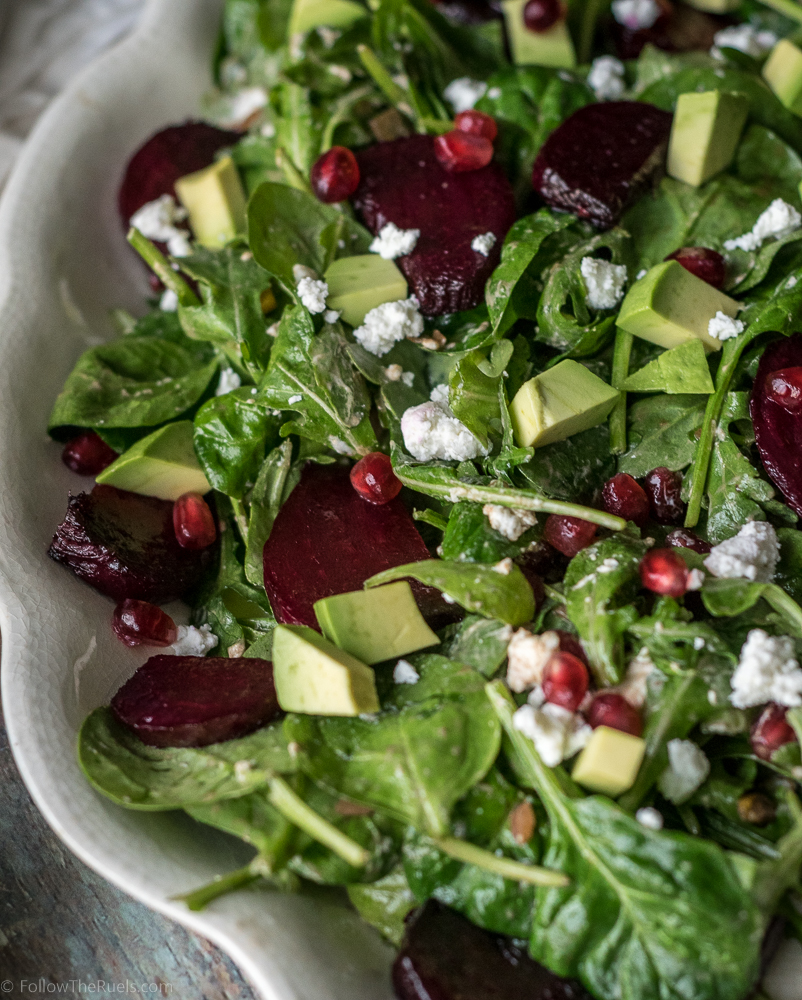 If you make this, let me know what you think! Especially if you're not typically a beet fan. I promise these beets aren't going to taste like the canned version you might have been forced to eat when you were a kid. They are actually good!
[amd-yrecipe-recipe:40]