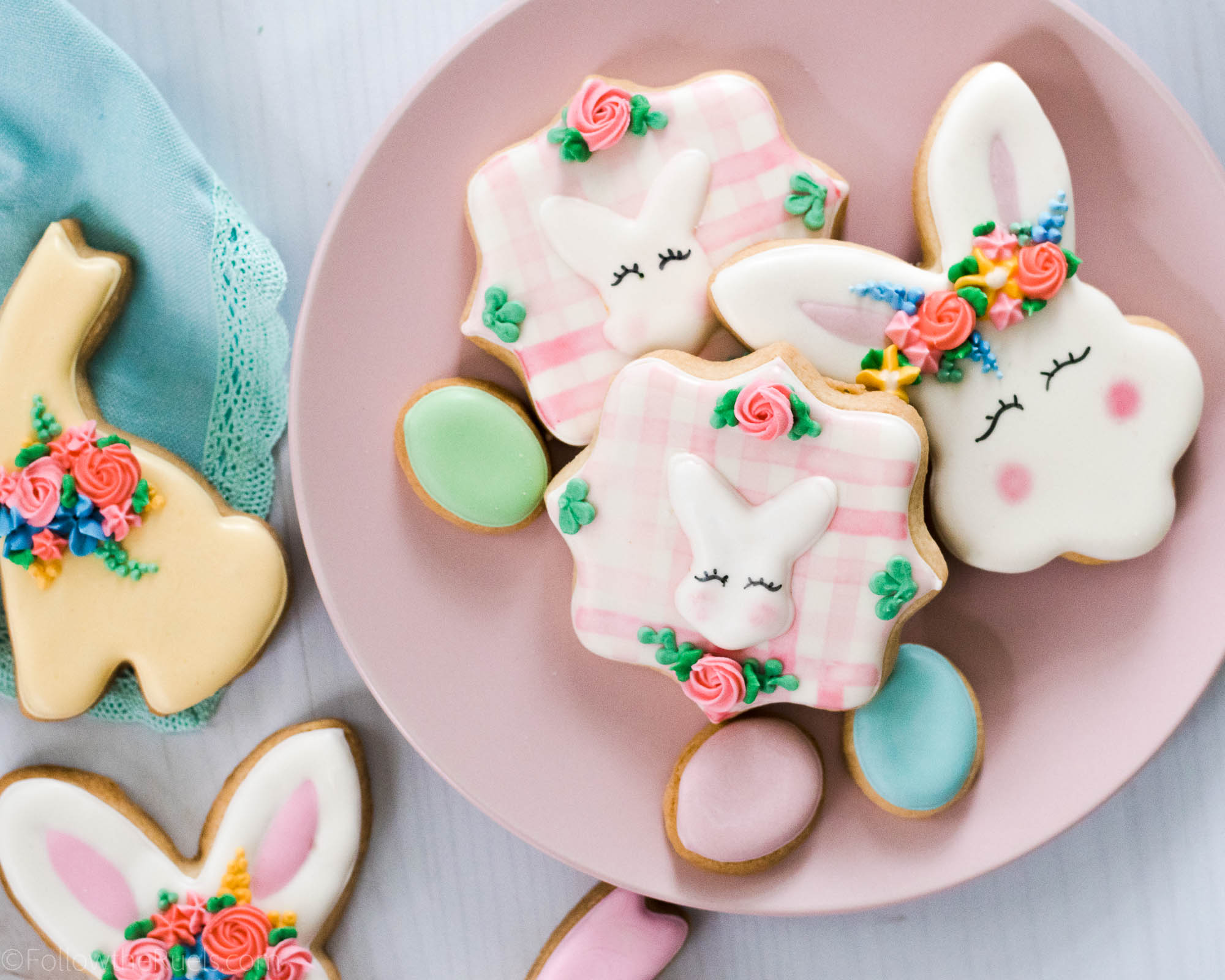 These cookies are up there with my all-time favorites! They have all of my favorite things: gingham, royal icing flowers, and cute little animals!
I actually created the flower crown Easter bunny cookies for a brand new cookie decorating class I do through Skillpop in Charlotte. People had been asking me to do a class devoted to piping tips, so I delivered! And since Easter is right around the corner, I decided to do something Easter themed! And you know I love a good flower crown!
But since most of you aren't able to make it to my cookie decorating classes, I wanted to show you how I made them so that you can make them, too!
How to Make Them
As all the students in my piping tip class would tell you, creating the flowers was the easiest part of decorating their flower crown Easter bunny cookies! While they add a lot of detail and seem very intricate, they are actually very simple to create.
The trick is having the right consistency of icing and having the right piping tips!
If you go back to my royal icing post and watch the video you will see me add water to the icing to thin it down. Now, stiff consistency icing is the consistency of the icing before I added any of the water! It forms a peak when you lift a spoon up from the surface and it has very little movement. That is the consistency you want when you use piping tips.
As for the piping tips themselves, I tend to stick to my tried and true favorites for creating any flower design:
The blue drop flower is a Wilton #224 tip
The dark pink flowers are made with a #14 open star tip
The light pink flowers are made with a #24 closed star tip
The leaves are made with a #349 tip
The dots are made with a #2 round tip
A lot of my piping tips are from this piping tip set that I bought years ago and still use to this day. But I have supplemented by buying individual piping tips from Michael's, Amazon, or directly from Wilton.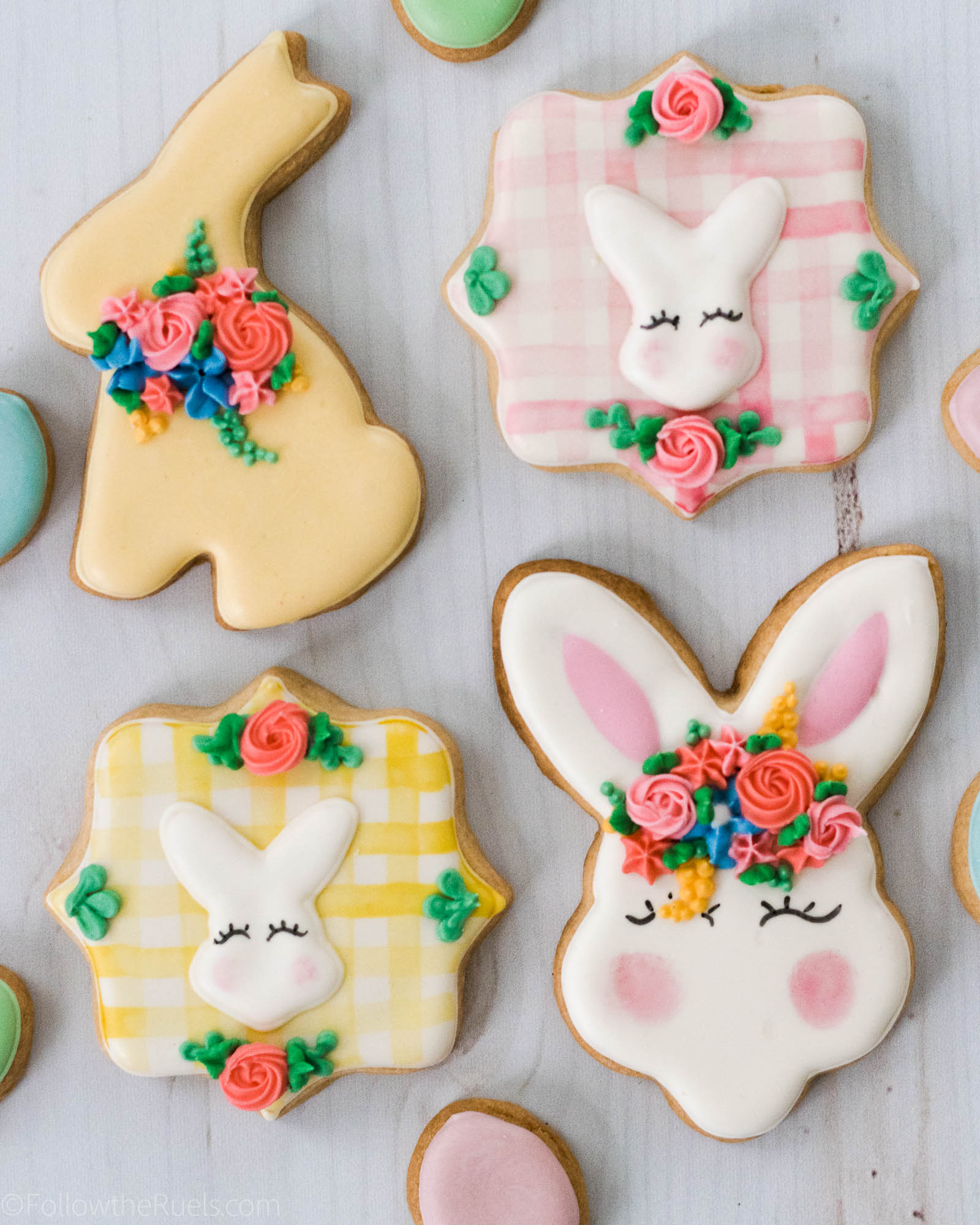 The gingham print is also so easy to make but makes the cookies look that much more unique!
All you do is dilute gel food coloring with a bit of clear alcohol or clear extract (like almond), and then paint lines. I find that I paint straighter lines when I move horizontally from left to right. I also recommend letting the paint dry for about a minute before painting the perpendicular lines on top. That ensures that you will actually paint on top of the first line instead of brushing the color off.
Easy peasy!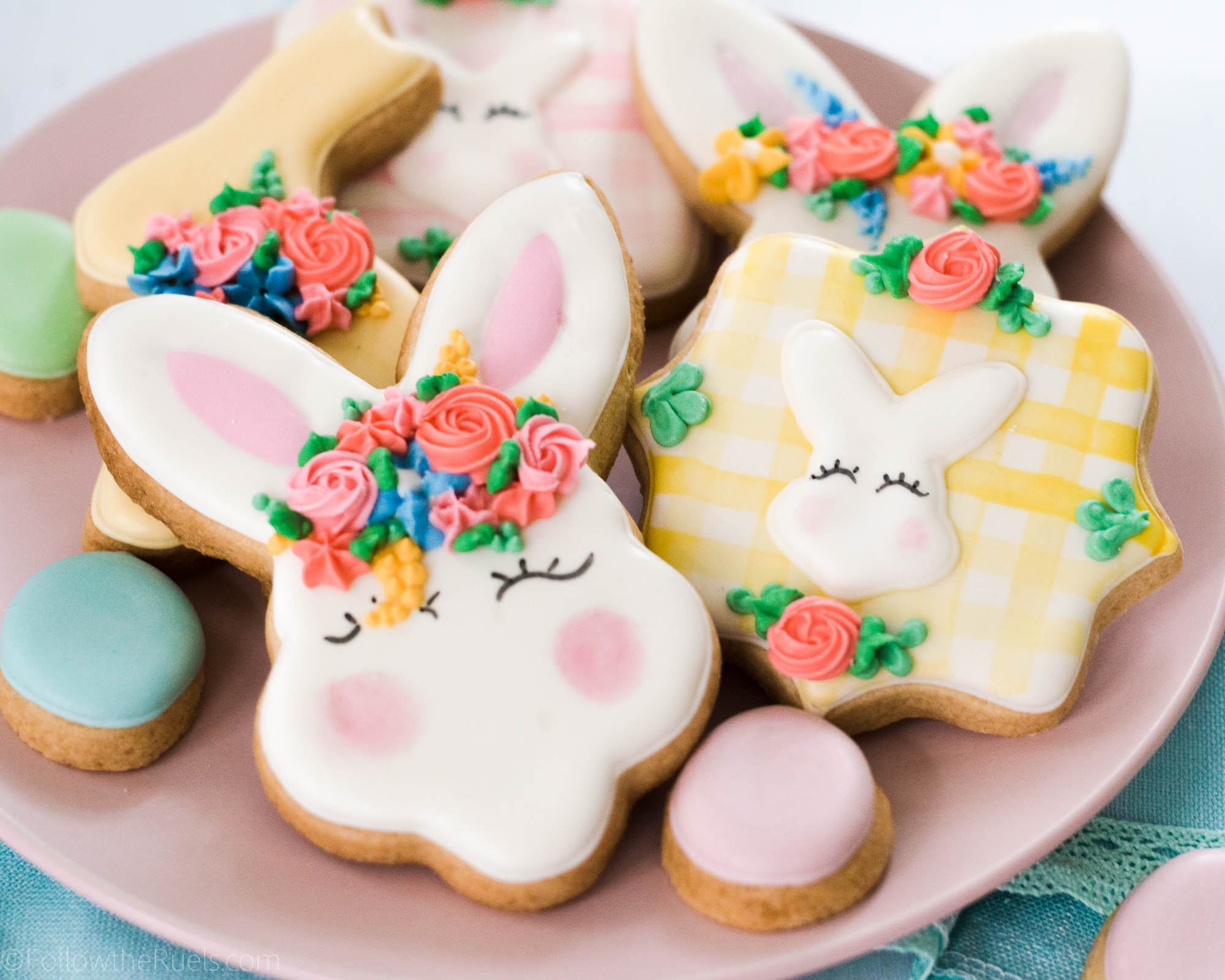 I hope you try out these cookies for Easter! I know your friends and family will love them!
If you do make these flower crown Easter bunny cookies or the gingham print cookies, please take a photo and tag me on Instagram. I love seeing what you create!
Products and Recipes
[show_shopthepost_widget id="3072684″]
For these cookies, I used my favorite sugar cookie recipe, but if I make them again I will probably make my strawberry honey sugar cookies from my Summer cookie recipe collection. They are oh so good and they are pink, which just seems appropriate!
And of course, I used my royal icing recipe for both flood and stiff consistency.