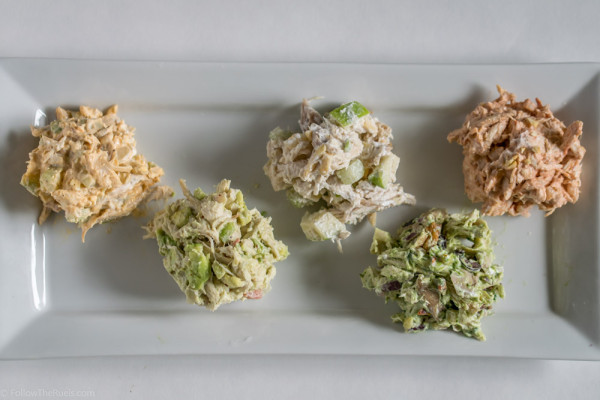 After discovering that you can easily substitute Greek yogurt for mayonnaise in a chicken salad recipe, chicken salad has become one of my favorite things to make with left over chicken. It is so easy and you can make so many different variations of it. Lately, my husband and I have been randomly coming up with chicken salad flavors we wanted to try. For instance, after ordering buffalo wings at bar the other day, I asked him, "do you think a Buffalo chicken salad would be good?". From there the wheels kept turning until we had a list of five flavors to try.
For each of the chicken salads, we started with a rotisserie chicken and Greek yogurt. But that is were the similarities ended. Each recipe used different ingredients and spices.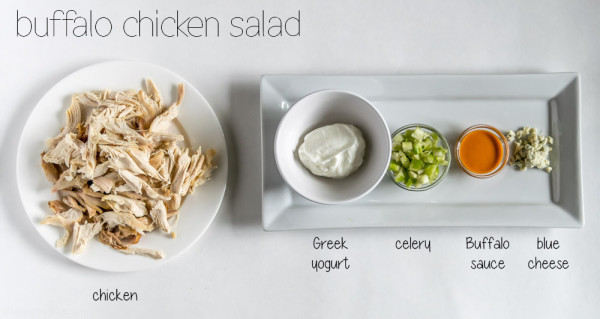 The first one we tried was the aforementioned Buffalo chicken salad. This one was really easy! To the chicken and yogurt, we added chopped celery, buffalo sauce, and a little blue cheese. If you like really spicy Buffalo wings, you can also add in some extra hot sauce. I would also recommend mixing in a bit of the skin from the chicken, if you use a rotisserie chicken. That is sort of the best part of a chicken wing, right?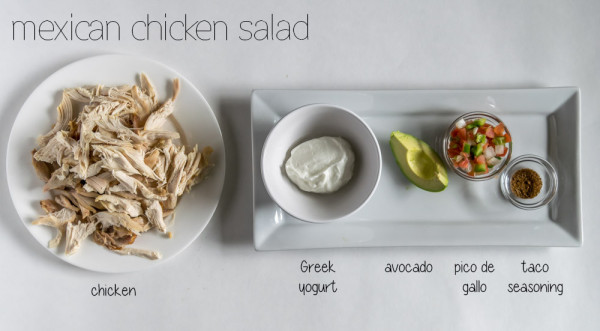 The next flavor we tried was one we had made before, so we kind of cheated. But it is one of our favorites! We substituted part of the yogurt with a mashed avocado and added pico de gallo (drained) and taco seasoning. We served this one like a taco in a tortilla. It would also be excellent to be served on top of tortilla chips.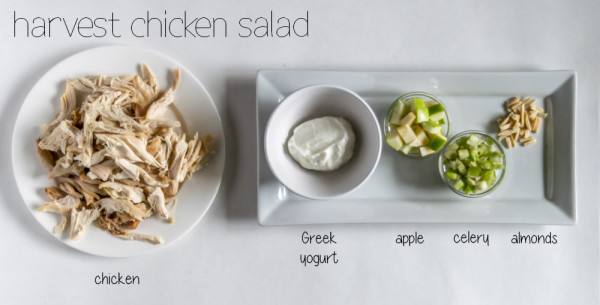 This harvest chicken salad is as close to a classic chicken salad as you will get. Instead of grapes we used apples for the sweetness and the crunch. We also added in chopped celery (partly because we already had it on hand) and some almonds. We just seasoned this with a little bit of salt and pepper and it was delicious. Possibly my husbands favorite.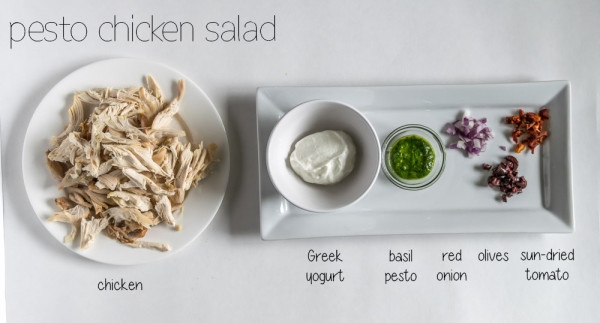 One of our favorite restaurants in town is a place that serves, almost exclusively, chicken salad. This is a flavor that they have on their menu and it might be my favorite of theirs. In addition to the pesto sauce, I mixed in a little red onion for crunch, olives for saltiness, and sun-dried tomatoes for tang. We served this flavor in a pita pocket to keep the Mediterranean theme going. I also love this salad served on a bed of lettuce.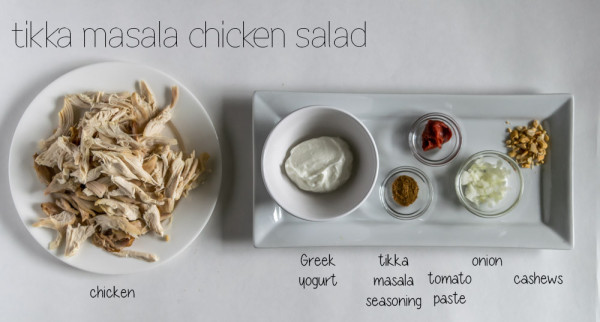 This last flavor was really out there for me, since I don't eat a lot of Indian food, but I can honest say that is might have been my favorite of the 5. I made a big batch of tikka masala seasoning to be used later and just used a small portion of it. I also mixed in a bit of tomato paste into the Greek yogurt to get the creamy tomato taste that chicken tikka masala has. For some extra crunch I mixed in some chopped cashews and served it with some chopped cilantro.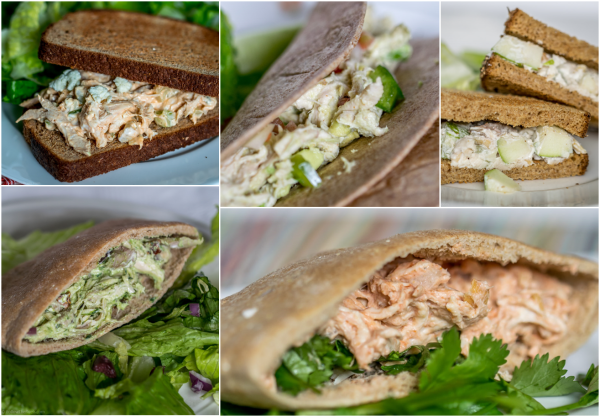 We also realized after we made all of these recipes that we really represented a lot of different cuisines. We have American, Mexican, Italian, and Indian. Who knew chicken salad could be so International.
[yumprint-recipe id='75'][yumprint-recipe id='76'][yumprint-recipe id='77'][yumprint-recipe id='78'][yumprint-recipe id='79']