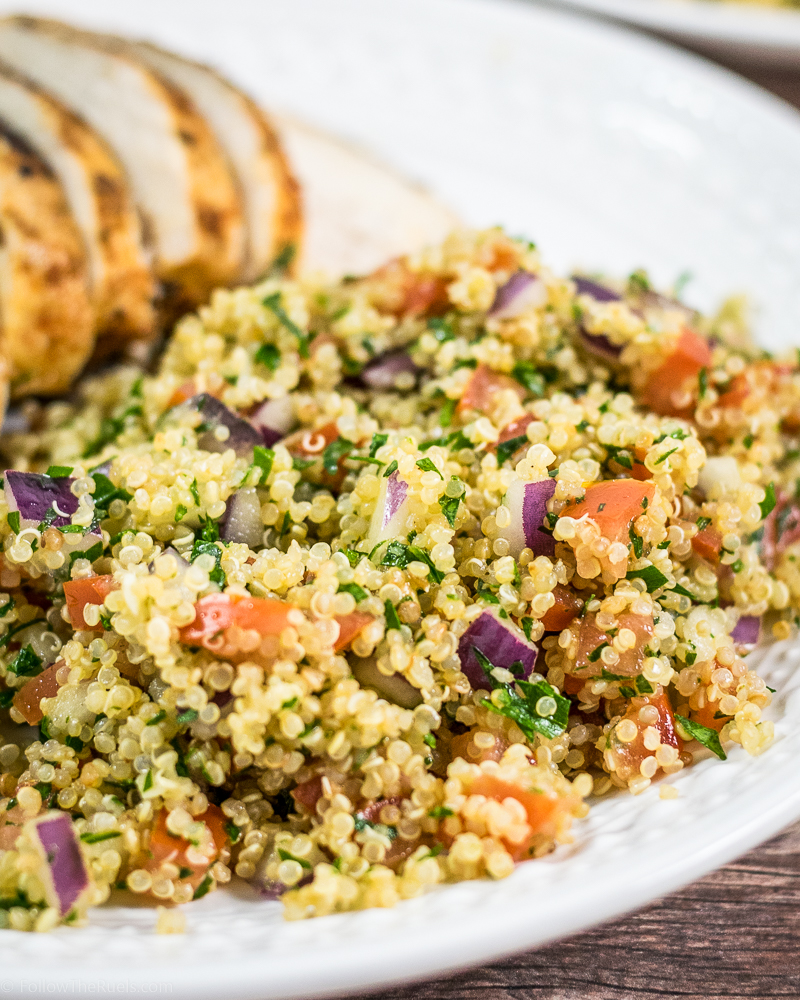 Quinoa is kind of amazing, isn't it? It's a grain…or is it? Is it a seed? I don't know. All I know is that is a super food. Like throw some tights and a cape on that stuff kind of super.
It's one of my favorite things to make along with some chicken or salmon for a quick and healthy dinner. But sometimes it can be kind of bland. Which is what makes it the perfect canvas for a tabbouleh!
Tabbouleh is a traditional Middle Eastern chopped veggie salad that can be made with a variety of ingredients from parsley to mint, cucumbers to tomatoes. But the true star of the show is parsley. If you don't like parsley, then you probably won't like this recipe.
Just telling it like it is.
For my tabbouleh, I kept things simple with parsley, tomatoes, red onion, and lemon juice along with olive oil, salt and pepper.
Normally I would say just chop up a tomato, onion, and parsley and toss it in the quinoa. But onions can come in lots of sizes and I don't want you to go overboard with the onion…or the parsley.
Once all the veggies are chopped up (I can't believe I am about to say this…), measure them. I'm not a bit measuring person when it comes to throwing a dinner together. Most of the time I do, since I now I will have to publish the recipe. But a little part of me dies every time. I am more of a "pinch of this, dash of that" kind of girl.
Add your measured veggies to the quinoa. Or don't. Live life on the edge and throw the whole tomato in there. No one will know except you.
Then toss everything together with a bit of a lemon juice-olive oil dressing.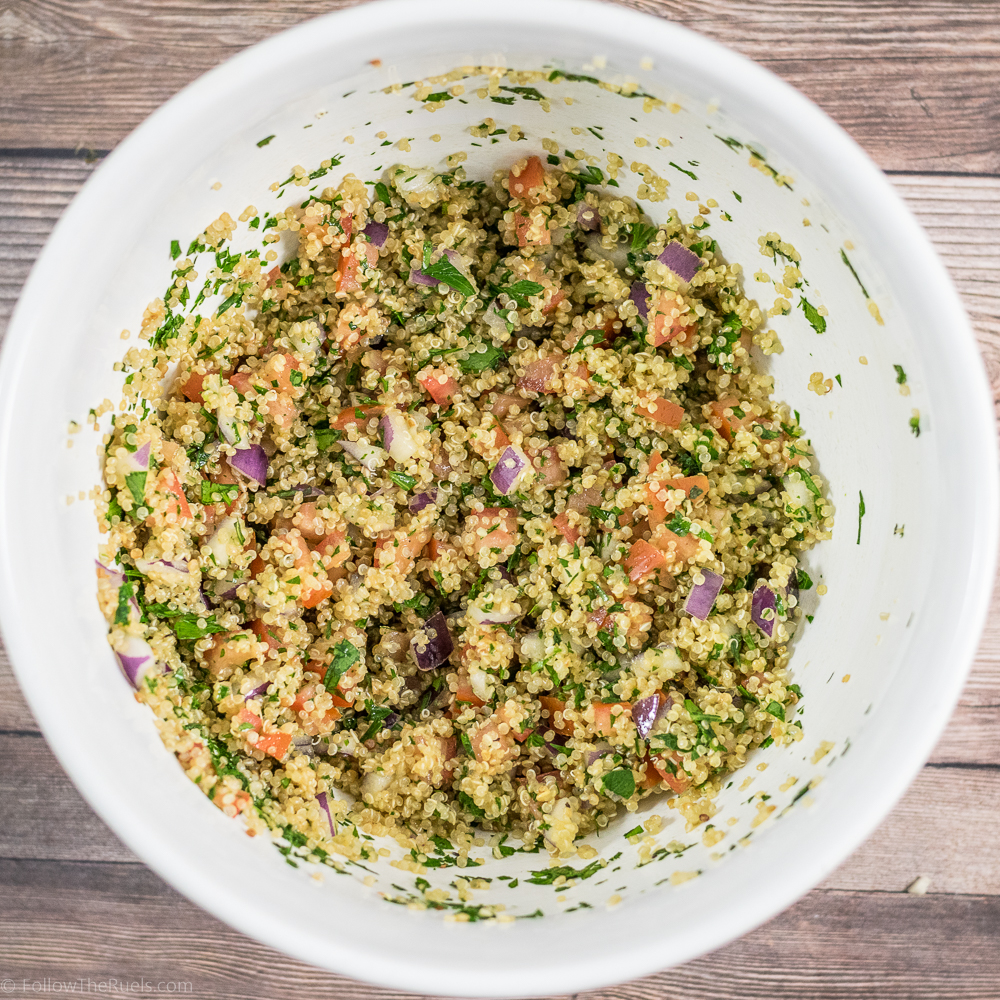 Now you could eat it right away. But I would implore (you know I'm serious when I go to the thesaurus to look up synonyms for "urge") you to let it rest for at least 10 minutes. You want that lemon juice and olive oil to marinate, bathe, steep (sorry, took it too far with the thesaurus) the rest of the salad. It will help take the bite out of the onion and soften the parsley.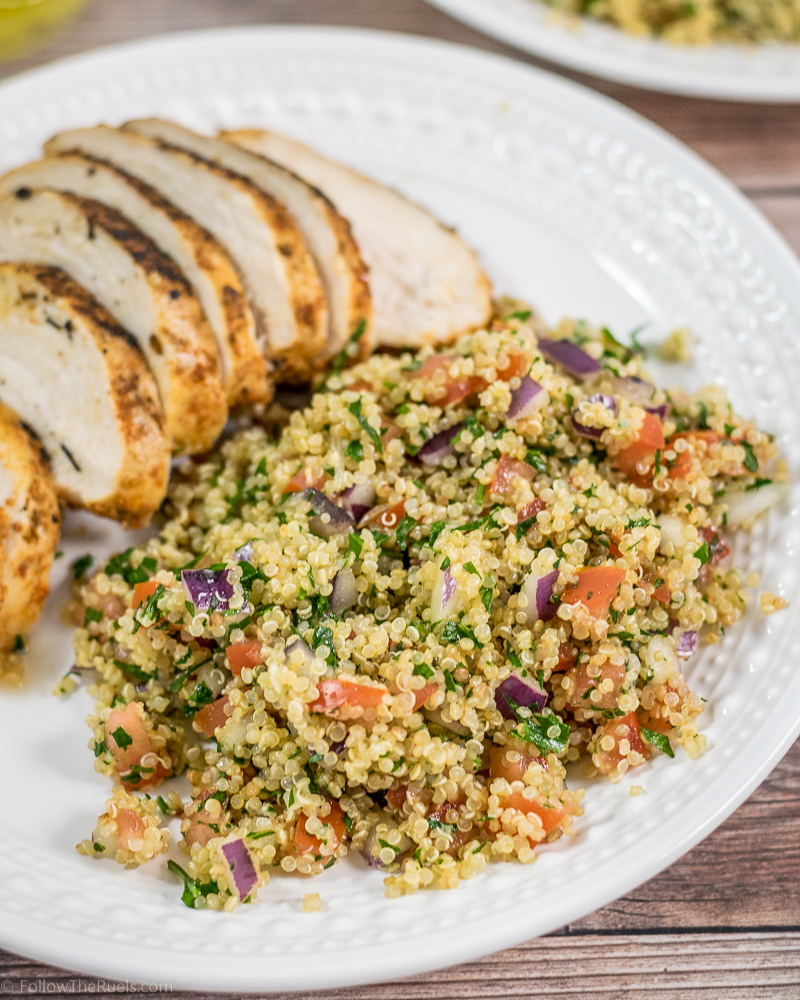 This bright and fresh quinoa salad makes the prefect healthy side dish for anything from some delicious chicken (like my favorite Chicken Doner), steak, fish, or even just on it's own!
Remember how I said quinoa was the super hero of all grains (or something like that). What makes it so great is that it's a complete protein. I think it might be one of the only grains/cereals that is a complete protein (don't quote me on that…I can be wrong sometimes). That means that you can eat this salad all on it's on and get just about everything you need, nutritionally.
Told you quinoa was pretty super!
[amd-yrecipe-recipe:154]