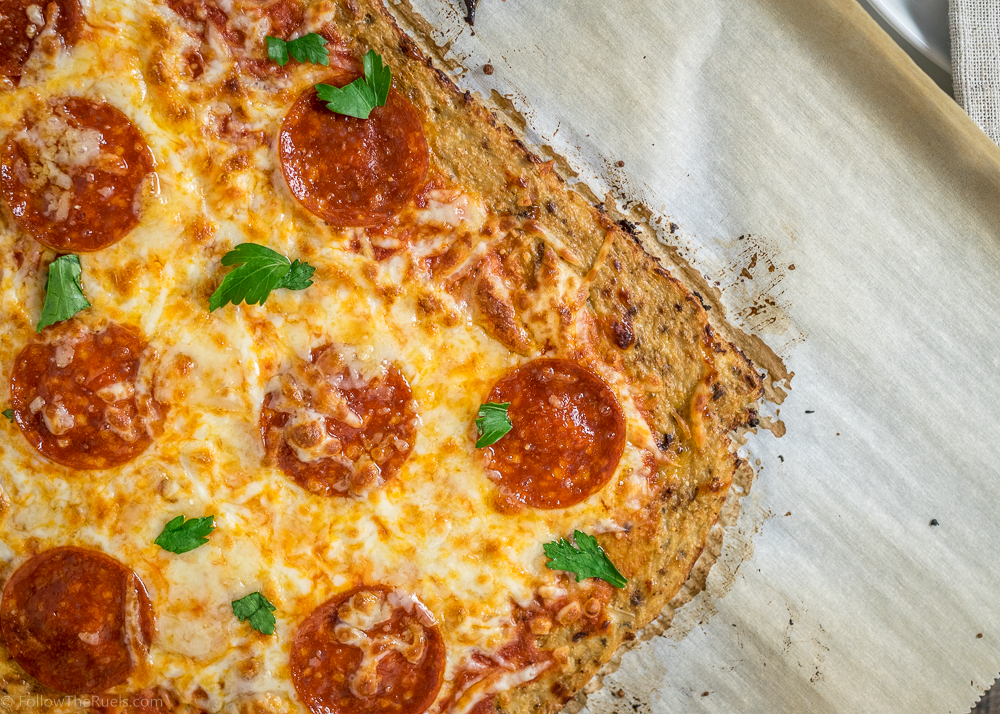 Ok folks, I know what you are thinking, "cauliflower pizza crust….real original!". Oh yeah, I can hear your sarcasm from here. But here me out, guys! This one is actually really good!
I have tried a lot of cauliflower crusts over the past couple years and they have always been a little lack-luster. Of course cauliflower crust will never be like pizza crust. It's made of vegetables after all. But I knew it could taste better than bland old cauliflower.
My solution: roasting the cauliflower.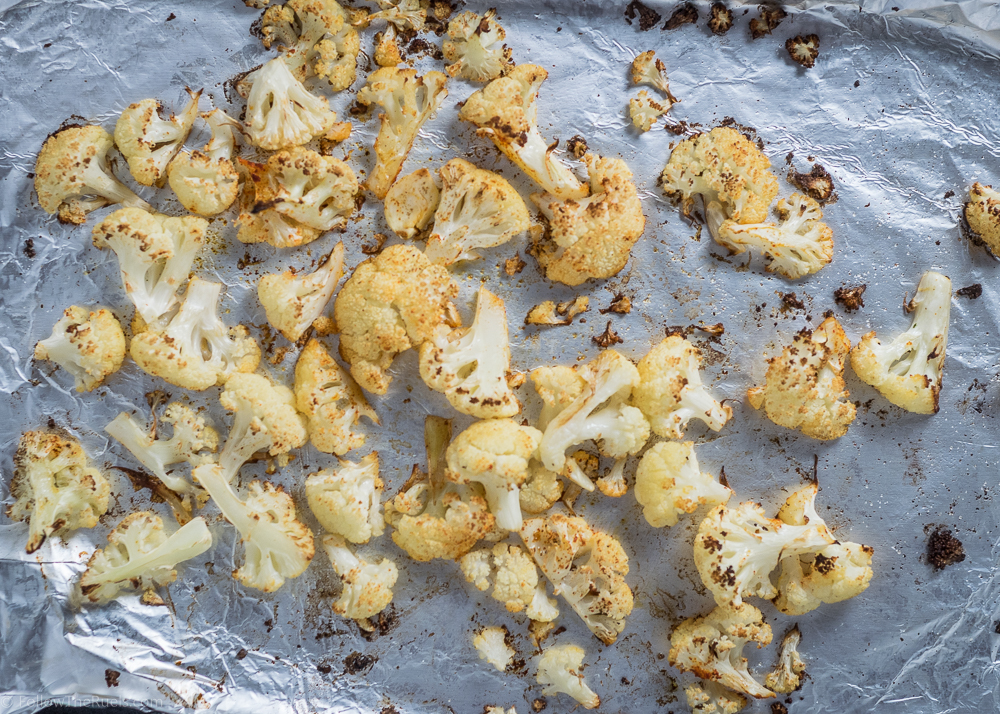 To me, roasting the cauliflower makes a HUGE difference. It not only gives the cauliflower a nice nutty flavor, but it helps to dry it out so it's not so watery when it's processed.
My other secret to this anything-but-bland cauliflower pizza crust is roasted garlic. I just threw a couple of cloves in the with cauliflower while it roasted. Then everything got thrown into the food processor to transform the cauliflower and garlic to something that resembled mashed potatoes.
Now at this point the cauliflower still has quite a bit of moisture in it. So to get rid of some of the excess moisture, I laid out two big paper towels and dumped the cauliflower mixture on top. Then I wrapped the towels around the cauliflower and pressed out any remaining moisture.
Once my cauliflower was as dried out as it was going to get, I mixed in some spices, an egg, and cheese.
Then I dumped the mixture out onto a parchment lined baking sheet and pressed it into a rectangle (although, a circle will also work) that was about 1/4 inch thick. I wanted this crust to be pretty thin so that would get nice and crispy all the way through. Nothing is worse than a soggy crust that just falls apart.
To make sure it was nice and crispy, I baked it first before adding the toppings. Then I added my favorite pizza toppings: sauce, cheese, and pepperoni.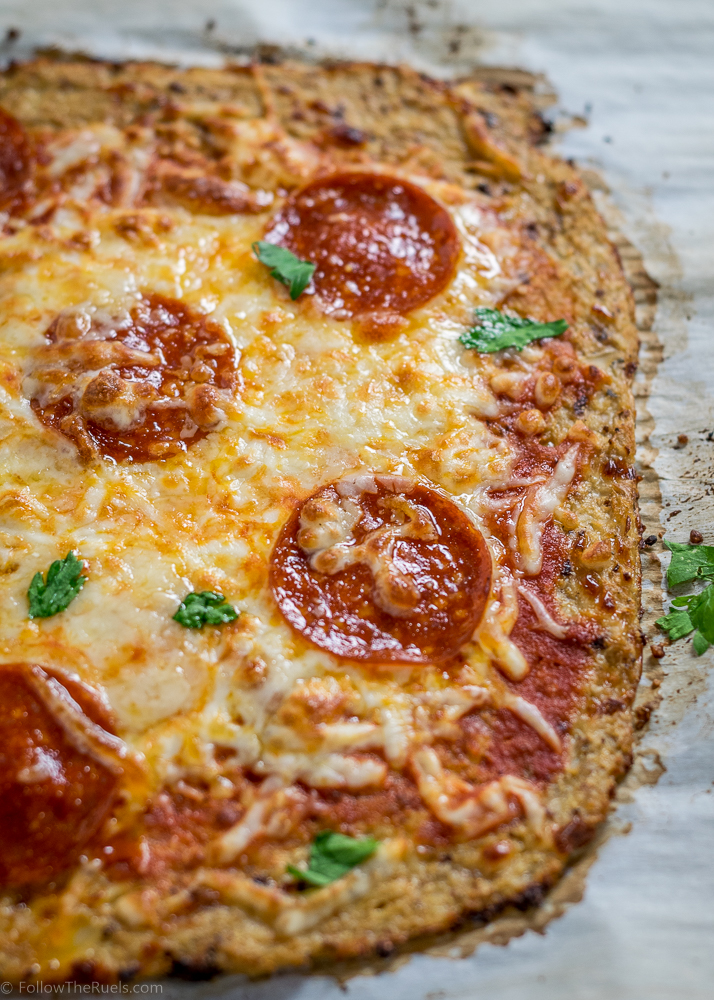 After another turn in the oven, the cheese got nice and melted and the crust crisped up even more around the edges.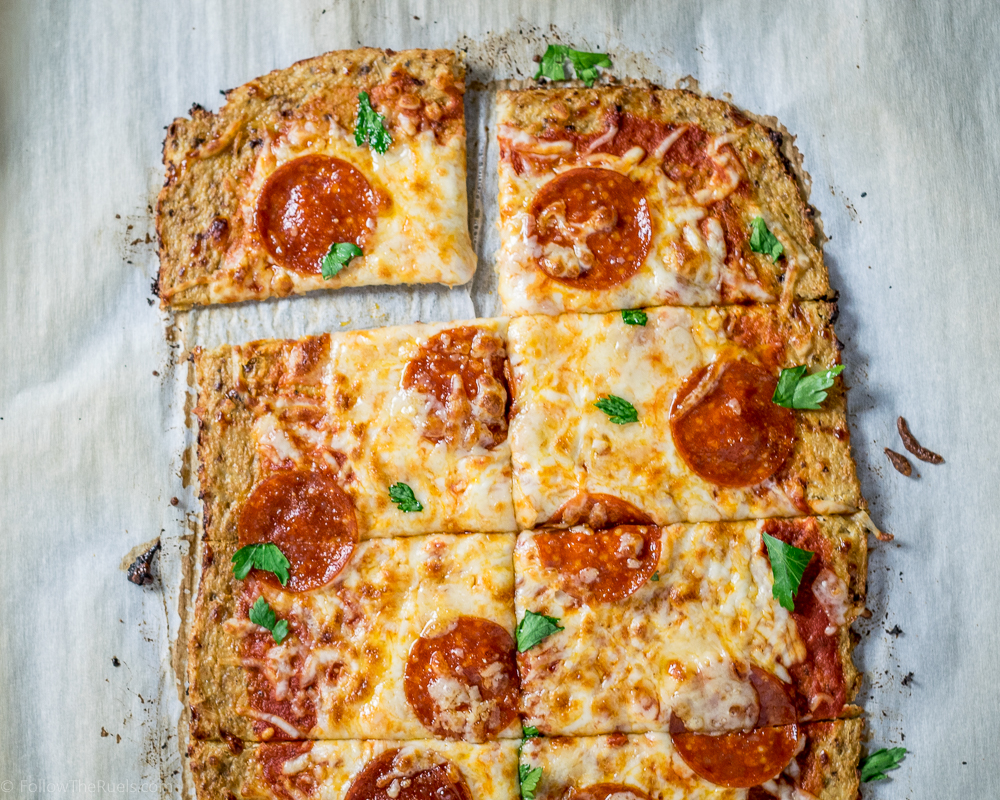 While this cauliflower pizza crust will never fully take classic pizza crust's place in my heart, it has found it's own cozy corner. It is healthy without really tasting like it. Sure, you will know you are eating cauliflower. But it's flavorful, roasted garlic cauliflower. Basically the best kind of cauliflower there is.
So if you want a healthier pizza option that still tastes delicious and that crispy crust that you love about pizza, you need to try out this crust. Especially if you have tried and been very disappointed by other cauliflower crusts. I think this one will win you over, and may even win your heart.
That was cheesy….just like this pizza.
Ok, I'm done.
[amd-yrecipe-recipe:129]
PIN NOW, MAKE LATER