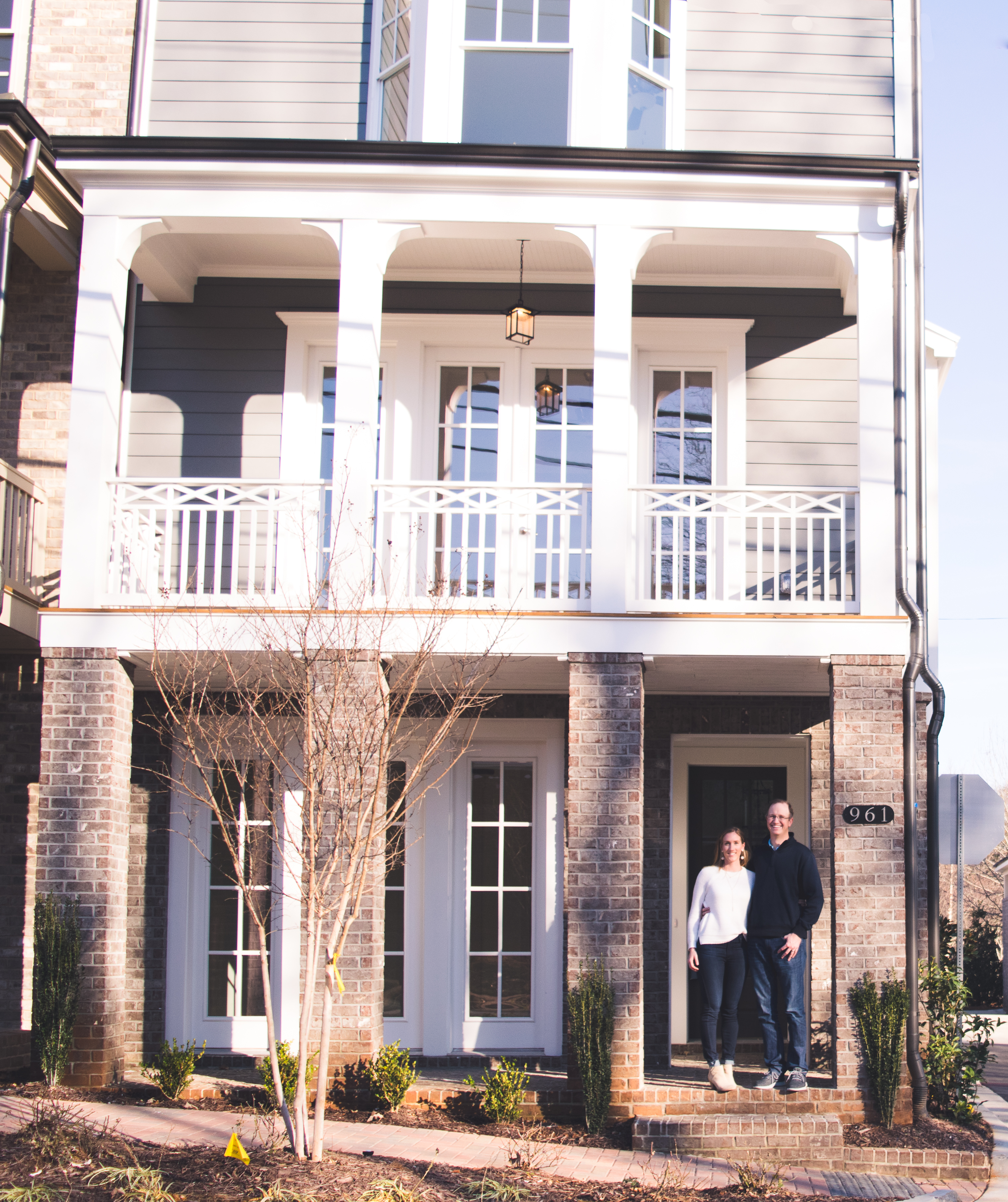 2018 will be a big year for the Ruels because we are moving into our very first house!
It's actually quite a bit of a story, so let me start from the beginning. Settle in, grab a drink, and maybe a snack. You may be here for a minute or two.
Earlier this year we started looking for a house here in Charlotte. It turned out to be a much longer and more competitive process than we originally anticipated. We looked at single-family homes, townhomes, condos, older homes, new construction homes, you name it.
Towards the beginning of our search, we did like one home enough to put an in an offer. But that immediately turned into a multi-offer bidding process, which we were just not into (Charlotte is a very competitive market). There were a few other homes we like enough, but the price just wasn't right so we had to walk away.
After months of searching for a house, we were still empty-handed. I don't think I have to tell you how discouraged we were. We were just a few weeks away from having to give our landlord our 60 days notice and we had no idea what to tell them. Are we staying? Or, are we going?
We were about ready to give up and take a break from the home buying process. "Maybe the market will calm down a bit in March, and we can try again, then." is what we kept telling ourselves.
But as these things tend to happen, this amazing house popped up just outside our search area that seemed perfect. We found it on a Friday, walked through it with our realtor on Sunday, and put an offer in on Monday. We were just so excited about the thought of our very first house.
It is actually a townhouse just outside of downtown Charlotte and a 15-minute walk to my office. It has a roof-top patio that overlooks the Panther's stadium that Billy started decking out in his head the minute he stepped foot up there. As you can tell, we wasted no time mentally moving in. Before the ink was dry on the offer, we were measuring our furniture, looking for curtains, shopping for appliances, the works.
We put the offer in on Billy's birthday and our close date was our anniversary. I mean, it just sounds like it was written in the stars, right!?
But of course, it was not.
About three weeks before we were set to close on the house, Billy got a phone call asking him if he would be interested in a job in Atlanta, GA.
Atlanta, GA. A city I have flown through a handful of times and driven through once. I had collectively spent less than 24 hours in Atlanta in my entire life. Needless to say, I was not excited.
Originally I told Billy "no". We have built an amazing life in Charlotte. We have great friends, a great church, I have a great job, and we were buying this great house! There was no part of me that wanted to move.
Thankfully, he gave me some time to think it over. The more I thought about it, the more I felt like I was impeding his career growth. This was a great opportunity for him! If the tables were turned and I was getting this great opportunity, how would I feel if he stood in my way?
So, long story short, we are moving to Atlanta, GA!
Now that we have made the decision, I am actually getting excited about it. Of course, I am sad to leave our friends and my job, but we have so much to look forward to.
Like our new house! Yes, we are still buying a house, just not the one in Charlotte (obviously). Once Billy knew for sure he had the job, we planned a weekend in Atlanta to look at over 25 homes. Like our search in Charlotte, we looked at just about everything, but we had learned from our previous home search exactly what we didn't like. This search was much more focused and deliberate.
On day two of the house search, we found it! A brand new townhome in a cute little community that is walking distance to shops, bars, restaurants, and more. We even got to pick out the finishes inside the house so it is exactly how we want it.
Also, the best part, guys: the kitchen has double ovens! Imagine how much baking I can do!!
So yeah…that's the life update. We bought a house and we are moving to Atlanta!
What does that mean for the blog? Well, I am glad you asked. Things will be a bit slow for the month of January while we move, but after that, expect a whole lot more! I am actually going to take this opportunity to focus on building the blog into an actual business and not just a hobby. Stay tuned for more on the future of the blog in a later post!
Also, if you want to see the inside of the house, head over to Instagram, where I will be sharing some pictures of the inside of the house today.