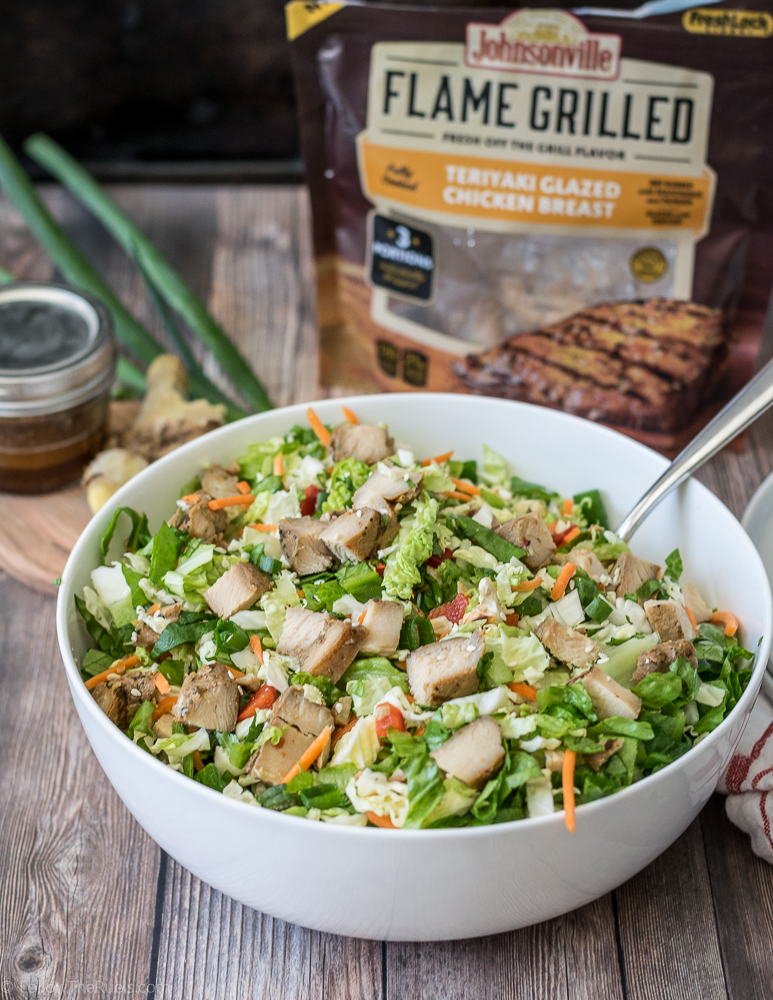 There is a special place in my heart for salads. More often than not, I will order a salad when ever I go out to eat. They are healthy, dependable, and delicious!
Ironically, I rarely make salads at home. I find that I never have the right ingredients on hand to make a good salad, or lack the proper "star ingredient" to build my salad around.
That is, until I was provided with the new Johnsonville Flame Grilled Chicken to try out. I immediately knew what I wanted to do with their Teriyaki spiced chicken – turn it into a salad!
The best part about this salad is that comes together really quickly thanks to the pre-cooked chicken.
The base of the teriyaki chicken chopped salad is cabbage which I love putting in salads because it's not only crunchy, but it holds up to dressing really well. It will actually keep a couple days, dressed and all.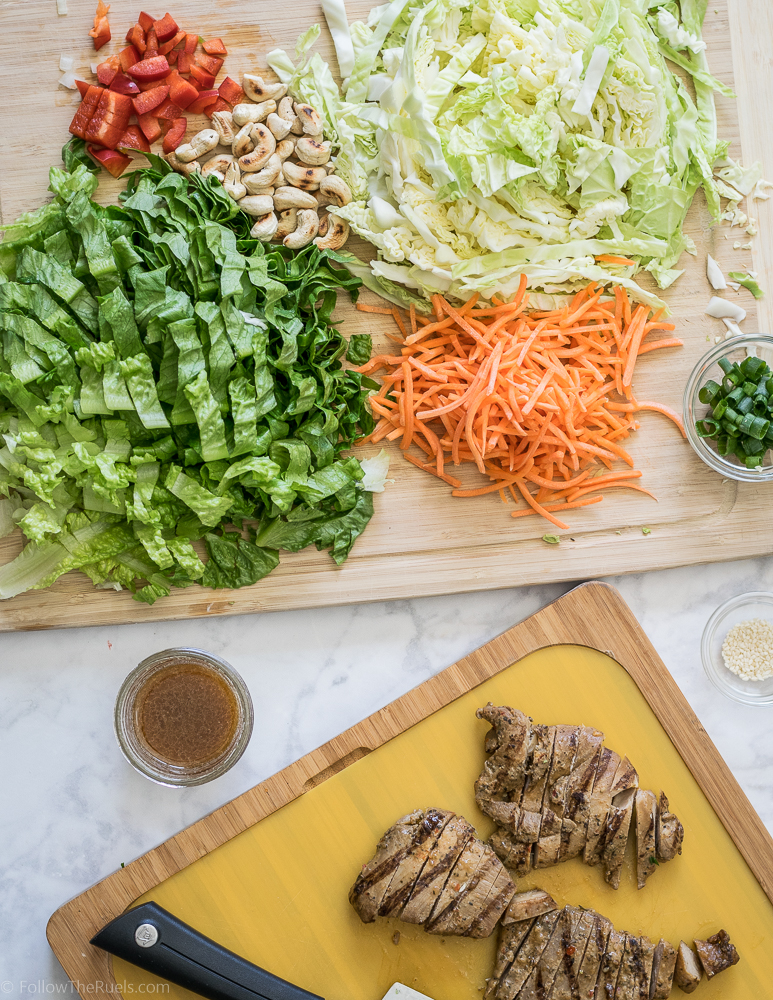 There is also some romaine, carrots, bell pepper, cashews, and green onions in there, too. But like I said, the star of the show is the chicken.
The Johnsonville Flame Grilled Chicken is really nicely flavored not only with a dry rub, but after it's heated up, it almost has this nice sauce that helps flavor the salad. The chicken pack actually comes with 3 individually wrapped chicken breasts. I had assumed that they were all in one bag so I would have to use all 3 at once (not a huge deal, but that's a lot of chicken for 2 people). Nope! They were all in their own bag so I could use them whenever I wanted. Which makes it perfect to pack for lunches or when you just want a quick meal for one or two.
If you are watching your calories (like I am) this is also great, because each chicken breast is equally portioned, so you know you are getting exactly 3 ounces of chicken for only 80 to 130 calories and 18+ grams of protein.
I was very impressed with the quality of the chicken. Sometimes refrigerated chicken can be a little bit dry once it's been reheated. But this chicken was really nice an juicy. We tried multiple flavors over the week, and they were all consistently flavorful and juicy. Somtimes you think that may come with some extra additives, but that's not the case at all with the Johnsonville chicken. It is free of fillers, MSG, artificial preservatives, flavors, and colors. And all chicken comes right here in the US!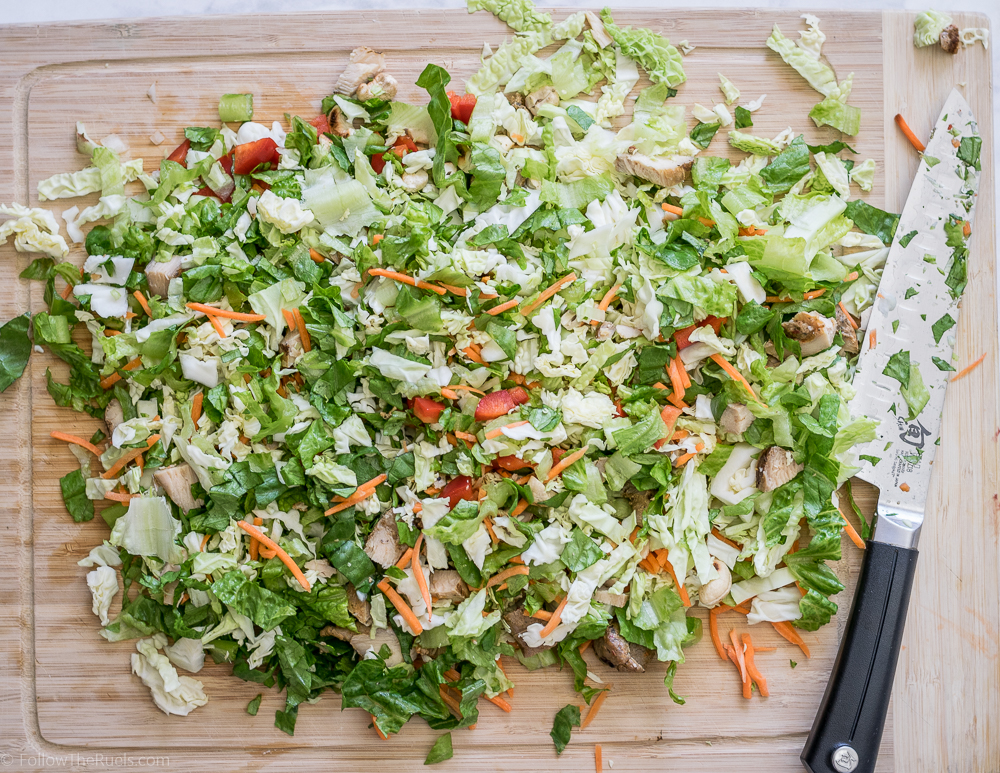 Another great thing about this chopped salad is actually chopping everything together. It might be little messy, but chopping everything together is a great way to get out a little stress!
I happen to love chopped salads because they are so much easier to eat! No big chunks of lettuce that you awkwardly have to fit into your mouth. You know what I am talking about.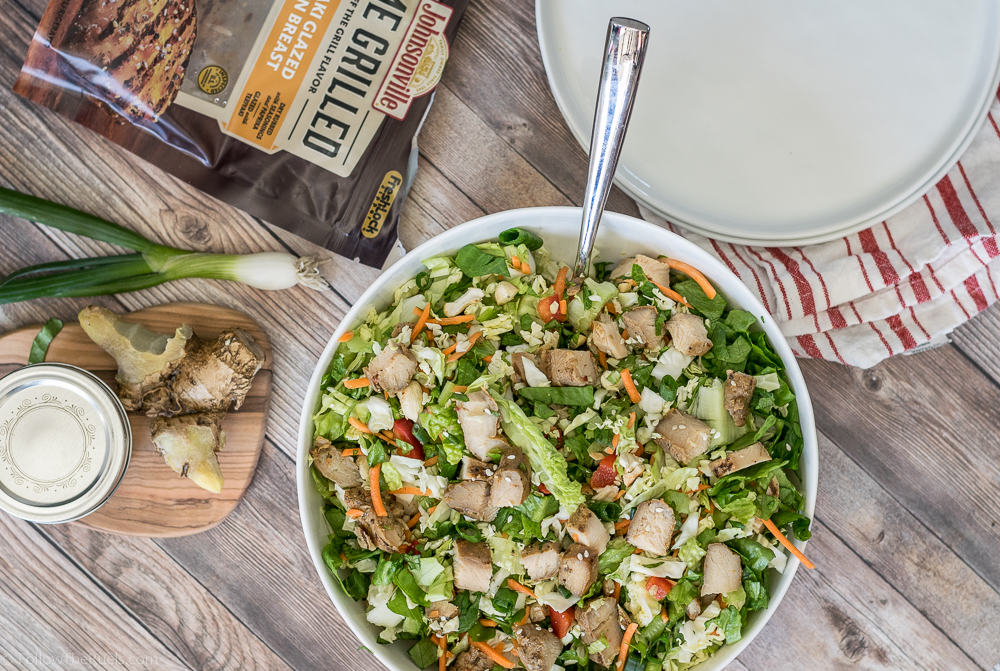 And every bit has a little bit of everything, lettuce, chicken, carrot, bell pepper. The perfect bite, every time!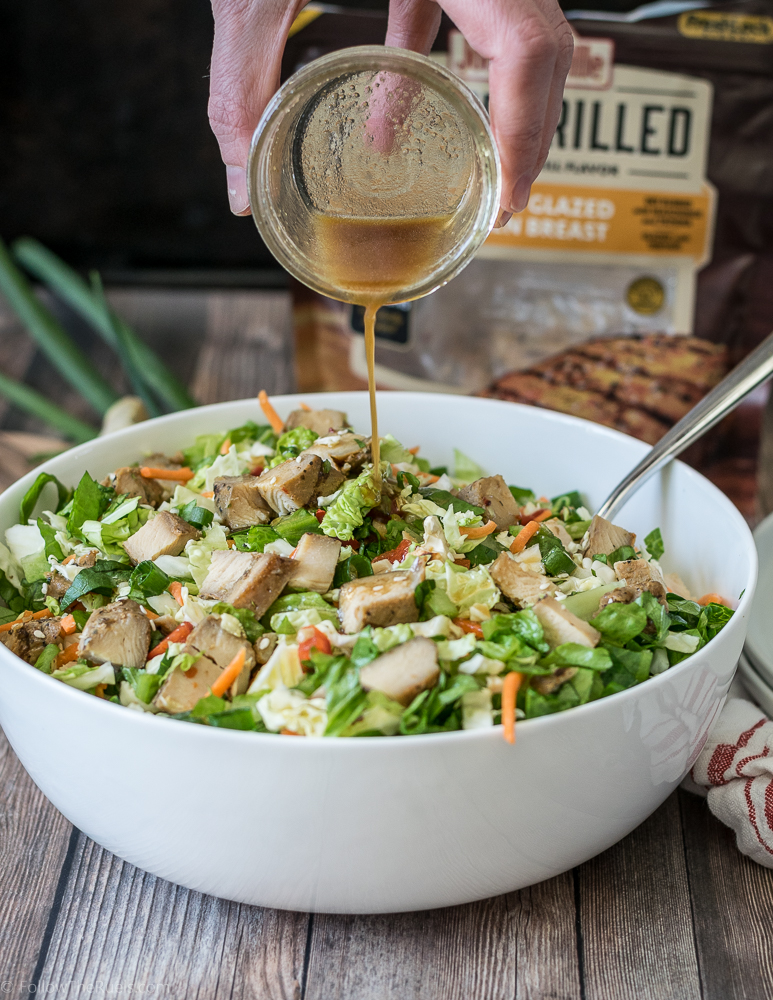 The finishing touch is this easy and delicious sesame ginger dressing that you can just shake up in an extra jar and pour right on top.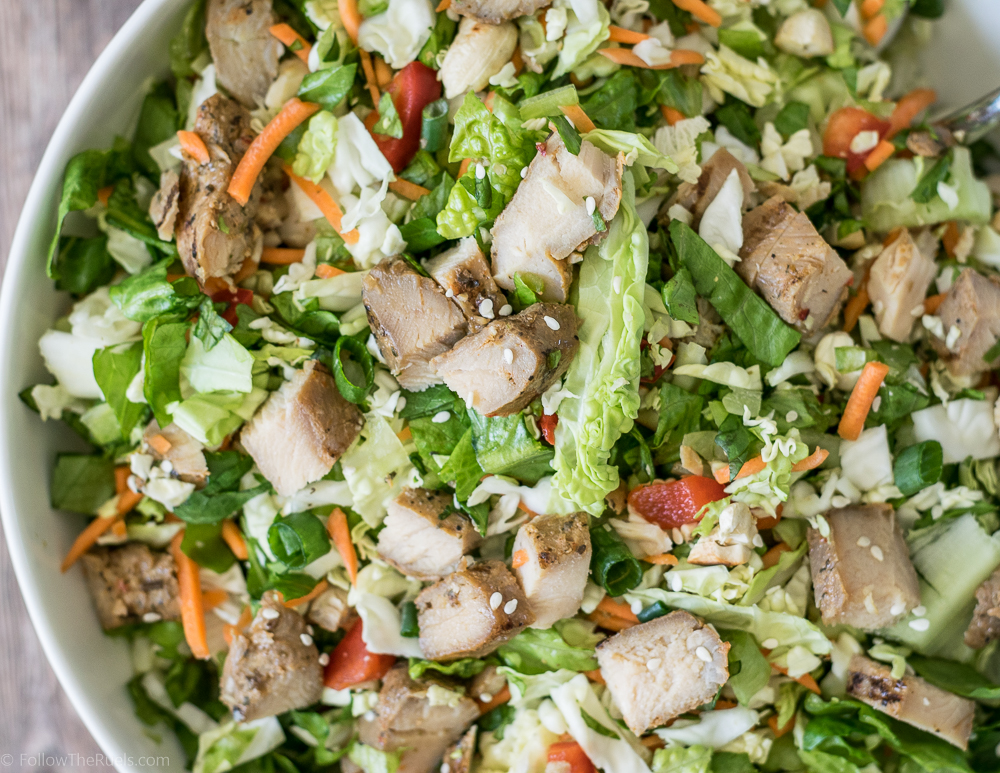 This salad was the perfect quick and easy lunch. There was enough for my husband and I and plenty left over for lunch the next day. I will definitely be making the salad again next time I pick up a package of the Teriyaki Johnsonville Flame Grilled Chicken.
This is a sponsored conversation written by me on behalf of Johnsonville. The opinions and text are all mine.
[amd-yrecipe-recipe:149]