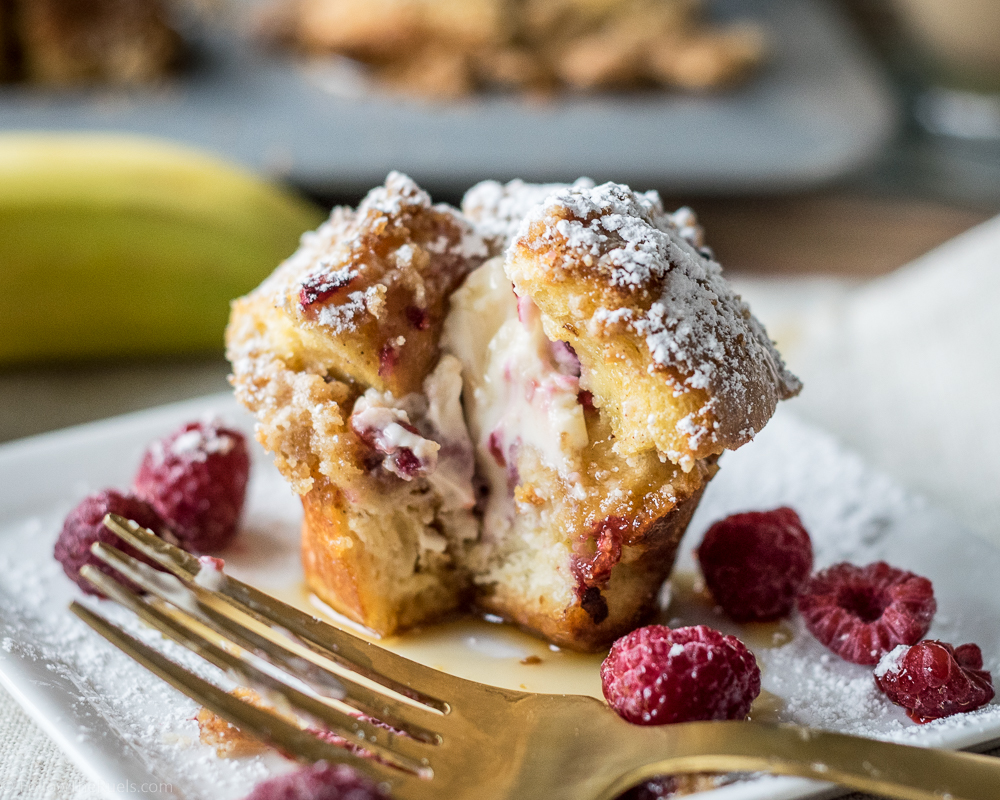 Every year for Christmas breakfast my mom makes the same things. We have all come to expect her delicious strata and tater tot casserole. My contribution has always been the monkey bread. Of course I am responsible for the sweets!
This year she threw a wrench into the whole plan. Three days before Christmas she said, "why don't we make something different this year for Christmas breakfast."
Excuse me, what now? Break tradition??
Part of me was a bit sad to lose some of our Christmas favorites (I mean, what is better than tater tots and cheese?!). But the other part of me (the blogger, baker, recipe experimenter part of me) was excited to try something new! And I am so glad we did because I ended up making a delicious French Toast casserole.
We went through dozens of recipes on Pinterest to find the perfect one and settled on a blueberry french toast casserole, but swapped in raspberries. It was a good first try, but afterwards I was eager to go home and make the recipe my way. And by that, I mean stuffed with cream cheese.
I started by cubing up a loaf of Challah bread. I hands down prefer Challah bread for French toast because its a tad sweeter and so light and fluffy. It's delicious on it's own and even better as French toast.
Next I mixed up some eggs, milk, vanilla, maple syrup, and cinnamon. Then I added in all the cubes of bread and gave them a good toss until the bread had completely soaked up all the liquid.
Because I did this the night before, I let the bread sit in the bowl overnight (in the fridge). If you did this the morning of, you could transfer this immediately to a casserole dish or a muffin tin.
Once I was ready to bake my French toast, I took about 3-4 cubes of bread and pressed them into the bottom of a muffin tin. I then topped that layer with pieces of frozen raspberries.
Side Note: When I made this on Christmas Day, I used fresh raspberries, which I nestled in between the cubes of bread. After making this recipe with frozen raspberries, I will never go back! I love that I was able to basically pound them into tiny pieces that I could just sprinkle over top. That way I had little bits of raspberry in every bite. But, if you don't like raspberries, you can add blueberries, strawberries, chocolate, or just leave them plain! Fine by me!
On top of the raspberry layer I added more cubes of bread. Then I topped everything off with a generous amount of strussel topping. I know it looks messy, but it's worth it!
The icing on in the cake is the cream cheese filling!
One of the things I thought was missing from the recipe I made on Christmas day was something creamy to off set the soggy bread and crunchy topping. The best approach I could come up with to stuff the stuffed French toast muffins was to just pipe the filling right in there after they had baked.
Using a piping bag with a large round piping tip, I nestled the tip into one of the crevasses between the bread cubes then piped the filling while slowly lifting the piping bag up and out.
If you don't have a piping bag and tip, you can use a zip top bag and just use a paring knife to help create a seam for the tip of the bag to fit in.
The best way, in my opinion to finish off these stuffed French toast muffins is with a drizzle of maple syrup and a sprinkling of powdered sugar. Because, you know, these muffins need more sugar.
But holy moly they were incredible! Honestly, this version was so much better than the recipe I made on Christmas Day. In large part due to that creamy cream cheese center. But also I loved that the raspberries were interspersed in every bite.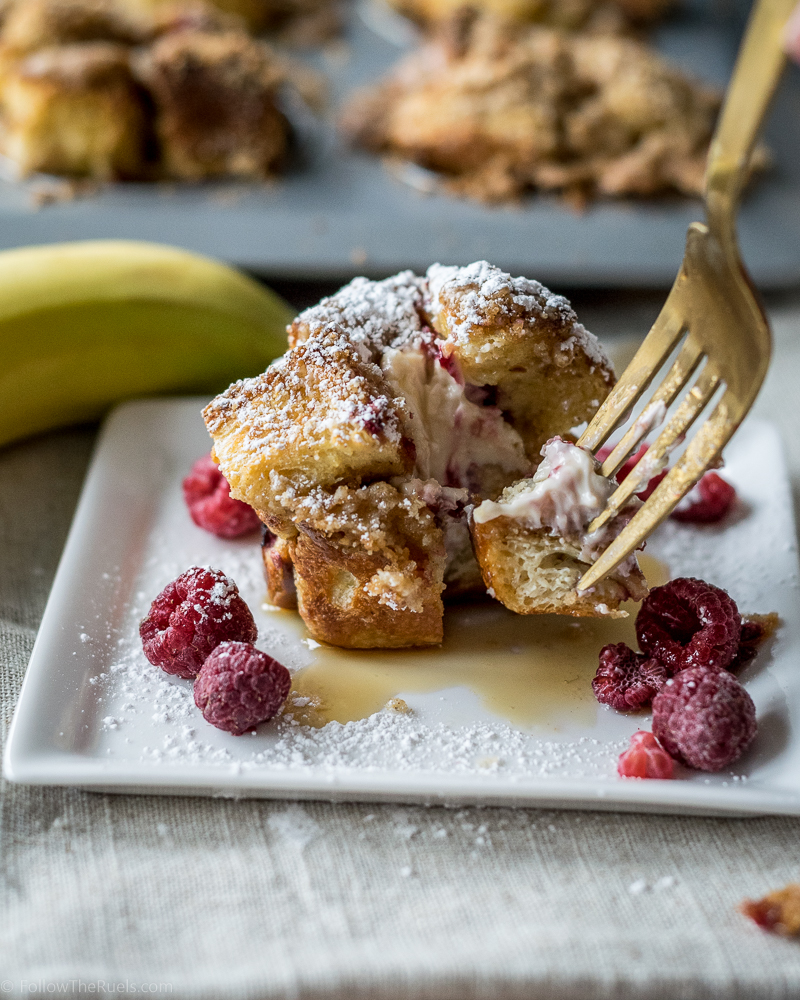 Now, this exact same recipe can be made in a casserole form. If my mom wants to make this recipe again next year, that's probably what I will do. Instead of piping the cream cheese filling into each muffin, I would pipe it randomly into the casserole using the same method, or thin it down a bit to make a nice cream cheese icing.
But I think the muffins are way more fun and they ensure the perfect bit of French toast every time! A little bit of that crunchy, caramelized edge with the soft and soggy center. Just like your classic French toast!
[amd-yrecipe-recipe:112]
PIN NOW, MAKE LATER