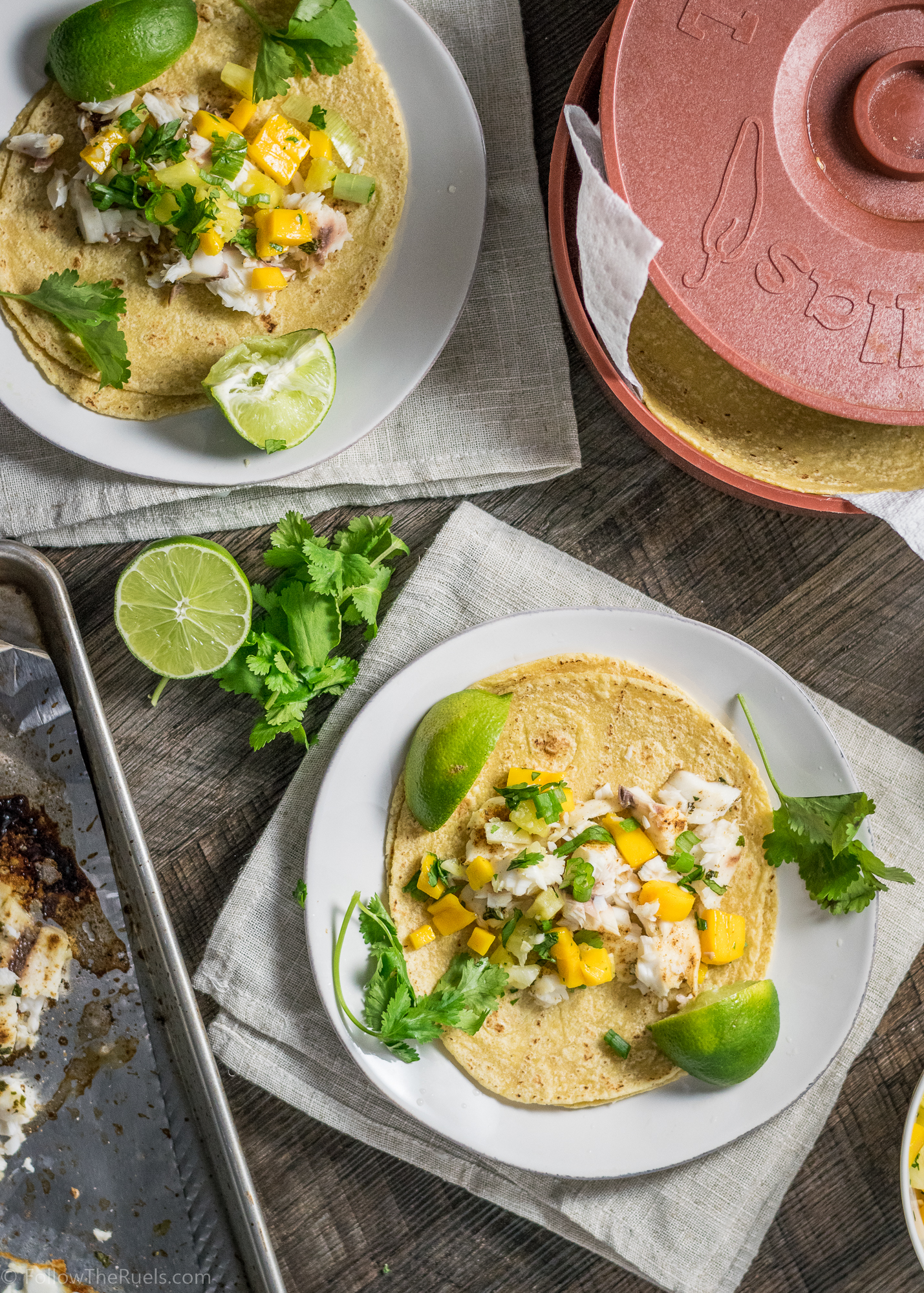 Leave it to me to start appreciating fish tacos only after I have moved away from the fish taco capital of the world (I assume). Despite growing up a stones throw from the beach and surrounded by amazing taco spots all with their own take on the fish taco, I didn't eat my first fish taco until moving to North Carolina. That just feels wrong, doesn't it?
Now a days if I want a fish taco I have to make the haul to the only spot in town that makes a decent one, or I can just make them at home. Since I am lazy and cheap, I tend to choose the later.
And my go-to fish taco recipe? This easy and flavorful cilantro lime fish taco!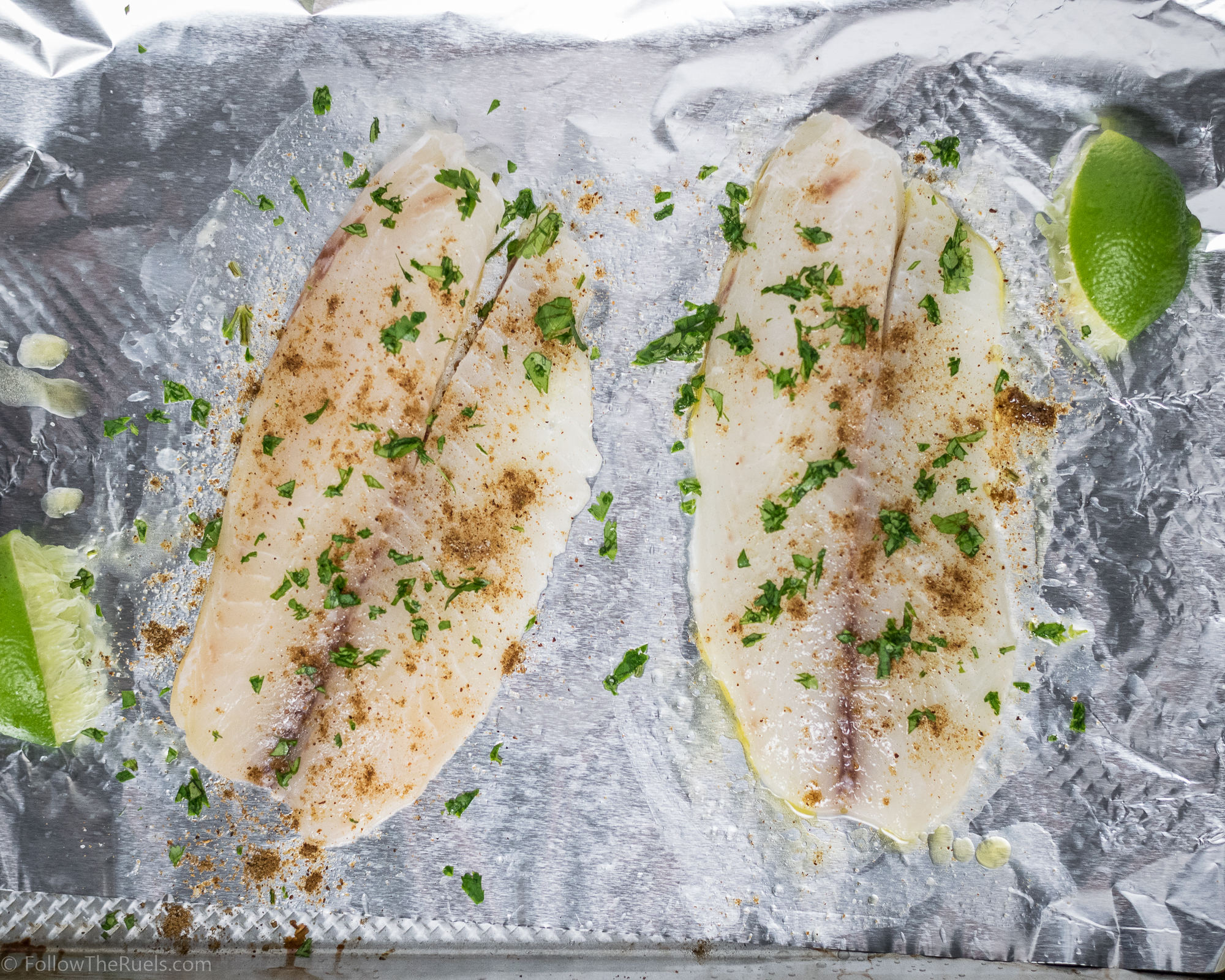 Start with some fresh (or thawed) fish. I used tilapia which is a nice light white fish that is great for fish novice's like me.
Generously dust the fish with a mixture of chili powder, cumin, garlic, salt, and pepper. Don't be shy! In my opinion you can't over season the fish. Then sprinkle on some cilantro; unless you are one of those weird people who hates cilantro, then skip it.
Now take a half a lime and squeeze the bejeezus out of it to get every ounce of juice over the fish. Then pop in the oven for a quick bake.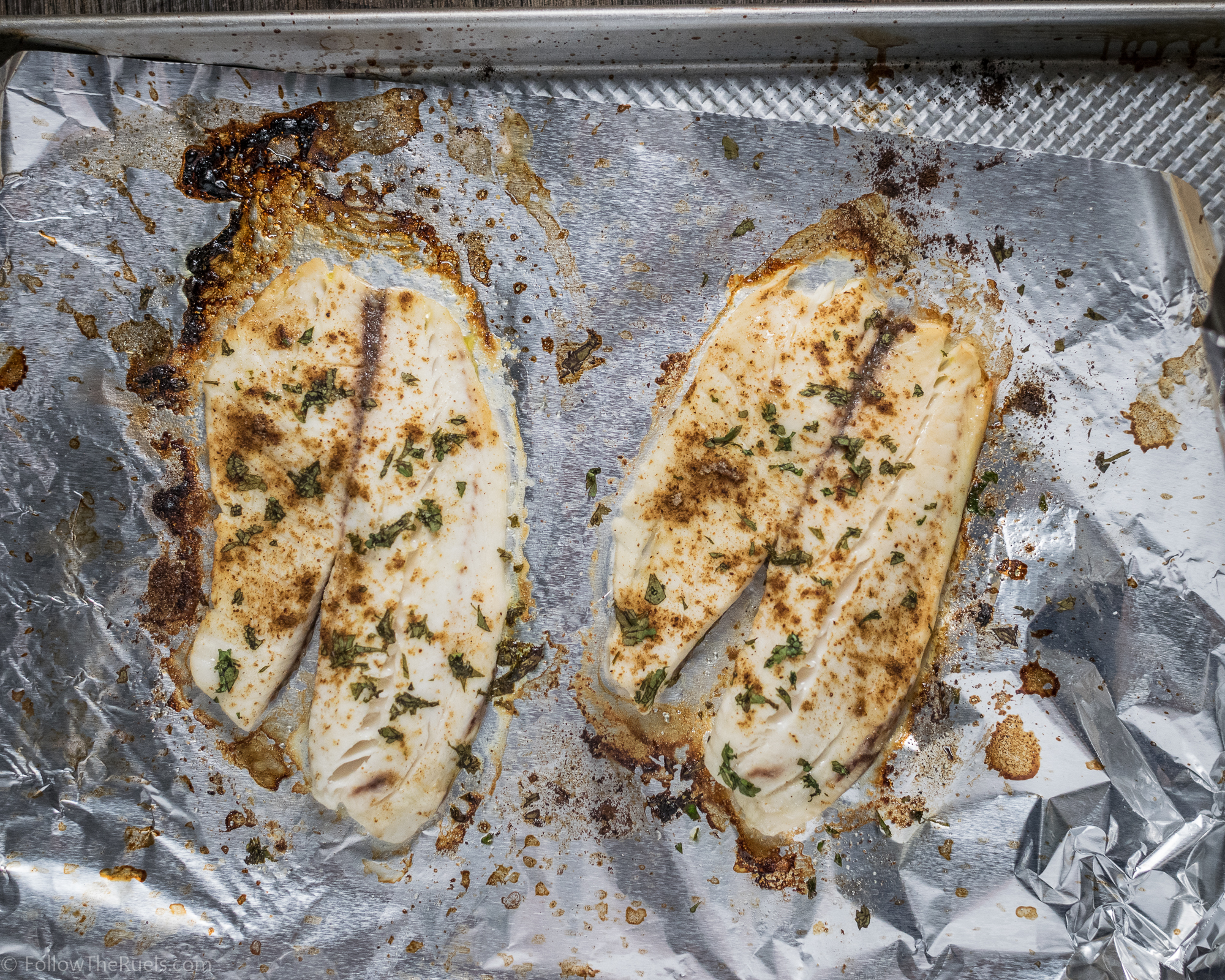 After about 10 minutes in the oven, the fish should be done and already flaking apart. All you have to do is take a fork to it to break it up into smaller chunks. Now they are ready to be made into tacos!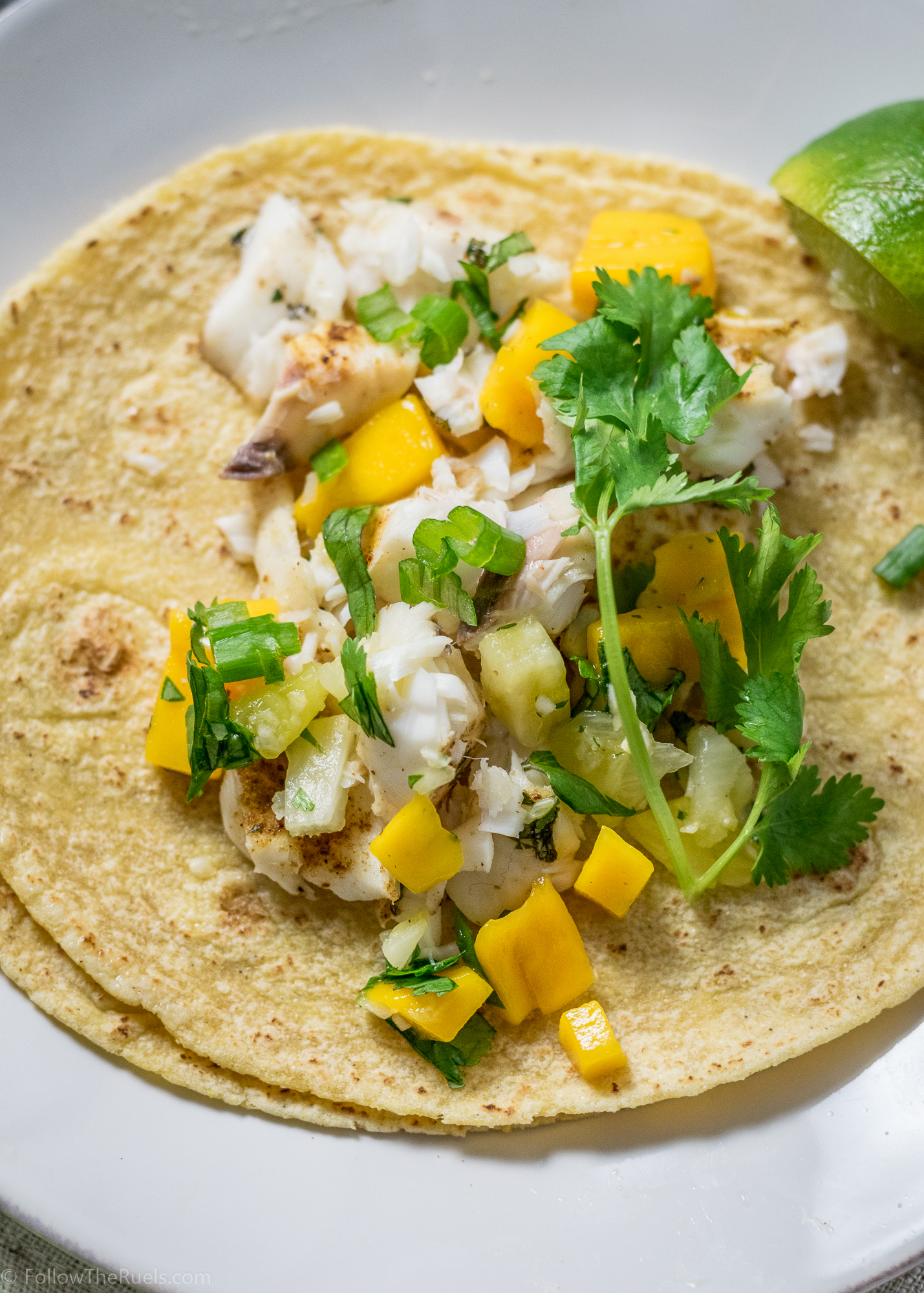 I like to top my fish tacos off with a fresh mango pineapple salsa, which is the same salsa I used in the Jamaican Jerk Shrimp skewers. There is just something about fish and tropical fruit. I don't know what it is.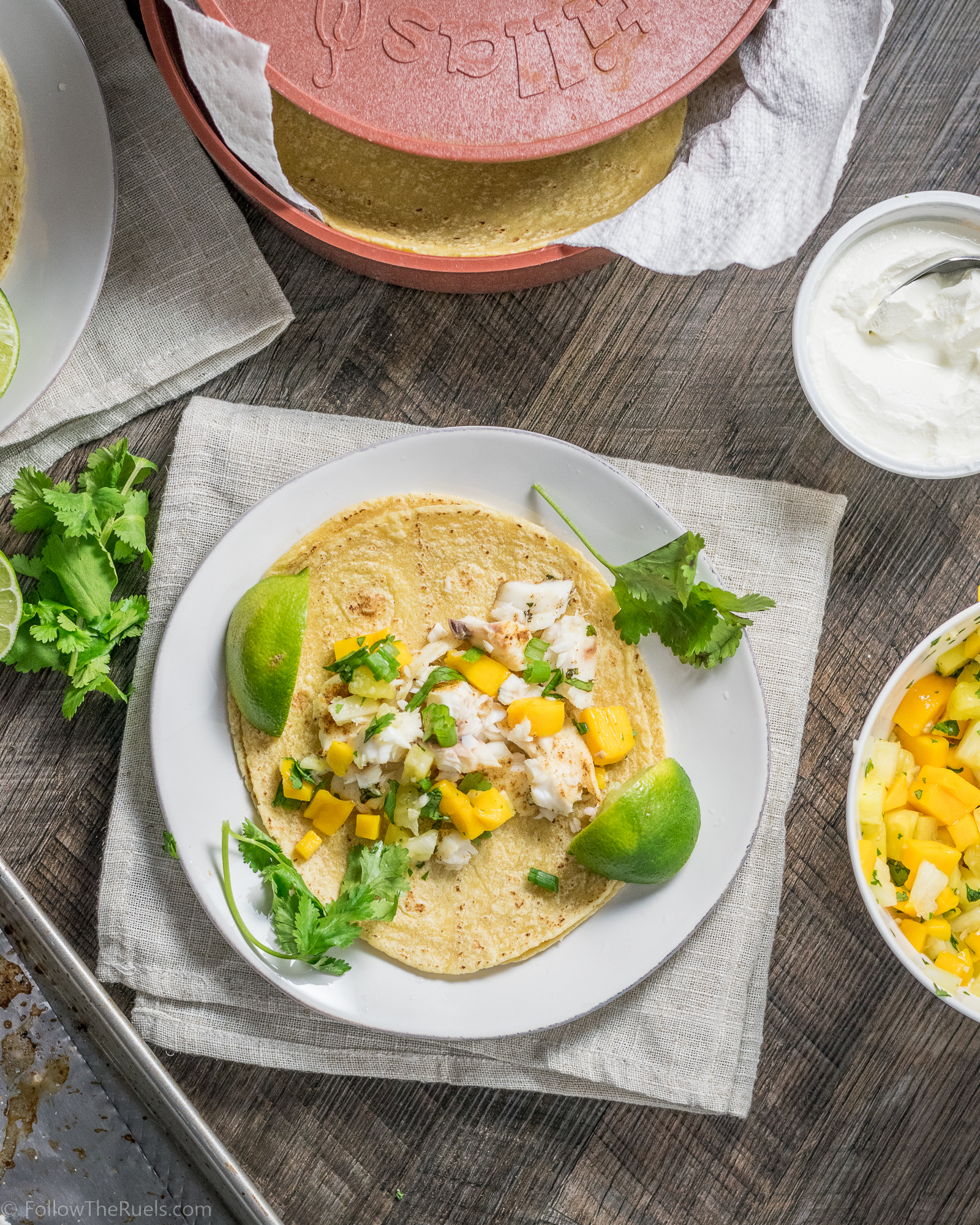 These tacos make such a nice fresh and healthy dinner that can be made in less than 30 minutes, easy! And if you are new to fish, kinda like me, this recipe will be great for you. Tilapia is a nice mild fish with that really takes on the flavor of whatever you season it with. It is also very easy to cook and practically fool proof.
Trust me.
But if you are a fish connoisseur and tilapia is too mild for you, you can definitely substitute in some ahi tuna, mahi mahi, halibut, and any other favorite fish! Make it your own!
[amd-yrecipe-recipe:139]