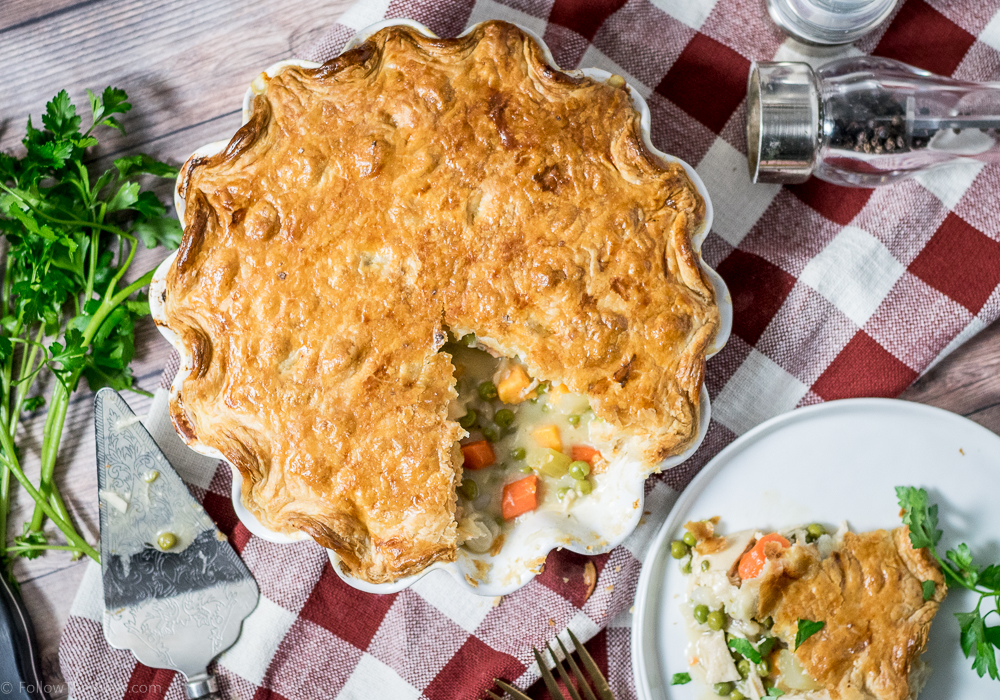 I wasted absolutely no time putting two of my Christmas presents to good use. The first, as you can see, is this beautiful pie dish. One of my very thoughtful and perceptive friends got this for me after noticing that I never make any pies on the blog. Well, there was a good reason for that…I didn't have a pie dish! Now I do, so let the pie baking begin!
The second is Thomas Keller's Ad Hoc cookbook. Another wonderful friend, who is also a big foodie, got this for me so that we try some of the recipes together. But I wasted no time and picked out his chicken pot pie recipe to try on my own first.
The trouble is that Thomas Keller, while a genius, doesn't necessarily write the easiest recipes. Also, the chicken pot pie recipe was certainly not the healthiest. And after a food-filled holiday, my husband and I were craving something a bit healthier.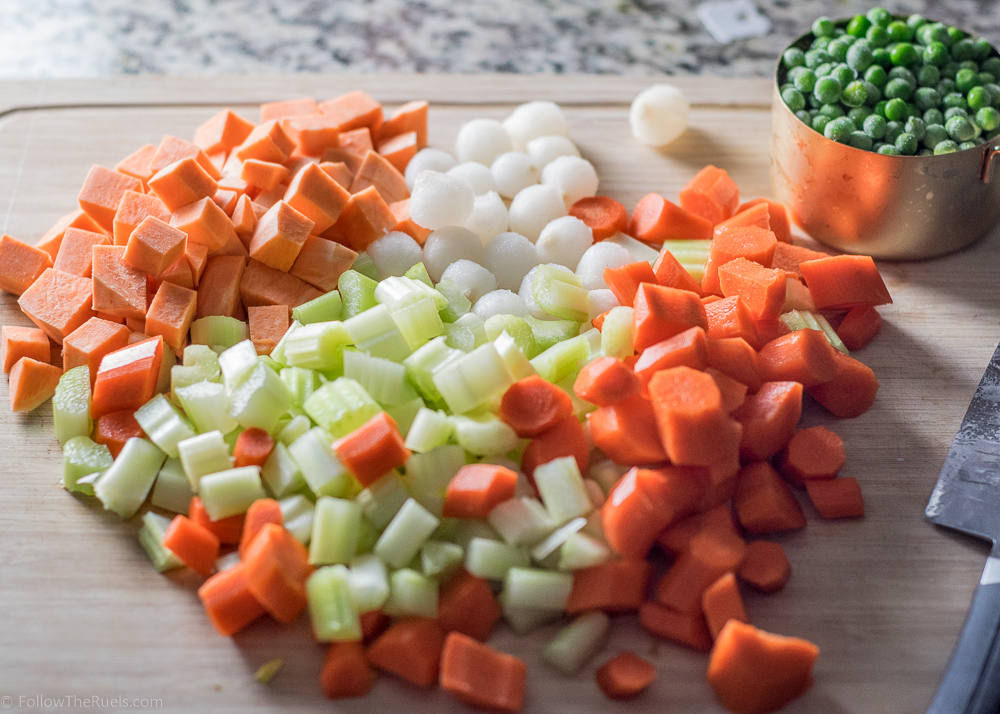 I started by sauteing the pearl onions in a bit of olive oil until they were slightly browned. I then added in the carrots, celery, and sweet potato, which is not only more flavorful, but much healthier than your average potato.
After a few minutes, I added in the chicken stock so that the veggies could soften up and become nice and flavorful. I also added some cooked chicken breast and frozen peas.
While all that was going on, I made a bit of a roux to thicken up the stock and make that creamy sauce around all the chicken and vegetables. Instead of a roux, Thomas Keller's recipes calls for about a cup of bechamel sauce, which is rich, delicious, and very heavy. In other recipes, you will often see people add butter, flour, and heavy cream to get the same effect.
To lighten up my chicken pot pie, I made a roux/bechamel hybrid by mixing together butter and flour until I had a tight paste, then I whisked in some light milk and…..
Greek Yogurt!
My favorite healthy substitute!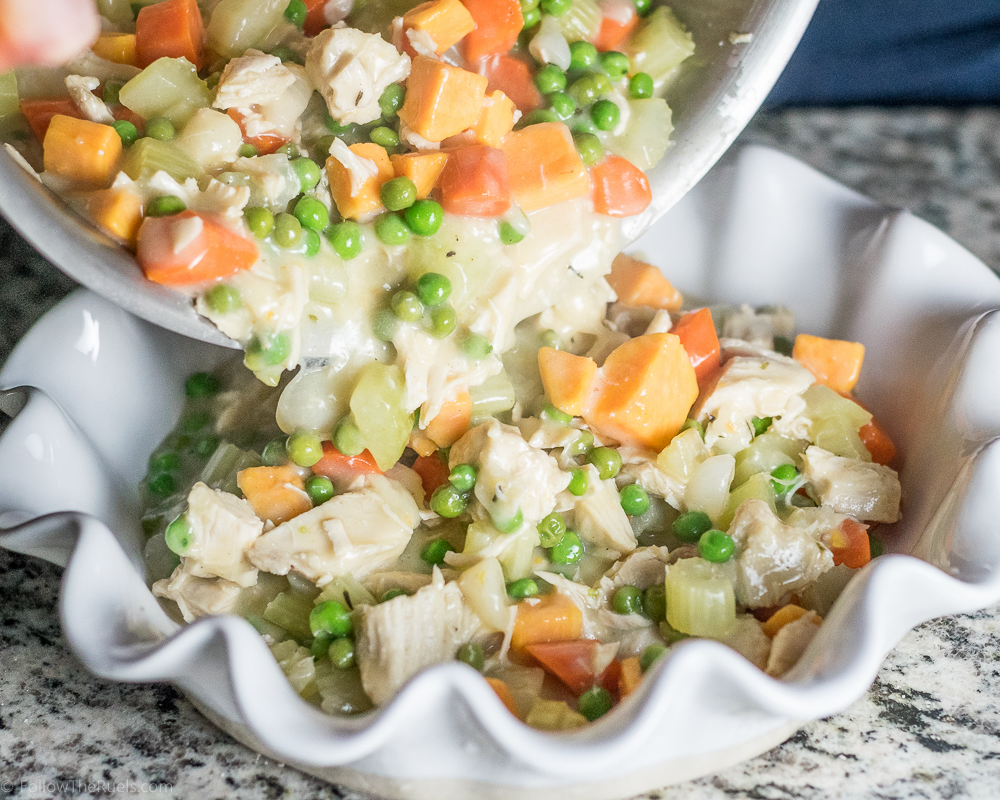 After adding my roux to the pot, the stock tightened up immediately and became this creamy sauce that coated ever thing. It looked and smelled just like the filling in some of my favorite chicken pot pies.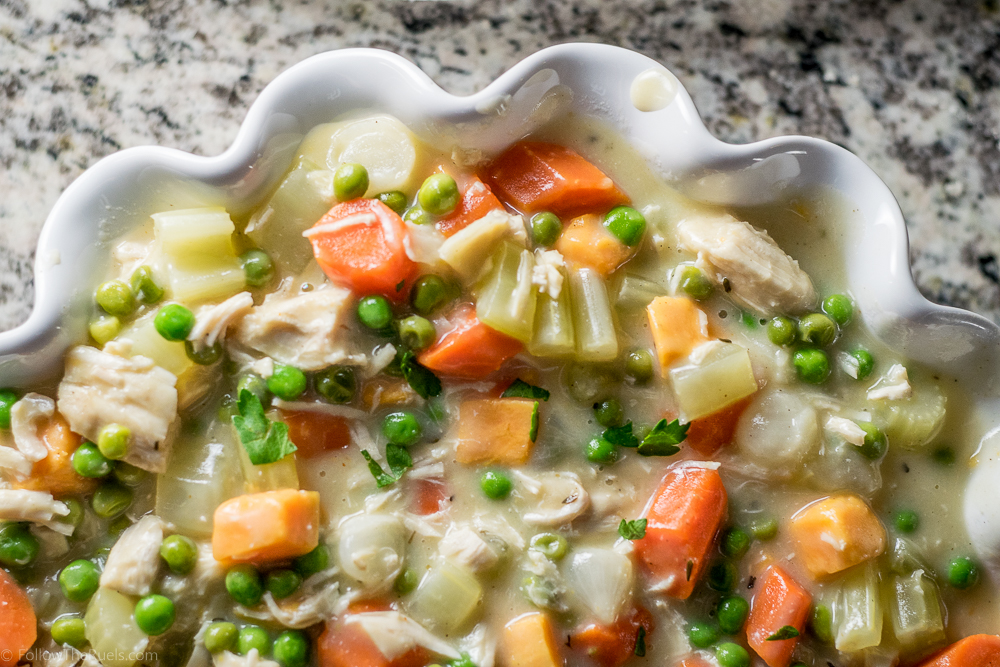 The last change I made to the recipe to make it a bit healthier was to swap out the pie crust for some puff pastry. The pie crust alone probably adds a quarter if not a half of the calories to your average chicken pot pie. But the flaky puff pastry cuts out some of the calories and fat, and is equally delicious!
The worst part about this recipe was the waiting! We waited almost an hour for this bad boy to bake. But it was certainly worth the wait!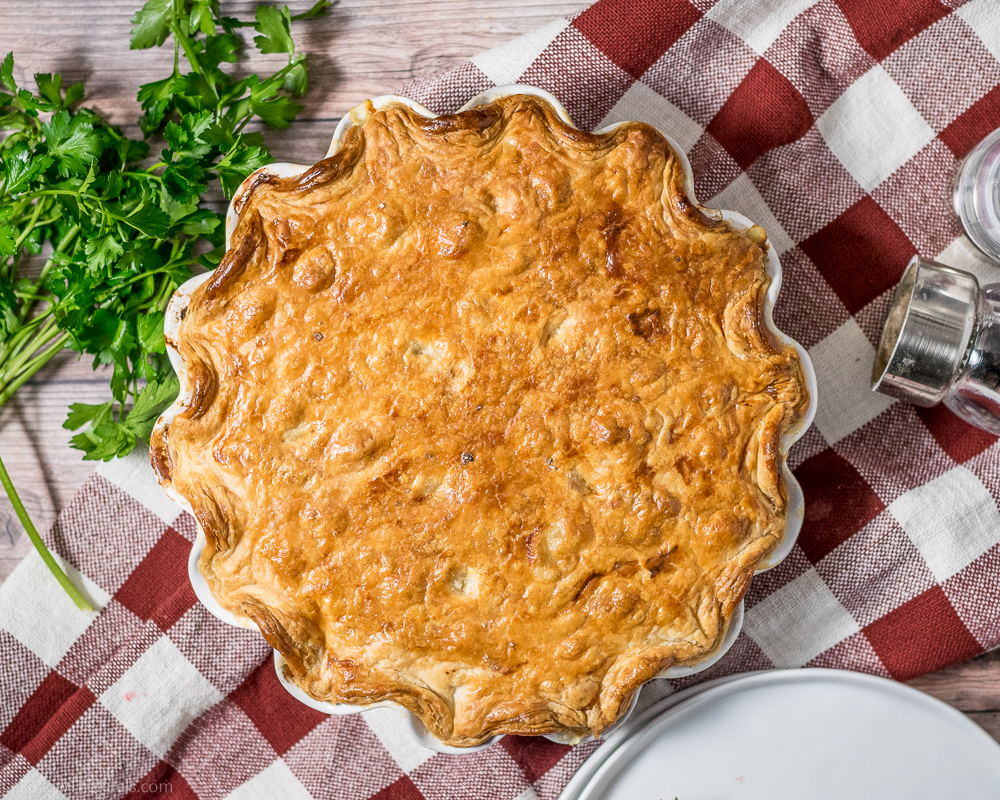 The puff pastry crust on top turned golden brown and nice and crusty, like you would expect from your chicken pot pie.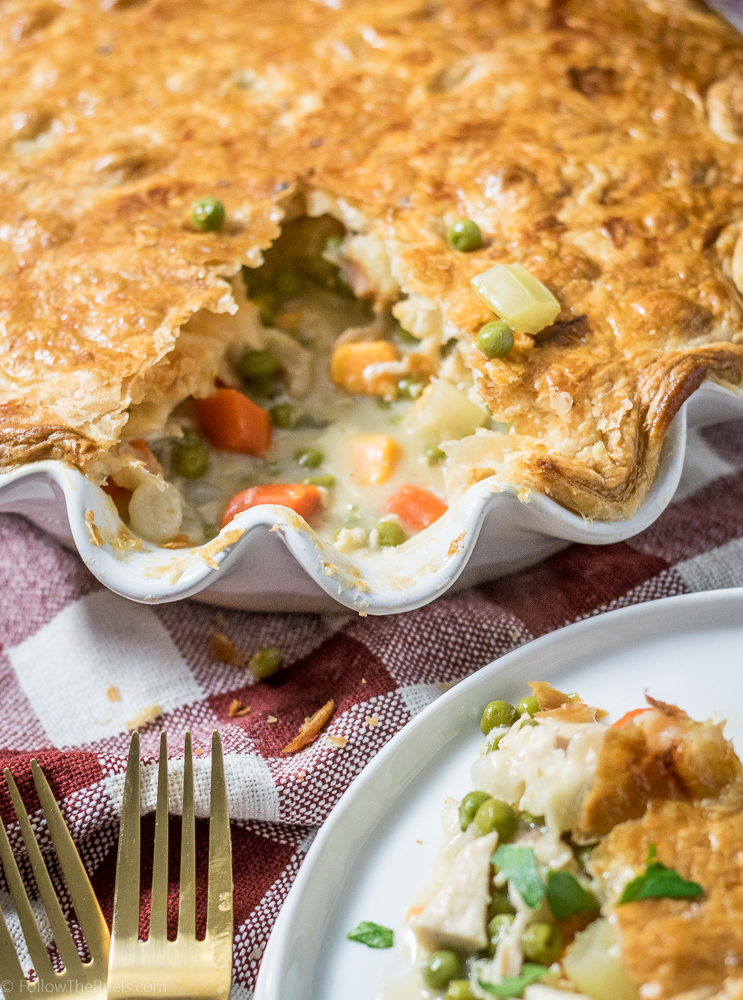 Once it was out of the oven, we wasted no time digging right in. We each had three slices of this pie, which probably negated any of the calories I saved by making all those healthy swaps. But we couldn't help it…it was so good! I definitely didn't taste "healthy". Even though I didn't follow Thomas Keller's recipe to the T, I still learned a lot of took used a lot of his tips, which is why I am sure this resulted in one delicious dinner!
And in case your wondering…I did the math.
Mr. Keller's recipe would have come to a whopping 1,500 calories per serving.
My recipe, was only 400! We probably could have finished off the pie and still consumed fewer calories than one of servings of his. I will certainly take that any day!
[amd-yrecipe-recipe:111]
PIN NOW, MAKE LATER