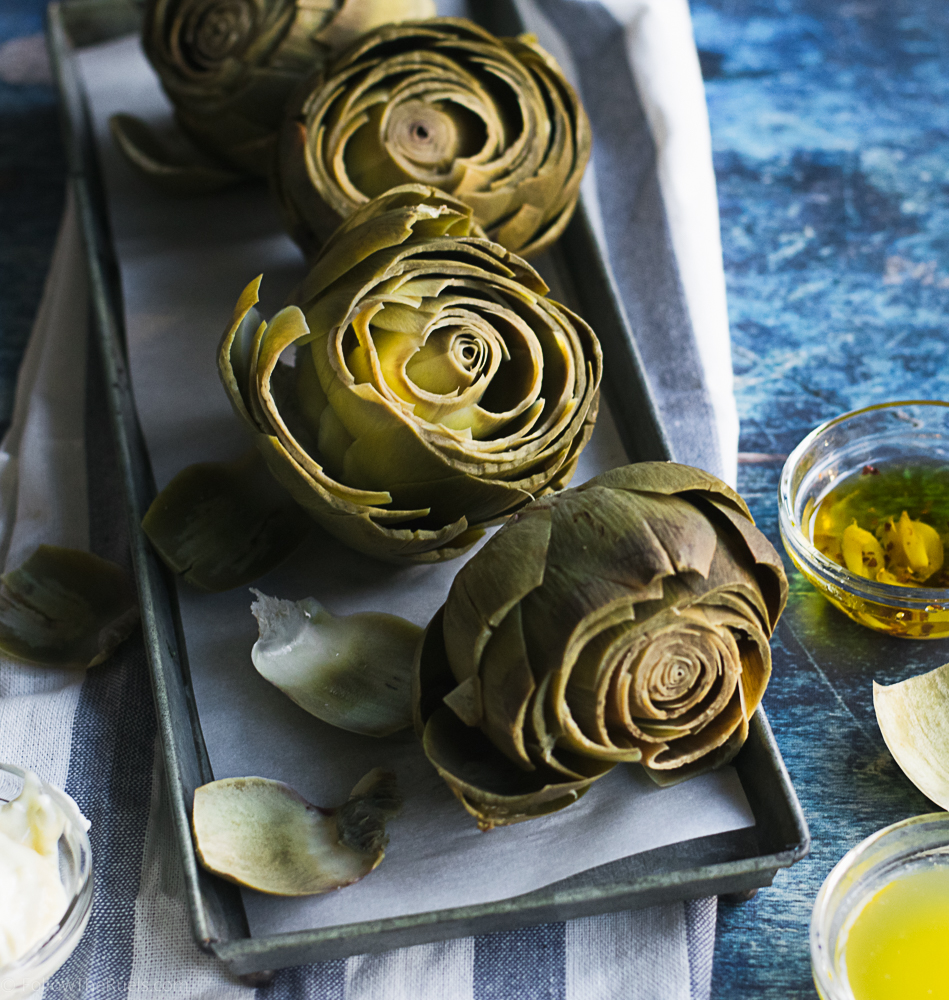 I grew up eating artichokes. Maybe it's a California thing. If my memory serves me correctly (which it probably doesn't, considering these memories are many years old), every Saturday during the Summer my dad would grill a steak and he would serve it alongside an artichoke and a healthy bowl of melted butter.
Now that I live outside of California, I rarely see artichoke served in any other way than with spinach and cheese in dip form. Almost never do I see it served plain with a side of butter or other dipping sauce. And that is really the best way to eat an artichoke. Au natural!
There are several ways to cook an artichoke, but the best way I have found is boiling it. It keeps the artichoke moist and tender, which is really the only way you want your artichoke.
But first you have to prep your artichoke. I like to trim the stem of the artichoke so that there is just a little nub left and then a cut off the top. Then I peel the outer leaves off and trim the tops with my kitchen shears.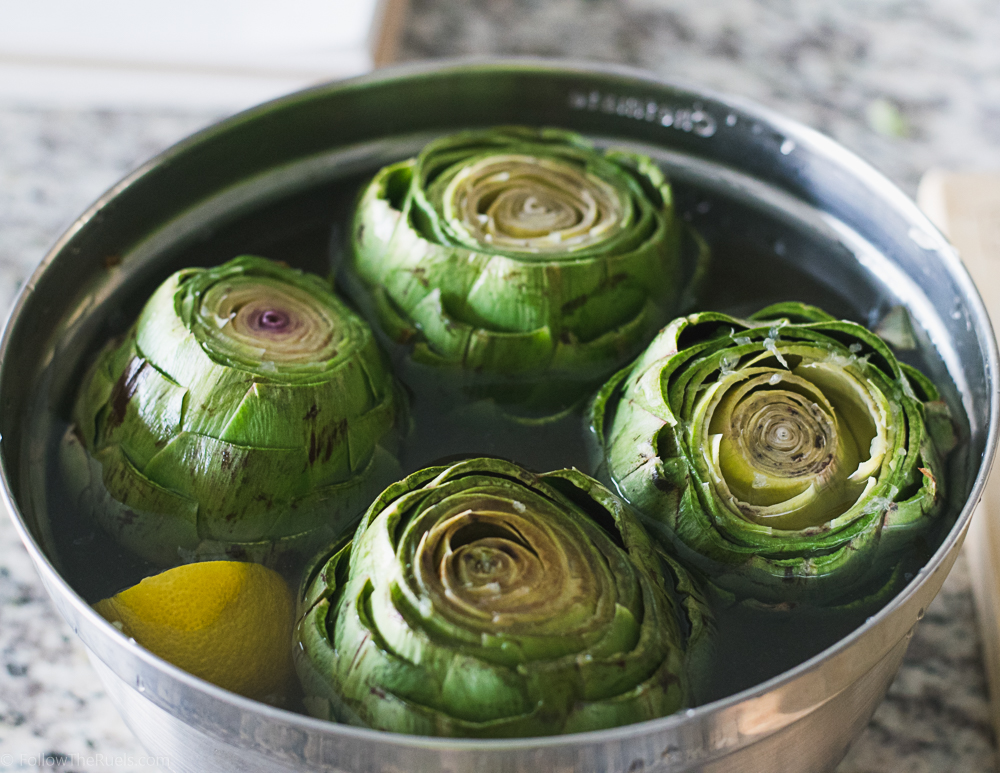 Like avocados, artichokes brown pretty quickly. So as soon as I am done trimming the 'chokes I pop them in a bowl of cold water with lemon juice. I also rub a cut lemon on the top cut portion.
Once all the artichokes are prepped, I dump them in a pot of boiling water that I enhance with the lemons from earlier, a bay leaf, and some salt. After about 40 minutes, the 'chokes are nice and tender.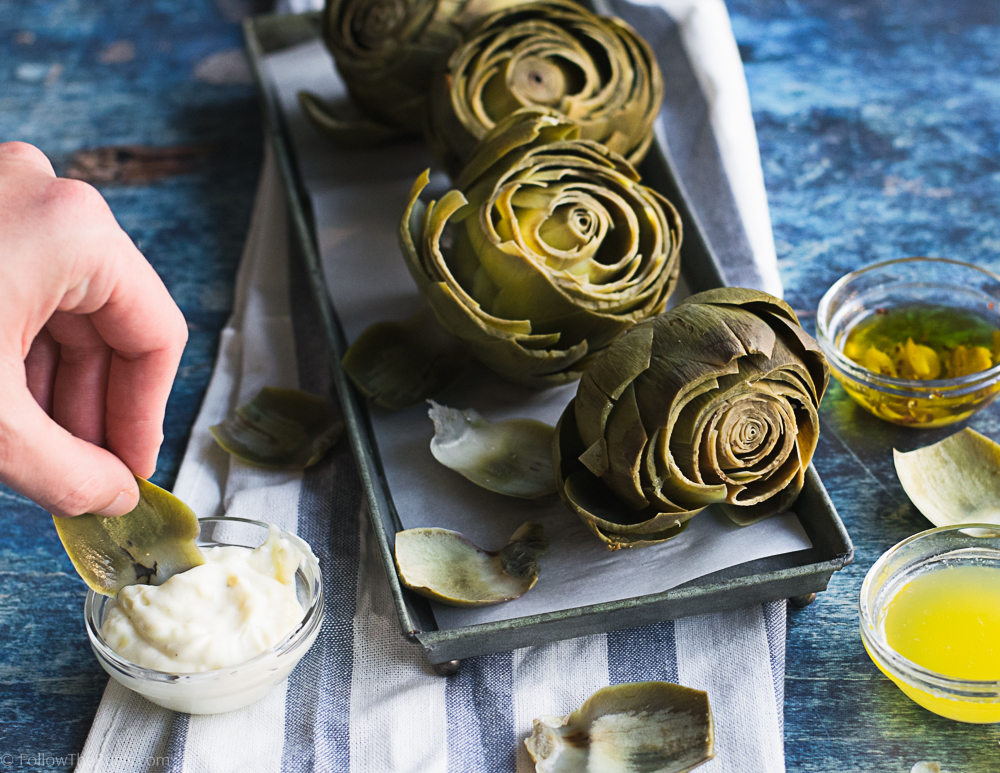 Ok, so artichokes are fine on their own. And that's putting it nicely. The best thing about eating artichokes is that you dip them in something super fatty and delicious like butter or mayonnaise.
Butter is a classic. It's my favorite way to eat artichokes. But aioli (fancy mayonnaise) is also great. Something about that creamy, salty, garliciness is perfect with the artichoke.
A new-found favorite is roasted garlic olive oil. It's like dipping the artichoke into, well, roasted garlic olive oil. Delicious.
And I guess I am assuming that you know how to eat an artichoke. For those of you are new to artichokes, they are pretty easy to eat. I just pick the leaves off, dip it into my dip of choice, then scrape the flesh off the base of the leaf with my teeth. I know it sounds weird, but it's delicious.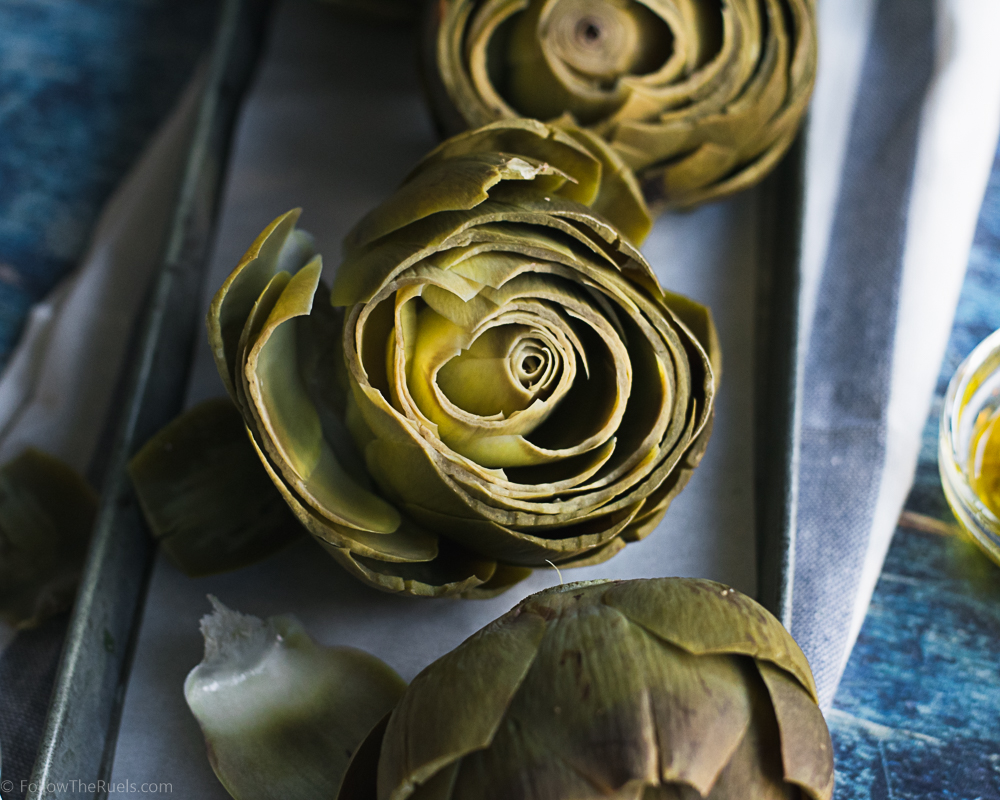 Once pretty much all the leaves are gone, I pick off all the smaller leaves and then cut out the choke, which is the actual spiky center of the artichoke. Do not eat the choke. What you are after is the heart. After all the choke is removed, you are left with the heart, which you can just dip into butter and eat whole. It's the best part. It's what all that hard work was for.
It's the best part. It's what all that hard work was for.
[yumprint-recipe id='127′]