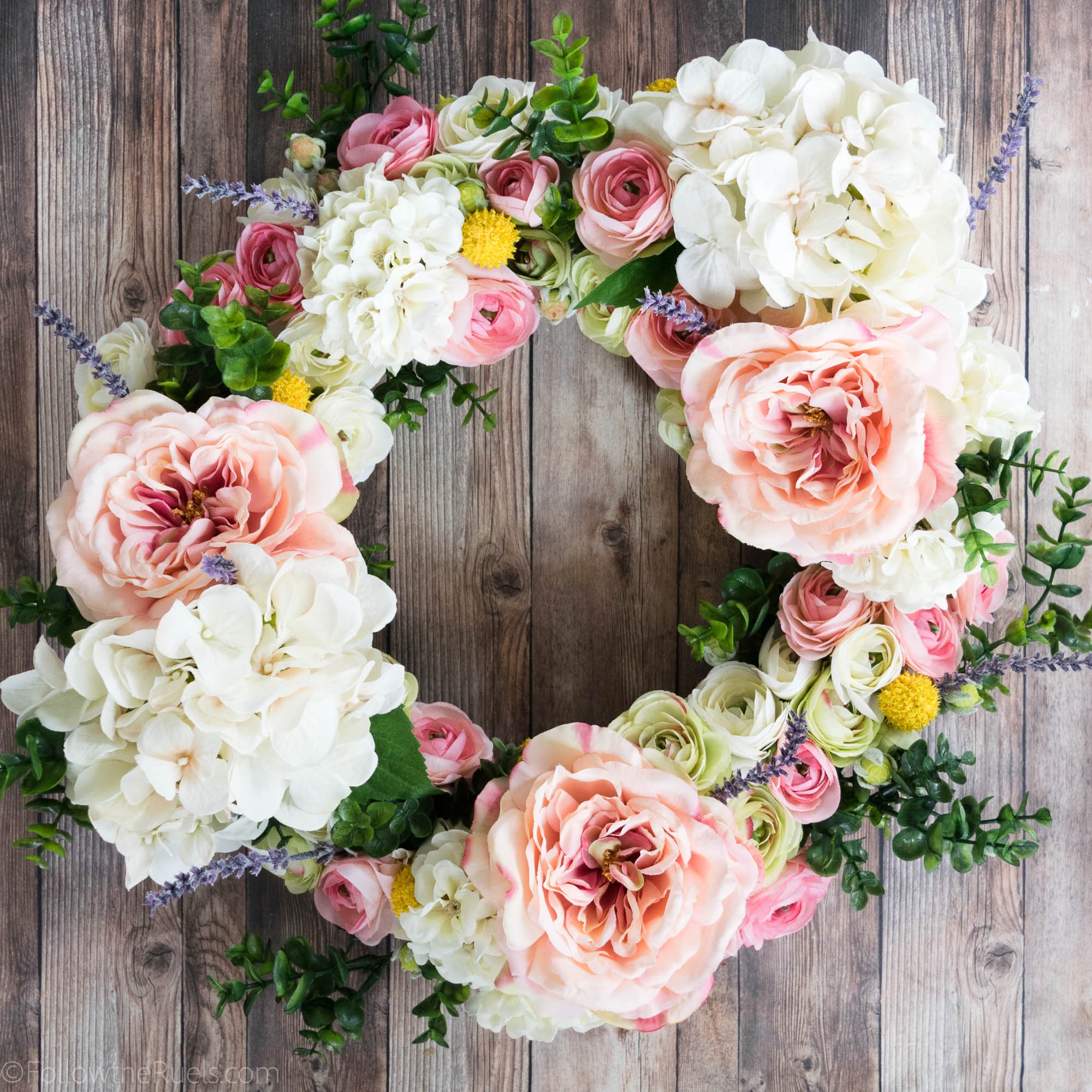 It's sort of amazing what you can teach yourself when you are under pressure. And by under pressure, I mean standing in the middle of the craft store faux flower aisle without any clue what to do.
I have made wreaths before. I have made wreaths out of baby's breath (really pretty), ornaments, burlap, ribbon, and felt circles. But never out of fake/faux flowers.
What I am trying to say is I really have very little authority on assembling this faux flower Spring wreath, but I did learn a lot through trial and error and just watching the other women at Hobby Lobby picking out flowers for their own home projects!
What You Need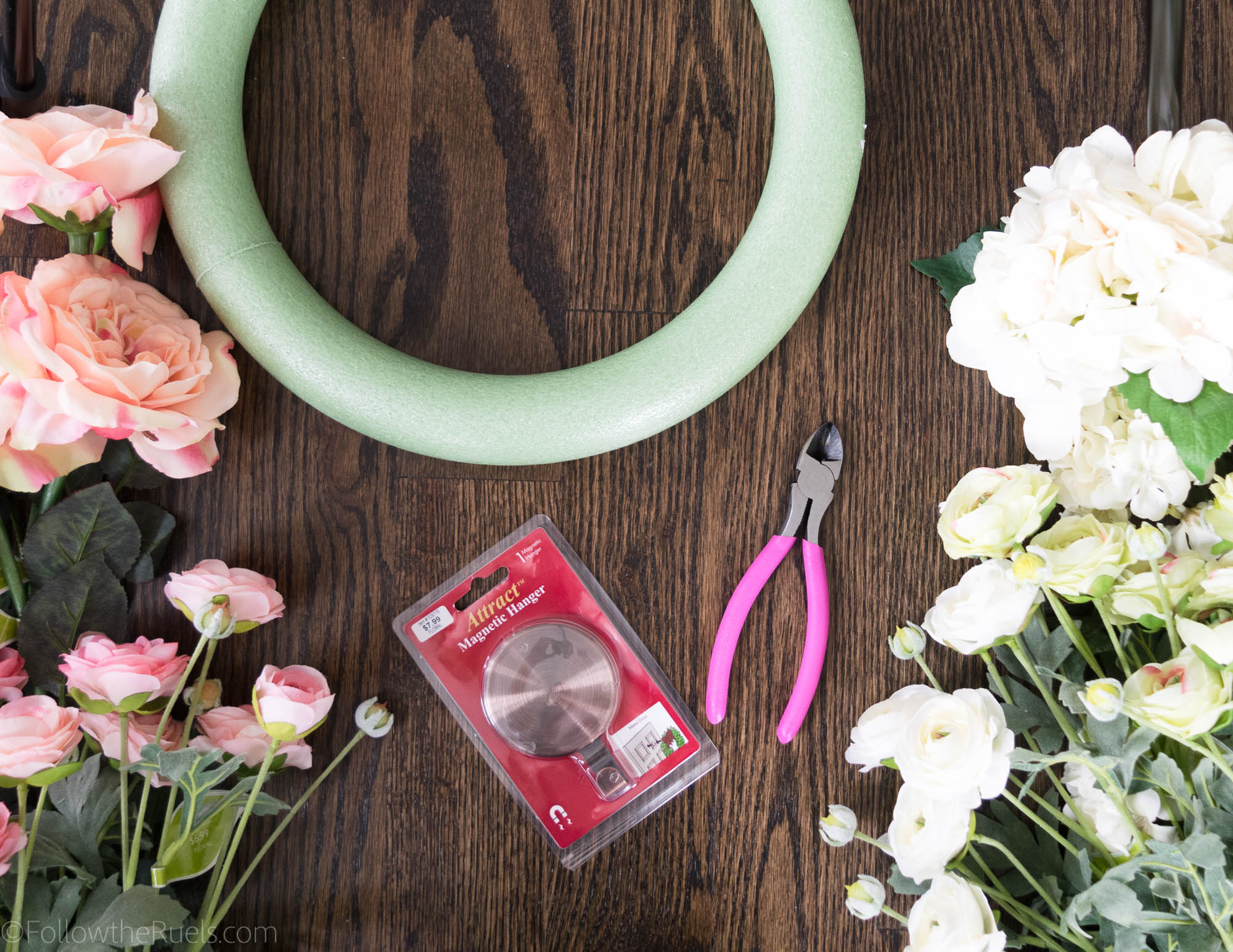 If you would like to replicate this Spring wreath exactly, I will list the exact flowers I used. If you would like to create something similar but just aren't sure how to arrange your wreath, refer to the size of the flowers and pick out your own.
How to Make It
Actually putting the wreath together is pretty easy and doesn't take long at all. The hard part is knowing how many flowers you will need and how to arrange them. I am certainly not an expert, but there are a few tips that I think will help.
Use an odd number of 1 type of flower (i.e. 3 peonies, 5 hydrangeas) because odd numbers are more pleasing to the eye. This is something that is really important in photography composition, and I think it applies to flower arranging, too. Notice that I have three large peonies, 5 bunches of hydrangeas, and 5 of the yellow billy buttons (showing, I think there are 7 in total). Since these are my larges and/or most prominent flower, I used an odd number of them.
Do not try to make the flower design symmetrical. If you are having trouble deciding where to put things, use a triangle as your guide. Also, don't be consistent! Flowers do not grow perfectly spaced in nature, so put some of the larger flowers close together in some spots, and far apart in others.
Stick with 2-3 primary colors, then add 1-3 other colors as pops of contrast. I started with just the pink, white, and green flowers at first and it looked very bridal. If that is what you are going for, great! But when I went back to get more flowers, I picked up the yellow billy buttons and lavender sprigs for some extra pops of color and texture.
Do not be afraid to reposition the flowers. I moved around so many flowers until I found the exact right placement. I even did that once it was hung on the door.
And lastly, just have fun! I really enjoyed making this wreath and I know it will not be my last. I just popped on Nexflix, sat on the floor and started arranging. It would also be fun as a family or group activity!
Of course, this faux flower Spring wreath doesn't just have to adorn your front door. You can hang it inside on a bookshelf, over the fireplace, on a mirror, or flat on the table. I like the idea of sticking a big candle in the middle as a really pretty centerpiece!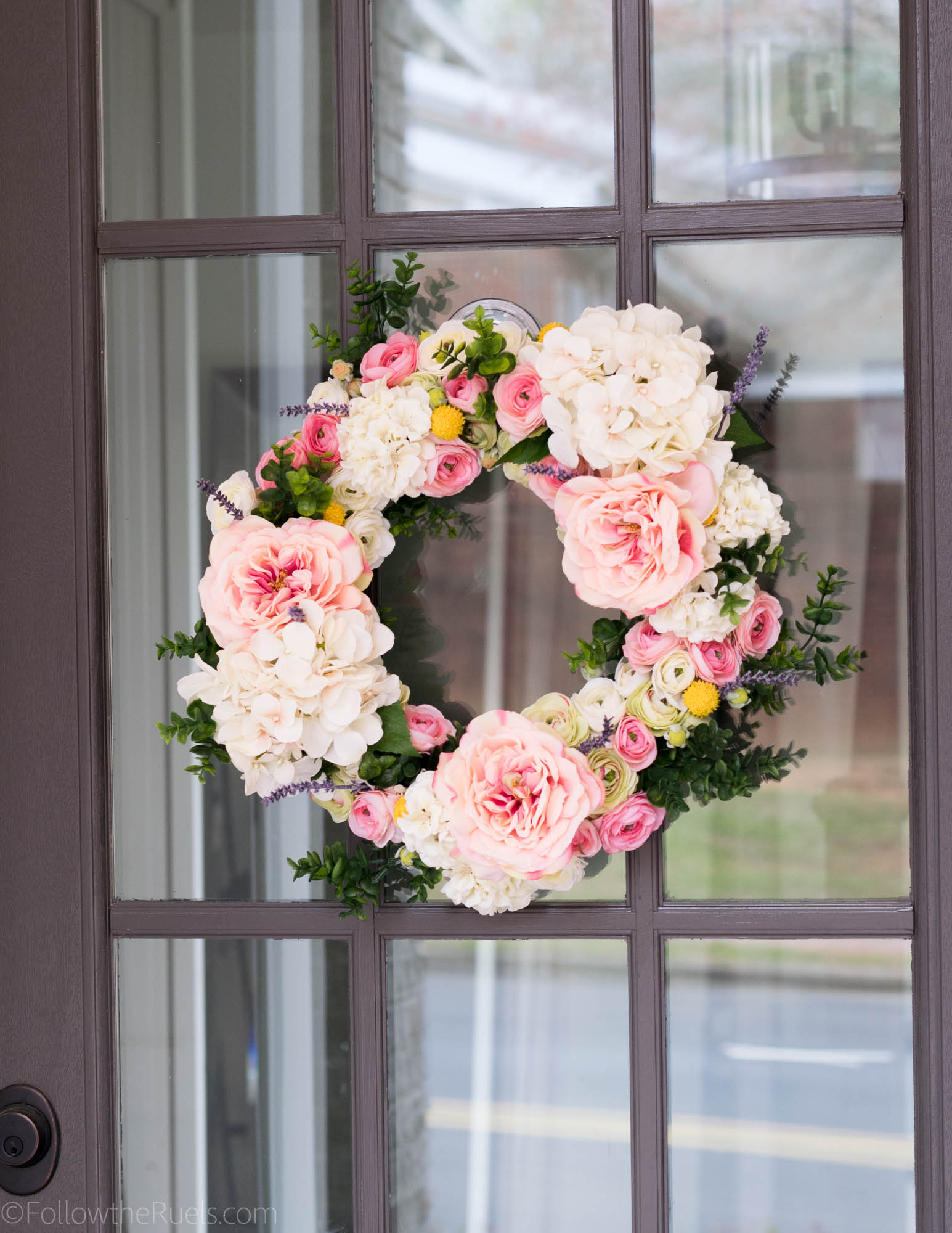 For now, this pretty little faux flower Spring wreath will just hang on my door. But I am already thinking it needs some friends, maybe to decorate our kitchen or table? What do you think?
[show_shopthepost_widget id="3078884″]