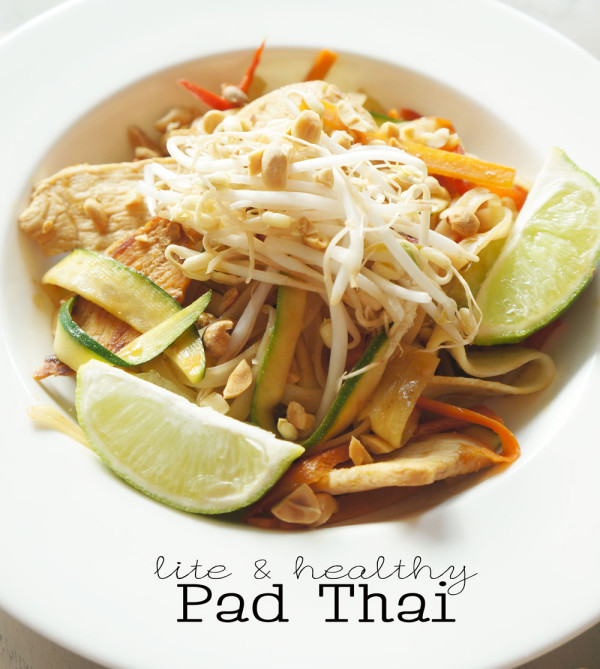 At the end of a long week, there is nothing that I want more than some take-out food and a large glass of wine. But the last time my husband and I got take out from our local Chinese food place, we felt pretty disgusting afterwards. Everything was fried and greasy (albeit…delicious). So this past Friday I set out to make a more healthy version of one of out take-out favorites: pad thai!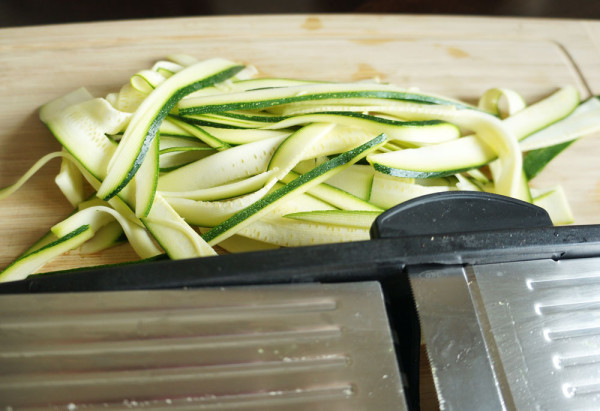 I started by making some zucchini noodles with a mandolin to supplement the rice noodles that are traditional in pad thai.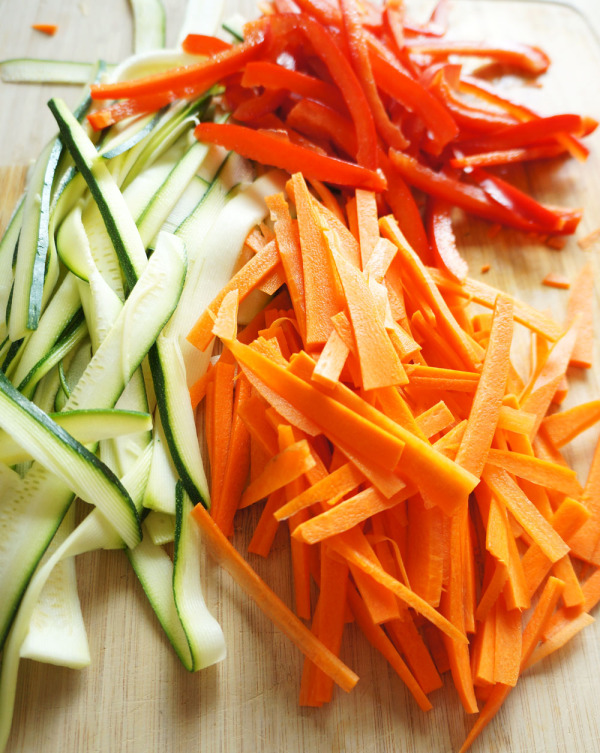 I also added lots of julienned carrots and bell peppers to boost up the veggie factor. I tossed all the veggies and thinly sliced chicken breast in a hot pan and sauteed them in a bit of vegetable and sesame oil and seasoned with garlic, red pepper flakes, and ginger. In the meantime, I cooked about half the normal amount of rice noodles in a pot of boiling water.
Once the chicken was cooked, I added in the rice noodles and poured the sauce over the top and tossed it all together.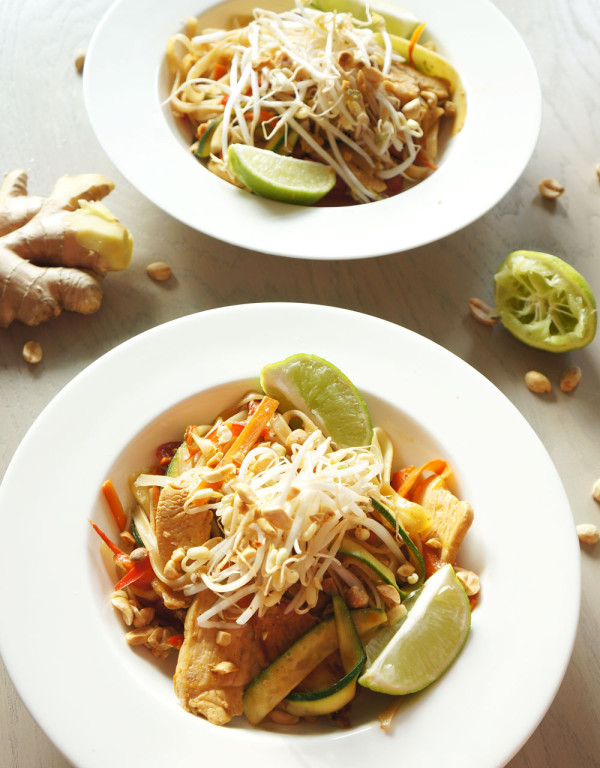 I served up a healthy portion of the noodles into bowls, and topped them with some bean sprouts, peanuts, and a squeeze of lime. Our craving for take-out was totally satisfied and we didn't feel like we had just ingested a cup of grease. And just like your favorite take-out, this pad thai is almost better eaten cold the next day. Oh you don't do that?? Well, try it…it's awesome!
Whats your favorite take out food?
[Sorry – Yum Prints wasn't working…will try adding the recipe again later. For now, it's included below]
Ingredients:
1 chicken breast, thinly sliced
1 zucchini, julienned
1 bell pepper, julienned
2 carrots, julienned
2 cloves garlic, minced
1 tsp garlic, minced or grated
1 tsp red pepper flakes
5 oz rice noodles
2 tbsp light soy sauce
juice of 1 lime
1 tbsp honey
1 tsp fish sauce
1/4 cup bean sprouts
2 tbsp peanuts, chopped
Directions:
Place a large skillet over medium high heat and coat with 1 tsp with vegetable oil. Toss in chicken and cook for about 2 minutes.
Add in vegetables, 1/2 tsp sesame oil, garlic, ginger, and red pepper flakes. Stir every couple minutes to cook evenly. Cook another 5-7 minutes.
Meanwhile, cook rice noodles in boiling water according to package directions.
In a small bowl, mix together soy sauce, lime juice, fish sauce, and honey. Pour over vegetable and chicken mixture. Add in noodles and toss to coat.
Spoon pad thai into bowls, and top with bean sprouts and peanuts. Serve and enjoy.