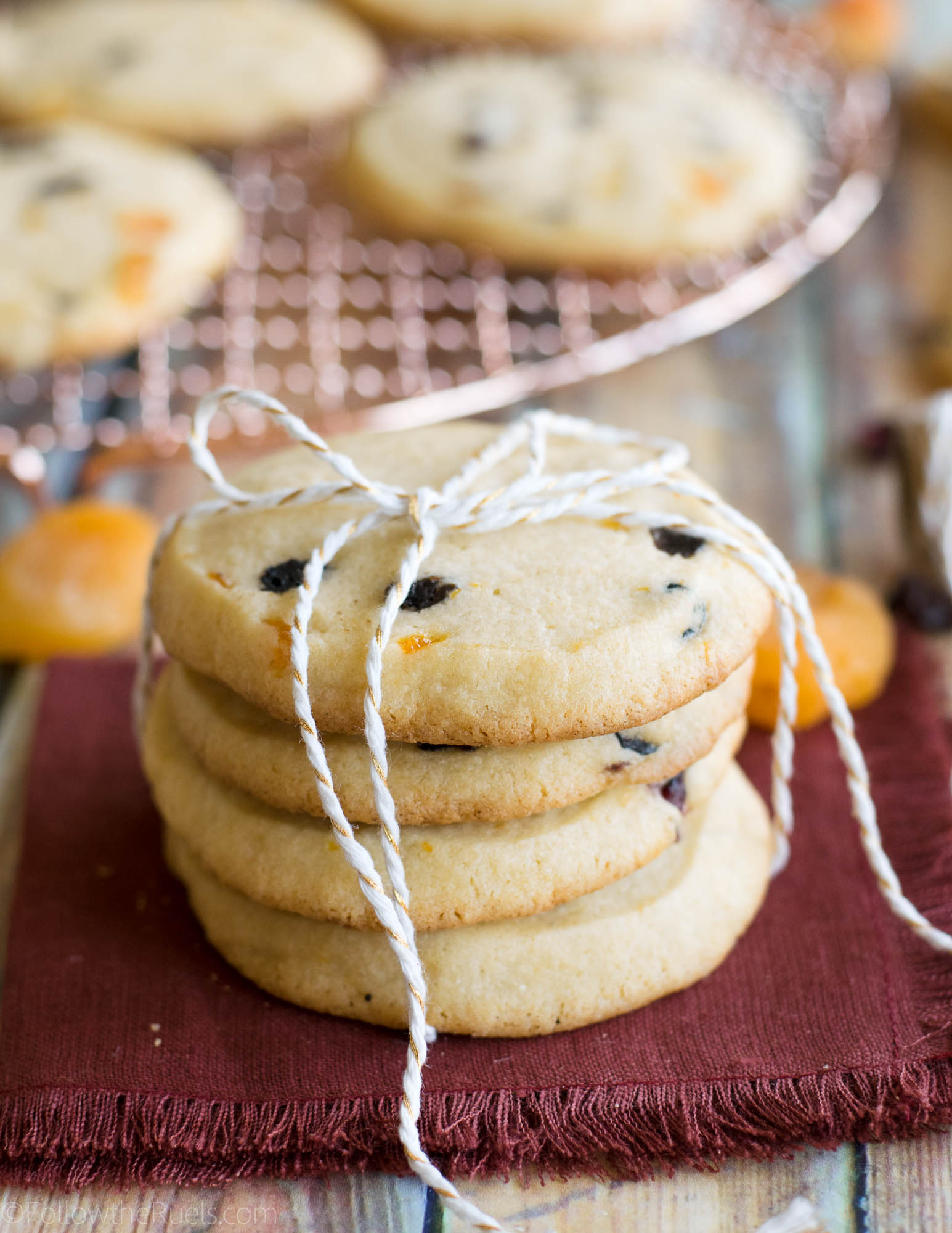 Raise your hand if you have ever had Panettone before? You know, it's that fruit-speckled bread that they sell in the grocery store around this time of the year. You have probably confused it with fruitcake.
If I were Panettone, I would be insulted, because Panettone is actually good (seriously, someone tell me where to find a good fruitcake, because I surely haven't found one).
It's a delicious sweet bread that is flavored with orange zest and filled with raisins and other dried fruit. Guess what else would be delicious if it were flavored with orange zest and filled with dried fruit.
You guessed it! Cookies!
(I can turn just about anything into a cookie. If I were a superhero, that would be my superpower.)
And even better, they make excellent slice-and-bake which are great for the holidays. Just whip up a batch of dough, roll it into a log, then slice it up whenever you need cookies. But I am getting ahead of myself.
These Panettone slice-and-bake cookies get most of their flavor from a generous helping of orange zest. Like all of the orange zest. Just zest that puppy until there is no rind left. Don't worry about measuring….it'll be fine.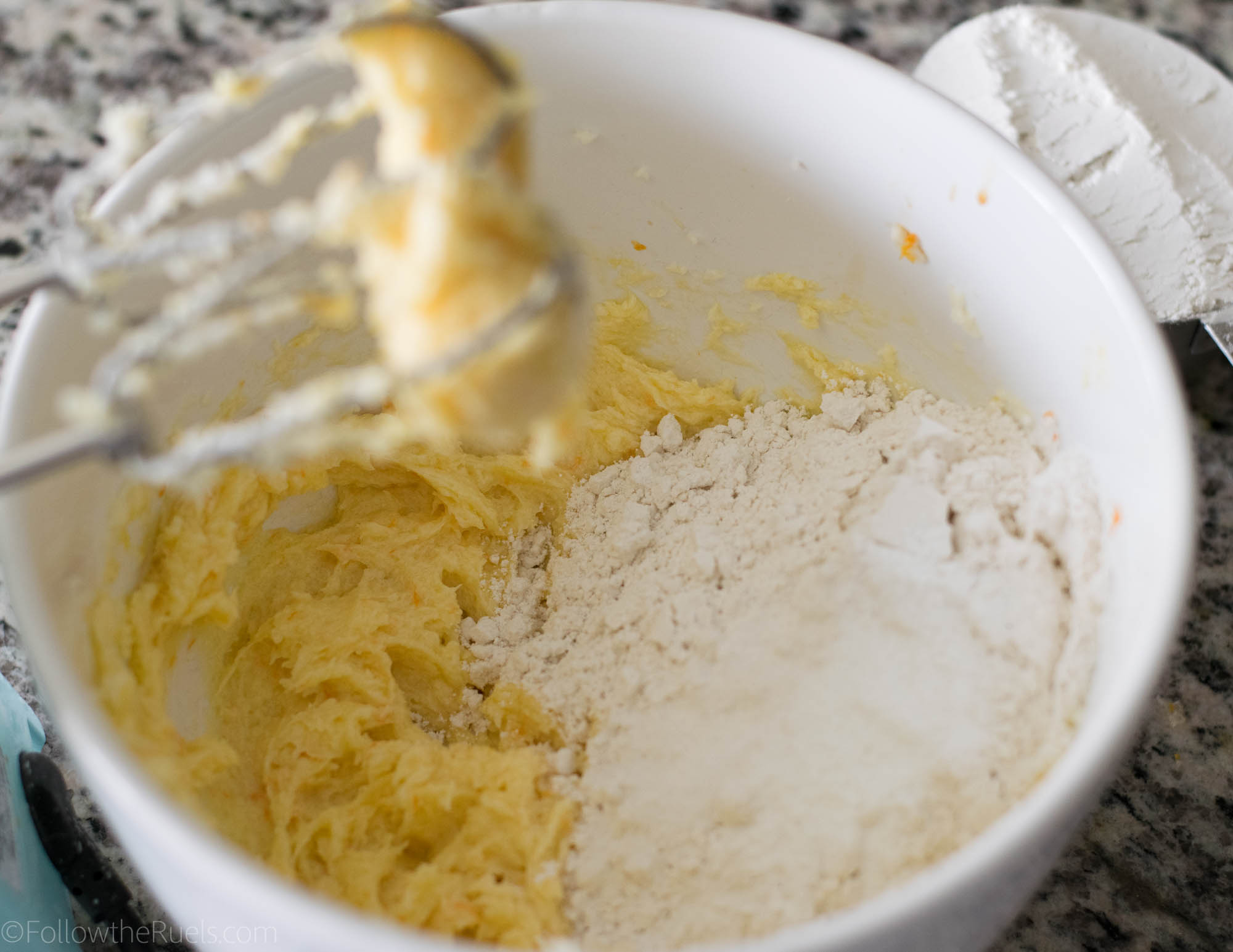 The orange zest is mixed with the butter, sugar, eggs, and vanilla. Then the flour goes in next.
Once the dough is pretty well mixed, throw in the dried fruit. I used diced up apricots and a dried berry mix that included raisins, craisins, and dried cherries. The apricots are a little stick when they are cut up, so toss them in a little bit of powdered sugar before adding them to the dough.
Mix all the fruit into the dough until they are evenly dispersed throughout. Then transfer the dough to a sheet of plastic wrap and roll into a nice log and find a nice place for it in your freezer.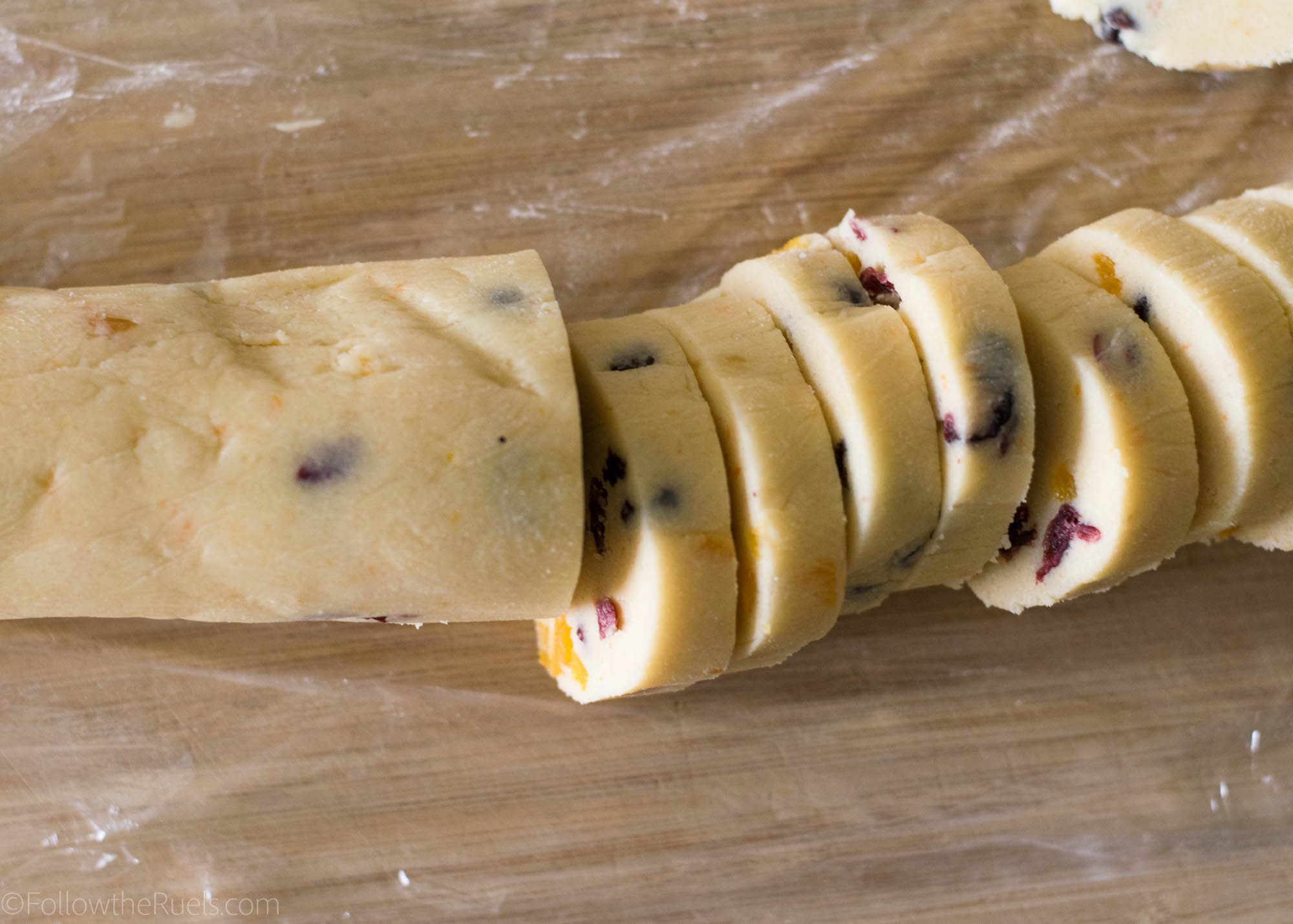 If you want to bake these cookies immediately, well you can skip the slicing step and just spoon them onto a baking sheet. Or you can wait 30 minutes and slice them into 1/2 inch discs and pop them in the oven. You just want to wait long enough for the dough to be pretty firm so that it slices cleanly and easily.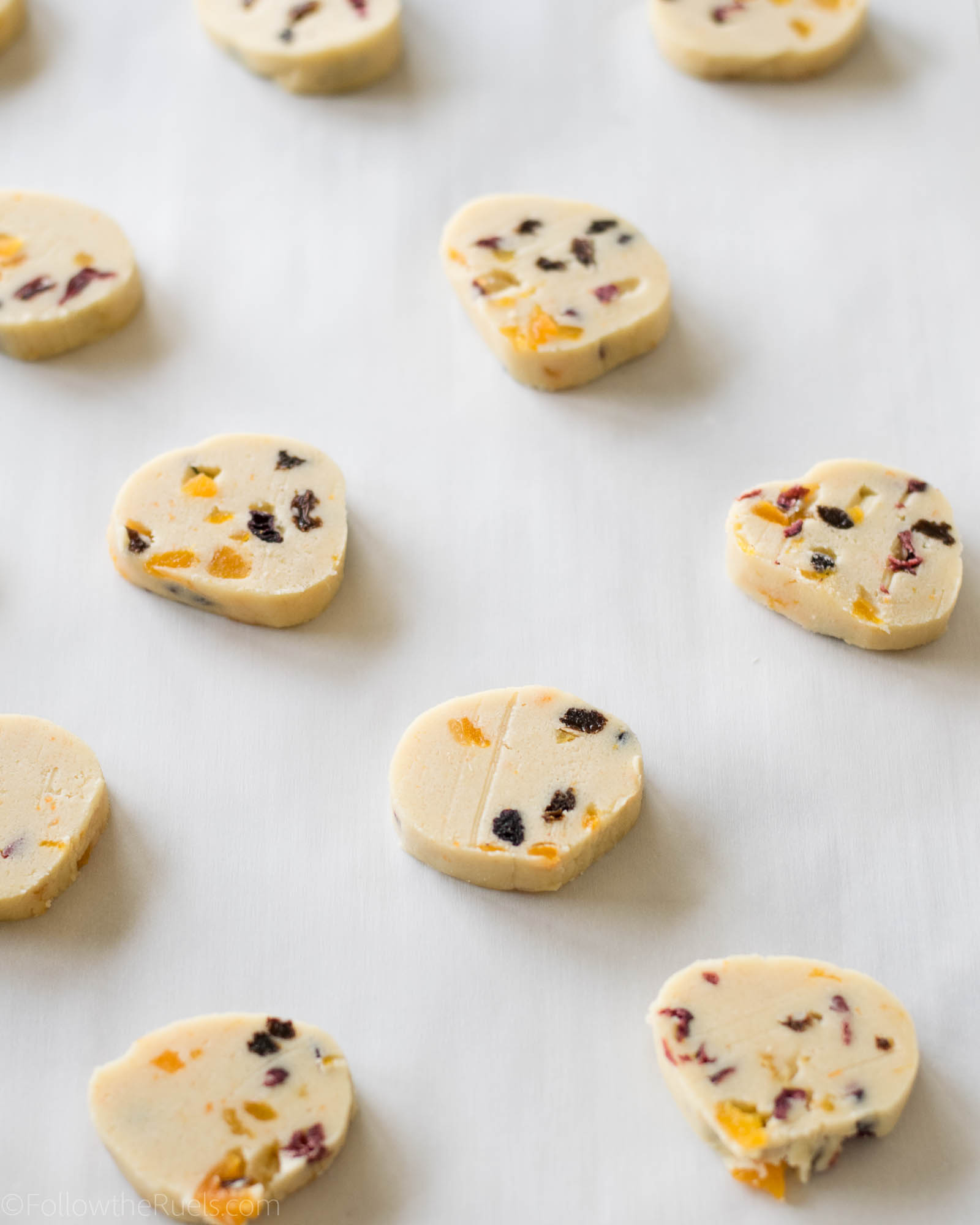 Or you can leave the dough in there until you need it. I wouldn't wait any longer than 2 weeks (make sure to wrap it up really well if you plan on keeping it in the freezer longer than a few hours) because then you risk the dough picking up any of that freezer stank or general freezer burn. But mostly the former.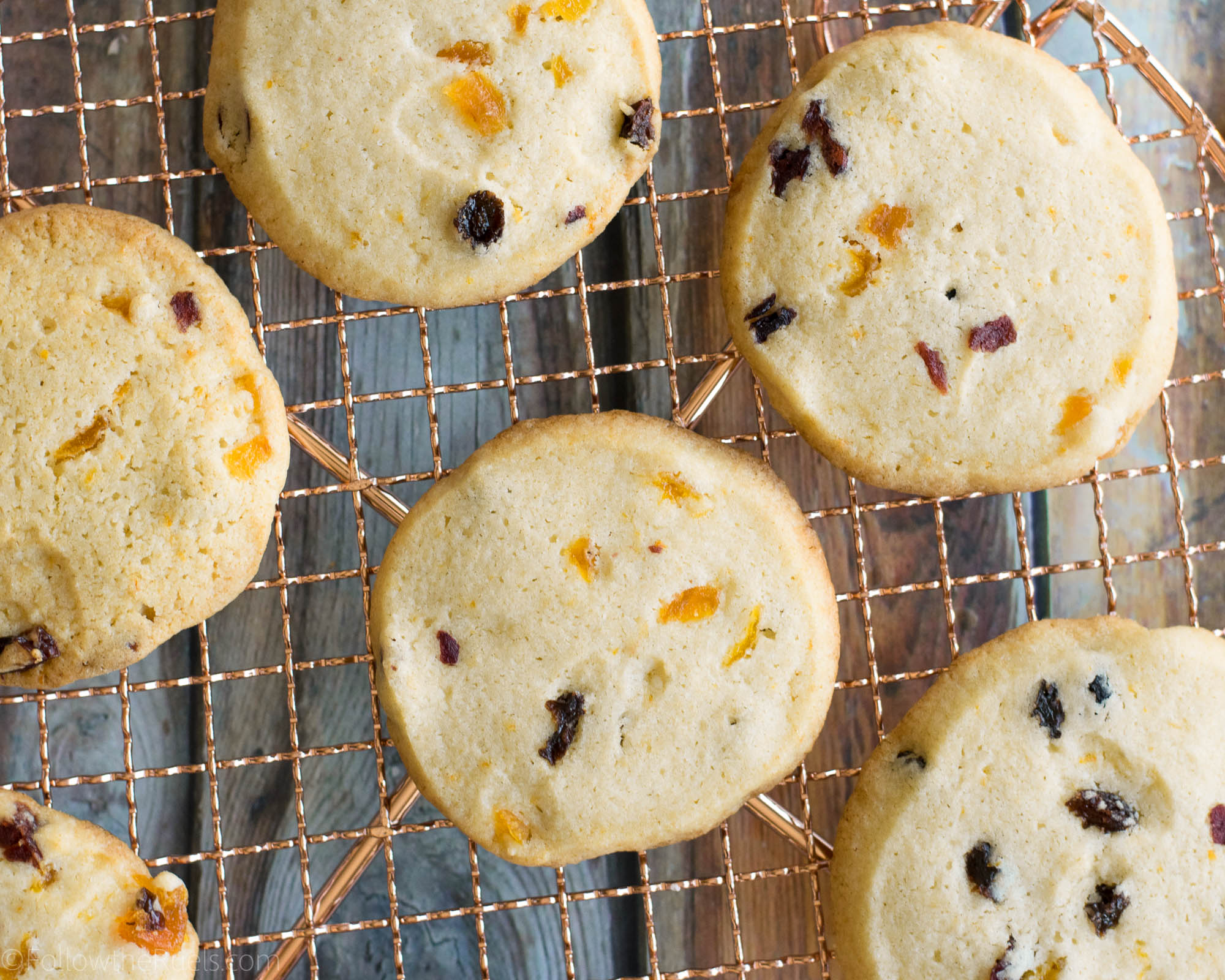 Once these cookies come out of the oven, they will be nice and golden brown around the edges, but still nice and soft in the middle.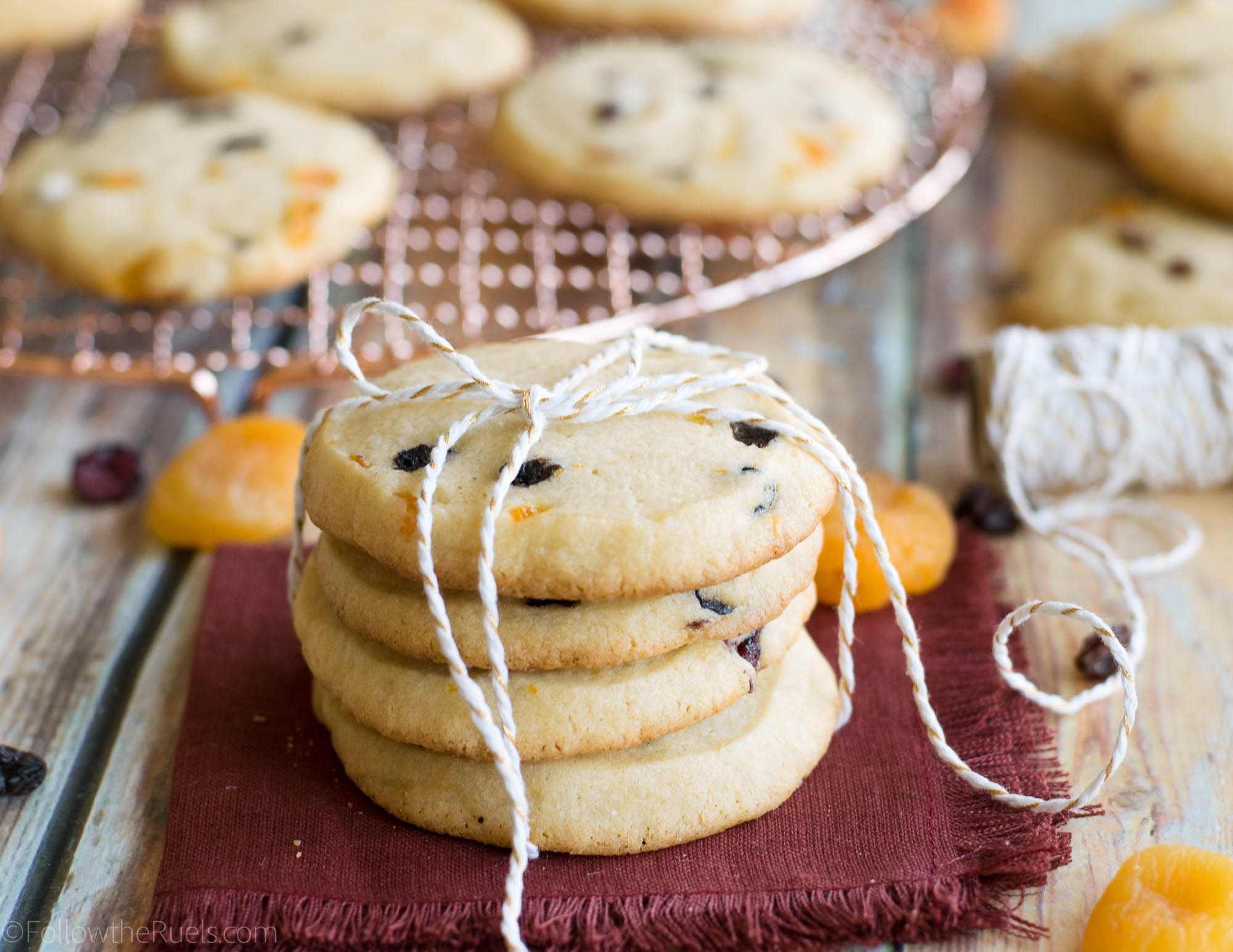 These cookies were very different than most cookies I make which are either just plain sugar cookies, loaded with chocolate, filled with caramel, etc. This is certainly the first cookie I have made that had dried apricots!
Which, by my estimation makes these cookies healthy! I'm sure you can get a full serving of fruit in if you eat enough of them (*Clearly I am not a nutritionist, so please don't actually try to eat these cookies for their nutritional value).
Either way, make these cookies for the holidays in place of that dreaded fruitcake, or even in place of the much more appetizing Panettone. It's like you made your very own Panettone loaf without all the hard work!
[yumprint-recipe id='146′]