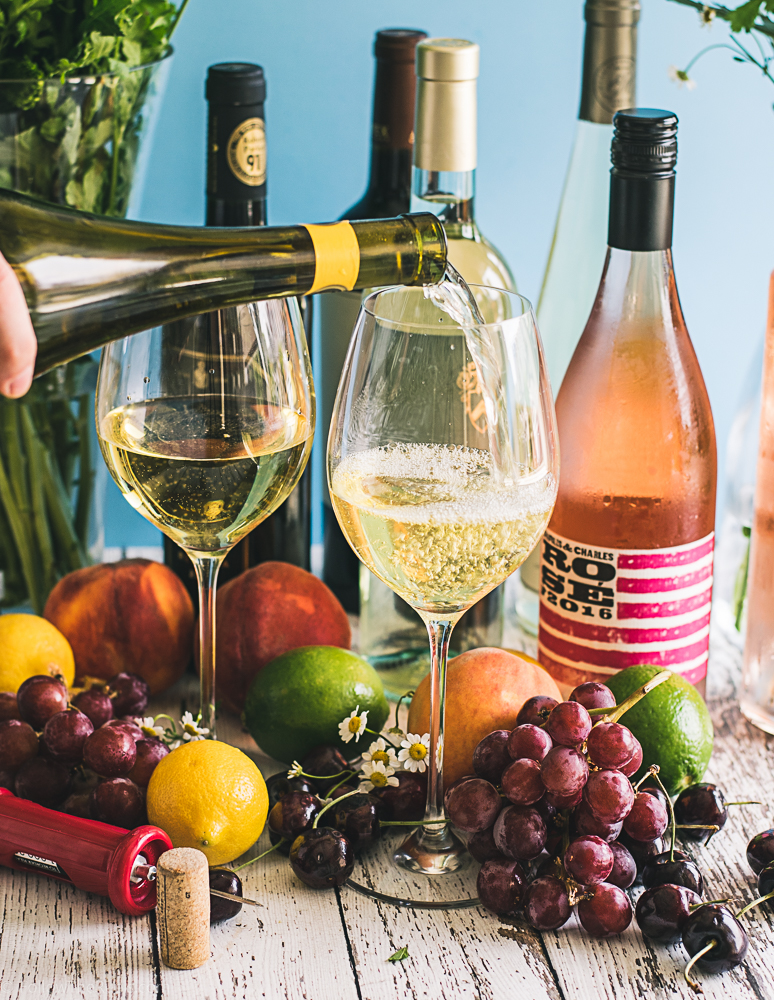 I'm a wine girl at heart. It's my go-to drink out at a bar, at dinner, at a wedding, or at home after a long day at work. (Side note: if you ever see me out and want to buy me a drink, I will happily accept any glass of white wine. I just thought I would let you know for future reference.)
While I have my go-to wines that I will drink year round, my tastes change a bit with the season. I find myself drinking more light and crisp whites and fruity reds during the Summer. Of course, I am not a wine expert (although I have watched Somm and Somm: Into the Bottle, sooo…) but over the years I have learned to look for flavors that are in season during the Summer, such as citrus, berry, stone fruit, jalapeno, or tropical fruit. These are typically the best wines for those hot Summer days or to pair with anything hot off the grill.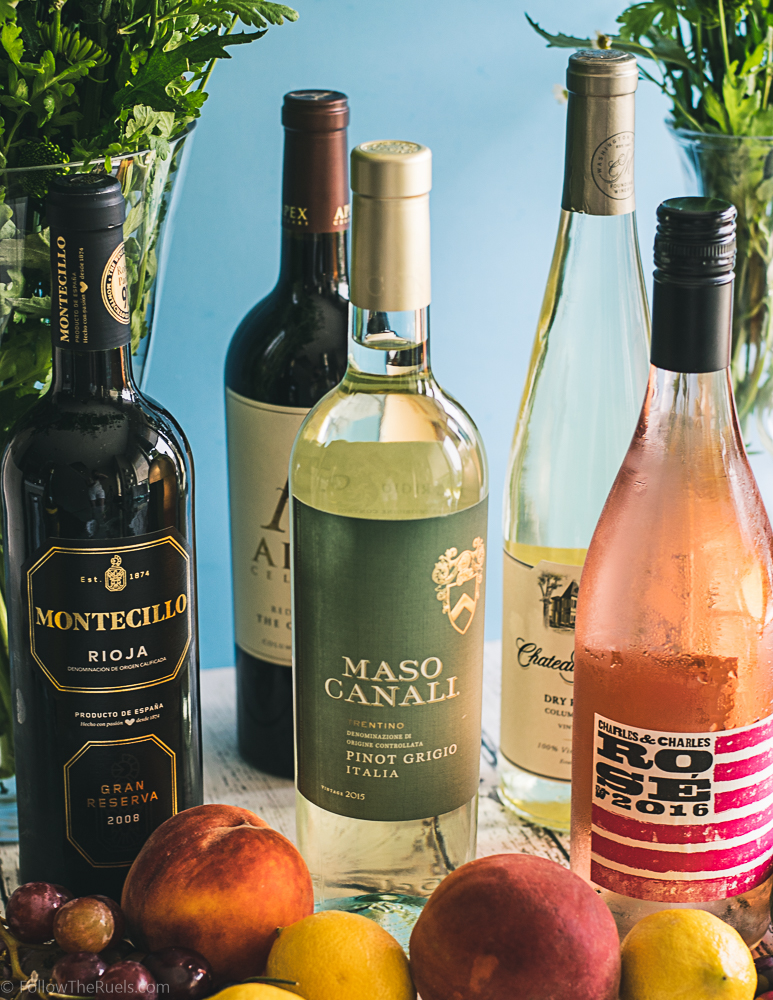 My Favorite White Wines
White wines are my go-to year round, but especially during the Summer. My favorites tend to be those that have a lot of citrus notes, like grapefruit, orange peel, or lemon because they are so light and refreshing. I will also tend to try anything with hints of peach, nectarine, melon, pear, apple….basically anything you would toss in a fruit salad.
My favorite white wines definitely check all of those boxes. Lots of fruitiness going on. And since I describe wine like a bowl of Fruit Loops, I thought I would find the best reviews on Vivino to help convey my thoughts in a much more eloquent manner.
Roi Dagobert Dry Riesling – "Dry and good. Not setting the world alight but easy drinking." – Fergus (Well, Fergus, maybe you aren't setting the world alight, ever think of that?!!)
Maso Canali Pinot Grigio – "Grassy and acidic. Not shy or sweet. Enjoyable. A balance of crisp and smooth. Peachy." – Stephen (I appreciate that Stephen also described the wine's personality. There is nothing I hate more than an outgoing wine.)
Converge Zone Cellars Chenin Blanc – "light, crisp, refreshing" – Ellery (Okay, that was the only comment on this one…even I could have come up with that.)
My Favorite Rosés
Rosés are somewhat of a new wine for me. Up until last Summer, my only association with rosé was White Zinfindel. Not really my cup of tea (or wine!). But ever since trying the first rosé on my list I have been a fan!
Charles & Charles Rosé – "My first bottle exploring what is Rose. No longer dominated by White Zin's, it is a refreshing departure. Fruity, dry and light. Perfectly enjoyed on the front porch on a warm night. Beautiful." – Dave (Damn Dave, just taking the words right out of my mouth.)
Brin de Rosé Rosé – "Nice floral and potpourri on the nose. Beautiful and clean pink color. Light red berry and citrus on the tongue. Light bodied, dry and extremely refreshing. Medium acidity bring the refreshing/tingly feeling to the corner of your mouth. Simple finish that leaves your wanting more. Perfect pool side." – James (Now that's a review.)
Kirkland Rosé – "Very solid Rose. Especially for the price. Serve nice and chilled. Very crisp and light. Slight hints of sweetness balanced by subtle fruit flavors like strawberry." – José (Can't beat that Costco value!)
My Favorite Red Wines
Let's be honest, if it weren't for my husband (and sangria), I probably wouldn't drink any red wine in the Summer. But since my husband only drinks reds, I have come to love a few that we will drink again and again. Most of my favorite reds have very strong flavors of cherry, vanilla, raspberry, and orange. Really any wine that would also be good as a sangria.
Kudos Pinot Noir – "Raspberry and tart red cherry. Light bodied but concentrated fruit flavors. Dry clean finish that lacks intrigue. The focused bright fruit keeps me coming back for more sips. Long Monday Pinot." – Patrick (This isn't any ol' Monday Pinot…it's a looooong Monday Pinot. Get it straight.)
Montecillo Rioja – "2005 was a very good year for Rioja and this Gran Reserva doesn't disappoint. Translucent ruby red color. Cedar, vanilla, and spice in the nose. Medium to light body, low acidity, and fine groping tannins. Topical Rioja flavors and structure with good balance. Medium length finish with a spicy and slightly bitter end." – Adrian (First, Adrian knows his shiz. Second, I don't like the sound of 'groping tannins'. Keep your hands to yourself, tannins.)
19 Crimes Shiraz – "HANDCUFF ME TO THIS WINE FOR SOME S&M!……….Sip and Muse. What were YOU thinking I meant?! Complex. Deep. Bold. Elegant. Rough. Tough. Girded. Graceful. 19 Crimes always mesmerize me. Confuses me. Leads me astray down perilous purgatorial paths that leave me panting. Try it. It would be a CRIME not to. It might imprison you in its crazy clutches, but trust me, it's worth doing TIME for this wine!" – Linda (I think Linda needs a boyfriend…)
Where I Buy Wine
In case you are wondering, we buy most of our wines at Costco. Actually, that's how we found a lot of these wines. My husband always looks to see which ones are low in stock, then picks up a bottle because "it must be good!". The only problem with Costco is that they don't have as much variety as some other wine stores. Our favorite here in Charlotte is Total Wine. They seem to have just about everything. We even found the exact bottle of wine that Billy and I had on our first date (from some really obscure vineyard in Provence).
You can also buy your wine from Amazon because Amazon sells everything now. But I did notice that their selection wasn't great. Maybe it will get better as they get more distributors.
Wine Accessories
You don't need a lot of accessories to enjoy a good glass of wine, but there are a few things that I have picked up over the years that can certainly help. First is our wine opener. A friend gifted this to us a couple years a go and we haven't looked back. It's like popping open a bottle of Champagne every time!
Second are these wine ice cubes. They come in lots of shapes and forms, but essentially they keep your wine cool if you are a slow drinker like me.
The last thing (or things) is this wine thermos. We took it with us to the beach and it kept a bottle of wine pretty cool almost all day. Think of it as a Yeti for your wine. It also makes a great gift, which is how we got it…from the same friend that got us the wine bottle opener. I wonder if she's trying to tell me something?
One last thing I will mention is the Vivino app. It's an app that lets you track your favorite bottles of wine. You take a picture of the bottle and rate it, then it will save it to your list and build recommendations off of wines you have liked. It's a pretty great way to keep track of your favorite bottles!
Have I inspired you to pour yourself a nice tall glass of wine? I have certainly inspired myself. Cheers!
[show_shopthepost_widget id="2757435″]