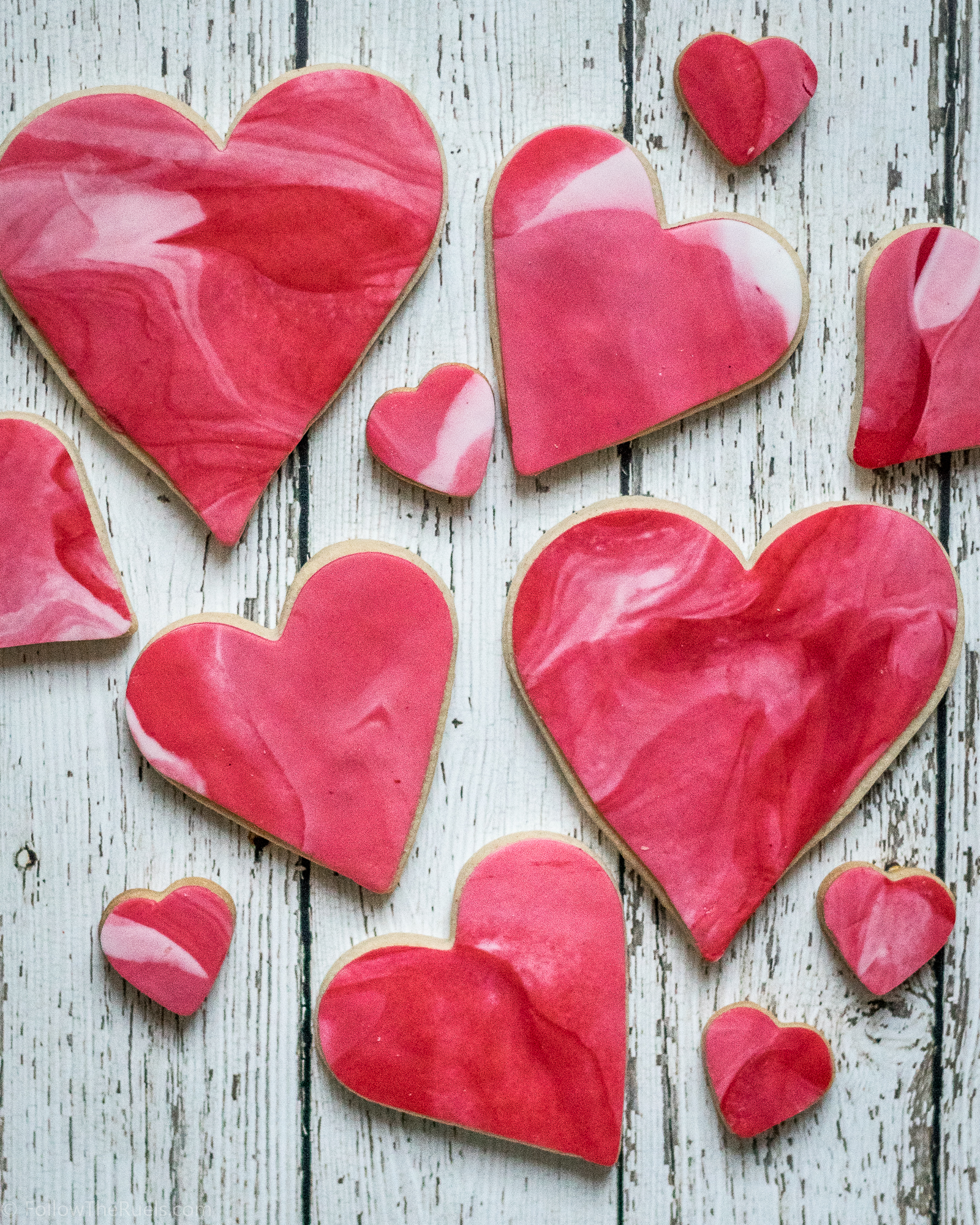 We are only a few short days away from Valentine's Day my friends. Which means I am trying my hardest to get in all my Valentine's Day posts! One post that I have been meaning to share for a while, but kept getting pushed to the back burner, is these SUPER EASY Fondant Valentine's Day cookies.
I stress the SUPER EASY because they are just that. If you have ever played with Play-Doh as a kid, then you know everything you need to know to recreate this marbled effect.
The reason I love working with fondant so much is that it doesn't require any icing. Don't get me wrong. I love working with royal icing. But making up all the icing and decorating each cookie is time consuming. Sometimes you just want to do something simple and easy. You know what I mean?
Also fondant doesn't require any special skills or equipment. All you need is fondant, a rolling pin, and cookie cutters. The last two I assume you already have if you are making cookies. But if not, you could sub the rolling pin for a wine bottle (I know you have one of those lying around!) and a drinking glass for a cookie cutter.
So to get the marbled affect I first divided my fondant into different pieces and colored them all with various shades of red. To dye the fondant, I added a drop or two to the fondant, then stretched and folded the fondant on top of itself. I would highly recommend wearing food safe gloves for this, if you have them, so your hands don't turn bright red.
After all my pieces of fondant were various shades of red, I rolled them into ropes and stacked all them together to form one multicolored piece of fondant. From this point on I just kind of haphazardly folded and stretched the fondant (just like I did when I was coloring it), in different directions, until I was happy with the effect.
Note: the more folding you do, the more the colors will blend together. Eventually, it will just turn into one color, so stop before you over do it.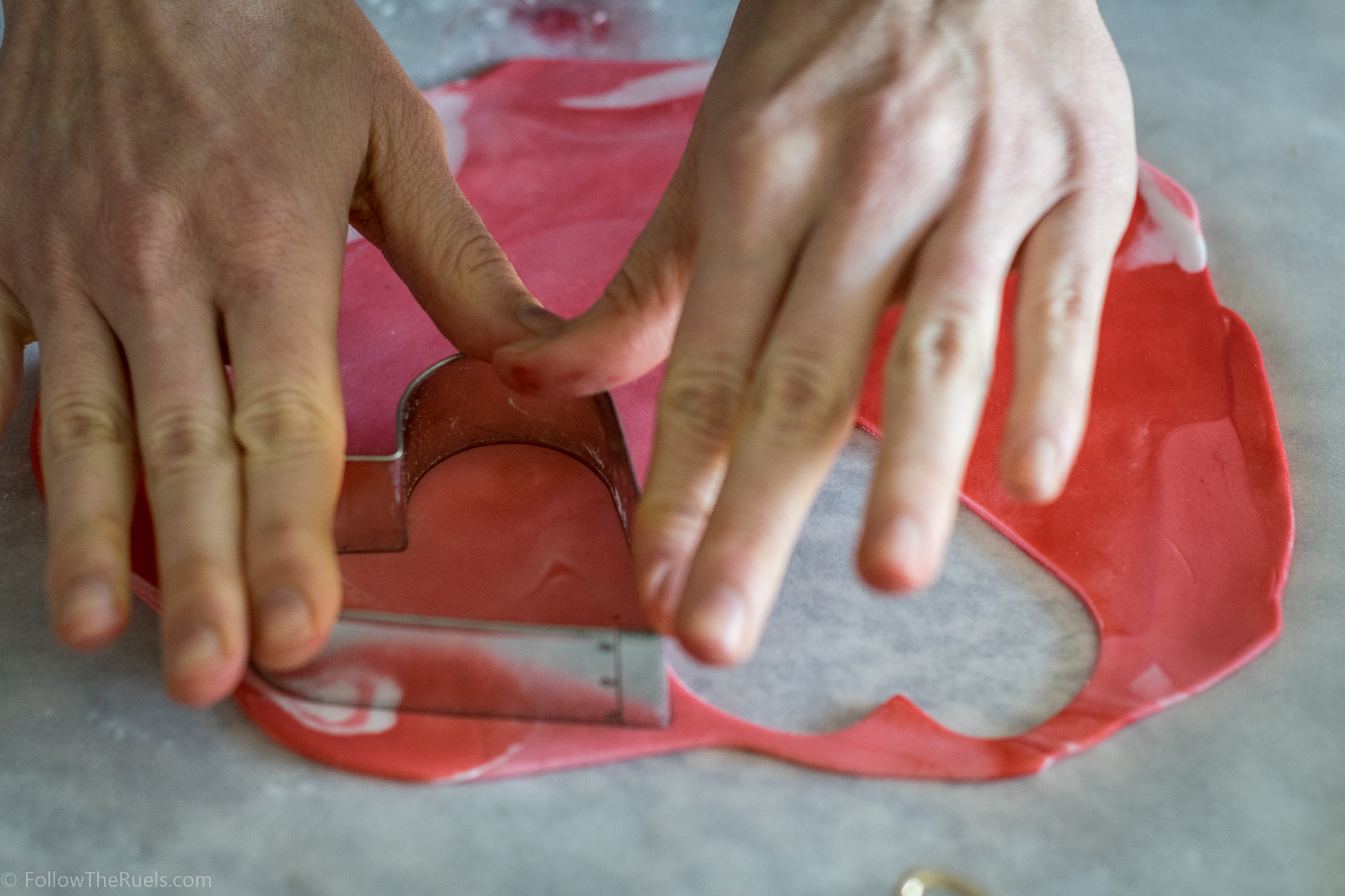 Once I liked how my fondant was looking, I rolled it out into a really thin sheet. If you have a fondant roller and/or rolling pin bands I would recommend rolling it as thin they will allow. Most people aren't huge fans of fondant because it can be a little gummy. But if its rolled really thinly, hardly anyone will notice!
After it's all rolled out I cut it with the same cookie cutter that I used to cut out my cookies. Then I brush one side of the fondant with water and stick that to the cookie. I use my fingers to rub out any lumps or bumps. I also like to run my fingers around the cut edge to make sure that it's nice and smooth.
And….that's it! Now tell me that's not easy. I dare you!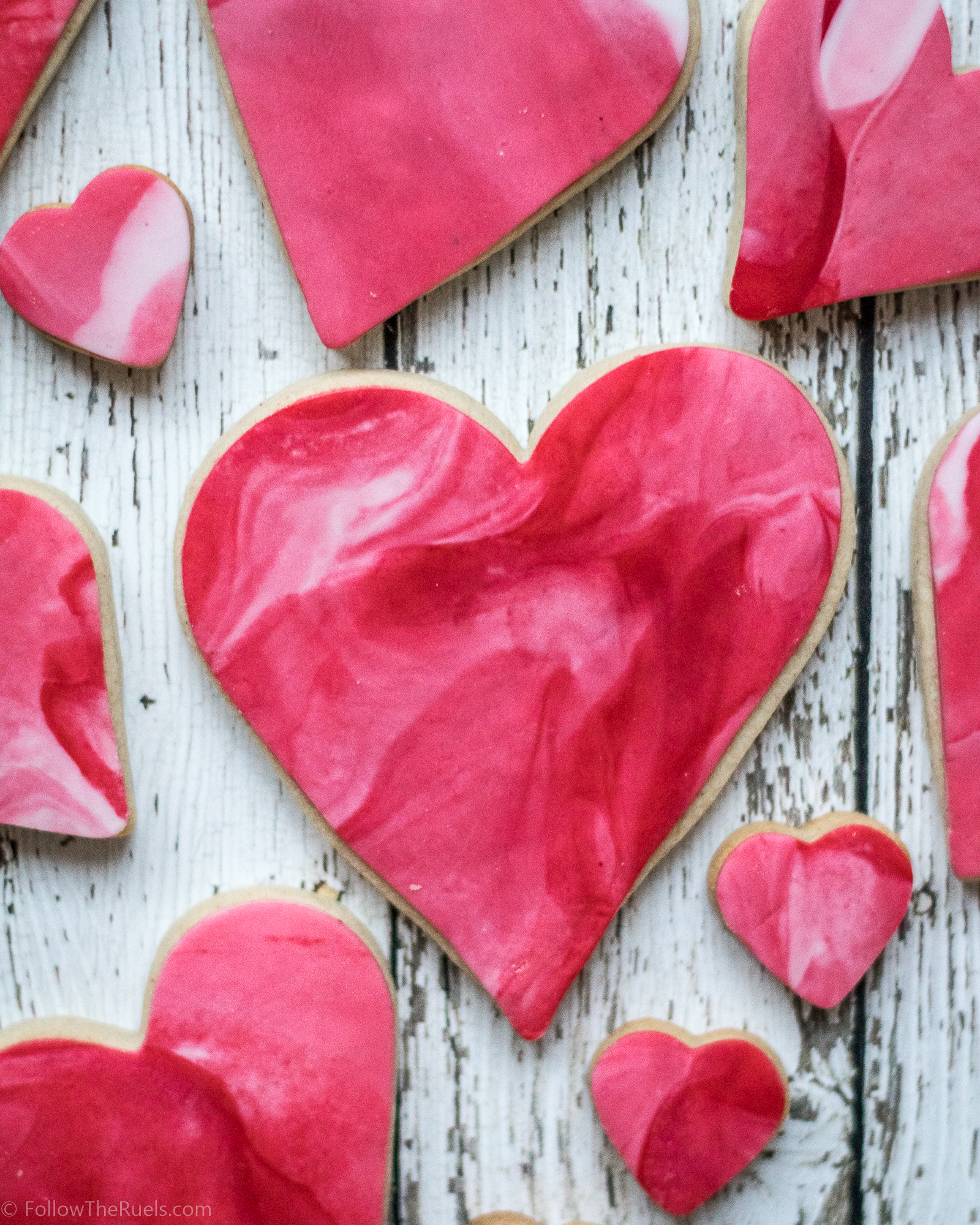 If you make these for Valentine's Day I can almost guarantee that people will be impressed with your cookie decorating skills. You don't need to tell them that a 5 year old could make them. That little secret can stay between us.
Happy Valentine's Day!
[amd-yrecipe-recipe:127]
ITEMS USED IN THIS POST
[show_shopthepost_widget id="2413095″]