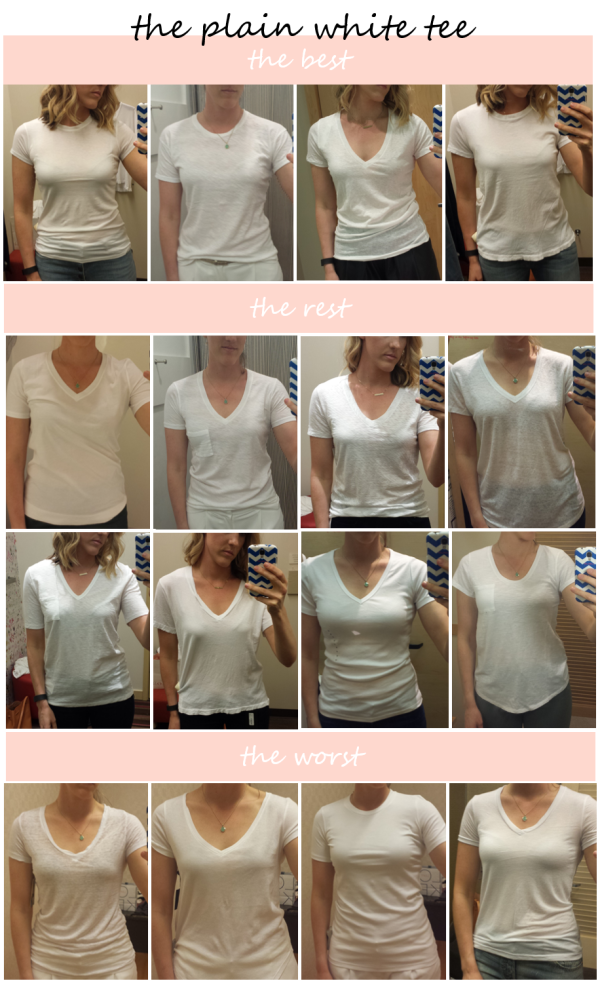 The best (L to R): Vince Basic Tee $60, Madewell Slub Crewneck $30, JCrew Vintage V-neck $25, Current Elliot 'The Petit' Cotton Tee (size 1) $78 (size 1) The rest (L to R) top row: Ann Taylor V-neck $20, Madewell Slub V-neck $30, Rag & Bone/Jean The Classic T $80, Gap Linen V neck $30 (size XS) bottom row: Theory Nebulous Kovin V Neck $80, Current Elliot V Neck (size 1) $78, Gap Modern V $13, Loft Broken-in Vintage Tee $23 The worst (L to R): Hudson, Polo Ralph Lauren, Theory Johanna Shirt $75, BP V-neck Tee $19
Over the past few weeks, I have tried on almost two dozen white tees. I scoured my local mall, visiting just about ever store I thought might have a plain white tee, all in search of the perfect plain white t-shirt.
To me, the perfect plain white tee is comfortable, machine-washable, flattering but not too fitted, and not too see-through. I was going for something more on the 'slub-ier' side, meaning lose fitting with the almost worn in look.
My favorites were the Vince and Madewell crew neck shirts. The Vince shirt won me over for its quality. Far and away, the Vince shirt just felt better than any other shirt I tried. The cotton is amazingly soft and really great quality (I would hope so for the price!). I would definitely want to size up though (I bought the small to photograph, but will be returning for a medium when it comes in stock). I think its supposed to be a bit fitted, and I would prefer it to be a bit looser.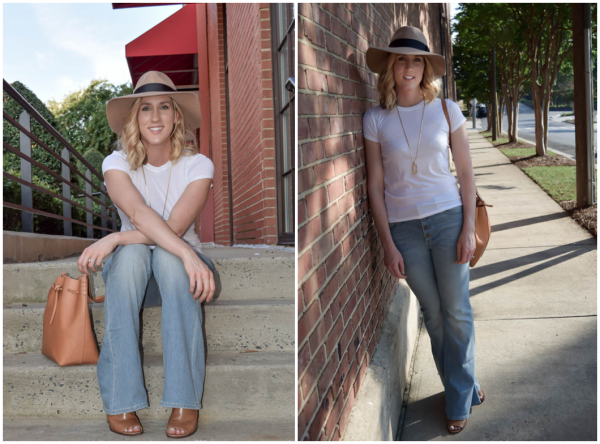 Outfit: felt hat, white tee, flared jeans (under $100!), necklace, similar shoes, bag
Side note: I found a really cute pair of flared jeans with a serious 70's vibe while I was on my tee-search. I had to include them in my pics of the shirt because I am loving them. I was never built for skinny jeans…
The Madewell tee just had the perfect fit for me. A little slub-y but not too baggy, incredibly comfortable, and with a much better price tag. It is slightly see through, which I am fine with, but I do wear a nude tank when I wear it to work. I literally wore it 3 days in a row. The picture below is on day 3. Still looking good! Although, I won't comment on the smell…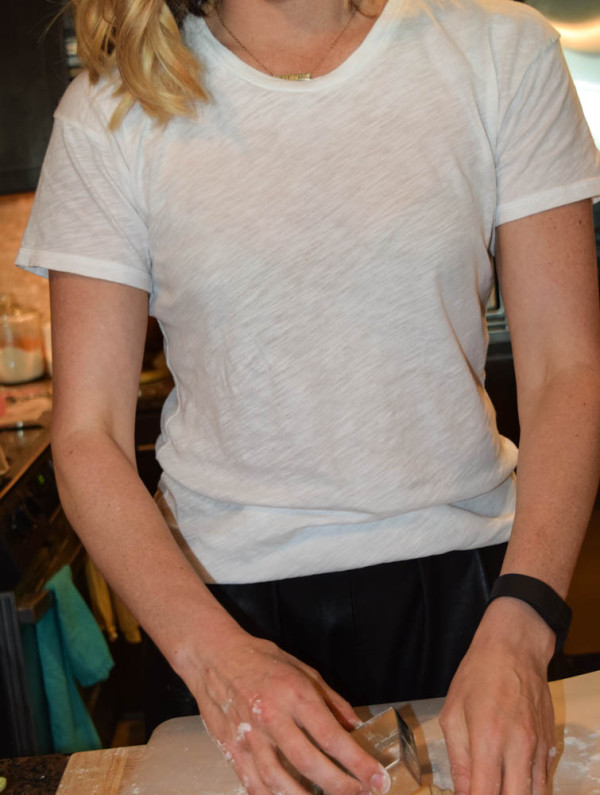 I could have probably bought all 4 that were listed as the "best". The J Crew one was a lot like the Madewell shirt, but a v-neck. And the Current Elliot shirt just felt sooo….cool! It had that worn look to it, but wasn't see-though and felt so soft. The seams we perfectly frayed for that ultimate "oh, this old thing?" look. BUT it was $78!! For a shirt that looks likes its 15 years old (in a good way)? No. Thanks.
For the most part, the "rest" shirts were perfectly fine. Some were just too expensive without being all that special. Others were either a bit too see-through or didn't have a good fit. The "worst" shirts were either really terrible quality (the BP shirt on the bottom right, I'm looking at you) or terrible fit.
Did I help any of you in your search for the illusive plain white tee? Hopefully so, but take my recommendations with a grain of salt. You may have different preferences in fit and style than I do.