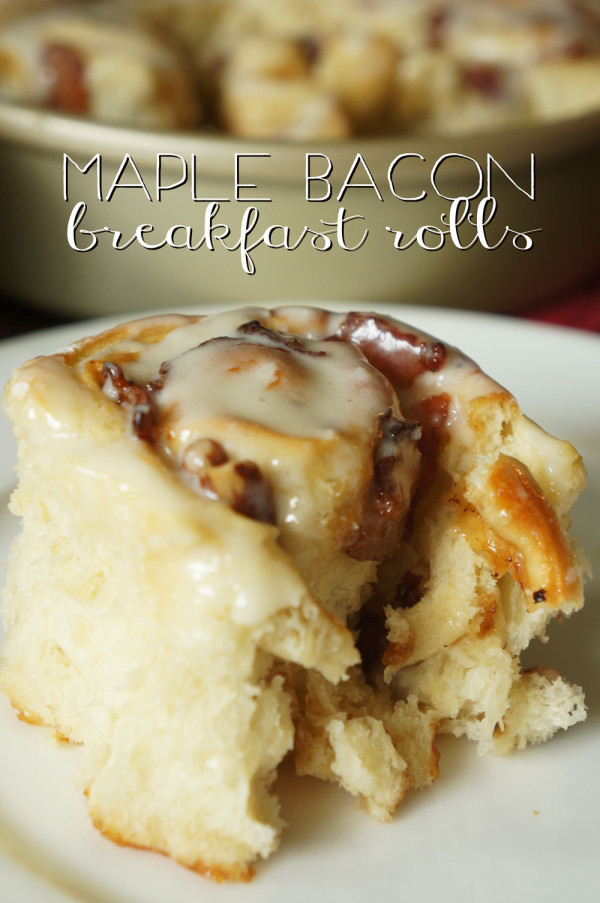 Sure, I could tell you that these breakfast rolls were inspired by the maple bacon donut my husband had on his trip to Portland. But do I really need to explain myself? I don't think so. So I felt like dousing a bacon-filled sweet roll in maple-spiked cream cheese icing. So what? It was delicious!! I regret nothing.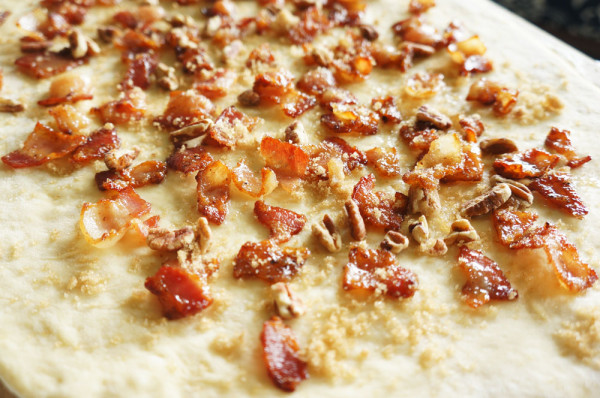 I started with a basic cinnamon roll/sweet roll dough, rolled out to roughly the size of a large baking sheet, then sprinkled with candied bacon bits, brown sugar, and pecans. To make the candied bacon, I cooked up some diced bacon, then added a little maple syrup and brown sugar to form a glaze. I didn't add any butter to the filling like you might with a cinnamon roll because the bacon has enough fat. As the bacon cooks even more and brown sugar melts, it forms a sweet and salty filling in the rolls.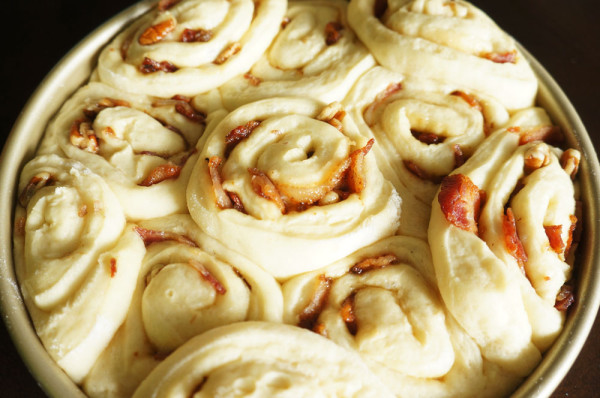 Please don't judge my roll organization. I realize that I made two critical mistakes: 1) the pan is too small and 2) the rolls are not placed for optimal baking. But oh well…they all taste the same in my mouth.
Moving on.
After rolling the dough up and cutting into about 2 inch rolls, I placed them in the pan then let them rise until they were pretty much over flowing from the pan (see above).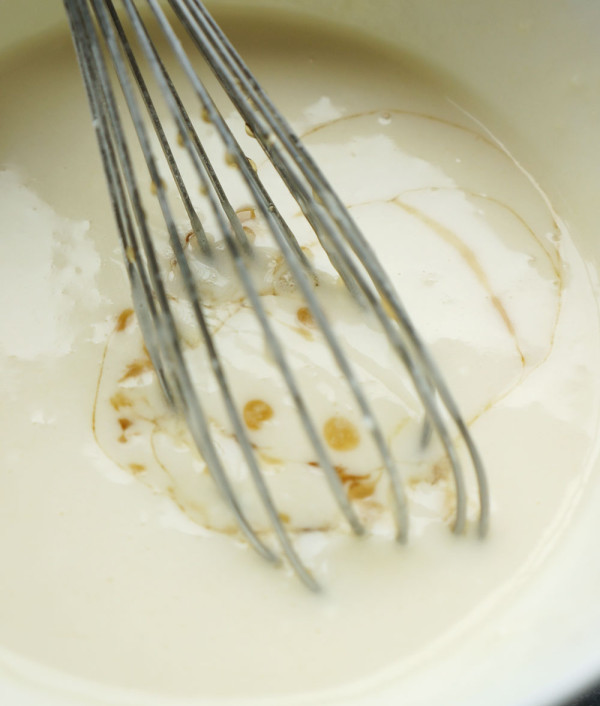 While the rolls baked, I whipped up a batch of maple icing. I started with a fairly standard cream cheese icing but substituted part of the milk for maple syrup until I reached the optimal maple flavor.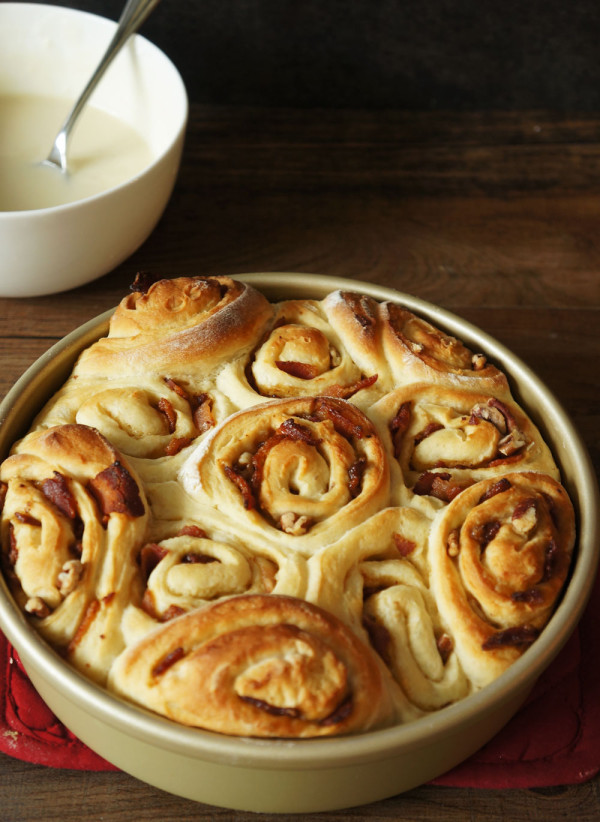 See that bacon peeking out? Yum, right? All these need is that icing….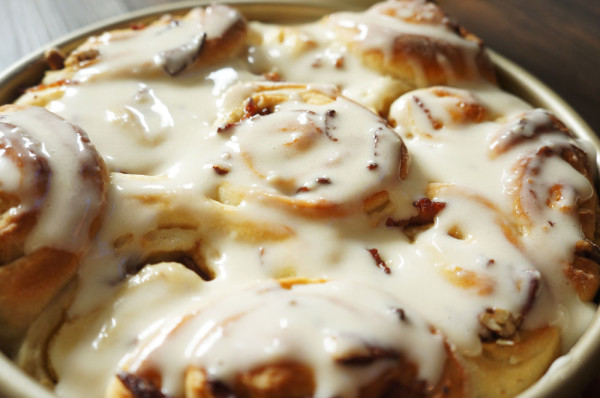 There we go.
Drooling yet? Just me?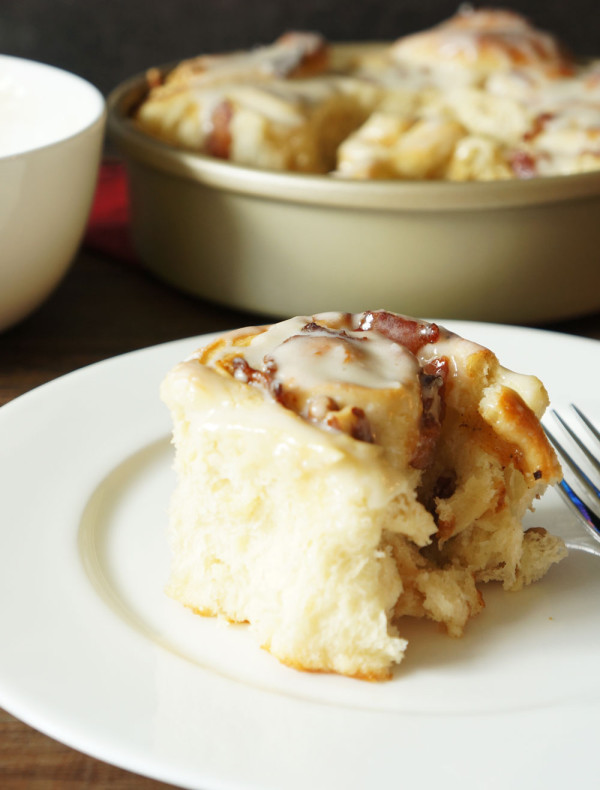 My husband and I wasted no time digging in. Even though he is not a breakfast nor sweets lover, he loved these rolls! I think it was the bacon. Most sweet rolls can be too sweet (for some…definitely not me), but the bacon really rounds out the flavor and adds just enough saltiness to balance out the sweetness.
Ok, I have to stop looking at these pictures because I just can't handle it anymore. As the kids say these days….I can't even!
Hope you all have a wonderful National Bacon Day!!
[yumprint-recipe id='43']