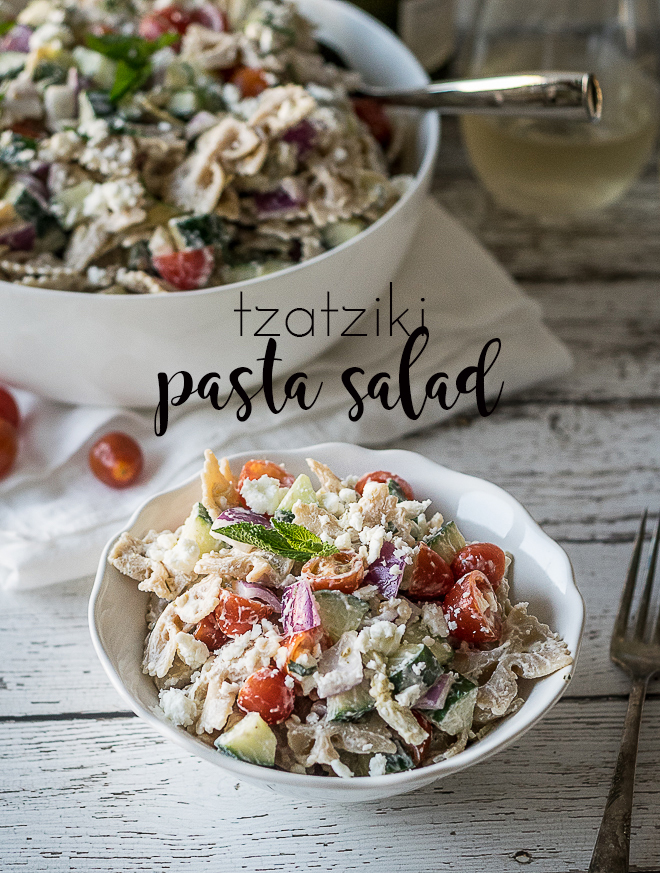 My husband and I recently tried a new Mediterranean restaurant in town that serves the best tzatziki dip and pita bread. It is thick and creamy, and packed with a ton of flavor from the various herbs. As I was eating it I was trying to pick out all the flavors so I could make my own version at home. Then the wheels kept turning and I for some reason got it in my head that this dip would be great on a Greek-inspired pasta salad. I had no idea if it would actually work, but I thought I would give it a shot and find out! Fortunately my husband was out of town when I tested this recipe, so if it didn't work, no one would be the wiser.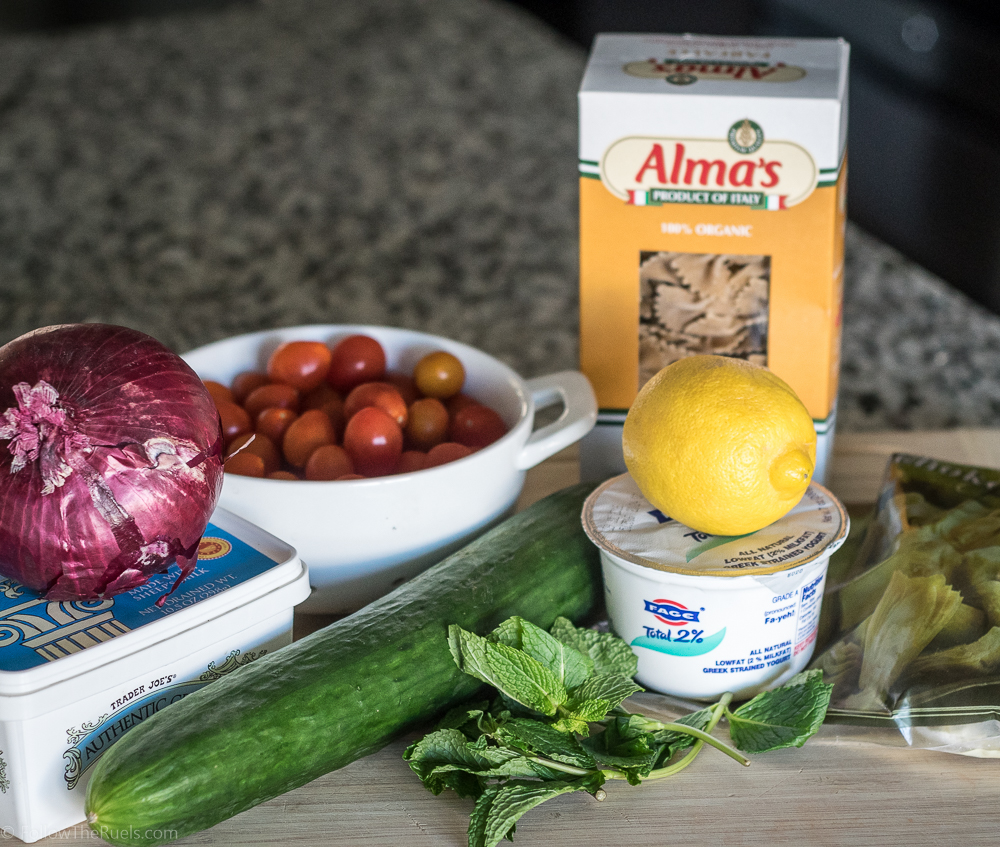 Even though tzatziki is pretty light, (made with just Greek yogurt, lemon juice, and some herbs and spices) I knew that it would make the pasta salad feel heavier than it is since it is so rich and creamy. So to balance out the richness, I used lots of fresh vegetables and some whole wheat bow tie pasta. The vegetables are pretty similar to those you would find in your Greek salad – red onion, tomato, and cucumber. I also threw in some artichoke hearts that I had in my freezer.
To make eating easier, all the veggies were chopped to roughly the same size. I deseeded a cucumber, slicing it into eight wedges, then slicing the long wedges into smaller pieces. I also chopped up half a red onion into relatively large chunks to match the size of the cucumber and halved grape tomatoes. Since a big chunk of red onion might be a little too bitter, I soaked the pieces in some water before adding to the salad. This takes out that harsh bitter flavor from the raw onion.
I also threw in a healthy helping of feta cheese. As a What Gaby Cooking Snapchat follower, I know that the best feta cheese to buy is the bricks of feta soaked in brine which can easily be crumbled into pieces on top. Once it was mixed all together, the only thing left to add was the tzatziki sauce.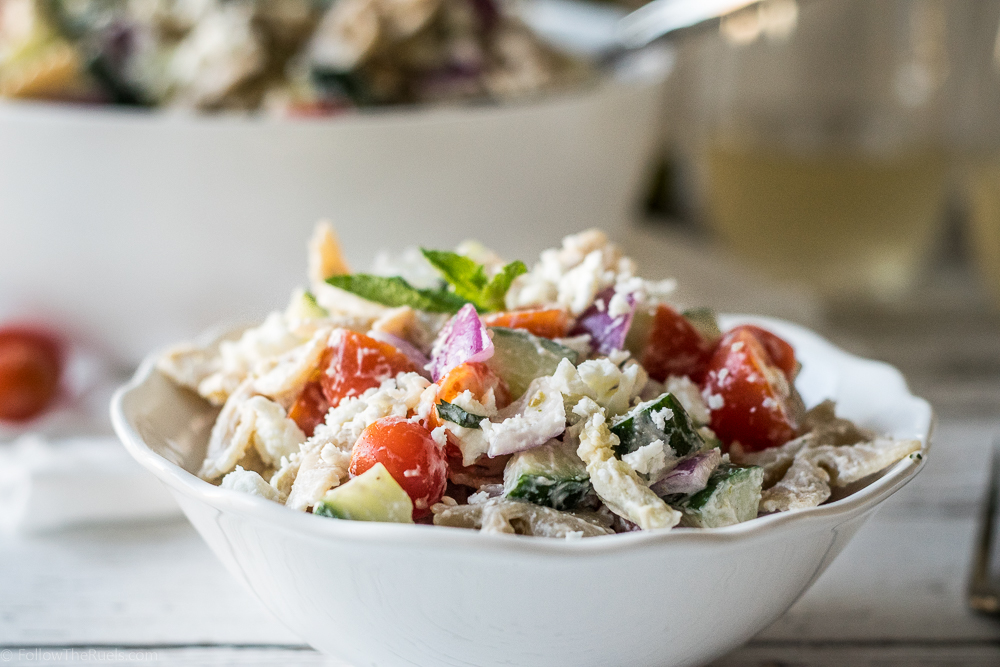 After some serious mixing (this makes a whole lot of pasta salad!) and a change in bowls, I dug right in eager to see how it turned out! Fortunately for me it was delicious! And very refreshing! The tzatziki has a wonderful mint flavor that just coats all the vegetables which make this such a wonderful Summer pasta salad.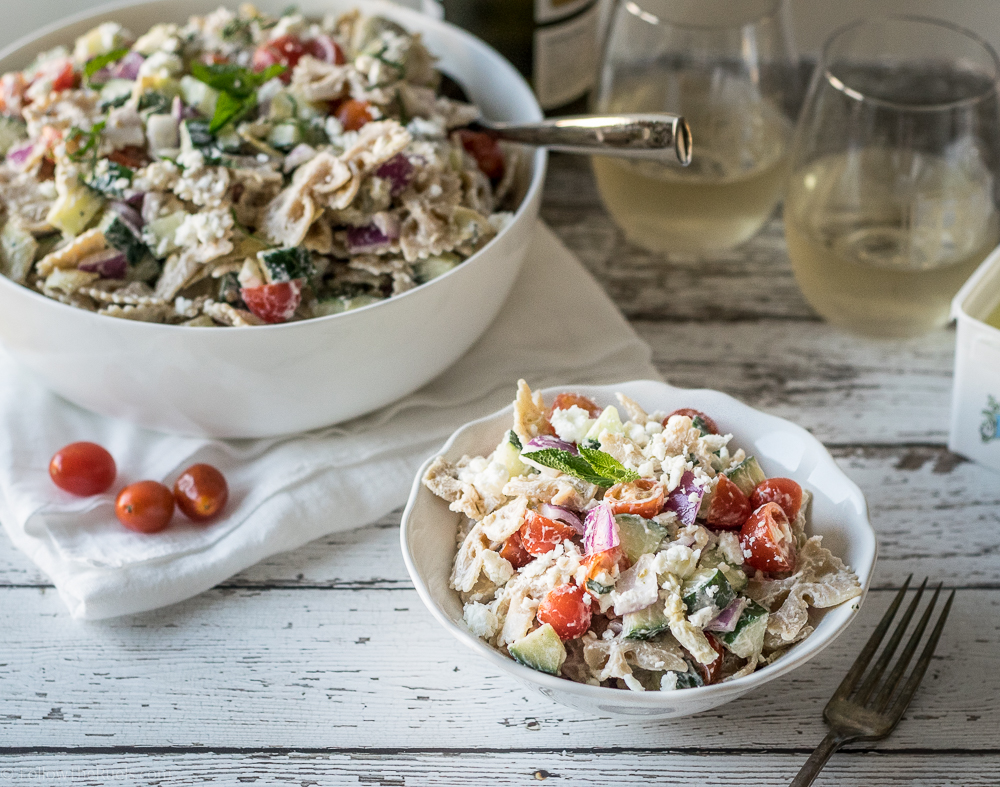 Not only is it a great dish to make for a Summer picnic or barbeque, but it is pretty healthy too! I used 2% Greek yogurt, because I think it tastes better than the non fat version, and a little olive oil in the sauce. And other than that there is hardly any fat – and the fat that is in there is good, healthy fat. It is also packed with lots of vegetables, lemon juice, and garlic, and herbs that all have their own health benefits.
Have I sold you yet? Well, if a pasta salad with Greek yogurt is what is holding you back, you could easily make a Greek style dressing using almost all the same ingredients as the tzatziki, but swapping the yogurt for some vinegar and tossing the salad in that. That would be equally delicious!! And now you have no excuse not to make it!
[amd-yrecipe-recipe:47]