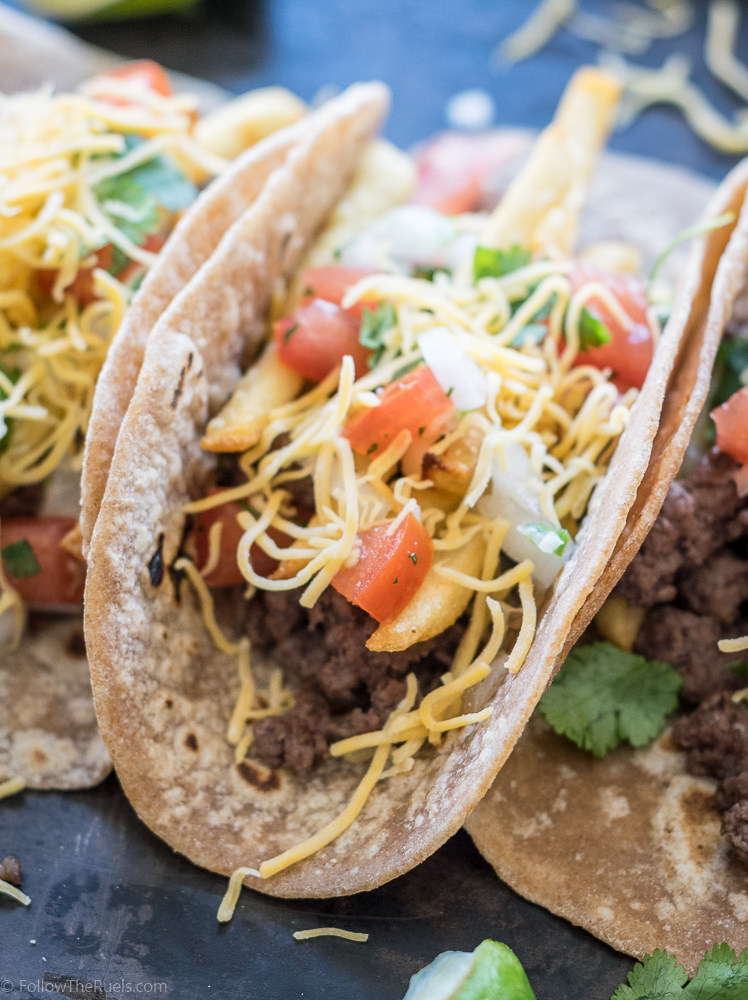 Unless you are from Southern California or have spent a significant amount of time there, you may assume that a "California taco" is a taco with avocado in it. It's a safe assumption. Just think of the California Roll or any California-named sandwich.
But if you are from Southern California, like I am, these tacos may remind you of the ultimate food with the Golden State as it's namesake….
…the California Burrito!
For those who are unfamiliar, the California burrito is a classic carne asada burrito with FRENCH FRIES! Don't ask questions, just know that it is delicious. My all time favorite California burrito is the Surf n' Turf California at Lucha Libre in San Diego or Santana's classic California burrito, which was a staple in High School. But just about any Mexican food spot in San Diego will have their own.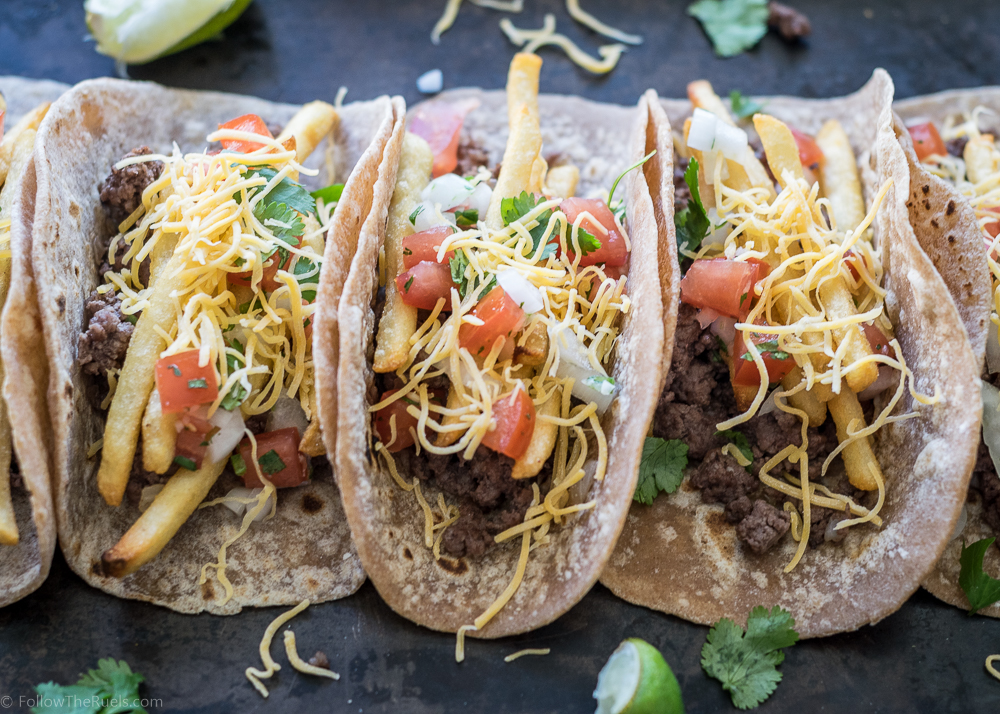 Of course, now that we live in the South, California burritos are completely non existent. Heck, a good burrito of any kind is hard to come by! And I can only get my fix during my annual trips home.
But it was on my last annual trip home that the inspiration came for these tacos in the form of a giant billboard advertising one restaurants own California tacos! I have no idea what restaurant or fast-food chain was advertising. I just saw a taco with French fries and I knew I could replicate that at home!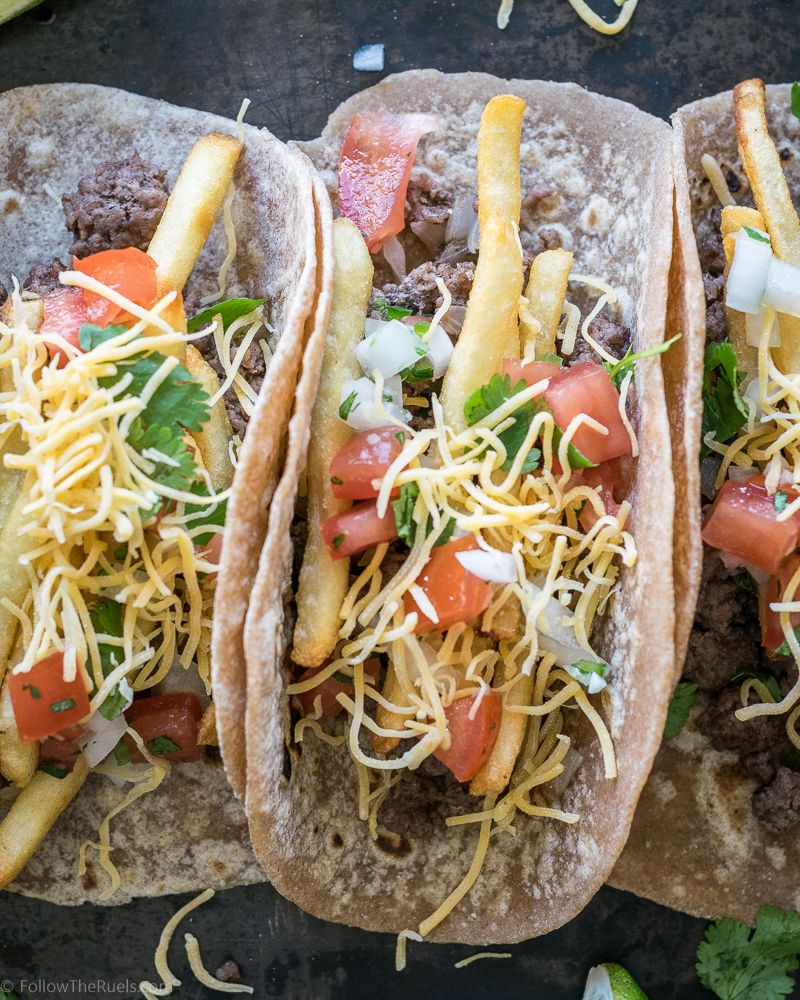 The tacos came together so quickly, we forgot to take pictures along the way. All we did was brown up ground beef with onion, jalapeno, and garlic while the store-bought frozen french fries crisped up in the oven. Once the meat was ready, we stuffed our tortillas and topped it with the fries and some pico de gallo. I made my homemade whole wheat tortillas because they are so much better than store bought and easier to make than you may think!
You could use carne asada instead of ground beef if you want to be super authentic. But I think the ground beef works perfectly! It's also much easier than grilling up some carne asada.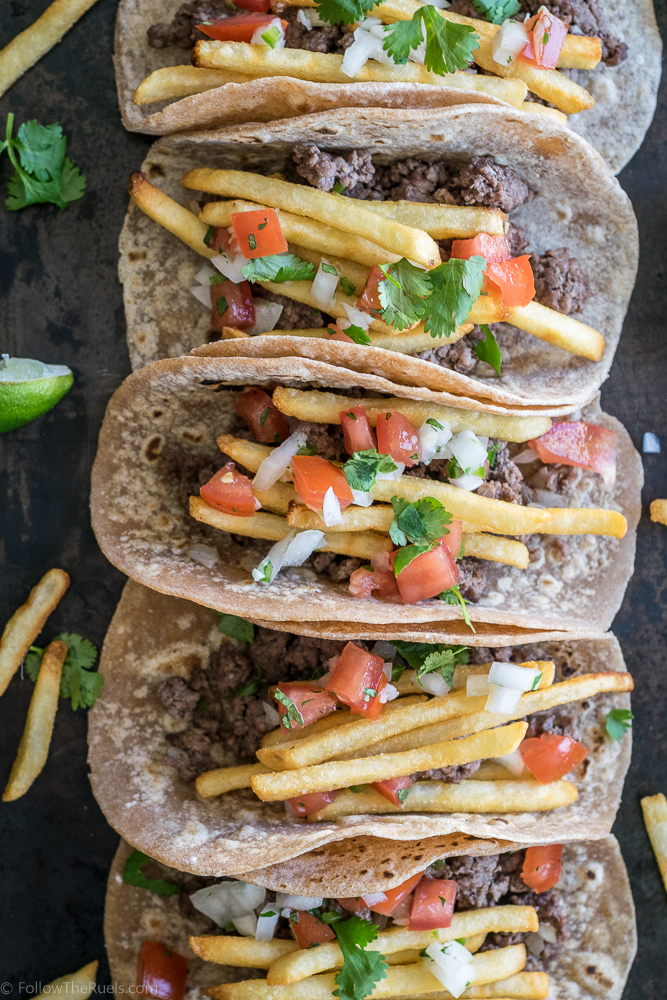 These little tacos were freaking fantastic! Not only was my husband in heaven, but after one bite, I was transported back to my high school days when we would grab a burrito on our way to the beach after school to cheer on our surf team.
Was that the most California thing you have ever read? Well don't worry, it's not true….I wasn't cool enough in high school to cheer on our surf team. But the burrito part is totally is. 😉
[amd-yrecipe-recipe:118]
PIN NOW, MAKE LATER