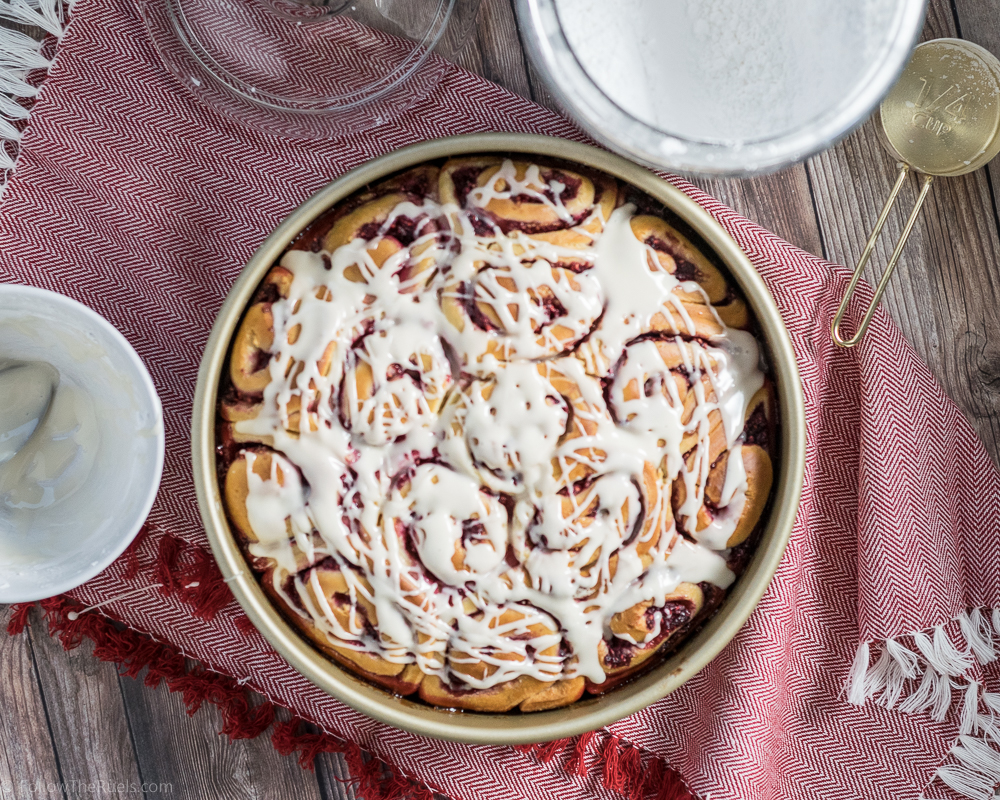 If there is one thing that I don't have to worry about when I go home and visit my parents it's going hungry. We are always well fed no matter where we go; especially at my dad and stepmom's house. My stepmom is a serious cook! And she spoils us rotten with her amazing baked goods.
While we were home for the holidays she whipped up a batch of raspberry sweet rolls. I don't think I had ever had raspberry sweet rolls before, but I was an instant believer. With every bite I was picking her brain on how she made them. "Did you use jam for the filling?" "Did you add any butter?"
I knew I had to try these once I got home!
The dough is pretty much what you would use to make cinnamon rolls. This is basically a cinnamon roll after all…just without the cinnamon.
I activated the yeast in some warm milk, then mixed that in with some butter, sugar, eggs, and flour. After kneading the dough for about 5 minutes, I placed it in a separate bowl to double in size.
Once the dough was proofed, I dumped it out onto the counter that I had lined with parchment and flour to prevent the dough from sticking. I then rolled it out into a large rectangle and spread some softened butter over top.
To get the tiny pieces of raspberries, I used my stepmom's trick and put the frozen berries in a bag, then whacked the crap out of them with a rolling pin. It's great for stress relief! The raspberries just break apart into tiny little raspberry pellets. Which makes them perfect for sprinkling on top of the dough.
On top of the raspberries, I sprinkled on some of the sugar and a pinch of cinnamon. Then I rolled the dough into a tight spiral from one end to another.
I cut the spiral into 2″ discs and placed them in a baking dish, or in my case a cake pan, to bake. In retrospect, I wish I would have used a square or rectangular pan so that they had more room to spread out while they baked.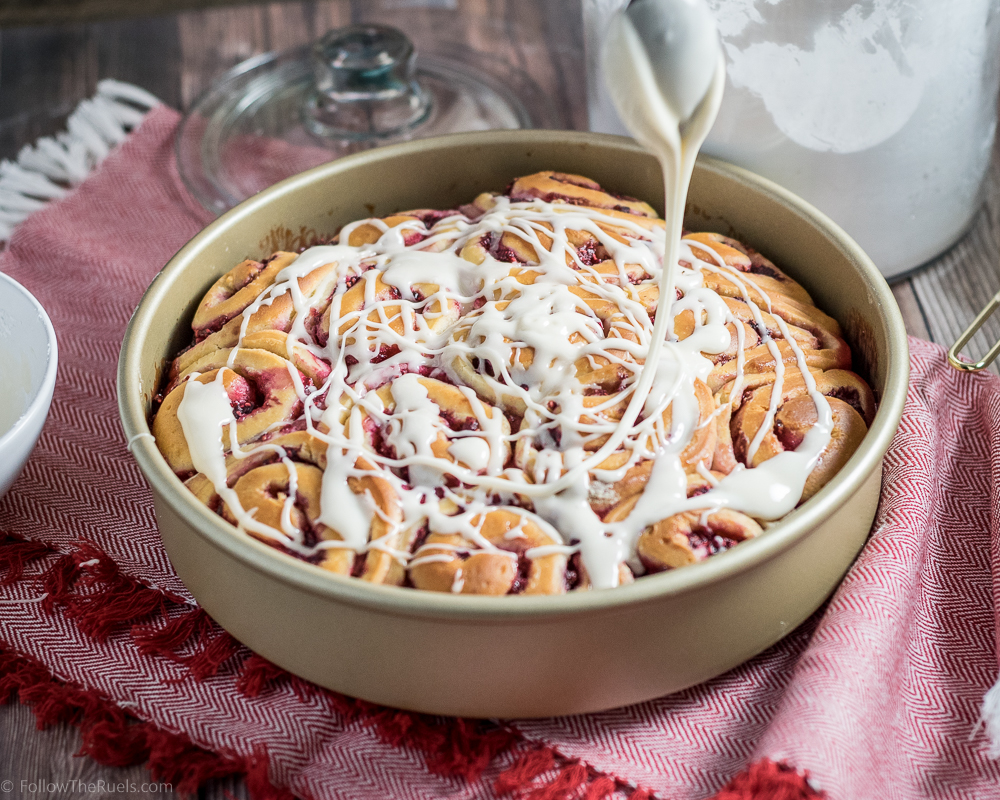 Once out of the oven, I drizzled a simple glaze over the tops and let the drip down into all the nooks and crannies. What is great about these rolls is that they aren't too sweet, so the glaze perfectly compliments the tart raspberries.
These raspberry sweet rolls actually reminded me of the Entemann's Coffee cake my mom used to buy at the store when I was little. And I mean that in the best way possible. I loved that stuff!
I really just loved the bright raspberry filling that just tasted so fresh since it is pretty much just raspberries and a bit of sugar. I also loved the sweet and soft rolls. Everything about these was really just delicious. And dare I say, almost as good as my stepmoms?!?
Okay, I probably shouldn't get ahead of myself. But they were close!
[amd-yrecipe-recipe:119]