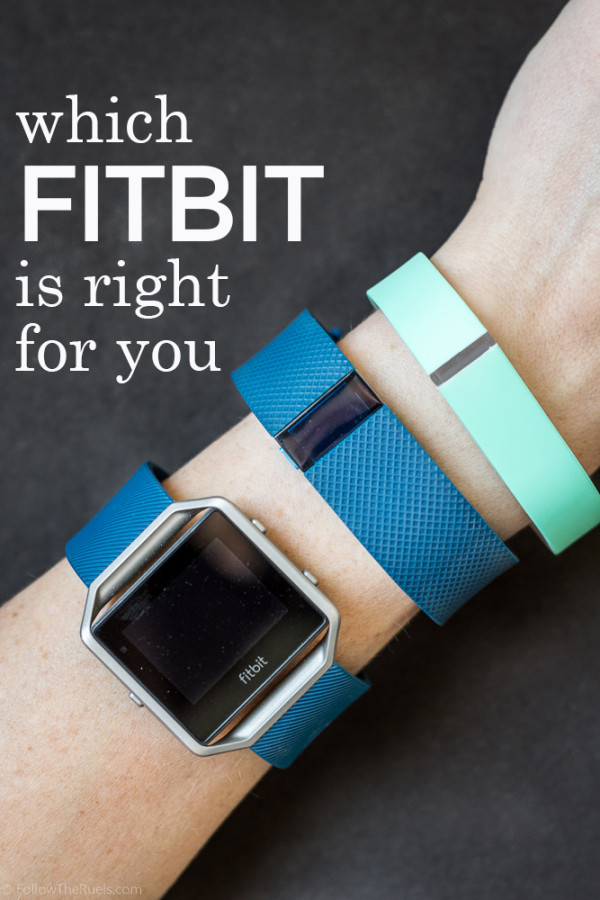 I need to preface this whole post by saying that this is in no way, shape, or form is this post sponsored by Fitbit. Trust me, the only people at Fitbit who know who I am are the fine folks in customer service.
I wanted to write this post because I am now on my third (technically 5th, if you count replacements) Fitbit. I am what they call a committed customer. [Actually, I have no idea how they would refer to me. I should, I was a marketing major. But I don't, hence why I am no longer in Marketing.] I started with the Fitbit flex, then graduated to the Charge HR, and now am on to the Blaze.
I get a lot of questions from friends and coworkers about which Fitbit they should get. While I love my new Blaze, I know it's not for everyone. I have flat out told people not to waste their money on it because I know they wouldn't use all the functionality. But then there are those people who would be wasting their money on a Flex because it wouldn't meet all their needs.
So, I wanted to jot down some of my thoughts on the three products that I have tried to hopefully help you decide which one is right for you.
Fitbit Flex
Who should buy it: Anyone looking for motivation to be more active.
The Flex is one of the more basic products that Fitbit offers. It essentially just tracks your steps and your sleep. While it doesn't have much of a display, except for 5 light-up dots that roughly tell you how many steps you have (1 dot = 0 to 2,000 steps; 2 dots = 2,001 to 4,000 steps; and so on), it does sync with your phone to show you all your basic stats.
Before getting the Flex, I thought I was pretty active, but I was amazed at how hard it was for me to get to 10,000 steps a day. By the end of the day I would be short by 1,000 to 2,000 steps and essentially run in place until I got to 10,000. It not only opened my eyes to how immobile I actually was, but it also motivated me to workout a bit longer and even just get up and walk around during the work day.
Fitbit Charge (HR)
Who should buy it: Active people who want to track their workouts.
The Charge and the Charge HR offer the same features as the Flex, but the display shows your various stats, like steps, stairs climbed, heart rate (if HR) and time. In addition to step counting and sleep tracking, the Charge can also track your workouts. You can press a button at the start of your workout and at the end so that you can get more targeted statistics for your workout.
The Charge HR, the version I have, also tracks your heart rate throughout the day. It's nice because it tracks your resting and active heart rates and generally give you an idea of your overall heart health. I would recommend the Charge (specifically the HR) for those of you who really like to work out and are interested track their fitness level. Similar to my experience with the Flex, I thought I was working out hard, but when I actually could see my heart rate during the workout I was shocked to see that I could (and should) be working harder.
Fitbit Blaze
Who should buy it: Active people who want to be able to track distance and don't want to commit to a GPS or Apple watch.
This is one of the newest models Fitbit has to offer. My husband got it for me the day they came out because he knew I was going to buy it for myself for my birthday. The reason I wanted it so much was because I was a little sick of the look of the Charge HR, and fitness tracking bands in general. I really liked the functionality of it, but was sick of the very sporty, utilitarian look. I was even considering leaving Fitbit entirely and getting the Jawbone Up3.
Then I saw that Fitbit was coming out with the Blaze! It looked kinda like an Apple watch, I could change out the bands to make it look less sporty, and it provided me with everything the Charge HR did and more! What I think I like most about the Blaze is the workout tracking. From the Fitbit itself I can select the workout, like running, biking, spinning, pilates, and hit 'go'. This is especially great when I go for runs because I can sync my Blaze to the GPS on my phone, and all my run stats are right there on my wrist.
Fitbit has also developed a program called FitStar which walks you through various body-weight exercises. Right now, the selection is limited. I am hoping they will develop this a bit more because I would totally use this when I am traveling and need a quick workout.
I will warn you that if you are looking for a smart watch, you will be disappointed by this. While it does have call and text notifications, it is basically a fitness tracker that has some smart watch functions. Not a smart watch with a fitness tracker app. Make sense?
Fitbit in General
As I mentioned above, I have been ride or die Fitbit since my first Flex many years ago. I have gotten them for family members, recommended them to friends, everything short of tattooing the logo on my behind. I think what I like most about Fitbit is their customer service, variety of products, and the ease of use of the app.
Unfortunately I have had to replace 2 of my Charge HRs. I was pretty aggravated the first time and about ready to throw it away, but my friend encouraged me to email customer service. Immediately, they were sending me a replacement. When it happened again, I knew they would be more than willing to send me a new one so I didn't even bat an eye. For comparison, a friend of mine who used to have a Jawbone Up (now has the Charge HR) had to replace her's more than 3 times.
As evidence by this post, it is clear that Fitbit has a lot of options for just about everyone. And now they are starting to expand their coloring offerings and accessories which means you can really make your Fitbit yours. I am pretty sure that if I ever get sick of the Blaze, they will have another product that amaze me.
Last, but maybe most importantly, the Fitbit App is what sets it apart from the other fitness trackers. While I haven't personally experienced them, it is one of the main reasons I hear from friends for why they are switching from Jawbone. Even though I have the Blaze which displays just about all the stats, I still interact with the app multiple times per day. I love checking to see how well I slept or how hard I worked during a workout. I don't think I would have stayed with Fitbit if their app was any different.
In Summary
If you are considering investing in a fitness tracker, I would highly recommend Fitbit. While there are lots of great options out there, I think Fitbit is leading the pack. The one area where Fitbit falters in my opinion is in their design. I think more of us ladies would like a fitness tracker that can seamlessly blend in with out bracelets and watches. Until the Alta, Fitbit had nothing even close! I personally like Jawbone's Up3/4 design better between the two brands, but there are some others that are really focused on looks.
But if you are definitely leaning towards Fitbit, I created this handy dandy chart to help you decide which one is right for you.

Also, my last replacement Charge HR (pictured) was sent to me about a month before I got the Blaze, so clearly has hardly been used. If anyone would like a gently used Charge HR, leave a comment below!
Do you have a fitness tracker? If so, which one?