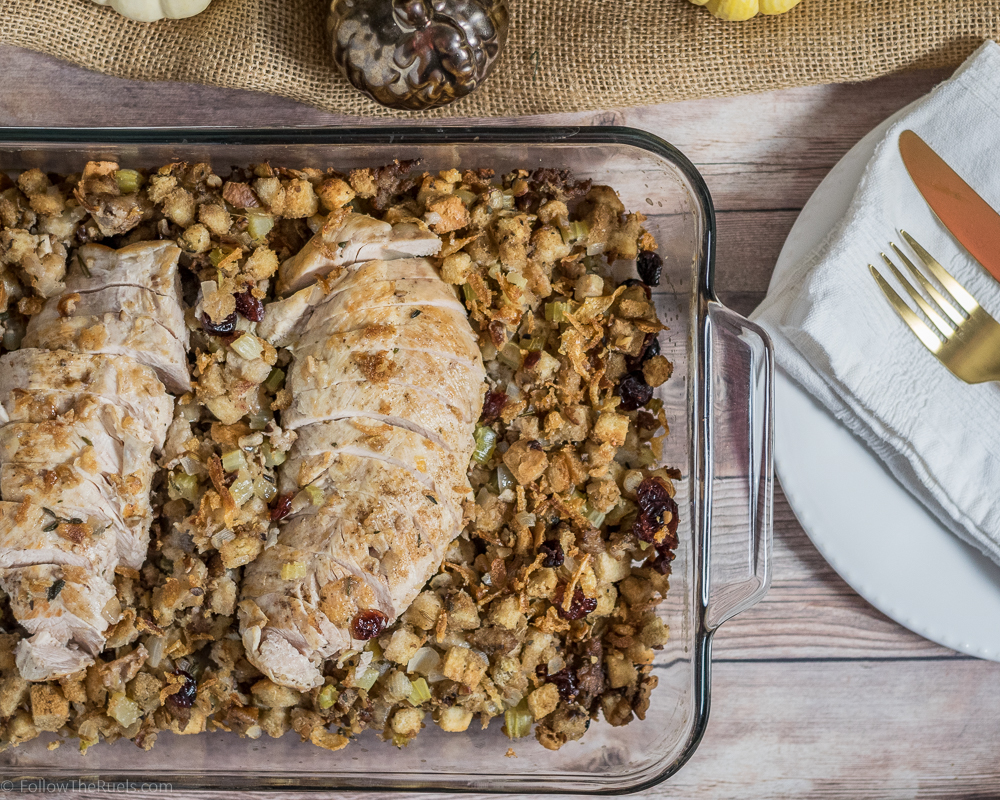 Ok, let's clear something up. I realize I have titled this post "Cornbread Stuffing and Turkey Bake", when most people would not consider this stuffing. It has not been stuffed anywhere. The cornbread and sausage mixture was baked in a baking dish, which most people would consider "dressing". Who the heck came up with those rules, anyways? Why can't we all just come together and decide to call it one or the other. And if I have a vote in this proceeding, my vote is for "stuffing". Dressing sounds like something we should be putting on a salad.
Whatever you call it (I am going to call it stuffing from here on out), I'll venture to guess that it is one of your favorite Thanksgiving side dishes. It is certainly mine! Which is why I decided to make my husband and I a little pre-Thanksgiving feast that is basically 75% stuffing, and 25% turkey.
My favorite kind of stuffing is cornbread stuffing. One that is slightly soggy, but still has some drier chunks, and loaded with lots of savory vegetables, some sausage, and some slightly sweet fruit, like apples or (in this case) cranberries.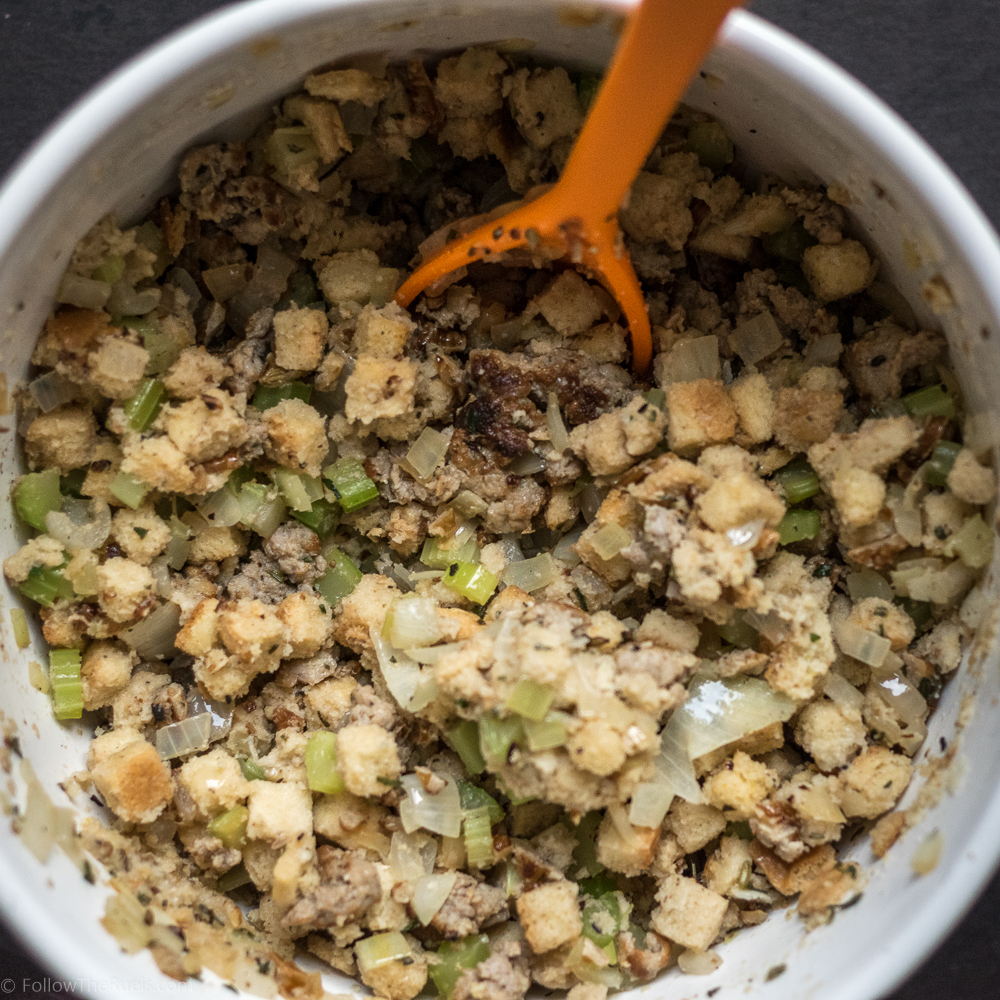 I could literally forgo all other Thanksgiving foods and just eat a plate of stuffing. Okay, maybe I will save some room for green bean casserole. Those little crispy fried onions are delicious!
But I digress…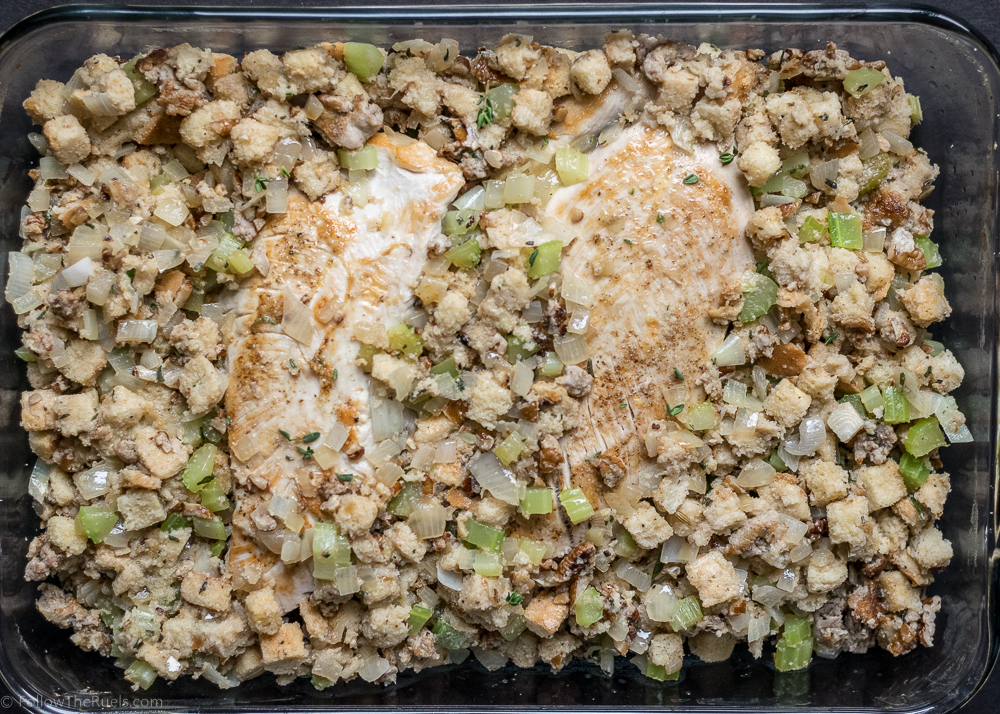 As for the "turkey" and the "bake" of this cornbread stuffing and turkey bake, I first seared off some large turkey breasts that had been marinating in the same herb mixture I used for the stuffing. Then I just stuffed the turkey right into the stuffing (see what I did there?), so they were almost completely covered.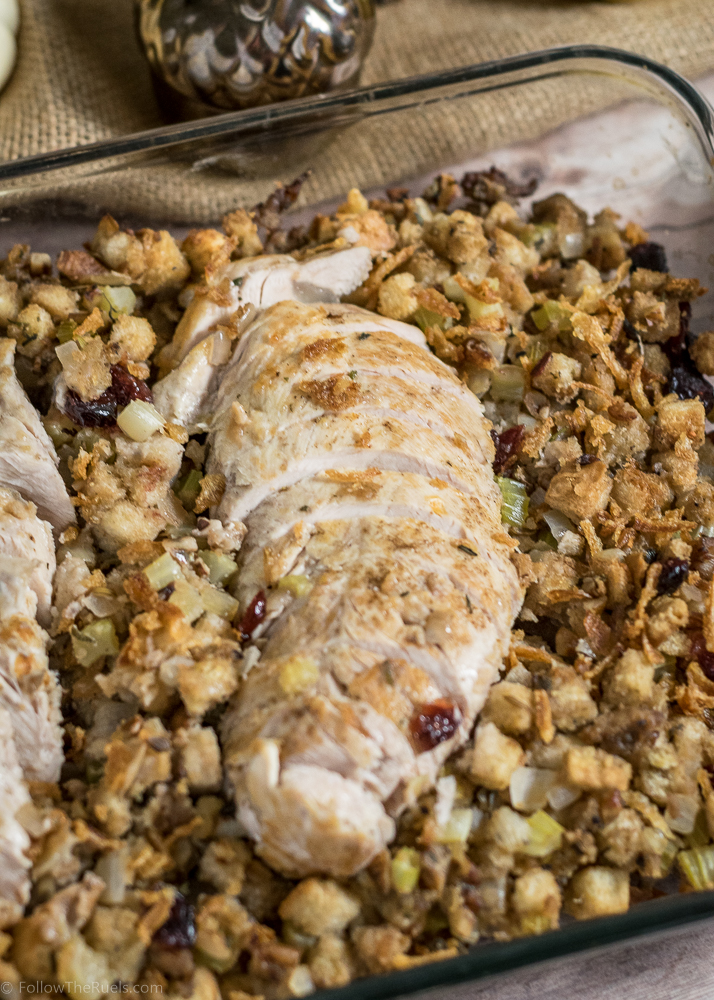 I find that cooking the stuffing/dressing this way gives you the best of both worlds. You have the stuffing that is directly around the turkey that soaks up all the turkey flavor and stays nice and moist. Then you have then stuffing around the edges of the pan that is drier, and a little bit crispy.
When it comes out of the oven, you basically have your entire Thanksgiving meal in one pan. I should have called this "One Pan Thanksgiving". Oh well, I've already come this far….
This would not only make a delicious Thanksgiving meal for just a small group, but it would also make a great diner for those days when you are just craving some comforting turkey and stuffing. Which for me, is about once a month.
[amd-yrecipe-recipe:99]