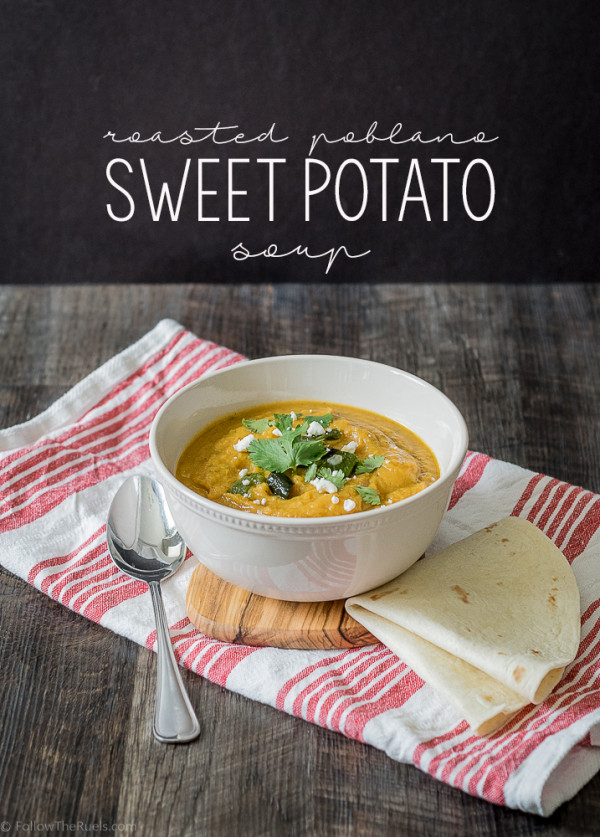 A couple weeks ago I was traveling for work and was sick as a dog. I felt so bad for my coworkers traveling with me, stuck in a small conference room or car with me as I hacked up a lung. On our way back to Charlotte, we stopped in some small town in the middle of nowhere to try find something to eat. I don't know about you, but when I am sick I crave healthy foods, maybe I think it will make me recover even quicker, but this little town did not seem like the kind of place that would have anything remotely healthy.
Sure enough we found this cute little restaurant that had a sweet potato soup on special. Healthy, warm and soothing sweet potato soup. I was sold! But there was something a little different about this sweet potato soup. It had a little kick to it as well as this nice smokey flavor. It was absolutely delicious! I just about licked the bowl clean. According to the waitress, "secret" (not-so-secret, now) was the addition of fire roasted poblanos and habaneros. I knew I had to come home and try to make my own version!
Of course I can't remember the town or the restaurant or else I would recommend it if you are ever driving between Raleigh and Charlotte.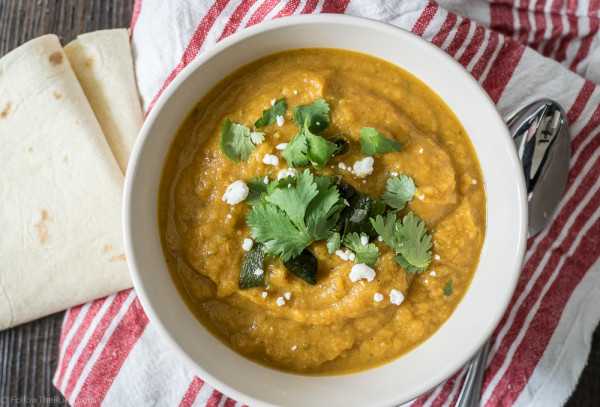 To make the soup, I roasted two large sweet potatoes and broiled two poblanos until the skins were black and blistered. I let the peppers steam in a plastic bag for a few minutes, then when they were cool enough to handle, I rubbed off the charred skins. I threw the skinned sweet potatoes and de-seeded poblanos into a pot with some chicken stock and spices, and once it came to a boil I let my immersion blender go to work and blend the soup into creamy oblivion.
I topped off the delicious bowl of sweet potato heaven with some extra pieces of poblano, cilantro, and some feta cheese. (I would prefer cotija cheese, but I don't even think I can get that here in North Carolina. These North Carolinians don't even know what they are missing.) And because I was serving this to my hungry husband, I also paired it with a quesadilla to make a more complete meal. It's almost like the Mexican version of a grilled cheese and tomato soup. I think I might prefer this version better!
[amd-yrecipe-recipe:13]