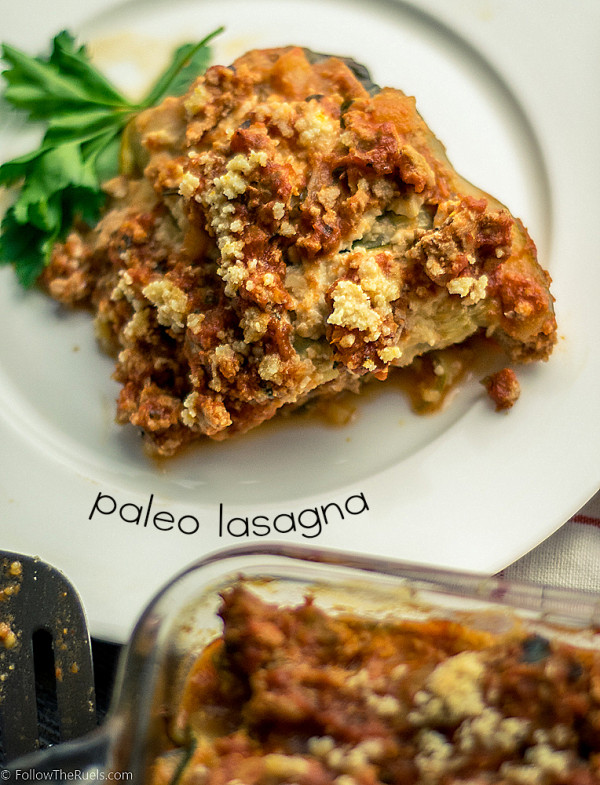 For any of you who have tried the Whole 30 or have done any diet for any length of time know that nothing can truly replace those classic comfort foods. You can replace butter with coconut oil, spaghetti with spaghetti squash, and beef with turkey, but those altered dishes will never live up to their original.
This Paleo lasagna may be as close to an exception as you can get. Of course I missed the cheese. I mean, who wouldn't!? But it was totally satisfying and as comforting as your classic lasagna.
I have made Paleo "lasagna" type dishes before, but what sets this one apart is the faux ricotta cheese. The ricotta "cheese" is made from cashews and was much easier (and better) than I anticipated. I found the recipe in the Against All Grain cookbook I have been turning to a lot the past month. Her recipe says to soak the nuts overnight, then process with some salt and lemon juice. I didn't plan ahead, so instead I boiled the nuts while I prepped the rest of the meal, then processed them. Boiling helped soften the nuts in a lot less time and I think it turned out just as well as if I had soaked them all night.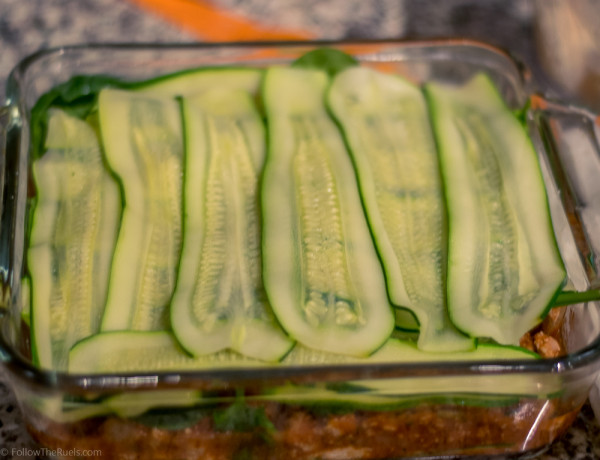 The classic lasagna noodles were substituted by slices of zucchini, which I sliced 1/4″ thin with a mandolin, blanched in boiling water, and then let drain on some paper towels. The result was almost like having pasta noodles, just with a slightly different flavor.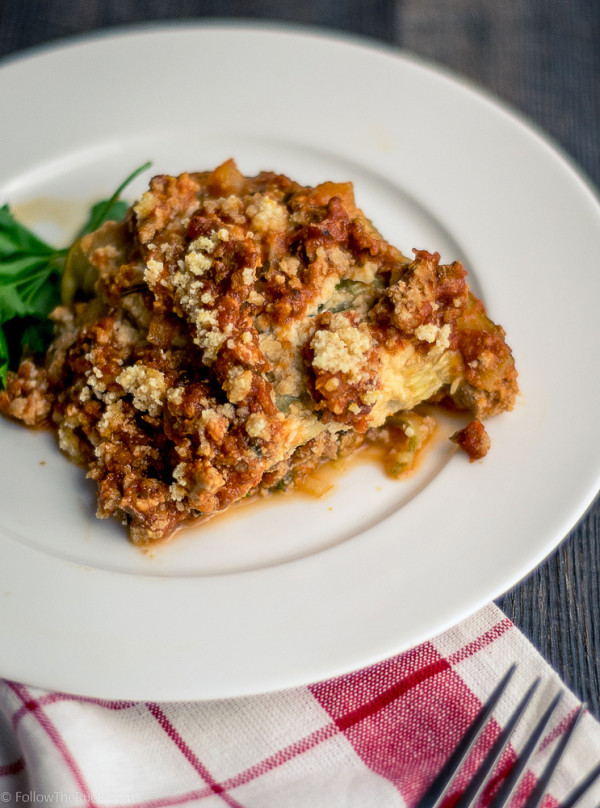 Of course, since this is a Paleo lasagna, there is no salty, gooey, and crunchy cheese topping. There is no Paleo alternative that can truly replace cheese (I don't care what anyone tells you!). But there is something you can do to get that salty crunch you might get from Parmesan cheese.
To get some sort of crunchy topping, I mixed together almond meal, ghee, salt, and garlic powder to form a paste like consistency. Then I sprinkled small dollops all over the top of the sauce.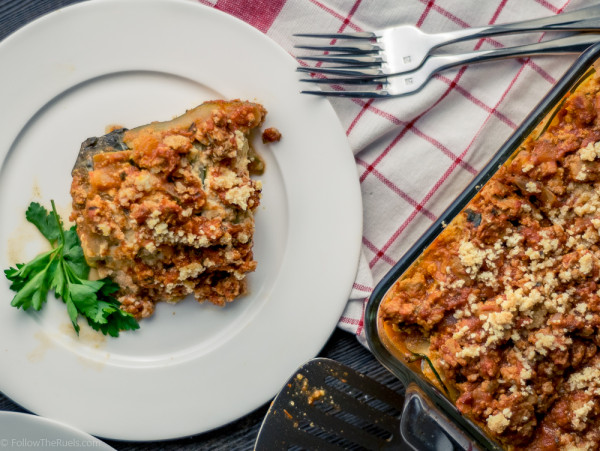 The end result is something that is so much more than passable for lasagna. It was delicious! My husband cleaned his plate and I had coworkers asking me what I was eating at lunch the next day because it looked and smelled so good.
I would definitely make this version of lasagna even after the Whole 30 is over because it is so filling and satisfying without making you feel bad for eating all those carbs and cheese!
I hope you give this recipe a try! Definitely let me know if you have any good tricks or tips for making a Paleo lasagna.
[yumprint-recipe id='96']